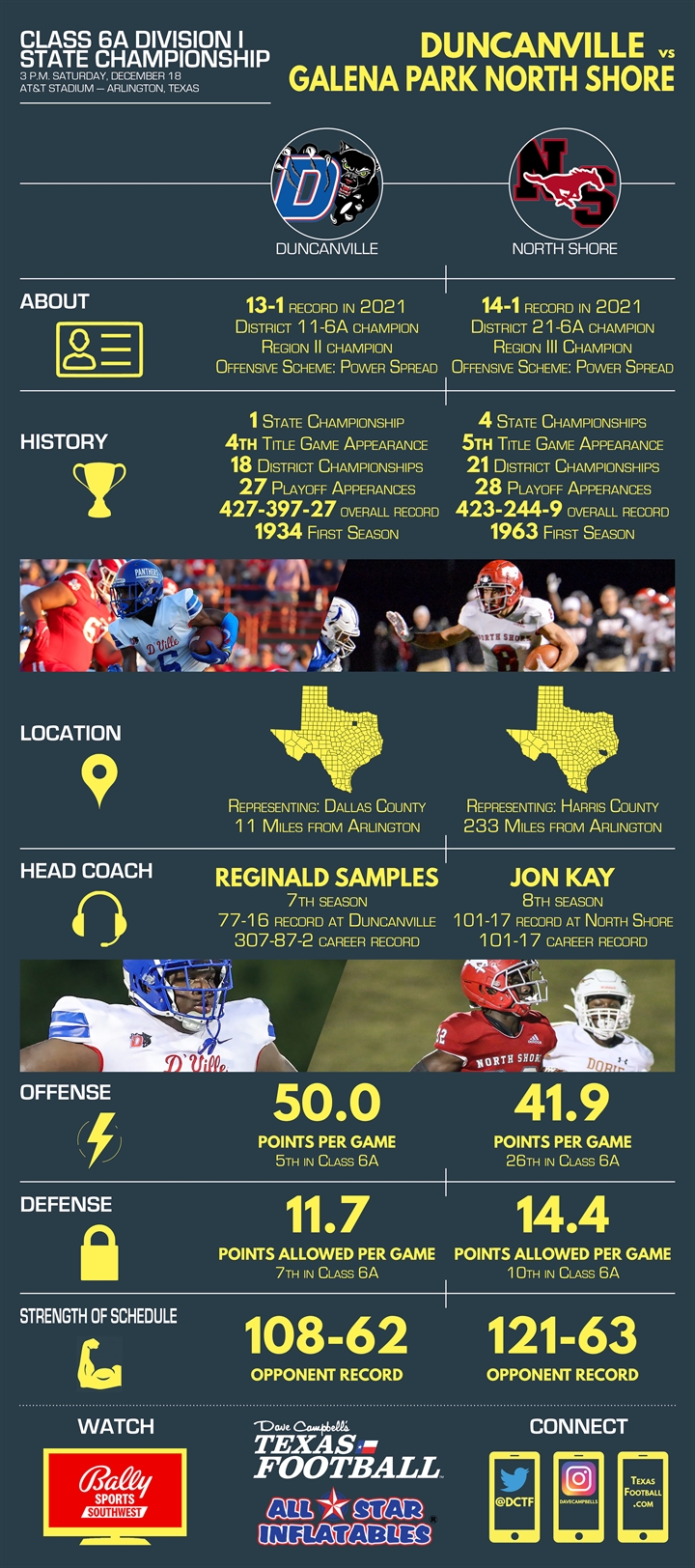 Duncanville (13-1) vs. Galena Park North Shore (14-1), 3 p.m. Saturday at Arlington's AT&T Stadium
Is the third time the charm for Duncanville and head coach Reginald Samples? Duncanville dropped the 2018 and 2019 6A-D1 title games, but 2021 may be the year Coach Samples gets that elusive state title crown. Duncanville comes into this one coming off its most impressive performance of the season, a 35-9 drubbing of Southlake Carroll. QB Solomon James saved his best game for the biggest moment as the senior was a perfect 12-of-12 passing for 164 yards and three touchdowns. RB Malachi Medlock ran for 143 yards and also added 17 receiving yards and a touchdown. Duncanville's vaunted defensive front held Carroll to just 28 yards rushing and forced three Dragons turnovers. North Shore, who was thought to be "due for a down year," has gotten it done for most of the year with a lethal defense of their own, but the young Mustangs offense seems to be rounding into form at the right time as North Shore blasted past Lake Travis, 49-21. Freshman QB Kaleb Bailey was lights out for North Shore throwing for 122 yards and two touchdowns, but he added 203 yards rushing and two touchdowns to lead the North Shore offense. Lots of storylines in this one so we start with Duncanville's head coach who has lost three state title games and each has had its own heartbreaking plot twist. North Shore, on the other hand, is a perfect 4-0 all-time in state title games. Both defensive units are absolutely elite. North Shore may have the edge in the secondary, but Duncanville's front seven gets the nod. This one is going to come down to which offense can get to 20 points, or which defense can chip in a score on their own? It's hard to pick a team with a freshman QB going against this Duncanville defense. It may be Coach Samples' time to get that elusive ring.
Stepp's Pick: Duncanville by 8
PLAYERS TO WATCH
Duncanville
RB Malachi Medlock - North Shore will see a heavy, heavy dose of Malachi Medlock. He's probably the meanest runner at state this year. What do I mean by that? Basically, you don't want to be the first guy to hit him because it might hurt you more than it does him.
WR DeKorien Moore - There's a good chance this freshman wide out could be the best at his position in the country by the time he graduates. Duncanville doesn't throw often but when they do, they have an insanely gifted option that can take the top off any secondary, including North Shore's.
DE Omari Abor - Of course, I had to mention Duncanville's dominant defensive lineman. The four-star will draw doubles off the edge because of his sheer willpower and force-of-nature pass rushing that will find him in the backfield often.
Galena Park North Shore
QB Kaleb Bailey - Just when people thought Dematrius Davis leaving would spell the end for wonderkids at quarterback for North Shore, in steps freshman Kaleb Bailey. In the run game, he's as tough as any running back to bring down and his downfield passing is only getting better every week he plays.
DB Denver Harris - I mean, what else can be said about the best defensive back in the state? Teams simply don't throw his way so he blocks off an entire side of the field at times. Harris against Duncanville's star freshman will be a very interesting matchup to watch.
WR David Amador - Bailey's top target is the most reliable hands on the team and his junior season has been a breakout for him. His biggest test will be navigating against a talented Duncanville secondary, but his route running's been absolutely on point this season with over 800 yards and 10 touchdowns to his name.
(Ishmael Johnson)
KEY MATCHUPS
North Shore quarterback Kaleb Bailey vs. Pressure and inexperience
Freshman quarterbacks aren't supposed to lead teams to state title games in Class 6A, especially in Division I, but that is exactly what Bailey did with an outstanding performance in a semifinal win over Lake Travis. He's a threat with his legs and as a passer. Bailey completed eight of his 11 pass attempts for 122 yards and a pair of touchdown passes. He added 203 yards and another two touchdowns on 13 carries. Can he continue his stellar play on the biggest stage in high school football?
North Shore rushing attack vs. Duncanville defense
Bailey isn't the only rushing option for North Shore. The Mustangs rushed for 374 yards on 50 carries for an average of 7.48 yards per carry in the win over Lake Travis. Bailey led the way with 203 yards. Xavier Owens added 80 yards and a touchdown on 17 carries. The Duncanville defense only allowed three points through three quarters in the win over Southlake Carroll. The Panthers' defensive line, led by Omari Abor, is one of the best defensive units in the state. Duncanville's defense is capable of scoring as many points as it gives up thanks to an aggressive style that creates turnovers.
Duncanville offensive line vs. North Shore defensive line
Big games are won in the trenches, and Duncanville's big guys need a large performance to keep the Panthers in the game. Duncanville's offense wasn't the strength of the team for much of the season, but the offensive line led a 35-point performance against Southlake Carroll in the semifinal victory. The group opened holes in the running game and provided quarterback Solomon James with a clean pocket. The North Shore defensive line is led by defensive tackle Kristoper Ross, a Texas commit.
(Mike Craven)
PREDICTIONS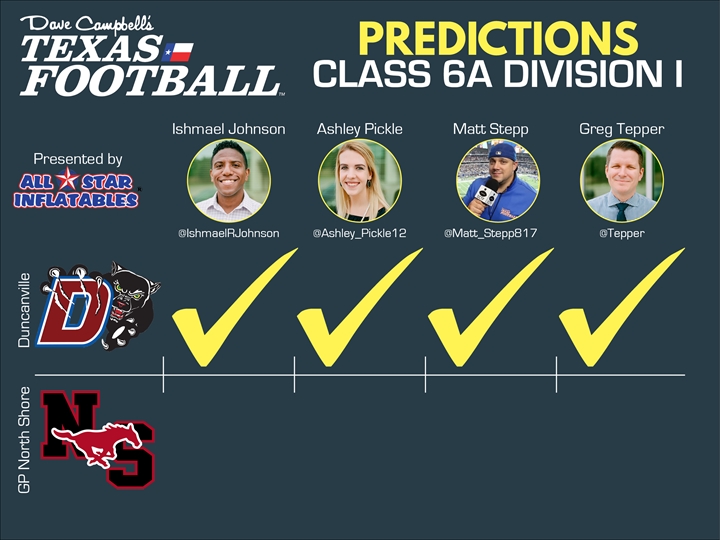 This article is available to our Digital Subscribers.
Click "Subscribe Now" to see a list of subscription offers.
Already a Subscriber? Sign In to access this content.