It'd been 1,861 days and 13 head-to-head matchups since Texas conquered Baylor when the two programs met in the 2022 Big 12 Tournament Championship.
The Longhorns maintained control with 4:24 left in the first half, forcing a Baylor offense averaging 83 points a night into a 28-21 deficit. A Texas trademark defensive slugfest. After a missed layup, Baylor's NaLyssa Smith used her 6-foot-4-inch frame to grab a defensive rebound. Smith was Baylor's lifeblood, the unanimous Big 12 Player of the Year who'd averaged over 22 points and 11 rebounds per game. Now, she raced down the court instead of passing to a guard.
"It sometimes takes one play to change the dynamic of the entire game," Joanne Allen-Taylor, Texas's senior guard, said.
Over a year later, the ensuing sequence is still seared into Texas head coach Vic Schaefer's memory.
Smith led a four-on-four fast-break. Multiple Longhorns had their backs turned to her, sprinting to get into position. Smith sensed a vulnerability and put her head down, driving to beat them to the basket.
She never got there.
At the top of the paint, Smith recognized too late that Texas's freshman point guard impeded her path, all 5-feet-6-inches of her standing ramrod straight to take a charge. Smith, almost a foot taller than the roadblock, attempted to cross over to avoid fouling. But the collision was inevitable.
"Rori Harmon steps in and gets run over by a freight train," Schaefer said.
Harmon flew to the ground as a sharp whistle signaled Smith's third foul, relegating her to the bench. With Smith out of commission for the remaining half, the Longhorns built a 39-28 halftime lead off a Harmon buzzer-beating layup and never wavered. Texas won its first Big 12 Tournament championship since 2003.
That night, Harmon earned the Big 12 Championship Tournament's Most Outstanding Player Award. It was a legendary three-game stretch - 66 points, 13 assists and zero turnovers. But the gaudy stats don't define Rori Harmon, the basketball player. The willingness to take a charge on someone 10 inches taller than her with a full court of momentum does.
It's why she's the state's best basketball player. The embodiment of the new era for Texas Basketball.
…
Rori Harmon was a second grader hoisting as many jumpers as possible before halftime concluded at her older brother Rodney Jr. 's game when a man approached her under the basket and handed her a business card.
He was a coach for the Katy Rebels AAU basketball organization, inviting Harmon for a try out. The Katy Rebels' youngest team technically consisted of fourth graders, but Rori was used to competing with older kids.
She didn't come out of the womb clutching a basketball. But she begged her father, Rodney Sr., to start playing the second she could talk. So, dad let daughter hop alongside her older brother for dribbling drills in the driveway when she was four.
"We were working on crossovers, behind the back and between the legs," Rodney Sr. said. "The only thing about between the legs, usually it was the last one to come because their legs were so short."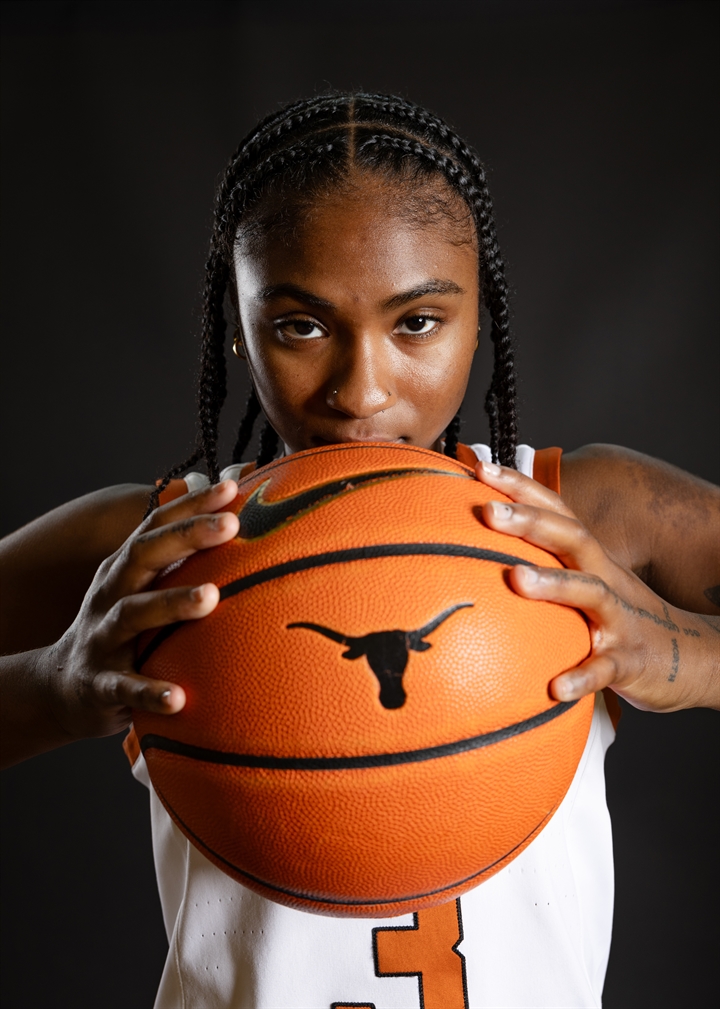 Rodney Sr. informed his kids they'd have to find another sport if they couldn't dribble. It wasn't mean-spirited, just factual. The Harmon clan didn't have much height in its gene pool. But Rodney Sr. was a two-time state champion in high school because he could get up the court quicker and beat defenders off the dribble to create open shots.
"He brags to me talking about how he was doing behind-the-back spin moves when people didn't even know what that was," Rori said.
When the Katy Rebels coach noticed her in second grade, she'd graduated to handling two basketballs simultaneously and stacking combo moves. The Harmon family attended a team meeting the next day and decided to sign Rori up.
She played on a team with girls two years older than her for the next decade.
"I look back - that team, that organization, is what made me into the person and player I am today," Rori said.
When Rori studies her college film, she catches the coaching seeds from Katy Rebels head coach Suzette Matejowsky and her father, an assistant, blossoming on the biggest stage. She set a Texas record with 7.4 assists per game as a sophomore, ball movement ingrained from running the Rebels' pass-and-cut offense. She was one of two collegiate players to average over 11 points, seven assists and five rebounds a game because she'd been trained to confidently take any open shot.
But her father's most considerable influence came to fruition with Harmon's Big 12 Defensive Player of the Year award. She can still recite his teaching.
"Defense is all about the heart," Rori said. "You may be slow. You may not be able to move as fast as the others. But if you really want to get the ball from somebody, if you really have pride about defense, it will happen."
Rodney Sr. firmly believed he didn't have to alternate between Coach and Dad hats. But he knew when parents coached their kids, the relationship could morph from nurturer to disciplinarian. So he was always Rodney Jr. and Rori's dad first, coach second.
"We worked hard, broke a sweat," Rodney Sr. said. "I challenged them. But at the same time, when we got on the court, we played with each other. We played against each other. We kind of talked noise with smiles on our faces saying, 'You know you can't hold me.'"
Father and daughter even developed a secret handshake with the Rebels. If it seemed like the coaching got too harsh, the pressure of the moment too high, they'd tap open palms twice and then go backward for one more. It was code for 'I love you,' a way to force them to slow down and keep the game in perspective. Rori had the inner drive to succeed. She didn't need her father to want it for the both of them.
"He understood I knew what it would take to get to where I am now," Rori said.
…
Vic Schaefer knew Rori Harmon was his type of point guard when he witnessed her compete at Cypress Creek High School in Houston.
Sure, everyone recognized the talent. Harmon was a McDonald's All-American, the 2021 Texas Gatorade Player of the Year who'd guided Cypress Creek to a 73–2 record in her final two seasons. But Schaefer realized she could be special. Harmon took as much pride in the defensive end as on offense. The most critical stat to her was the win, not individual numbers.
"She lives and dies with every possession a lot of the time like I do," Schaefer said. "She lives and dies with her mistakes like I do."
Harmon could've suited up at any program, but her college choice came between Texas and Baylor. She's asked why she picked Texas, then entering Schaefer's second season, over Baylor, who'd won nine Big 12 championship tournaments in 10 years. Harmon considers it for a moment and chuckles.
"I feel like I answer that question all the time," Harmon says. "Since I'm here now, it's almost like it gets deeper and deeper."
She's entering junior year, and Texas's beginning-of-the-season meeting is fresh on her mind. As much as Schaefer talked about their on-court goals, winning the Big 12 regular season crown and the postseason tournament, he spoke on personal growth. Basketball is basketball, but the game instills valuable lessons. Trophies only come with accountability, punctuality, honesty and fighting through adversity.
"When people say 'basketball is life,' it's almost literal," Harmon says. "Because if it wasn't for basketball, I wouldn't be who I am today."
Basketball tested her last year.
Harmon made the college transition appear seamless as a freshman. She was the starting point guard from day one, then played 30 minutes per game, then won Big 12 Defensive Freshman of the Year. Harmon led the conference with 86 steals, teaming with senior Joanne Allen-Taylor to construct the Big 12's most formidable defensive duo.
"Rori is like a unicorn," Allen-Taylor said.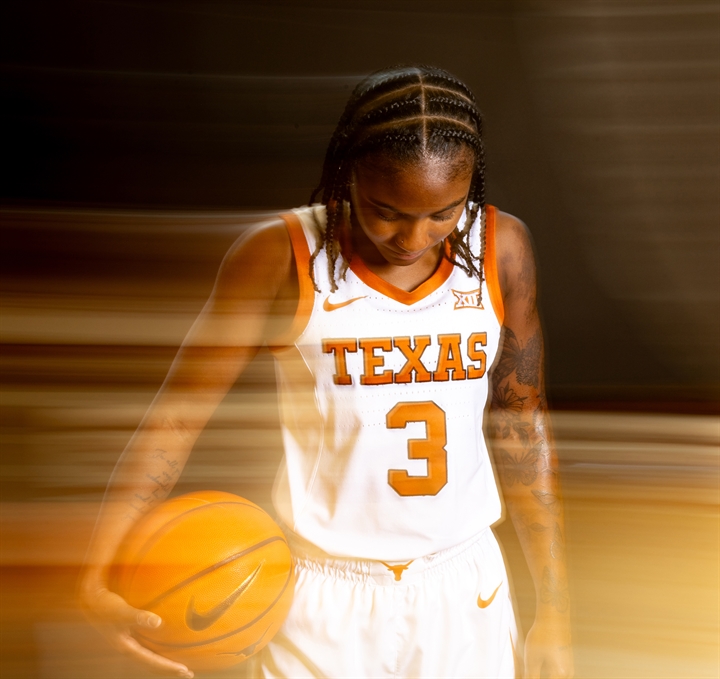 After Harmon took the charge on Baylor's NaLyssa Smith in the Big 12 Championship, the Longhorns reached the Elite Eight for the second season. Ahead of Harmon's sophomore year, Texas was preseason ranked No. 3.
And Harmon trained intensely for her encore. Schaefer and Texas sports performance coach Zack Zillner always stated the starkest improvement occurred between freshman and sophomore year. Harmon had built muscle and gotten quicker. She was ready.
Then, in preseason practice, her foot started hurting. Harmon tried to tough it out until the pain subsided, but after a week, it still ached. She went to the trainer, who advised an MRI to be safe.
A couple days later, Harmon's phone rang. She's suffered a stress fracture in her foot and needed to sit out the season's first five games. Harmon thought it was a cruel joke. Her eyes watered. This wasn't a freak injury. She still practiced and produced, albeit with a little extra pain. How could the recovery timeline be that lengthy?
Harmon, hailed as Texas's leader, had to stay off her feet while the team started the season without her. Making matters worse, the Longhorns didn't have a true point guard behind her. Schaefer thrust BYU transfer Shaylee Gonzales, an off-ball guard, into Harmon's role.
Harmon had a decision to make. She could let her disappointment prevail and mope, letting a short-handed Texas team fend for itself. Instead, she moved the exercise bike she was stationed on from the corner of the practice gym to mid-court.
For the first time, Harmon couldn't lead by example. All she had was her voice.
"I had to be there for everybody because my presence is still needed," Harmon said. "I'm still the point guard of my team. Just because I'm injured doesn't mean anything."
Texas scuffled to a 2–3 start and dropped out of the Top 25 poll with Harmon on the bench. But the sidelined point guard started seeing the game differently now that she wasn't sprinting for 30 minutes every night. Everything slowed down.
When she entered the lineup again, she was a more vocal leader. Texas went on a tear, winning ten of its next 11 games. The offense hummed again with Harmon back in the driver's seat, and the defense surrendered just 47 points a night with its tenacious on-ball defender healthy.
"Rori is going to set the tempo defensively," Schaefer said. "She's always going to play hard on the ball, and you're going to want to play hard with her. And if you don't, you might hear it from her. And that's good because you're definitely going to hear it from me."
But a healed Harmon didn't mean Texas was finished battling lousy luck.
Sophomore forward Aaliyah Moore, averaging over 11 points a game, tore her ACL on Dec. 11. An injured Taylor Jones missed the entire month of December. Sonya Morris, Texas's second-leading scorer, and top three-point threat, missed double-digit games to finish the year with an intramuscular hematoma on her quad.
Harmon became the lynchpin holding Texas together. She played over 38 minutes a night and, in 10 games, wasn't subbed out. Sure, the Longhorns had no seasoned point guard behind her, but even three backups wouldn't have mattered. In Schaefer's experience, the great ones get angry when he pulls them.
"The bottom line is this - Rori don't want to come out of the game," Schaefer said.
Texas weathered the whiplash of falling from preseason top five to unranked. The squad won its first Big 12 regular season title since 2003. Then, exhaustion seeped in when they reached the second round of the NCAA tournament against Louisville.
And a season that displayed so much Texas fight ended in a rout.
…
Rori Harmon's cover shoot occupies half of Texas's practice gym, but the junior point guard keeps peeking to the other side to encourage her teammates. Khadija Faye works on defensive slides around cones. Taylor Jones is rhythmically launching mid-range jumpers. Others lift in the weight room.
Harmon's about to join them once she's done taking photos. Texas doesn't have a scheduled practice this August afternoon, but Coach Schaefer's always informed them doing what's required isn't enough to be elite. Elite is a choice.
This team has reminders posted in the elevators, locker room and gym walls about what it feels like to fall short of elite. The 73-51 final score of the second-round game against Louisville isn't meant to insult. It's motivation.
Senior guard Shay Holle doesn't require that extra motivation. Living with Harmon provides her more than enough. The two roommates have always held a healthy competition about training. If Harmon goes to the gym early, Holle will ask later that afternoon what time she left, hoping to beat her tomorrow. Then, they'll meet at the front door the following day earlier than Harmon told her.
Now, the whole team is following Harmon's example.
"When you see her working so hard and putting so much pressure on who she's defending in front of you, it makes our whole team pick it up, too," Holle said.
For how fierce Harmon is on the court, she's that chill off it. Texas matches her tenacity in the game, but they go to her apartment for a peaceful spot to relax and play with her three cats. She's a fashionista, which explains how she pulled off a stunning Chucky costume at Halloween with overalls and a striped sweater.
"I think that would probably be pretty exhausting if you were that intense in every aspect of life," Holle said.
So, her intense nature is reserved for the basketball court. It's how she's been raised to play since training with her father in her driveway. It caught Schaefer's eye when he recruited her in high school. It's how Harmon honors the game she loves. The game that's made her who she is.
"If something is challenging one day, but you really love the game of basketball, it's not a chore anymore," Harmon said. "It's the perspective of looking at it a different way. Not as a chore but something you get to do.
With that, she's off to train. Her teammates gained a head start on her today. She can't allow them to keep it.
This article is available to our Digital Subscribers.
Click "Subscribe Now" to see a list of subscription offers.
Already a Subscriber? Sign In to access this content.