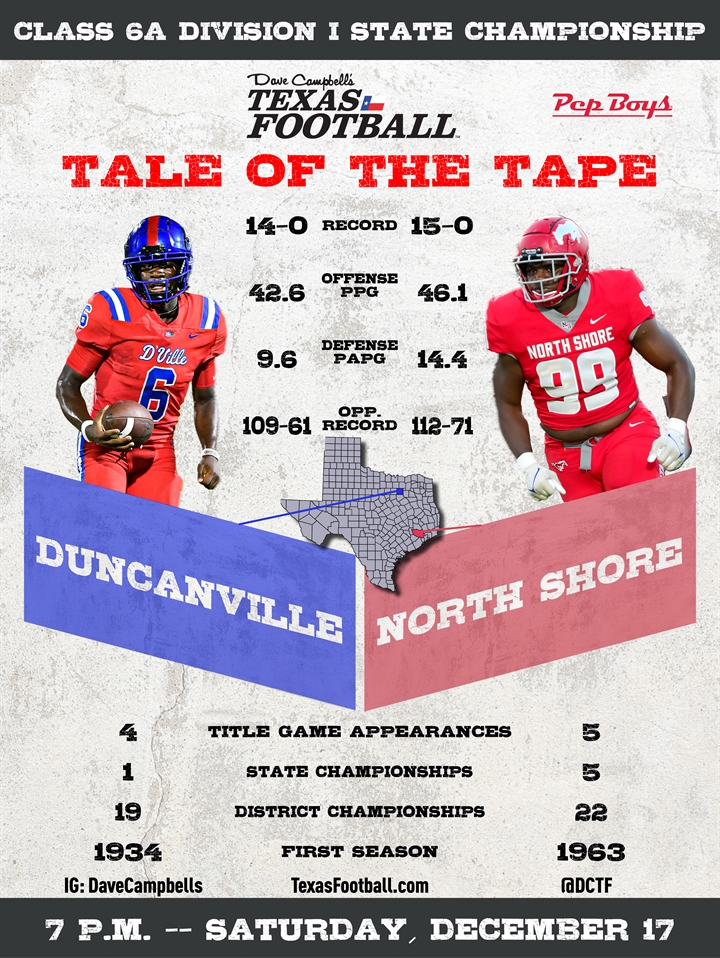 Duncanville (15-0) vs. Galena Park North Shore (15-0), 7 p.m. Saturday at Arlington's AT&T Stadium
The 2022 TXHSFB season will end with the fourth meeting in the past five years between the biggest and baddest team in DFW, taking on the biggest and baddest team in Houston.
The big question in this one is can Duncanville and head coach Reginald Samples get over the hump against a North Shore squad that's beaten the Panthers in three straight title game matchups (2018, 2019 and 2021).
Duncanville may have the formula to beat North Shore this season as the Panthers flexed their muscle in a big way Saturday evening blasting past Prosper, 41-0, as the Panthers rolled up 408 yards on the ground in a game mostly played in a driving rainstorm. Even more stunning was Duncanville held Prosper to just 14 yards rushing on the night.
RB Caden Durham, who missed last year's title game loss to North Shore, is playing like the best back in the state at the moment. He ran for 206 yards and three touchdowns to lead the Panthers attack.
North Shore kept its 28-game winning streak alive and put an end to the state's longest winning streak as the Mustangs raced past Austin Westlake, 49-34, snapping the Chaparrals 54-game winning streak and their run of three consecutive state titles.
The Mustangs' three-headed monster was the story in Rashaad Johnson, who ran for 138 yards and three touchdowns, UTSA commit QB David Amador, who added 112 yards and a touchdown and 86 yards and a touchdown from D'Andre Hardeman. Sophomore ATH Evan Jackson had a sensational punt return for a touchdown and he threw a long touchdown pass for NSHS as well.
North Shore has had Duncanville's number the past few years. Can the Panthers exercise those demons and give legendary head coach Reginald Samples his first state title? This Duncanville team is built different on offense than past teams and the Panthers are much more capable and willing to be creative in the passing game, while still being punishing at the point of attack and running the football.
There's also the question of what's North Shore got left in the tank after an emotional win last week over Westlake. Can they hit the road on I-45 north into DFW and beat Duncanville four straight times? It almost feels like at some point the odds have to turn Duncanville's way and I'm gambling that they do in a real coin flip battle. Duncanville was my title pick before the playoffs and I'm sticking with them.
Stepp's Pick: Duncanville by 1
PLAYERS TO WATCH
North Shore
ATH David Amador - The UTSA commit is one of 10 finalists for the 2022 Mr. Texas Football. He has been instrumental in helping North Shore get back to the state championship game, taking over as quarterback after Kaleb Bailey's injury earlier during the regular season. he caught the game-winning TD in last year's state title game. What will he do as an encore?
DB Jacoby Davis - A highly-regarded cornerback with offers from the Big 12, SEC and Pac-12, Davis will make it a long day for any team's top receiver. He had a pick-six against Humble Atascocita in the regional finals. He also has no trouble coming up and putting a hurtin on the ball-carrier; as physical a corner as you'll see in Arlington.
DT Elijah Fields - A big fella with a big motor. Fields (6-1, 265) transferred in from Spring this season and has made a huge impact for the Mustangs' defensive front. He's almost impossible to move without extra help. He'll also come in as a lead blocker in short yardage situations.
Duncanville
DE Colin Simmons - A consensus five-star, Simmons has all the tools to completely disrupt any opposing offensive gameplan. The 6-foot-3, 225-pound edge will not be stopped one-on-one, so help will be necessary from North Shore. Simmons has the talent to be a Day 1 contributor to any of the 30-plus schools that have offered him.
WR Dakorien Moore - Very well could be the top player in the state for 2025. Name a college program and he most likely sports an offer from them already. He's just a guy that you get the ball to by any means necessary and trust that his natural instincts and athleticism are going to take care of the rest, which they often do.
DB Deldrick Madison - If you like defensive backs that get in a receiver's grill and make it tough for them to even get off the line of scrimmage, much less complete a catch, then Madison is your guy. He does not mess around in press coverage, and has been known to send WRs into the sidelines. Better off throwing the opposite direction.
- William Wilkerson
KEY MATCHUPS
John Kay vs. Reggie Samples
Fans tuning in for the fourth rendition of the modern rivalry between Duncanville and North Shore understand the history. Samples is the Godfather of south Dallas high school football. His footprints are seen around the state. But he's yet to get over the final hump. Kay's North Shore squad has proven too much in the first three meetings, including 2021. The two personalities loom large on both sidelines.
Duncanville DL vs. North Shore OL
Heavyweight title fights are won with grit and physicality. The clash in the trenches when North Shore has the ball is no different. Duncanville knows that Galena Park North Shore is without its quarterback and heavily reliant on the run game. A dominant performance by the Duncanville defensive line would put North Shore into unknown territory with a reserve quarterback. Both units boast Power Five talent as this game is always a scout's dream.
- Mike Craven
PREDICTIONS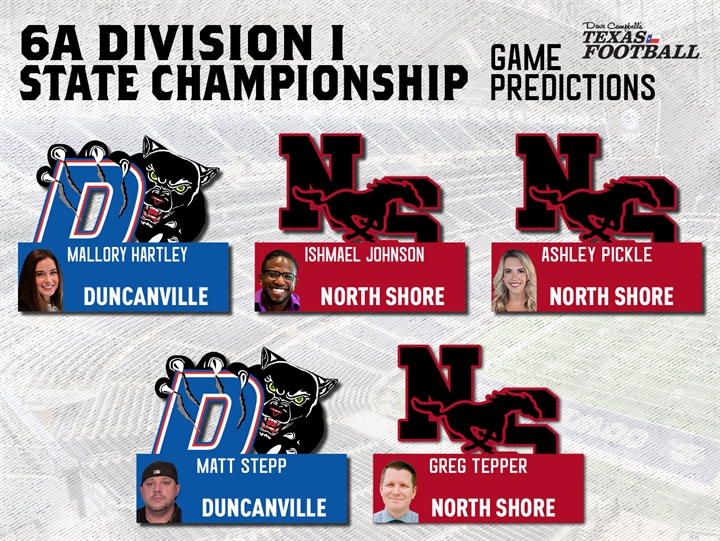 THE PICKS
This article is available to our Digital Subscribers.
Click "Subscribe Now" to see a list of subscription offers.
Already a Subscriber? Sign In to access this content.