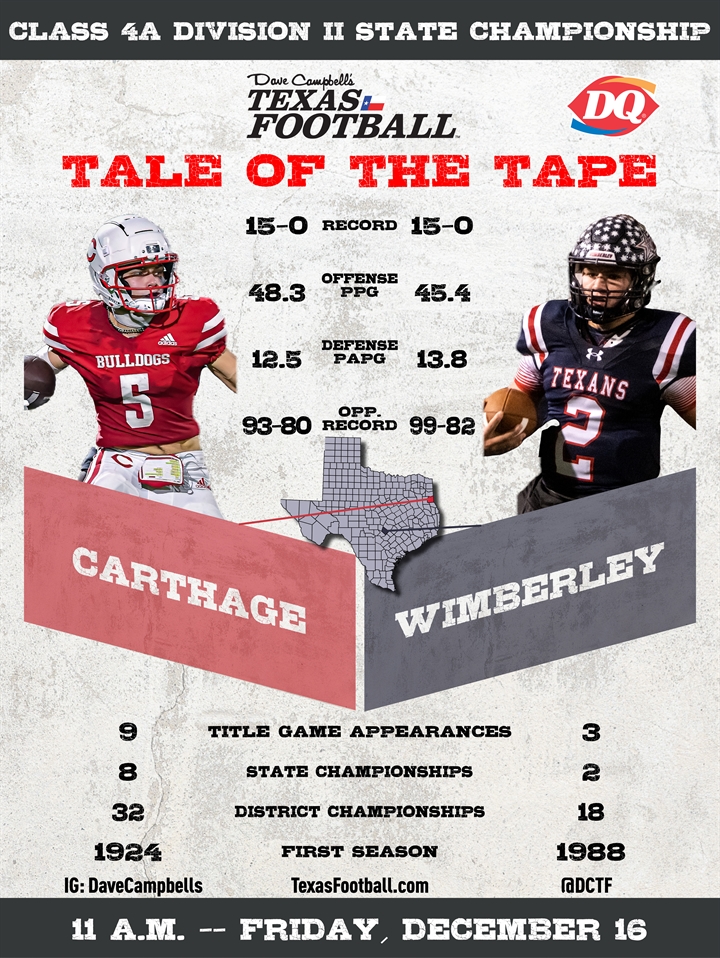 Carthage (15-0) vs. Wimberley (15-0), 11 a.m. Friday at Arlington's AT&T Stadium
Carthage will go for iits ninth state title in school history and head coach Scott Surratt will look to go a perfect 9-for-9 in state title games. But the Bulldogs, who a week ago were heavy favorites to bring the title home, all of a sudden look beatable after getting a major scare.
Carthage took down heavy underdog Glen Rose, 42-35, last week and after jumping out to a 28-14 lead early in the third quarter. The Bulldogs turned the ball over three straight times, resulting in three straight GRHS touchdowns and a 35-28 lead over Carthage, their first deficit all season.
Carthage responded the way you'd expect a champion to respond with back-to-back touchdowns to pull out the win. Connor Cuff threw for 297 yards and three touchdowns, but it was LaRandion Dowden's two touchdown runs in the final two and a half minutes that allowed Carthage to overcome four turnovers and a game Glen Rose bunch.
Wimberley is one of the more quiet 15-0 teams you'll see, but the Texans have proven time and time again just how stout they can be after last week's come from behind 42-36 win over Cuero. The Texans for a half appeared unable to deal with Cuero's speed as they trailed 30-18 early in the third quarter, but the Texans rattled of 24-straight points and held on for the win.
The Texans forced three second half turnovers and relied on sophomore QB Cody Stoever, who had a 60-yard touchdown run in the first half and threw a touchdown pass, while RB Johnny Ball, gained 131 of his 187 yards and had a 64-yard touchdown run in the second half that helped turn the tide.
Wimberley will relish the role of underdog in this game, and with Carthage showing some warts last week there is a path to victory for the Texans. But they'll need to play a near perfect game and hope Carthage still gets a case of the turnover bug.
Stepp's Pick: Carthage by 8
PLAYERS TO WATCH
Carthage
Junior RB LaRandion Dowden and Junior RB KD Matlock - The Bulldogs have potentially three starting caliber running backs on the roster if you throw junior KD Beechum in with these two as well. But the ground-and-pound game will likely start with LaRandion Dowden and KD Matlock. Expect Carthage to test Wimberley's front seven with these two (and likely three) talented backs until the Texans prove that they can tackle them.
Senior WR Montrel Hatten - Just when Wimberley gets tired of tackling the Dawgs' backfield, Connor Cuff will load up and target Carthage's gifted wideout who's headed to Oregon State. Even if he isn't open, Hatten's best skill is pinpointing passes at their apex and making the contested snag.
Wimberley
Sophomore QB Cody Stoever - Stoever initially faced an unfair task having to step in for Cash McCollum who moved to China Spring. But the talented underclassmen had a breakout season throwing for over 2,300 yards and running for 1,157 while scoring over 50 total touchdowns. He's been as big of a reason as anyone for the Texans' return to AT&T Stadium.
Senior RB Johnny Ball - A finalist for Best Name at the state championships, Johnny Ball is almost a guaranteed first down every time he touches the ball averaging over nine yards per carry. His 184 yards on the ground against Cuero helped punch Wimberley's ticket back to the state title game.
Sophomore LB Ty Thames - The reason Wimberley's future is bright win or lose this week isn't just because of Stoever's emergence but also that of Ty Thames on defense. He played a big role in the Texans' comeback win over Cuero with monster second half leading the Code Red Defense.
- Ishmael Johnson
KEY MATCHUPS
Wimberley RB Johnny Ball vs. Carthage LB Deonte Marry
Wimberley's rushing attack is a major reason as to why the Texans are one win away from a state title. Ball, a senior, is closing in on a 1,500-yard rushing season while averaging nearly nine yards a carry and accounting for over 20 touchdowns. Sophomore Cody Stoever is also over 1,000 yards rushing on the season. Carthage's defense, led by all-everything linebacker Marry, must limit the ground success of the Texans to claim another state title. The Bulldogs are only allowing 12.5 points a game in 2022.
Carthage coach Scott Surratt vs. Wimberley coach Doug Warren
No coach in Texas high school history has more state titles at one school (8) as Surratt does at Carthage. He inched over the 200-win mark during the 2022 campaign, and the Bulldogs have won around 90 percent of their games in the 16 years of his reign in East Texas. Playing in AT&T Stadium is the expectation, not the hope, for Surratt's club. Warren was an assistant for 24 years at three different high schools, including Wimberley, before taking over the Texans at age 46 back in 2013. He was the Class 4A Coach of the Year back in 2018.
- Mike Craven
PREDICTIONS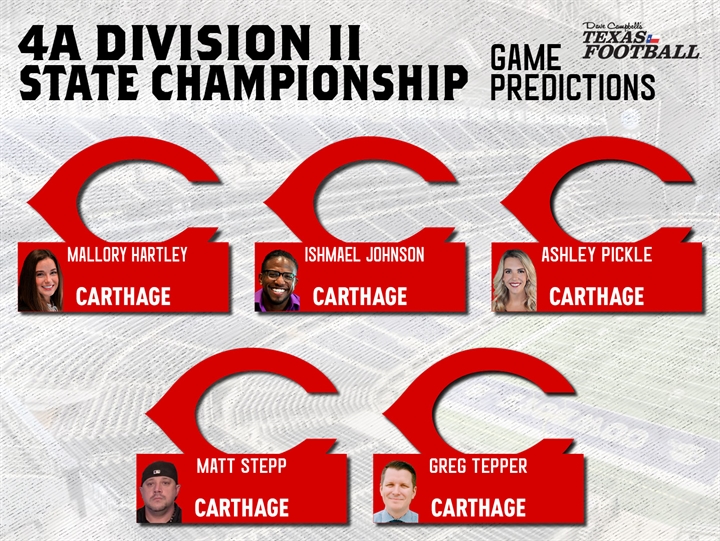 THE PICKS
This article is available to our Digital Subscribers.
Click "Subscribe Now" to see a list of subscription offers.
Already a Subscriber? Sign In to access this content.