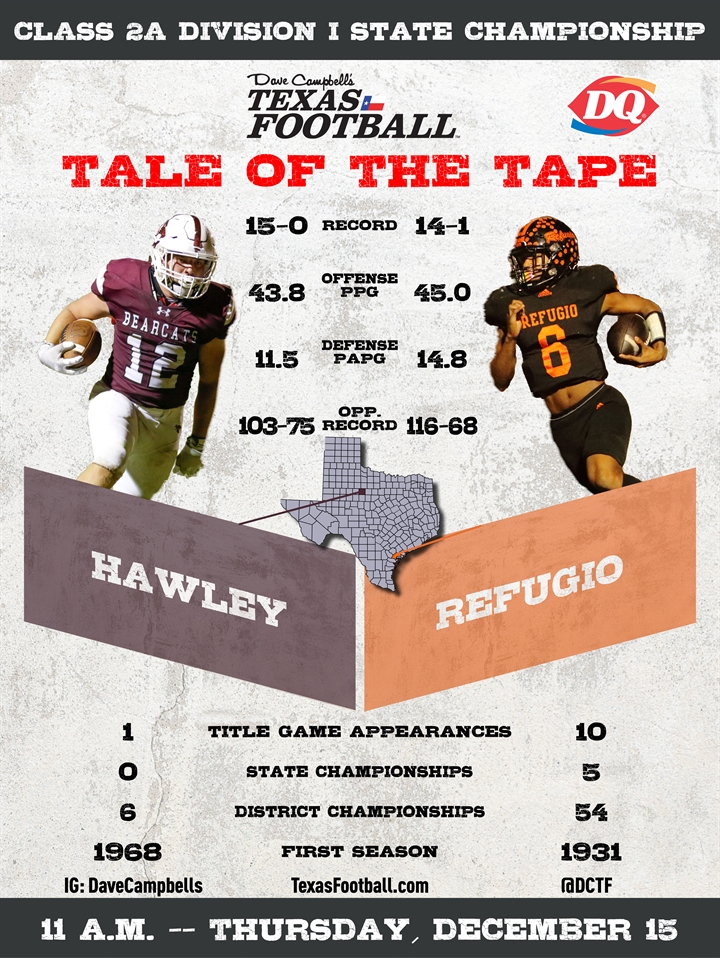 Hawley (15-0) vs. Refugio (14-1), 11 a.m. Thursday at Arlington's AT&T Stadium
It's a return to AT&T Stadium for the Hawley Bearcats, who made a surprise run to the title game a year ago before falling to a historically good Shiner squad. This time Coach Mitch Ables' squad expected to be at this point and they are hoping to finish the job with a senior laden squad that is brimming with big game experience.
Last week Hawley took down a tough Crawford squad, 34-20, in a battle of unbeaten teams. RB Austin Cumpton led the way for Hawley rushing for 175 yards and four touchdowns to propel the Bearcats to the brink of a state title. Cumpton missed the final three games of Hawley's run a year ago with an injury and played Thursday night like man possessed; he definitely packs a punch at 6-1 and 225 pounds.
Hawley is more than capable of making plays through the air with QB Rodey Hooper, who threw for 227 yards on the night. He's got a quartet of playmakers on the outside with Kason O'Shields, Texas Tech commit Chandlin Myers, Will Scott and Diontay Ramon, who also doubles for Hawley on defense as a force from his defensive end slot.
It hasn't been easy for Refugio, which is back in the state title game for the first time since 2019. But the Bobcats have met each and every challenge along with the way. Just a week after winning an absolute slugfest with back-to-back state champion Shiner, the Bobcats again found themselves in a battle Thursday night against unbeaten and top-ranked Timpson. Jason Herring's squad proved to be up to the task walking out with a 24-21 win as Alex Placencia's 20- yard field goal with under 10 seconds left gave Refugio its only lead of the night.
The story of the game was Refugio's tough defense, which solved the mystery of Terry Bussey and that Timpson offense, containing the sensational junior signal-caller, while junior speedster WR Ernest Campbell showed why he's a major FBS prospect as well as he ran for 128 yards and a touchdown and added 53 receiving yards and a touchdown. His 35-yard catch with under a minute left is what set Refugio up for the game winning field goal.
This one may wind up being the best game of the weekend, both teams have run the gauntlet to get here, both are talented and have playmakers, for me the key is the offensive balance for Hawley, which could keep an aggressive Refugio defense off-balance.
Stepp's Pick: Hawley by 3
PLAYERS TO WATCH
Hawley
RB/LB Austin Cumpton - An absolute terror to tackle at 6-foot-1 and 225 pounds. Cumpton has played like a man possessed this season after missing the final three games of Hawley's playoff run a season ago. He'll punish defenses with his hard-nosed running style and crush offenses with his downhill style of play. One of the premiere players to watch at state.
QB Rodey Hooper - When Cumpton isn't making plays on the ground, Hooper is doing it through the air. The senior has plenty of experience under his belt, having started for the Bearcats since the middle of his sophomore season. Perhaps the best part of his game is the touch he puts on his deep ball, knowing good and well that one of his talented WRs - Diontay Ramon, Will Scott, Chandlin Myers, and Kason O'Shields - will likely come down with it.
WR/DB Chandlin Myers - Few teams that Refugio has played this season can match its team speed, but Hawley is one of those teams thanks to players like Myers. At 6-foot-3 and 170 pounds, the Texas Tech is a matchup nightmare on both sides of the ball. He has no problem taking the top off of defenses, and plays with a physicality at his corner position that should give Refugio's weapons fits.
Refugio
WR Ernest Campbell - There aren't going to be many players playing at AT&T Stadium that are better in space than Campbell, who, at 5-foot-8 and 150 pounds, is nearly impossible to corral once he gets passed the initial defender. Campbell sports offers from the likes of Baylor, Colorado, Houston, Louisville and Oregon.
QB Kelan Brown - He's nicknamed "The GunSlinger" for a reason. The 2025 prospect can absolutely sling the rock all over the field, and he makes it look easy. For as young as he is, Brown (6-0, 175) really knows the game. He doesn't turn the ball over, sticks in the pocket when necessary to let routes develop and has great trust in his offensive line. The leader of one of the most potent offenses in the state.
WR/SS Isaiah Avery - Avery has the type of length and quickness to keep up with all of the weapons Hawley is going to line up out wide. He'll need to be on his game because the Bearcats are going to test the Bobcats deep. What really impresses about Avery's game is his willingness to play near the line of scrimmage and make a difference stopping the run. He'll be needed with Austin Cumpton coming down hill.
- William Wilkerson
KEY MATCHUPS
Hawley WRs vs. Refugio DBs
Hawley enters the state title game undefeated and with an offense averaging nearly 44 points per game, thanks in large part to a potent passing attack. Quarterback Rodney Hooper is over 3,000 yards passing on the season. His top target is Diontay Ramon, but he's not alone. Will Scott, Chandlin Myers, and Kason O'Shields are dangerous weapons. The Refugio defense is only allowing 14.8 points per game. A talented, athletic secondary is up against a big test, however.
Hawley's defense vs Refugio's team speed
The adage that speed kills is absolutely true in Texas high school football. Refugio is one of the fastest teams in Class 2A, and the Bobcats use that team speed to overwhelm and disenfranchise opponents. Hawley must mitigate that speed advantage and limit the big plays by a Refugio offense that averaged 45 points per game in 2022. The Bobcats have scored more than 50 points in three of their four playoff games this season. Taking the correct angles and gang tackling are vital for Hawley.
- Mike Craven
PREDICTIONS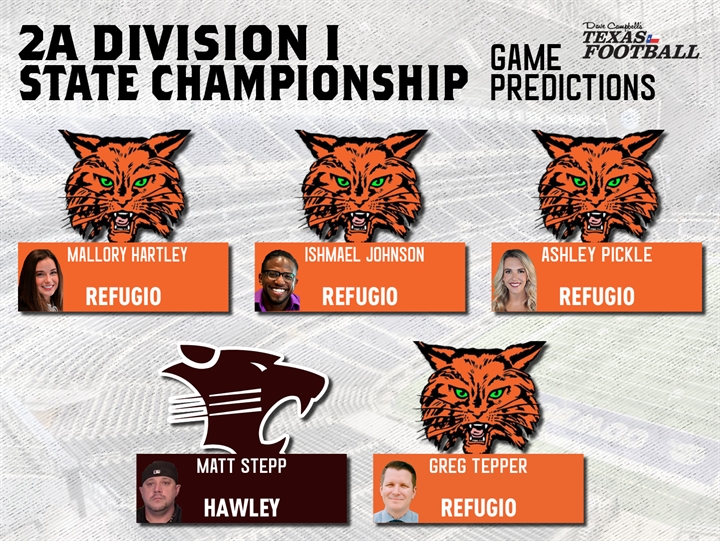 THE PICKS
This article is available to our Digital Subscribers.
Click "Subscribe Now" to see a list of subscription offers.
Already a Subscriber? Sign In to access this content.