There's a New No. 1
Duncanville DE Coln Simmons (6'3, 225) tops the rankings charts following a dominant performance throughout his junior season. The five-star phenom racked up 79 tackles, 33 TFLs, and 22.5 sacks (school record) to help lead the Panthers to the 6A Division I state crown.
Simmons has collected 45 scholarship offers on the recruiting front, with schools like Alabama, Arizona State, Georgia, LSU, Ohio State, Oklahoma, TCU, Tennessee, Texas, Texas A&M and USC headlining.
So far, two of DCTF's five five-star prospects have been named (Simmons and Lake Belton WR Micah Hudson).
New to the Top 10
Conroe Oak Ridge OLB Justin Williams (6'2, 205) is a defensive freakshow, racking up over 100 tackles and earning District Defensive MVP honors for his efforts. With over 30 offers, schools like Auburn, Ohio State, Oklahoma, Oregon, TCU, Texas, Texas A&M and USC may be worth watching closely.
Longview RB Taylor Tatum (5'11, 200) is all about production and he is a record-setting rusher for one of the state's most tradition-rich high schools, rushing for 33 touchdowns last season. Major colleges have taken notice as he boasts 35 offers. Of note: Alabama, Baylor, Georgia, Michigan, Ohio State, Oklahoma, Oregon, Stanford, TCU, Tennessee, Texas, Texas A&M and USC.
----
Browse TexasFootball.com's profiles below for highlight videos, schools of interest, and recruiting notes on the Top 10 highest-rated Texas high school football's highest-rated prospects per the 2024 DCTF Hot 100.
10. DE Nigel Smith - Melissa
9. QB DJ Lagway - Willis
8. RB Taylor Tatum - Longview
7. OLB Justin Williams - Conroe Oak Ridge
6. DE Zina Umeozulu - Allen
5. OT Max Anderson - Frisco Reedy
4. WR Drelon Miller - Silsbee
3. CB Kobe Black - Waco Connally
2. WR Micah Hudson - Lake Belton
1. DE Colin Simmons - Duncanville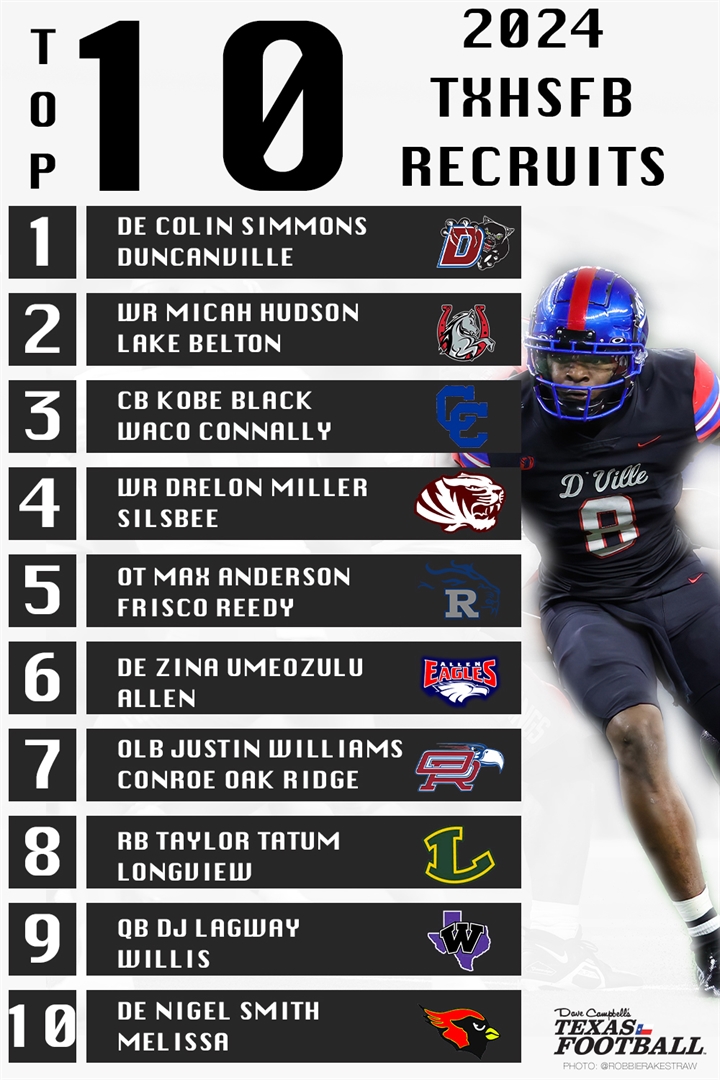 This article is available to our Digital Subscribers.
Click "Subscribe Now" to see a list of subscription offers.
Already a Subscriber? Sign In to access this content.