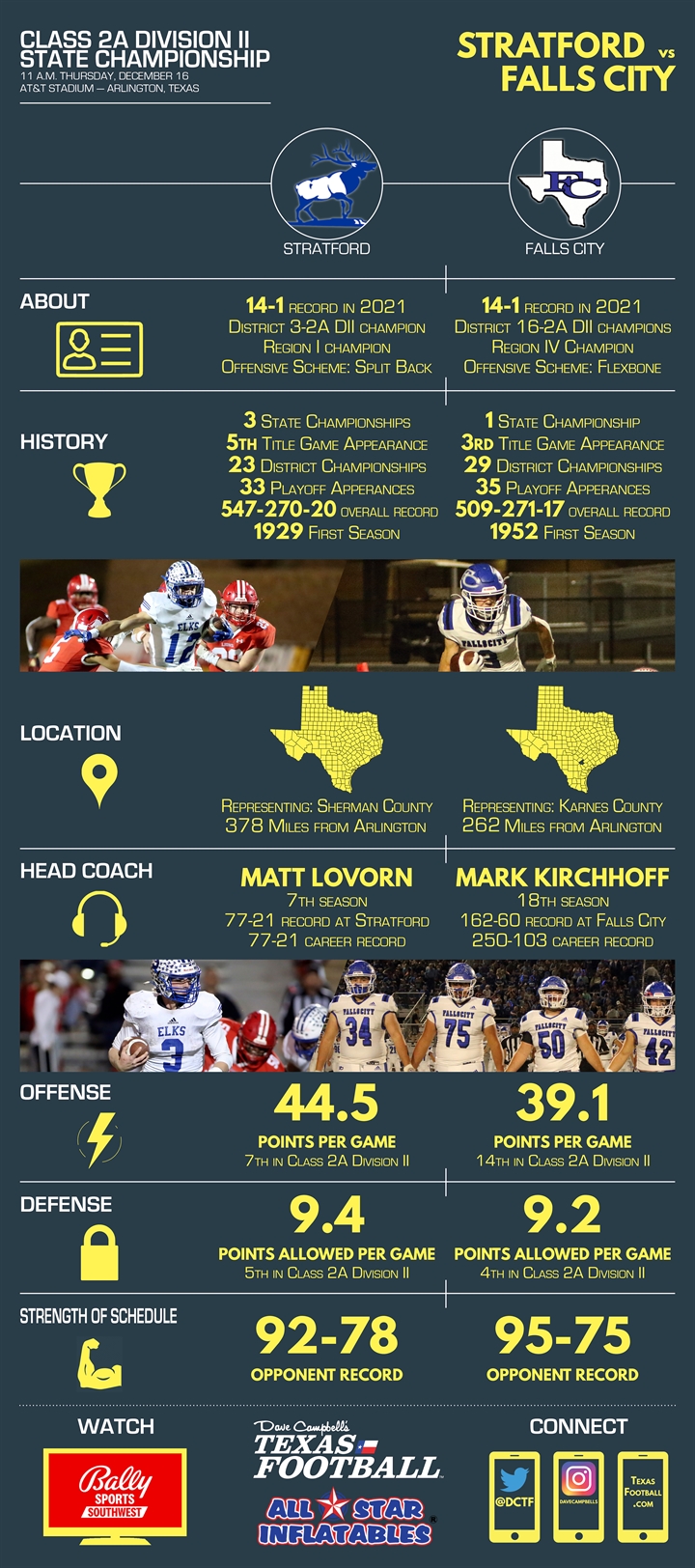 Stratford (14-1) vs. Falls City (14-1), 11 a.m. Thursday at Arlington's AT&T Stadium
If you had Stratford against Falls City in your state title game matchup you are probably lying or a fan of one of these two teams. The title game features two schools an incredible 633 miles apart. Stratford pulled off what many considered to be a minor upset as they beat unbeaten Albany, 35-14, behind a massive second half effort in which they outscored the Lions 18-0. QB Cody Rinne ran for 175 yards and three touchdowns and added in eighty passing yards and the Elks defense held Albany to just 34 rushing yards in the win. Falls City was able to pull off a massive upset in the semifinals ending a three-game losing streak in this round to Mart with a stunning 24-20 over the previously unbeaten Panthers. QB Luke Shaffer tossed a 17-yard touchdown pass to Grant Jendrusch with 39 seconds left to lift the Beavers to the win. It was really the Falls City defense that put the Beavers over the top as Falls City contained a speedy and dynamic Mart attack that had been the catalyst for four straight state title appearances and three state championships. This game will be smash-mouth, old-school type matchup, but the difference is Stratford's size and ability in the trenches. The Elks ability up front and QB Rinne's ability to beat teams with his arm and his legs is the difference in this low-scoring showdown.
Stepp's Pick: Stratford by 7
PLAYERS TO WATCH
Stratford
QB Cody Rinne - The do-it-all quarterback is the focal point for everything the Elks do offensively. While he's more than capable of getting the job done through the air, it's what he's able to do with his legs that will keep Falls City up at night.
WR/DB Dru Jones - An all-state selection a season ago, Jones is an absolute matchup nightmare wherever he lines up. The Elks find various ways to get the ball in his hands, and when he does... watch out.
LT/DL Tyler Smith - A load on both sides of the ball, Smith will be key to slowing down Falls City's vaunted rushing attack. The Beavers will have to account for the 6-foot-4, 210-pound Smith all night.
Falls City
QB/DE/K/P Luke Shaffer - The transfer in from Smithson Valley can literally do it all for the Beavers. He spearheads their offense, makes plays defensively (came up with a critical interception against Burton two weeks ago) and handles kicking and punting duties. Needless to say, he's vital to Falls City's chances of bringing home a state championship. He leads 2A Division II with 45 touchbacks and averages 42.2 yards per punt.
RB/LB Grant Jendrusch - A senior captain, Jendrusch gets around 8-10 touches per game and makes the most of them, including a rushing touchdown against Mart. He's also a leader on defense with a knack for forcing turnovers (6 INTs last season).
RB/LB Cole Thomas - The lead back for the Beavers, Thomas rushed 23 times for 130 yards and 2 touchdowns in its regional final win over Burton, and followed that up with a tough 17-carry, 69-yard performance against Mart. He's the real deal.
(William Wilkerson)
KEY MATCHUPS
Stratford quarterback Cody Rinne vs. Falls City defense
"Clutch" is a word that describes Rinne. He built upon that reputation in Stratford's semifinal win over Albany when he converted multiple lengthy third and fourth down plays into first downs, including an 18-yard run on fourth-and-10 with the game still hanging in the balance. Rinne rushed for 176 yards and three touchdowns, adding 79 yards through the air. Falls City wants to make Rinne a passer. And even when Falls City gets Stratford into third-and-long, the Beavers must be aware of Rinne's ability to scramble.
Falls City vs. An emotional letdown
Upsetting Mart in the state semifinal game can't become the highlight of the football season for Falls City. The Beavers still have one more goal in mind, and that is capturing a state championship in a game against Stratford. Falls City won an emotional game against Mart, one of the most successful teams in Texas over the last decade. Those emotions must be put in the rear-view mirror with focus on the next game if Falls City wants to avoid a letdown at AT&T Stadium.
(Mike Craven)
PREDICTIONS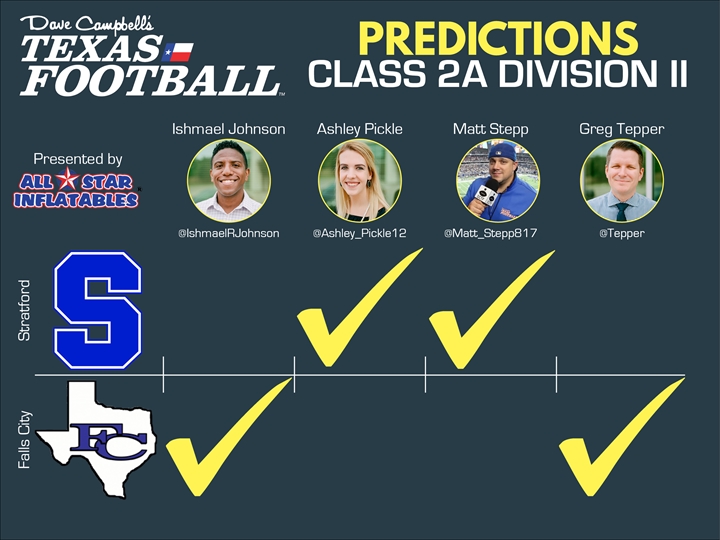 This article is available to our Digital Subscribers.
Click "Subscribe Now" to see a list of subscription offers.
Already a Subscriber? Sign In to access this content.