When Todd Rodgers made the decision to pass up an offensive coordinator position at Dallas Skyline to take over as the head coach at Class 2A Argyle, he was taking a leap of faith based on the belief that the upstart program was an untapped goldmine that could be developed into something special.
Rodgers knew it wasn't going to be an overnight project – the Eagles were coming off a 1-9 season in their first year as a varsity program. But he had a vision of what it would take to develop Argyle into what it is today and quickly begin to implement his plan after being hired before the 2003 season.
"It was a blossoming community and had the early stages of what Southlake was in the very infantile years," Rodgers said. "It just had that potential and I always saw it as having that potential. But it had to be grown organically and I wasn't planning on leaving.
"I had three kids and I wanted to give them the best environment athletically they could ever be a part of – so there was a personal and professional investment there to grow it to its potential."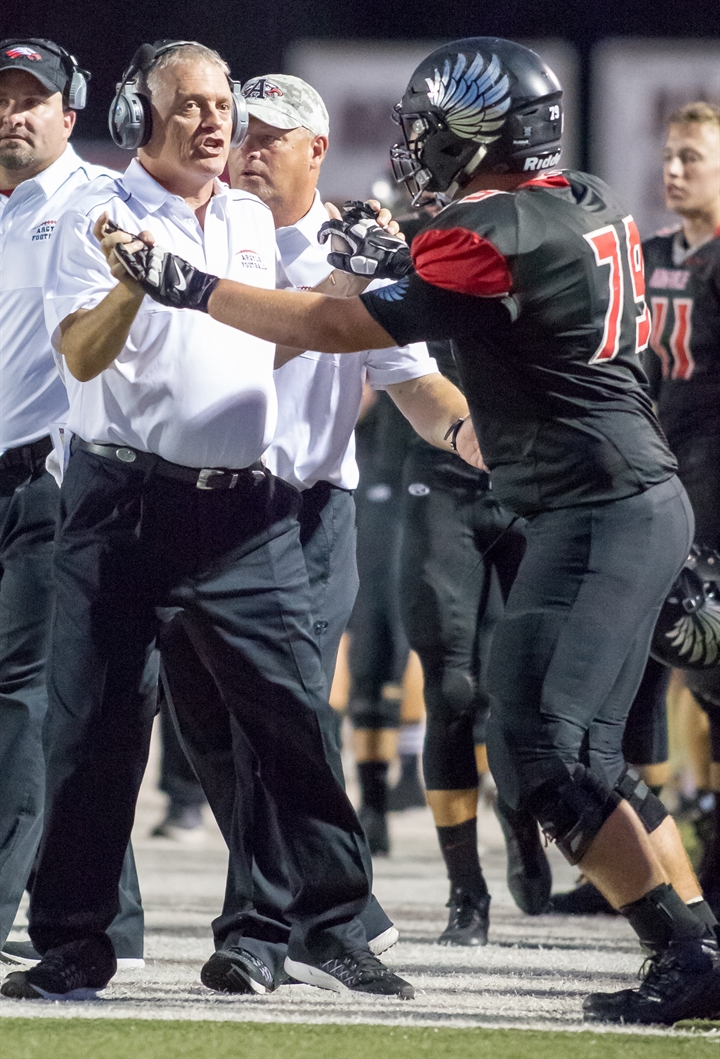 As the Eagles enter their 16th season now under Rodgers, the program has flourished both on the football field and throughout the rest of the athletic program at a level that's hard to match anywhere else in the state.
Rodgers has won 83 percent of the games he's coached (171-35) and Argyle has won nine UIL Lone Star Cups, including a state record seven in a row. The program has thrived just as Rodgers knew it could, and yet, he's still hungry for more.
The Eagles won their first state championship in 2013 but are 1-3 on the biggest stage – including a pair of heartbreaking overtime losses. Rodgers' son, Cooper Rodgers, was the starting quarterback on the 2014 team that fell to Navasota in double overtime in the Class 4A Division I state championship game.
"It would be huge for him to get another one," Cooper Rodgers said. "We've gotten pretty unlucky on the big stage and that's been rough. We have an incredible football program but we're 1-3 and that's tough to look at. He's happy to win football games but another state championship would be a cherry on top."
Getting into the coaching world
While it's hard to imagine Rodgers' unique football mind in any other profession after the abundance of success he's had over the years, he said he entered college at Angelo State University in the late 1980s looking to make a lot of money in business.
But after a change of heart just a few semesters in, Rodgers decided to get involved scouting for some local high school football programs. That set him on the path to get his first coaching job at Somerville in 1988 before he moved on to Rosebud-Lott as an assistant in 1989.
When Rodgers took a leap of faith and applied to be a graduate assistant at the University of Texas, his career really began to take off. With two years of high school coaching experience under his belt, Rodgers was hired by Texas coach David McWilliams to serve on the Longhorns' staff as a GA.
It was in Austin where Rodgers' creative football mind began to take shape as he soaked in plenty of knowledge over a two-year period in the heralded Southwest Conference.
"That is probably what accelerated my career, my learning, my understanding, my passion and my drive," Rodgers said. "It really ignited the fire in my belly to learn and push forward in the coaching profession.
"The GA experience was a high intensity training ground for football. I was overly exposed to all facets of football, all facets of training, all facets of nutrition – everything. I had to really learn the basis of everything and it was just a spring board for the rest of my career."
While opportunities at the college level presented themselves after the 1991 football season, Rodgers – who was already expecting his first child with his wife Carrie – wasn't willing to leave Texas and was hoping to find a good-paying job in order to support his young, growing family.
Rodgers ended up taking a job as an assistant at Rockwall in 1992, which helped integrate him back into the high school football scene. He spent two years with the Yellowjackets, where he began to incorporate the models he learned at Texas into his own coaching style.
"At that point, I had a different lens," Rodgers said. "Every coach could get me something. It was either something I wanted to do, or liked, or something that I was going to make sure I didn't do in the future. So, I began to process my own coaching style, focus on the things I was good at and improve the things I was terrible at."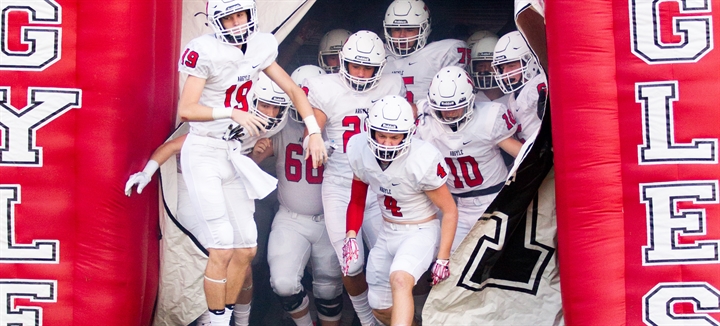 Building an attractive resume
After continuing to grow as a young coach in Rockwall, Rodgers joined the late Que Brittain's staff at Flower Mound Marcus in 1994. He thrived with the Marauders, serving as the team's secondary coach when the program advanced to the Class 5A Division II state title game in 1995.
Despite falling in the first title game appearance, Marcus – which had turned into an annual contender and one of the top programs in the state early in its existence – bounced back just two years later to claim the 5A Division I state championship with a dominant 59-20 win over Alief Hastings at the Astrodome in Houston.
Brittain retired after the 2000 season but Rodgers stayed on staff at Marcus for two more years before eventually seeking more responsibility and agreeing to take the offensive coordinator job under Brittain when he returned to coaching at Dallas Skyline.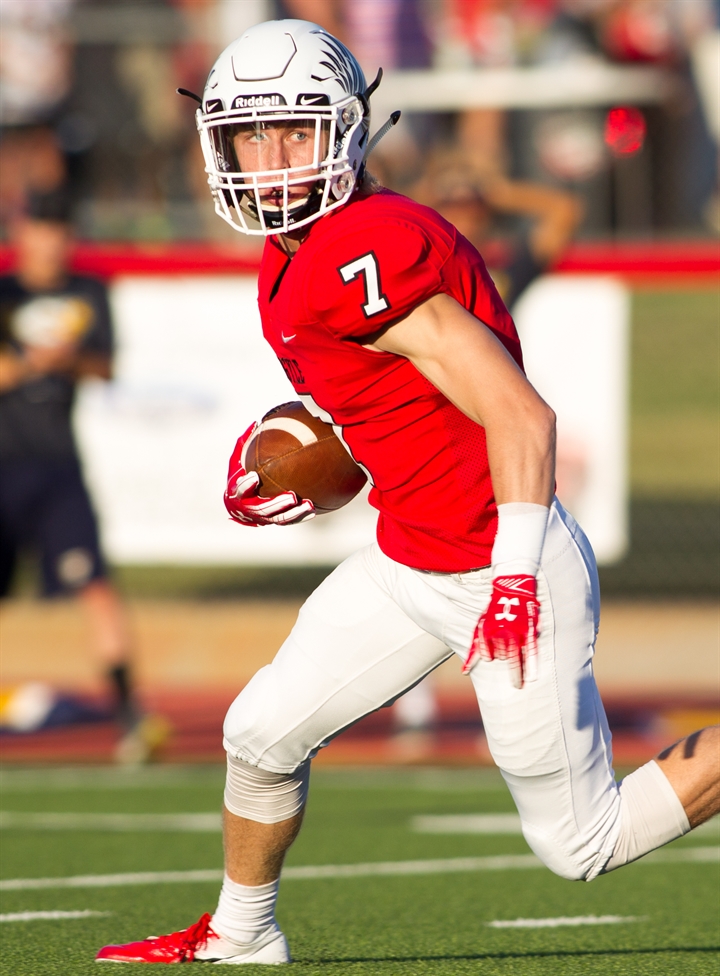 But as head coaching jobs in the area began to open up, Rodgers became intrigued by the idea of becoming a head coach before the 2003 season with more than a decade of experience as an assistant under his belt.
"It put some credentials by your name," Rodgers said. "If you coached on a program that was as successful as Marcus was during the 90s, I guess you were in the door when you're applying for head coaching jobs."
Argyle, which sits just 13 miles from Marcus, had just finished its first varsity season as an upstart 2A program but was looking for a new head coach after Jim Randall departed after just one season. Rodgers was familiar with the area and the district after coaching against the Eagles at the junior varsity level and said it was hard to ignore the upside surrounding the opportunity.
Rodgers changed course and passed on the opportunity to go to Skyline, opting instead for his first opportunity to essentially start a program from scratch.
"Becoming a head coach was ultimately what I wanted anyway," Rodgers said. "It was a smaller school, but I'd already been out here, and I'd already seen it. I knew it had a huge upside – they just needed new leadership, and I cast a new vision for them."
Capitalizing on potential
Rodgers certainly had a lot to draw from when it came time for him to implement his vision for Argyle just two years into the school's existence as a varsity football program. He had a blueprint of success from his time at Marcus but had to adjust that plan to better fit a school that had fewer than 60 players in the entire program.
The focus in the beginning was placed on getting the program's numbers and turnout to closer match that of schools like Celina, Gunter and Whitewright. Argyle took an unconventional approach to do so, introducing the concept of platooning in order to give as many kids as possible an opportunity to get on the field with a significant role while focusing on playing on one side of the ball.
"It wasn't an everybody gets to participate type of mindset, it was a challenging environment," Rodgers said. "In the beginning, they were taking the very best players and playing them on both sides of the ball. I was trying to platoon as much as possible, because I knew I was committed to the long-term development."
Cooper Rodgers, who is now a senior studying Civil Engineering at Texas, said his dad has always credited the school's administration for being on board with his plan to get the program off and running.
"They were always on the same page with where they wanted to take the school," Cooper Rodgers said. "I think from the very beginning, my dad started with the attitude that we were going to win. That set the tone."
It didn't take long for Rodgers' plan to pay off. The Eagles went 5-5 in his first season at the helm of the program just a year after going 1-9, encouraging the community and the administration that things were heading in the right direction.
With a host of sophomores seeing the field in 2003, Rodgers knew he would have a talented team in 2004. Argyle went 10-3 and advanced to the 2A Division I Region II final before being blown out by Boyd 55-21.
The aftermath of that loss was one of the first key moments in establishing a championship culture at Argyle.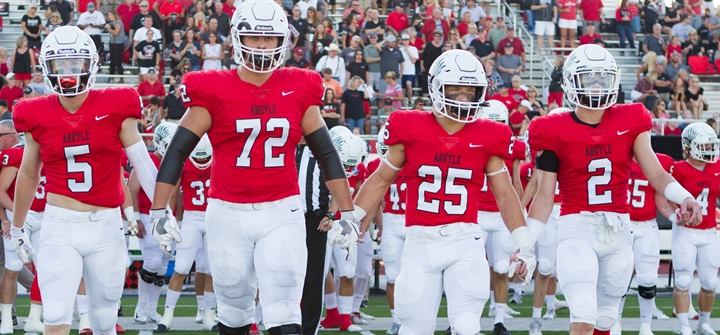 "It was a moment in time where we said, 'Well, what's it going to take to get past the Boyds of the world?' They embarrassed us, humiliated us. If we want to beat a team like Boyd, we're going to have to change things.' And they did – the kids put in the time and they committed. They took a huge leap, because they didn't like the emotions of the result in 2004."
The Eagles responded by advancing to their first state title game in 2005 – just three seasons into Rodgers' tenure and four seasons into the team's existence as a varsity program – before moving up a classification in 2006.
Argyle finished 7-4 and lost in the first round that year before adjusting to the competition and advancing to the regional semifinals in 2007. But Rodgers points to the 2008 season, when Argyle went 7-5 and lost in the second round, as another key turning point in the program's development.
"I felt like I let the 2008 team down," Rodgers said. "I was timid and wasn't as bold as I am now, and I think I was kind of hoping the problems would work themselves out. I should have been bolder, addressed the problems on that team and done more as a leader to step in emotionally and bring the darkness to light.
"That's been very motivating for me moving forward because I don't sit back and let things happen anymore."
The changes Rodgers made after 2008 produced results immediately as the Eagles won 12 games in 2009 and have gone on to win at least 11 every season since. The team made another appearance in the 2011 state championship game but fell short before finally breaking through in 2013.
Argyle, led by all-purpose star Ian Sadler and All-American kicker Cole Hedlund among a host of other talent, rattled off 15 straight wins to book a trip to Arlington for the 3A DII state championship game.
The Eagles held off Fairfield in a 38-33 thriller, securing Rodgers' first state championship as a head coach and snapping a two-game losing streak in state title games. Argyle went on to advance to the title game again in 2014 with Cooper Rodgers, then a senior, serving as the team's starting quarterback.
"Not many people get to say they've played in two state championships with their dad so that was obviously an incredible experience," Cooper Rodgers said. "That playoff run my senior year was crazy. Being able to get back to Jerry World was awesome."
The Next Chapter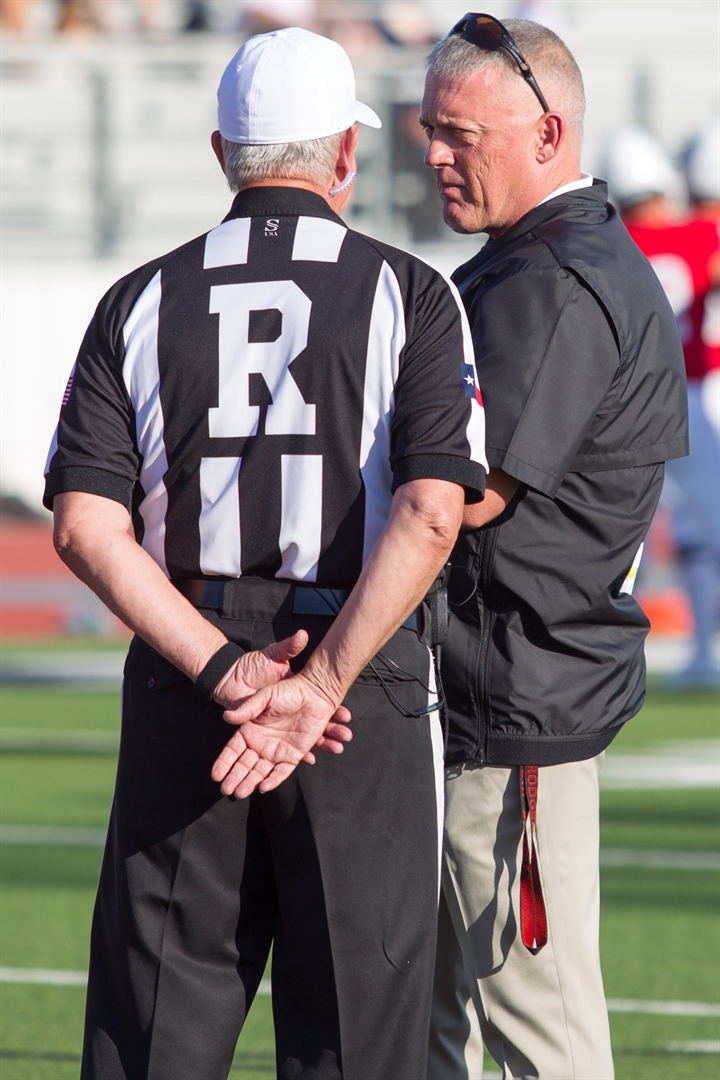 With the consistent success he's produced throughout the athletic department, Rodgers has been sought out by larger programs hoping to entice one of the state's most successful coaches to make a jump to a larger classification.
But with his youngest daughter, Lanie, still a junior at Argyle, Rodgers said he has no plans to leave anytime soon and will re-evaluate his options after her graduation.
"I've been sought out many times and I'm flattered by that," Rodgers said. "They want the best for their school and see if we have an interest in the job. But my family is very connected to Argyle and since my daughter's in school here, I've never felt that my professional advancement into another classification has been a priority.
"I'm just trying to make this job better and make it the very best situation for every kid that comes through here."
That will continue to be the focus now, as the Eagles are again one of the favorites to win the Class 4A Division I state championship this year. The team is off to a 3-0 start and already has one of the most impressive resumes in the state with wins over both Stephenville and La Vega.
After falling in the third round of the playoffs in back-to-back seasons, Rodgers said last year's last-second loss to Stephenville in the postseason has a chance to go down with the 2004 and 2008 season as another turning point for the Eagles.
Argyle is the No. 1 team in the Dave Campbell's Texas Football 4A DI rankings and is favored to win its remaining seven regular season games by an average of more than 39 points per game.
"We'll see," Rodgers said of this year's team. "That's to be announced. Does it smell the same? Does it look the same? Does it feel the same? Yes. But, there's still a lot of football games to be played."
This article is available to our Digital Subscribers.
Click "Subscribe Now" to see a list of subscription offers.
Already a Subscriber? Sign In to access this content.