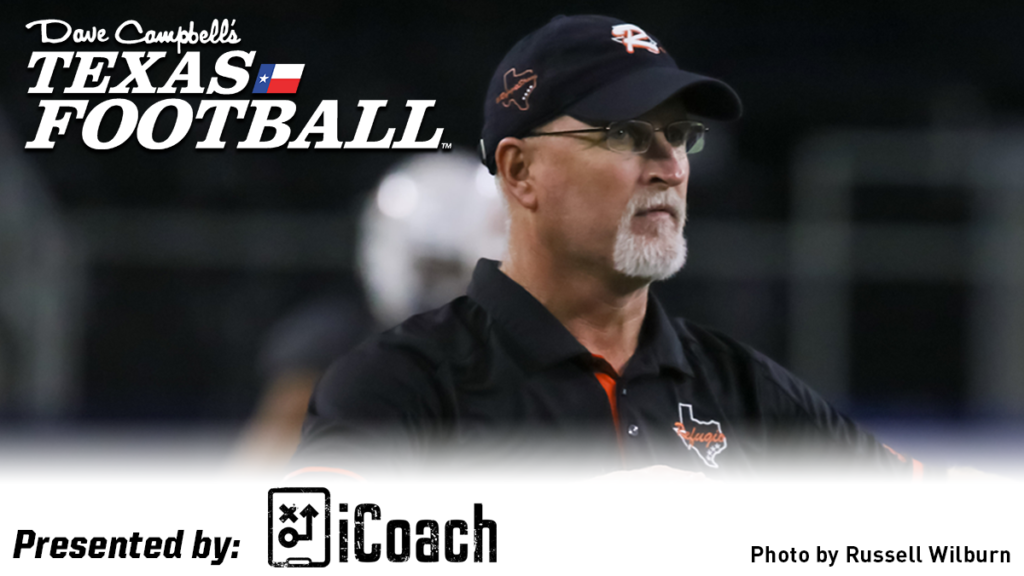 Refugio's Jason Herring is one of the most polarizing coaches in Texas high school football. He's won 216 games and three state championships as a head coach. At times, he's been painted out to be a ruthless, win-at-all costs signal caller. He can be seen on Friday nights pacing up and down the sideline yelling with a high-level of intensity no matter the score. Those in Refugio love him – a few outside the football-crazed town comprised of just under 2,900 people don't. Maybe both sides would be surprised if they knew his story a little better. While Herring has taken the Texas high school football world by storm, he spent the first 12 years of his life with a much different career path in mind. Herring wanted to be a dentist. It wasn't until his seventh-grade year in the small town of Robert Lee, Texas that Herring decided he wanted to follow in the footsteps of Nelson Coulter, who was the Steers' head coach and athletic director at the time. Herring made the decision to pursue coaching as a career a short time after experiencing life as an athlete under Coulter and never wavered through high school and college before embarking on what has turned out to be an extremely successful career. "I don't know why [I wanted to be] a dentist, I guess I was thinking about the money," Herring said. "But from the minute I got in my first seventh grade football practice, within two or three weeks I go home and tell my mom and dad I'm going to be a football coach just like Coach Coulter. No question. "I fell in love. I fell in love with athletics and I fell in love with my coaches to be honest."
----
Coulter developed Herring's passion for kids and did much more than just guide him on the path into coaching. Like many athletes, Herring's coaches – most notably Coulter and Ed Poehls – ended up spending more time with him during the day than his parents were able to. As a player, Coulter taught Herring the importance of the little things – and the lessons went beyond the football field.
"We would stop and eat a chicken fried steak or a hamburger after a game and it was way, way more important what the manager and the people in that restaurant said to Coach after we left than even how we did on the field that night," Herring said. "They made you do all the little things right that would help you out in life and that is the reason we were so successful." While he didn't know it at the time, Coulter significantly influenced the way Herring modeled his own program down the road. Coulter and Herring formed a tight bond during their days together at Robert Lee High School and it was a bond that grew deeper as the two grew older. Coulter eventually served as best man and sang in Herring's wedding. It was easy for the two to connect because they are so alike. Herring is competitive, passionate and energetic both on and off the field. As a student, he would go above and beyond in Coulter's math class. He would outdo his classmates in physical fitness testing. A self-driven man, Herring never needed to be motivated – the desire to succeed was there from the start. "I look in the mirror and I see that staring back at me as well," Coulter said. "I'm sure a lot of the connection between us lies along those lines." Most importantly, Herring and Coulter love kids. They always have. Herring spends his weekends teaching Sunday school classes with his wife, Lisa, at First Baptist Church in Refugio. He said he often fills the role of father, counselor, preacher, dad, teacher and coach all at the time for some kids in a town where football is the only saving grace. "I definitely think that's true," Herring's son Kobie Herring, a redshirt freshman football player at UTEP, said. "He's been the same everywhere we've been and teats everyone the same even outside of football. He's always loved kids and always wanted to be involved with kids. "It's his passion and that's his true calling."
----
Herring began his coaching career as a junior high assistant for one year under Sam Harrell at Big Lake Reagan County after graduating from Angelo State in 1992, but quickly moved on to work under Ross Rogers at A&M Consolidated. Working for Harrell and Rogers – two of the game's brightest offensive minds – was a dream come true for Herring, who learned a great deal in the first few years of his career. Rogers, who groomed a number of successful head coaches including Lee Fedora, John Stillwell and Tim Buchanan, took note of Herring's drive and determination and elevated him to the varsity level within three years. "Even though I started as a junior high coach and would scout on Friday, I would spend every Saturday and every Sunday right up there with the varsity coaches doing whatever they needed," Herring said. "Mostly I just kept my mouth shut and was a sponge." Herring's offense at Refugio is based on a lot of the same innovative spread concepts A&M Consolidated used decades before they became popular. He credits Harrell and Rogers for helping him develop into a head coach and giving him the opportunity to jumpstart his career. "I couldn't have picked two better guys," Herring said. "We don't call our offense exactly like they did but it's the exact same stuff. You can watch us play and plug in a Consolidated game and dang sure know where I cut my teeth."
----
After shining as an assistant for four years, Herring got his first shot as a head coach at Wall in 1996 – but things didn't work out as expected. The Hawks struggled to a 6-14 record in two seasons under Herring and he was fired. The rookie head coach turned to Coulter for guidance. "He and I had a lot of conversations and consultation," Coulter said. "I tried to help him exit that situation as gracefully as he possibly could. Those things are ugly – losing almost always presents some challenges you don't relish." Losing wasn't something Herring accepted. After the brief stint at Wall, he landed on his feet as an assistant at Sonora and quickly found success with the Broncos. Herring was promoted to head coach in 2000 and went on to win his first state championship that same season. While Coulter had guided Herring through the struggles at Wall, the two fell out of touch over the next few years while Herring worked his way up the ladder at Sonora. But when the Broncos knocked off Blanco to win the state title, Herring didn't wait long to give his mentor a call. "I got this phone call late on December night, just out of the blue," Coulter said. "I hadn't talked to him in a long, long time. He said, 'Hey Coach, I just want you to know we finally won that championship.' And I said, 'Do what?' He used the pronoun 'we' like I was involved somehow. "He said, 'Coach, we just won a state football championship.' All I could said was, 'Wow.'" It was the beginning of a dominant run for Herring as the Broncos went on to win 63 games from 2000-2006. But even with as successful as he was in Sonora – and despite the bond he developed with the community – Herring admitted there were a lot of small town politics to overcome. He left West Texas for the first time in 2007 to take the job at Refugio, where his determination to win and competitive nature were welcomed by a title-thirsty town looking to put an end to a lengthy run of regional semifinal and state quarterfinal appearances.
----
[Help your athletes succeed on and off the field — Download the iCoach App today!]
The Bobcats, who in 2007 had advanced to at least the regional semifinals in six of the past eight seasons but hadn't been to the state championship game since 1987, wanted nothing less than a return to the pinnacle of high school football. They ensured Herring knew that from the get-go. But Herring quickly found himself four seasons deep with the program without a championship. The Bobcats went to the state semifinals in 2009 and 2010 but he began to fear for his future with the program as the 2011 season rolled around. After reviewing his system from top to bottom, Herring developed a plan to get Refugio over the hump. The Bobcats were loaded in 2011 and boasted what was arguably one of the most talented teams in the program's history. Guys like Lynx Hawthorne, Travis Quintanilla, Shiloh Whetsel and Draigon Silvas had the town buzzing and craving a December run to Arlington's Cowboys' Stadium. Competing in District 16-2A Division II for the second straight year, Refugio was coming off a season in which they outscored their district opponents by an average of more than 56 points per game. In fact, Refugio was a perfect 23-0 in district play through Herring's first four seasons as the head coach. The dominance was a product of the UIL's biennial realignment process consistently putting the Bobcats in a weak South Texas district featuring one of the widest talent disparities in the state. Herring was trapped. After playing by the unwritten rules for four seasons and pulling his star players at halftime of blowout games, Herring made the decision to leave his starters in through third quarter of every regular season game – regardless of the score. He knew the result would be brutal on some occasions. The Bobcats opened district play with a 48-0 win over Skidmore-Tynan before things began to escalate. 82-6 over Kaufer on Sept. 30. 91-6 against Freer on Oct. 7. 73-0 against Premont on Oct. 21 and 74-0 against Santa Gertrudis Academy on Oct. 28. The scores drew rising levels of backlash as ESPN's Outside the Lines caught wind of the situation and sent a camera crew down to follow the Bobcats. Despite the unwanted attention, Herring's plan was working. Refugio cruised through its first four playoff games in unprecedented fashion, finally securing a spot in the state title game with 63-33 drubbing of Lexington. OTL published its piece in an 8:21 video the same week the Bobcats were set to play Cisco in the state championship game. Herring received death threats. He was called Satan and "Halftime Hitler." He referred to the season as one of the most difficult of his coaching career. "They were just choosing to look right then in the moment and not even take the time to understand the reason," Herring said. "There were four years on record where I had already done what you're 'supposed to do'. I didn't just all the sudden become Satan. I was to a point where I had to get over the hump." The Bobcats did just that, knocking off Cisco 36-35 in the state final to finish the season a perfect 41-0 from the seventh grade to the varsity level. "Our ring that I'm looking at right now has 41 diamonds in it," Herring said. "41 stones – one for every win in the program that year." Not only did the win rejuvenate Refugio as a football town, but it also may have saved Herring's job. Coulter, who was following the situation from afar and was at Cowboys Stadium for the championship game, was emotional when he saw the relief the victory brought Herring and his family. "The picture that is most clear in my mind," Coulter recalled, "Was when the game was over and Lisa met him on the field. They captured his face as he and Lisa embraced. You could see the emotional release. "He needed to win that game. He needed to win that."
----
Herring largely flew under the radar in the years after the OTL report despite winning the state championship that season and adding another ring in 2016. He returned to the national headlines in a much different way when disaster struck Refugio last fall. Hurricane Harvey, a Category 4 storm, crashed directly into Refugio in mid-August and caused damage to 75 percent of the county's infrastructure. A town Herring described as downtrodden before the storm hit was devastated and the start of school was pushed back to Sept. 16. Refugio was littered with debris and was without both power and water for nearly a month. "I thought I was ready to come back because I had seen pictures," Herring said. "But the moment I pulled in, tears just started running down my face. It broke my heart." With football often serving as the lone uniting force in the town, Herring and the Bobcats were back on the field in time for their season opener against Goliad. Even so, Herring's mind wasn't 100 percent on football for the first time in his coaching career.
Herring spent much of his time as a relief coordinator, directing the delivery of supplies and went from house to house helping the cleanup process. He worked with the administration to set up a fundraising process and assisted in gathering more than $100,000 to support rebuilding efforts. "I think it goes to show how much he really cares about people," Kobie Herring said. "He's willing to take that extra step and go seek out help for anyone who needs it." The tragic situation was compounded by the heartbreaking injury Refugio's Casey Henderson suffered in the team's Week 2 game against Edna. Henderson suffered a broken neck making a tackle and broke two vertebrae, requiring emergency surgery. The Bobcats dedicated their season to Henderson and
watched as he miraculously regained the ability to walk
after long rehabilitation process.
But Herring went a step further, helping corral a contractor who volunteered to rebuild the Henderson's home after it too was destroyed in the hurricane.
Months later, Herring is still helping his players and their families restore their homes from the damage caused by Harvey. Herring finished the repairs on his own house in late March and continues to lend a hand as others attempt to do the same. Even with everything the town was going through last season, the Bobcats still managed to advance to the state championship game before falling to Mart. But Herring said the experience changed him for the better and has caused him to adjust his coaching philosophy moving forward. "It helped me realize there are things in life more important than football sometimes," Herring said. "Football is important – I know it is. But we had kids scrambling for their lives. It will change me forever. "I learned to trust my assistants more and realized I don't have to be in charge of everything."
----
Herring may delegate more responsibilities to his staff in the coming season but it's his ability to make those decision and control the program from top to bottom that adds to his legacy as a coach. The Bobcats' success goes beyond the talented pool of athletes at Herring's disposal. He has set up his program with eight coaches in charge of football from seventh grade all the way to the varsity level, ensuring there is consistency from the top down at each position group. It's the same way Coulter ran things at Robert Lee – one of the many facets of Refugio's program modeled after Herring's mentors. "They ran the whole program from top to bottom and that's exactly what I've emulated," Herring said. "The seventh grade, eighth grade and JV are running the exact – I mean the exact – same thing as the varsity. We're miles ahead of the game with that consistency." Herring also credits the Refugio administration for fully backing his program. "There's only one politic in Refugio," Herring said. "Win baby win. That's it. Win baby win."
----
Herring embraces the expectation of winning on a daily basis. But in a town that eats, breathes and sleeps football, there isn't much free time away from the field for the head football coach. When Herring does have time to himself in the off-season, he likes to spend it with his family. Otherwise, he enjoys fishing. Herring will go out on his boat with Refugio County Sheriff Raul "Pinky" Gonzales and spend an entire day tracking down trout and redfish with the same intensity seen on the sidelines. Of course, football is off the table as far as discussion goes when the two are on the water. "We get there and we're there all stinkin' day long and we catch our limit," Herring said. "We'll walk for miles in the heat and we fish and we fish and we fish. It's not for the weary. It's not no half day trip – if we're fishing, we're gonna fish. "That's just the way I'm wired and the way he's wired, and that's why we're fishing buddies."
----
Reflecting on a coaching career spanning more than 20 years, Herring doesn't shy away from crediting his four mentors – Coulter, Poehls, Harrell and Rodgers – for laying the foundation that has resulted in three state championships and an overall head coaching record of 216-50. While bigger programs call down to Refugio on an annual basis trying to gauge Herring's interest in a potential new job, he said he'd be hard pressed to find a situation better than the one he has in Refugio. Though the effects of Hurricane Harvey are still felt in Refugio community to this day, Herring will continue to lead the recovery and rebuild while leaving a mark much deeper than football on the town. And to think – for a brief moment as a child, he wanted to be a dentist. "I'm certainly sure I wouldn't want a dentist that's wired as hot as Jason is sticking power tools in my mouth," Coulter said with a laugh. "I'm not sure his bedside manner would be conducive to dentistry."
[Help your athletes succeed on and off the field — Download the iCoach App today!]
This article is available to our Digital Subscribers.
Click "Subscribe Now" to see a list of subscription offers.
Already a Subscriber? Sign In to access this content.