Texas high school football is special for a number of reasons: it has the best coaches; it has the best players; it has the most passionate fans; and, perhaps most notably, it has the most outrageous stadiums.
Texas high school football has become synonymous with its amazing stadiums, palatial palaces of the pigskin. But with more than 1,200 venues scattered in all areas of the Lone Star State, the landscape can be a bit overwhelming.
That's where we come in. The Dave Campbell's Texas Football staff, with some help from our friend Bob McSpadden of TexasBob.com, picked out a handful of the must-see Texas high school football stadiums. You can view info on all 1,200+ Texas high school football stadiums at TexasFootball.com/stadiums.
Here are 12 Texas high school football stadiums that should be on your bucket list.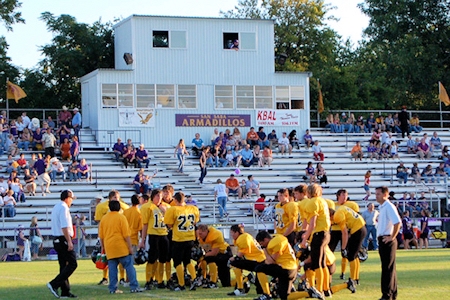 At first glance, there's nothing too special about the home of the San Saba Armadillos — it's a nice 1,500-seat stadium with lush natural grass. But dig into the history and you'll realize what makes it special (or, perhaps, extraordinary): upon its construction back in 1935, it was built on a cemetery. And no, not all of the graves were moved before construction. It's why this place is known as The Graveyard, and there have been reports of very strange happenings on Friday nights. — Greg Tepper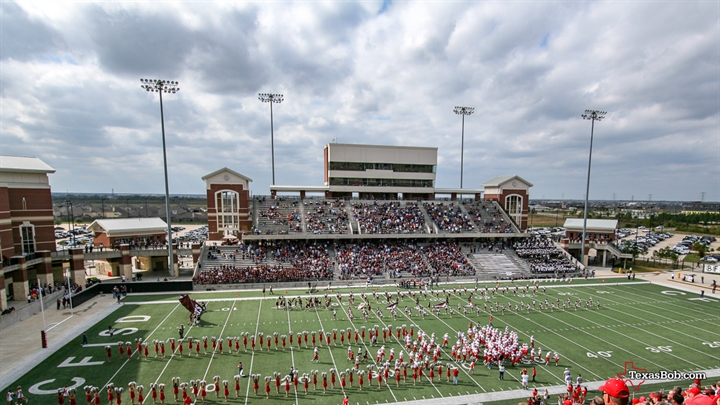 Maybe the most architecturally modern Texas high school football stadium, the 11,000-seat stadium was built in 2006 to serve the 12 high schools in Cy-Fair ISD. The stadium is part of the Berry Center complex which includes a conference center, an 8,300-seat basketball arena, and a theater. The facility hosts at least three games per week during most of regular season and is a preferred venue of choice for playoff games in greater Houston. The double-deck seating and lack of a track make this a raucous venue for big games. — Matt Stepp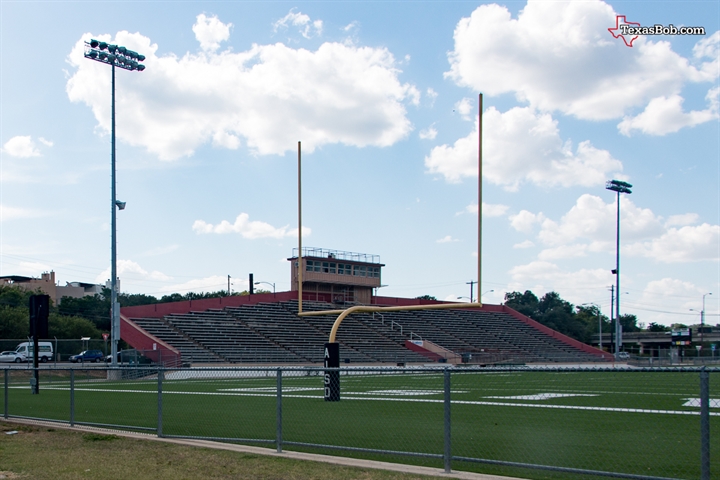 Built in 1939, it's hard to think of another downtown stadium in Texas with as good of a nighttime view of a skyline than Austin's House Park. Back in 2015, the historic floods damaged the 6,000-seat stadium but didn't take it out of commission. Today, with new additions to the cityscape, it's made the nighttime view even more impressive. — Ishmael Johnson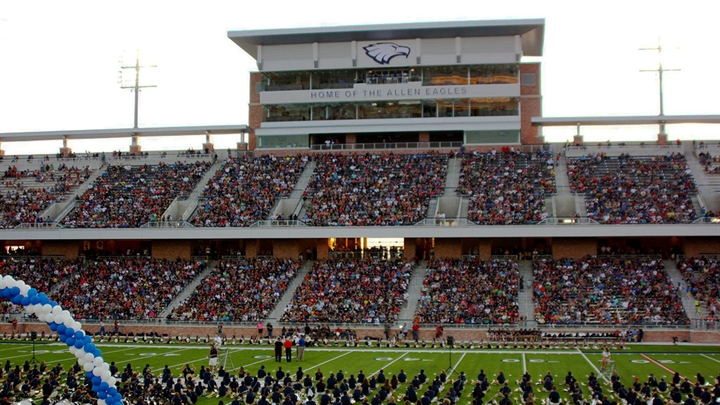 It's the first monolithic behemoth of high school football's modern age, and while Katy's Legacy Stadium and McKinney's McKinney ISD Stadium have since been built and rival this DFW giant, you can't argue with the original. It helps that it is home to a single program, and that single program is now the benchmark for big school powerhouses in a state that made such prominence famous. Even its chief flaw, a cracked foundation that closed it for a year shortly after opening, has become part of its lore. — Max Thompson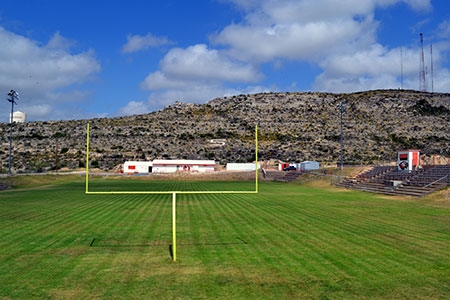 Way out in Big Bend country, you'll find Sanderson, Texas — population: 837 — and its hometown Sanderson High School — enrollment: 40. Though it may be small, the Eagles have a heck of a home-field advantage playing in Eagle Stadium, colloquially known as The Pit. That's because the 300-seat stadium is almost entirely surrounded by the Glass Mountains, giving visitors a uniquely claustrophobic welcome. In a state known for wide-open spaces, The Pit is one of the most unique sites in Texas high school football. — Greg Tepper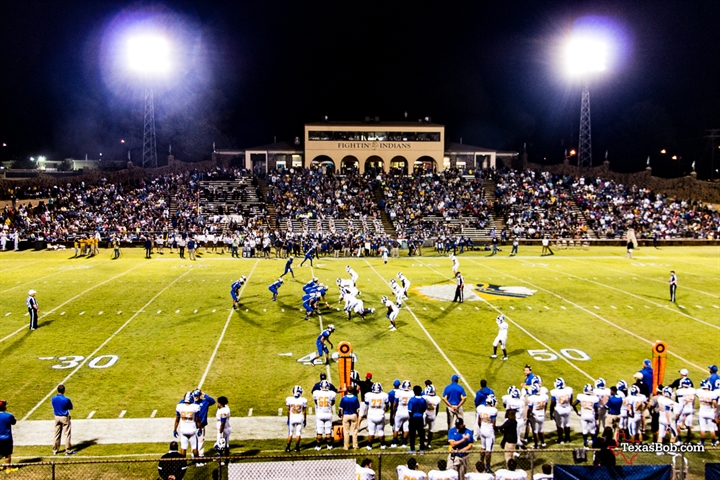 One of the most iconic stadiums in East Texas, the Tomato Bowl sits just east of downtown Jacksonville. An old Works Progress Administration facility built in 1940, it seats 5,000 and is known for the railroad tracks that run just north of the stadium. The stadium is in the process of a total remodel and rebuild and it was closed for the entire 2018 season. Once the remodel is completed, the Tomato Bowl will retain the charm along with the old stone façade made of red iron ore rocks, while now including all the modern amenities of a new stadium. The stadium is due to reopen on June 7 and Jacksonville will return to playing home games in the iconic facility. — Matt Stepp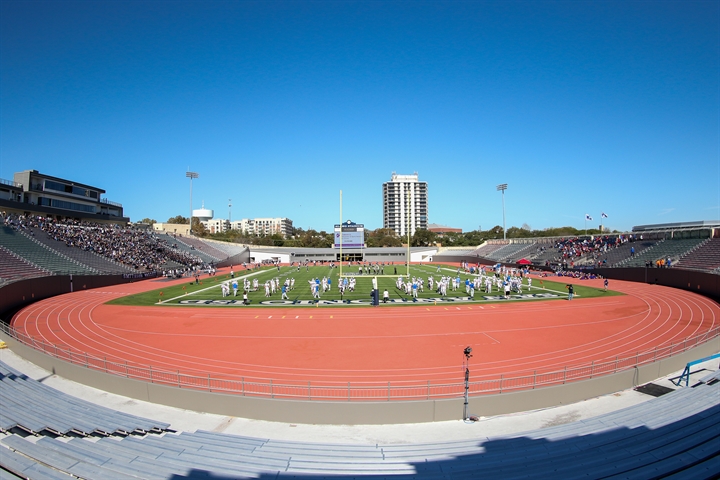 Some may refer to Alamo Stadium as Texas high school football's original mega-stadium with an estimated capacity of 19,000 in which closer to 24,000 people were reported to have attended the very first game in 1940. Its flat bowl shape gives off Texas' very own small-scale Rose Bowl feel. Whether you look at one of the first televised high school games in San Antonio Brackenridge vs. San Antonio Lee in 1963 or the soggy 2001 5A Division I state title between Mesquite and San Antonio Taft, Alamo Stadium has etched its place in Texas high school football history. — Ishmael Johnson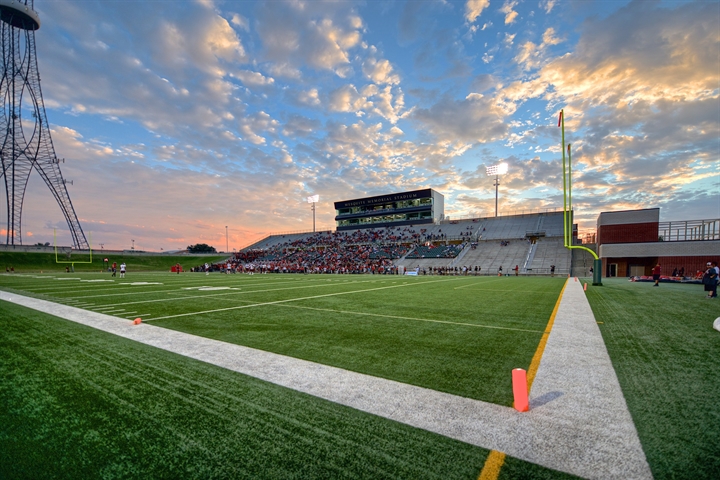 While "bigger" stadiums (Memorial's capacity is still listed at 19,400, making it the largest in Texas) are built around it in the Metroplex and beyond in Texas' other major cities, this is one 6A stadium that has stayed as magnificent and unique for a reason that has nothing to do with its size. The massive Mesquite Tower – a 61,000 watt radio tower used by the radio station KEOM, which is operated by the school district – is positioned on the south end of the stadium. Whether cast in bright Texas sunlight, or illuminated in a green hue against the darkest of Texas nights, it's an aesthetically charming quirk unique to the Lone Star State. — Max Thompson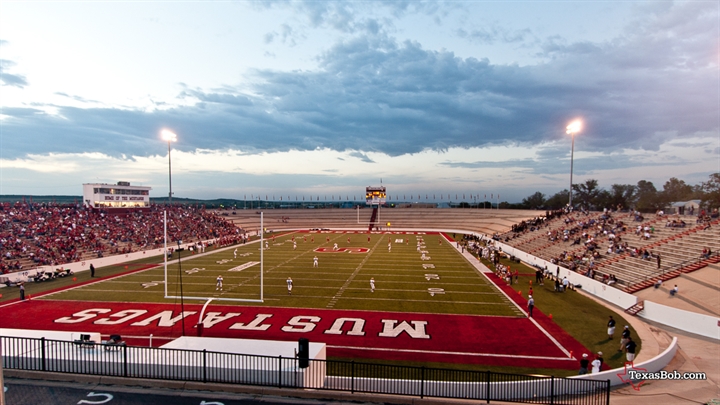 Few stadiums proclaim "Texas high school football" quite like the Mustang Bowl. Built as part of the Works Progress Administration in 1939, the stadium is a full bowl dug into the ground that officially seats 6,500 (though on a rocking Friday night in Nolan County, you'd be hard-pressed to keep 10,000 people out, sitting in the end zones). From the stairs descending into the stadium under the scoreboard to the history that includes Sammy Baugh, it's an iconic venue in the lore of Texas high school football. — Greg Tepper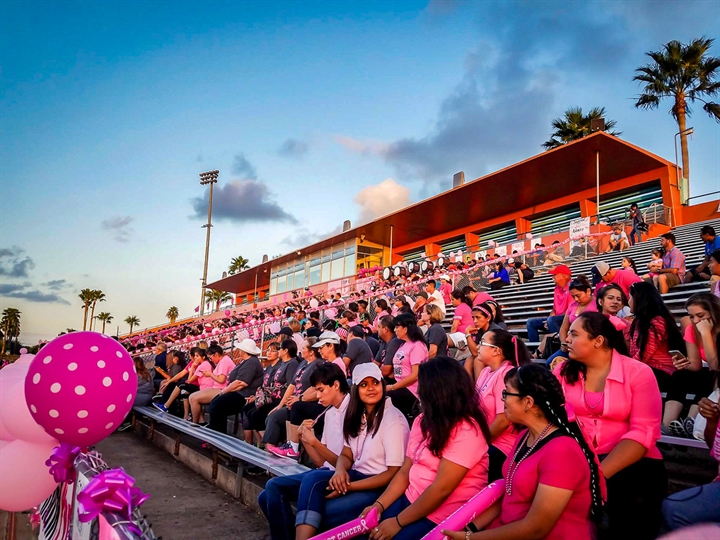 Located less than two miles from the U.S.-Mexico border, Sams Stadium gives you the exotic feel of a far-away locale, surrounded by palm trees and featuring vibrant colors all around the facility. Built in 1957 for Brownsville ISD football teams, it seats 10,466 and often is near capacity, especially for local rivalry games. Before the 2018 season, BISD added the largest video scoreboard in South Texas, which only adds to the gameday experience in the Valley. — Matt Stepp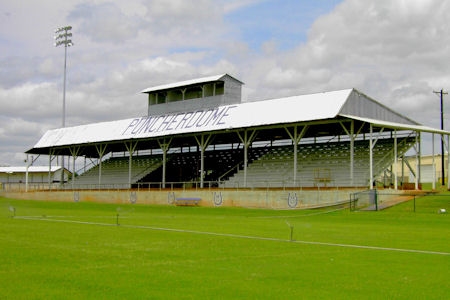 OK, that's the technical name, but it's better known as the Puncherdome. Don't tell Mason fans that the Puncherdome isn't actually a "dome" unless you're willing to fight. Its one-of-a-kind overhang over the home side is a leftover relic from a converted horseracing grandstand and gives the Punchers' 2,000-seat home turf one of the more unique aesthetics in the entire state. — Ishmael Johnson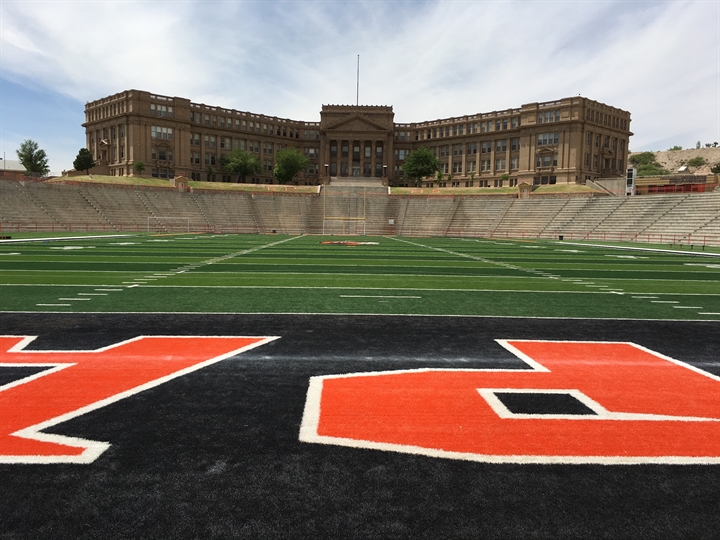 For starters, it sits atop a hill overlooking the rest of El Paso, and on a beautiful Friday night, with the lights of the Sun City flickering below, it's hard to beat the view. If that were all that made the stadium unique, it might still make this list. Instead, what makes it drop-dead gorgeous is the view from the city side of the field, looking back at El Paso High School, which looms over the field like a snapshot of a bygone era. Dubbed "The Lady on the Hill," the school was built in 1916 and features marble floors inside. It's one of the most unique and breathtaking high school football stadium settings in the country, let alone Texas. — Max Thompson
What did we miss? What are your must-see Texas high school football stadiums? Let us know on Facebook and on Twitter!
_____
This article is available to our Digital Subscribers.
Click "Subscribe Now" to see a list of subscription offers.
Already a Subscriber? Sign In to access this content.