Babe Laufenberg still can't believe how many text messages he received after Luke, 21, passed away on Aug. 22 after a lengthy battle with cancer.
He can't believe that two dozen of his son's friends from all walks of life messaged, all saying they considered Luke their best friend. Or that the offensive line coach at Argyle Liberty Christian texted him stating how Luke – who only played at the school for one year – had a "profound effect" on him, and how he remembered Luke staying after practice and asking for pointers on blocking. Not many 17-year-olds playing receiver in a four-wide offense do that. The offensive line coach at UTEP still texts Babe saying that he feels Luke looking down on him.
He can't believe that Dallas Cowboys coach Jason Garrett – a longtime friend of the family – dedicated an entire press conference to how Luke Laufenberg was the best example of fight he has ever seen in his life. He can't believe several UTEP coaches skipped practice to fly to Luke's funeral just days before their first game, even though his son was only enrolled at the school for about three months. As a former NFL player and now a broadcaster for the Dallas Cowboys Radio Network, Babe Laufenberg knows: "Coaches do not just take off practice."
"I can't tell you the number of texts," Laufenberg said. "It just made me feel good that he had a good heart and was a good person. I'm not one to put a bumper sticker saying 'Hey, I have a great kid.' But it turns out, I had a pretty great kid."
Luke only spent 21 short years on this earth and switched schools four times in his final four years to try and reach his dream of playing college football, which he finally accomplished by becoming a scholarship tight end at UTEP. He was in El Paso for just three months and never played a single game. Yet, Luke has become part of the DNA of this Miners program.
"He impacted everyone," UTEP running back Treyvon Hughes said. "He was one of those guys who would try to get everyone to do the right thing. For him to pass, it just hurt everybody."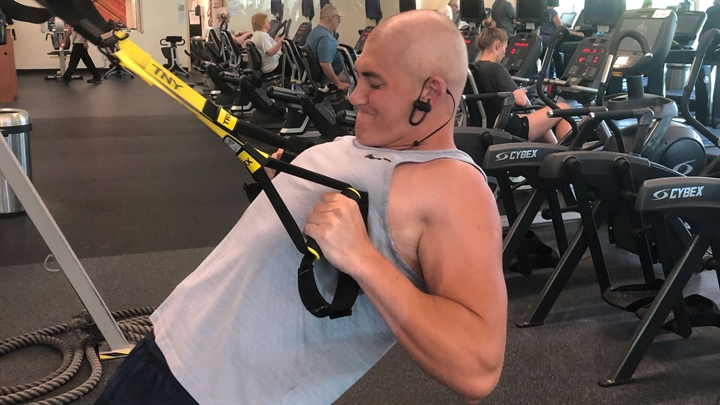 –––
The diagnosis came one day after Christmas 2017, just weeks after he finished his first season at Mesa Community College.
Laufenberg started his college football career as a walk-on at Texas A&M in 2016, but left one of the richest programs in the SEC for a shot to earn a Division I scholarship at the Arizona JUCO. He was well on his way to reaching his goal by the end of his season.
By December, though, something felt off. Laufenberg caught three passes for 24 yards in MCC's bowl loss against Asa College but dealt with excruciating pain the following days. UTEP defensive coordinator Mike Cox came through Mesa on a recruiting visit in the days after, and Laufenberg told Cox what the local urgent care told him: He just had the flu.
"He was just sick as a dog," former Mesa Community College coach Ryan Felker said. "It wasn't going away, so he came back to Texas where he could be tested. That's when they found out, shortly thereafter."
Burkitt's Lymphoma, a form of B-cell non-Hodgkin's lymphoma, is the single fastest-growing human tumor and is exceedingly rare in the Western world. Most cases of children suffering from the affliction result from weakened immune systems because of diseases like malaria or HIV in third-world countries. Only about 1,200 cases are reported in the United States each year. When Luke was diagnosed, doctors told the Laufenbergs that cancer spread to as much as 95 percent of his bone marrow, according to the Dallas Morning News.
At that moment, Luke fought. He fought with everything he had. Because of the severity of this cancer, doctors prescribed eight rounds of intense chemotherapy, each of which would confine him to a hospital bed for a number of days. Over the course of a month, his muscular 240-pound frame withered down to the 150s.
"Getting in and out of bed was a huge task," said Joe Willie Laufenberg, Luke's brother. "He couldn't eat or drink, it hurt to swallow. I just remember the struggle that it was to keep him comfortable and make it through the day."
Thankfully, the chemotherapy was effective and kept the aggressive cancer at bay. After five months of fighting and six rounds of chemotherapy, Laufenberg was declared officially cancer free in May 2018. He didn't celebrate long.
"I think a big part of his trying to get better was football," Babe Laufenberg said. "Every question he asked was, 'When can I start lifting? When can I start running routes?' He was really sick, but that was his motivation."
It took time to get cleared by doctors; it was cancer, after all. However, Luke spent his time taking online classes to get eligible for Division I competition as soon as he could. While he waited for gym clearance, he ran outside and did workouts with objects around the house. Laufenberg spent three months in California with some family. When he came back in November, he started looking like a Division I athlete again.
"It was just crazy seeing him back to being normal remembering what he had been before. I think that was really the big thing was just seeing him back to normal after everything was a lot to take in," Joe Willie Laufenberg said.
First, cardiologists wanted to make sure that his heart wasn't damaged by the aggressive chemo. Laufenberg wasn't having it. "If I die, I die," Laufenberg told his father, who (obviously) urged him not to take that approach. Thankfully, it never became an issue.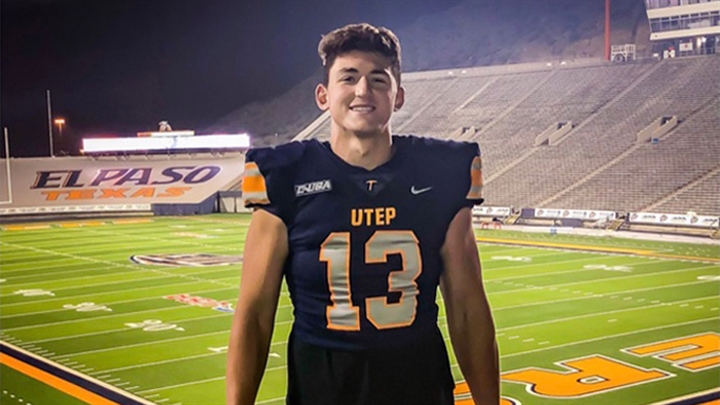 –––
UTEP coach Dana Dimel first became aware of Laufenberg while evaluating tight end possibilities on the JUCO market when he first arrived on campus in 2017. The staff got wind that Laufenberg might be ready to return, and tentatively reached out.
"We watched his tape again, but we were like, well, we don't know what he looks like, what does he look like after his horrible bout with cancer?" Dimel said. "He comes on his visit here in December and when he comes, he's jacked and muscular – he looks great. It's just like, oh my gosh, he looks unbelievable."
Tight end is a critical part of Dimel's offense, used as both a pass-catcher and a dynamic blocker. Laufenberg fit the bill. When it became clear that he could be available, UTEP jumped.
When UTEP decided to recruit Laufenberg, the staff quickly introduced him to Forest McKee. The fullback from Las Cruces, N.M., came from a different world than Laufenberg's suburban upbringing, but the pair bonded immediately over their shared love of fishing.
"It was easy because he was a very friendly guy," McKee said. "Super easy to get along with. He just carried himself well."
Within a few weeks of Laufenberg's arrival, he was over at McKee's house almost every day grilling burgers, hanging out and visiting the local Cabelas and Academy sporting goods stores. But once football activities started, Laufenberg quickly impressed both his teammates and the coaching staff.
That said, his first impression wasn't the greatest. Laufenberg was amped to be back in pads for the first time in nearly 500 days when the Miners opened spring camp. On his first play – Laufenberg was slated to be the starting tight end – offensive coordinator Mike Canales dialed up a zone block. Luke, bless him, completely ignored Canales.
Instead, Luke exploded out of his stance – not a zone step in sight – and launched himself face-first into one of the biggest defensive ends on the team. His teammates and coaches looked on bewilderedly as he crumpled to the ground. McKee ran over to help him up. "Holy hell, dude! Where's the technique at?" Laufenberg smiled and shook it off right away.
"It definitely was a funny scene in the film room the next day," UTEP tight end coach Jake Waters said. "But he was just so excited to be back out there with the guys."
But soon, Laufenberg proved himself an avid learner. He asked tons of questions during film study and attacked workouts. Dimel described Laufenberg as the hardest worker on the team.
"He kind of had that little spotlight on him because everyone knew what he had been through," McKee said. "We were like holy hell, this dude is really working his ass off. It brought everybody's effort to a whole different level because if he can do it, we all can do it."
Laufenberg was so eager to learn, it actually created some hilarious issues. When Luke was on the sidelines during practice, he'd creep in to try and get a better look at what was going on. When he did that, he would block the cameras recording film of practice. Waters and running back coach Reggie Mitchell would shout, "Get back, Luke! Get back!" It became such a daily occurrence that Mitchell and Waters still joke about "Get back, Luke!" to this day.
Laufenberg also became famous for his "Luke-isms," little quips that made everyone laugh. Why did he always wear cutoff shirts, for example? "Well, you don't lift these puppies for nothing." Did he ever learn Spanish growing up? "I learned Spanish in first grade, I knew Spanish before I knew English." Had he ever used Quizlet before? "Did I use it? I invented it."
Teammates responded to Laufenberg's positivity. Despite just arriving for the second semester, Laufenberg got some votes for team captain.
"The stage we were in our program, we really needed some positive leadership to guide and shape our new culture," Dimel said. "He was one who brought that to the table. We kind of clung to him as players and coaches and said, this is who we want to have, this is the kind of culture-defining player that we want to have."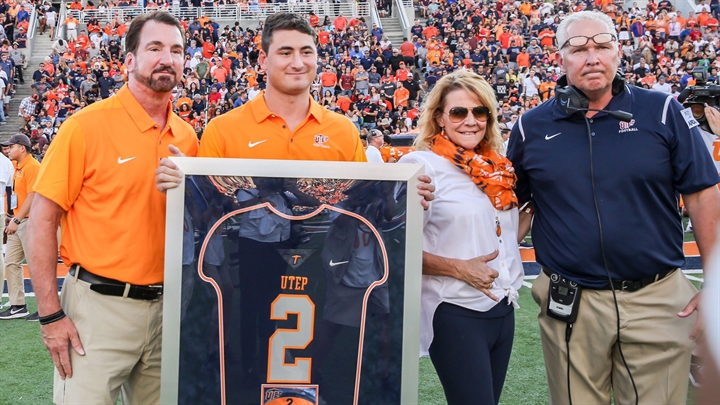 –––
Why did Luke Laufenberg want to play football so desperately? Why did he play in a bowl game while cancer took over his bones, and fight all the way back to earn a coveted Division I scholarship, and practice against elite athletes while cancer spread again?
Everyone around him talks about his love of the game. That's obvious. They cite his competitiveness, how he wanted to beat everyone at basketball, XBOX, whatever the competition was that day. He's a football guy at heart who would play through the pain. Hell, he did play while cancer took over his body, twice. Still, it goes deeper.
"He loved being part of the UTEP Miner football team," Dimel said. "It was on his bucket list to be a part of what we were doing. He cared so much and really gave our team a lot of energy with his work ethic and desire."
"The big thing to me was just getting back to my old life," Laufenberg said at a signing day press conference in February. "Football was a big part of my old life. I didn't want anything to change."
For those three months, he could put that past behind him and just be a normal kid.
"He just wanted to be part of a football family," Waters said. "He wanted a chance. He wanted someone to believe in him. Luke being Luke, he was going to make sure it was the best thing we've ever done."
On April 5, after experiencing some bruising and pain in his back, Laufenberg had some tests done. Unfortunately, it confirmed the worst: His cancer was back, and he had to leave El Paso.
He tried to stay in shape and ran routes with his dad throwing to him all summer long. When he was diagnosed with terminal cancer later that summer, nothing really changed. A week before his death, Laufenberg asked the UTEP staff to send over film of practice so he could keep an eye on how the tight ends and fullbacks were progressing. No one on staff will ever forget that.
"When he wasn't doing the best, he was worried about you guys," Waters still tells the tight end room. "He would have given anything in the world to be with you guys. Don't take it for granted. If Luke could, he would be here in a heartbeat doing what you're doing."
Months after his death, Luke's presence is felt everywhere around the program. UTEP helmets are adorned with a black "LUKE" sticker, right next to the ones that proclaim "El Paso Strong." Every week, the staff selects a player on offense, defense and special teams that embodies what Luke stood for, and they receive the "Luke Laufenberg Hustle Award." The staff will also give out a yearly version of the award, and the winners will get a trophy to keep. Dimel mulled retiring Laufenberg's No. 2 jersey but instead will give it out to a deserving player each season starting next year. The biggest criteria: Being a great teammate.
The Laufenberg family has only grown closer to the program. Babe Laufenberg planned to go see Luke's first game against Houston Baptist on Aug. 31. Dimel asked the family to still come and presented them with Luke's framed No. 2 jersey during the game. He tried to make the occasion – an emotional day for both the Laufenbergs and El Paso – as special as possible. To top it off, UTEP won.
Even with a busy schedule traveling with the Dallas Cowboys, Babe Laufenberg makes time to watch almost every UTEP game online. It doesn't bother him that the team is just 1-10 heading into the last week, though he did give them a hard time for ruining his undefeated attendance record after a loss against UNT.
"Babe really draws comfort from us, and we draw a lot of comfort from having Babe," Dimel said. "It's just a great relationship. We care so much about that family, we love them to death."
UTEP football will never be the same because of Luke Laufenberg. And really, there's no better place this story of resilence and friendship could have happened than El Paso, Texas. Both players and coaches have a new appreciation for life and the opportunity they have. Forever, he is part of UTEP's football family.
"He just never took anything for granted – not one day, not one rep, not one film session," Waters said. "Don't take any of it for granted, because Luke didn't. I can really see that in our room right now more than ever.
"He changed a lot of people's lives in the short amount of time he was here. I know the people at UTEP will never, ever forget him."
This article is available to our Digital Subscribers.
Click "Subscribe Now" to see a list of subscription offers.
Already a Subscriber? Sign In to access this content.