Dave Campbell's Texas Football is proud to honor one team from each classification with the Ozarka Fueled by Nature Team of the Week award. The teams selected throughout the course of this program have exemplified the best of Texas high school football.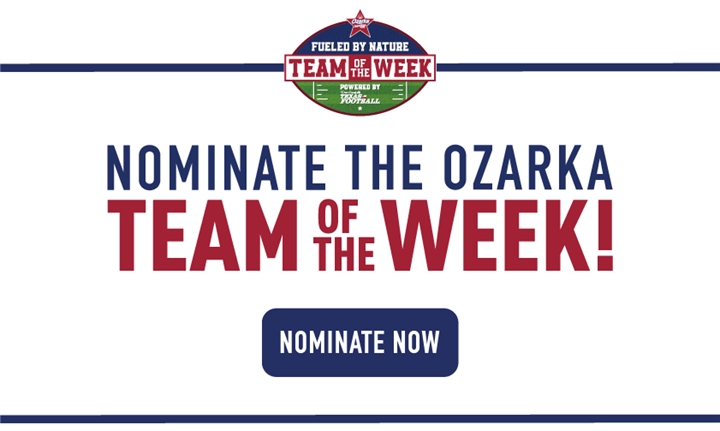 Ozarka Road Tour
Week 1: Rockwall at Cedar Hill, Aug. 27
Week 2: Texarkana Pleasant Grove at Argyle, Sept. 3
Week 3: Liberty Hill at Georgetown, Sept. 10
Week 4: Duncanville at DeSoto, Sept. 17
Week 5: Pflugerville Hendrickson at Pflugerville Weiss, Sept. 24
Week 6: Klein Collins vs. Klein Oaks, Oct. 1
Week 7: Schertz Clemens at Smithson Valley, Oct. 8
Week 8: Allen at Denton Guyer, Oct. 15
Week 9: Cy Park at Cy Woods, Oct. 22
Week 10: Vandegrift at Hutto, Oct. 29
___
WEEK 7
6A: Jersey Village
Tbe Falcons' defense forced five turnovers, and quarterback Adam Tran and running back Rashon Estes put up big games as Jersey Village improved to 6-0 for the first time since 1992 with a 39-30 win over district rival Cy-Fair, just the second time in the last 11 tries that they've taken down the Bobcats.
5A: Texas City
In a battle of unbeatens, the Stingarees' defense put on a virtuoso perforrmance and Jacob Duran threw a pair of touchdown to Donovan Avery as Texas City took down previously unbeaten and state-ranked district rival Nederland, 14-2.
4A: Stephenville
The Yellow Jackets sent a message to the entire Class 4A Division I on Friday night, storming into Bellmead and taking down state-ranked Waco La Vega 35-7, improving to 6-0 on the season.
3A: Bonham
In one of the biggest upsets of Week 7, Jeren Ross ran for 289 yards and six touchdowns as the Purple Warrriors stunned district rival Winnsboro, 51-49.
2A: Menard
In a critical District 14-2A DII opener, the Yellowjackets' defense stood tall, making a third-quarter touchdown stand up for a 7-6 upset win over Junction.
1A: Baird
A battle of surprise unbeaten teams turned into a Bears bash as Baird put it on Santa Anna, 72-24, to remain unbeaten and move to 1-0 in District 13-1A DI play.
PVT: Fort Worth Southwest Christian
Led by running back Antwon Pope, the Eagles racked up 324 yards of total offense — all on the ground — and the defense stood tall to take down state-ranked Grapevine Faith Christian, 34-16.
___
WEEK 6
6A: Denton Braswell
In a critical District 5-6A showdown, Jaylon Burton ran for 363 yards and three touchdowns as the Bengals took down previously unbeaten Little Elm in a wild 63-42 shootout.
5A: San Antonio Edison
Fueled by a ferocious defensive performance that held San Antonio Lanier to just 174 yards of total offense, the Golden Bears stunned their previously unbeaten district rival 16-6, putting themselves squarely in the hunt for their first playoff berth since 2014.
4A: Melissa
The Cardinals took down 4A Division I's top-ranked squad in district rival Argyle 21-0, snapping the Eagles' 60-game regular season winning streak and 61-game district winning streak, and becoming the first team since 2008 to hold Argyle scoreless.
3A: George West
The Longhorns shook off a tough non-district slate and got down to business in district play, surging past Nixon-Smiley with a dominant 36-0 win and getting their first win of the season.
2A: Boys Ranch
The long wait on Cal Farley's Boys Ranch is finally over as the Roughriders snapped the state's longest active winning streak with an emphatic 38-14 win over Booker, ending a 49-game losing skid and getting in the win column for the first time since September 2016.
1A: Trent
The Gorillas pulled off one of the biggest upsets of Week 6, knocking off previously unbeaten Paint Creek with a dominant 67-28 victory to finish out their non-district slate.
PVT: San Antonio Central Catholic
The Buttons mounted a fourth-quarter comeback thanks in large part to QB Sylas Gomez as they took down Houston St. Thomas 35-31 for a critical district win.
___
WEEK 5
6A: Rockwall-Heath
In one of the wildest games in recent Texas high school football history, the Hawks came up with big play after big play to outlast its state-ranked rival Rockwall 79-71 in double overtime.
5A: Floresville
The Tigers withstood a furious La Vernia rally and came up with a gutty 37-35 win to close out non-district play at 5-0, reaching that record for the first time since 2007.
4A: Orangefield
Freshman Ty Butler kicked a 27-yard field goal with nine seconds remaining as the Bobcats took down Silsbee 16-14 to win their District 11-4A Division I opener and beat the Tigers for the first time in program history.
3A: Gladewater
DJ Allen ran for a touchdown and then found Eli Kates for the go-ahead two-point conversion with just 28 seconds left as the Bears rallied from a 14-point fourth-quarter deficit to take down No. 3 Tatum, 29-28.
2A: Iola
In a defensive slugfest, the Bulldogs got a go-ahead touchdown from Brian Crosby in the third quarter and made it stand up for their first victory of the year, beating district rival Snook 7-6.
1A: Santa Anna
The Mountaineers are 5-0 for the first time since 2012 after surging past Medina, 65-20..
PVT: Houston Second Baptist
Eli Smith ran for a go-ahead 10-yard touchdown in the fourth quarter and the defense came up with one last stop as the Eagles upset state-ranked 4A squad Port Lavaca Calhoun, 23-19.
___
WEEK 4
6A: Fort Bend Clements
Avery Clark ran for a pair of touchdowns and the defense did the rest, holding Fort Bend Dulles in check as the Rangers improved to 4-0 for the first time since 2009 with a gutty 19-13 win over their district rival.
5A: Highland Park
Facing off against undefeated and state-ranked 6A squad Rockwall, the Scots were unphased, outgunning the Yellowjackets for a 52-31 victory, improving to an astonishing 113-2 at Highlander Stadium since 1998.
4A: Mabank
Quarterback Beau Kilgore led the charge on a 423-yard rushing assault as the Panthers beat Canton 35-21, equaling last season's win total — 4 — through four weeks.
3A: Taft
In a matchup of surprise unbeatens, the Greyhounds jumped out to a 19-0 lead in the first quarter and never looked back, moving to 4-0 with a resounding 35-7 win over Kenedy.
2A: Itasca
The Wampus Cats are winners for the first time in nearly a calendar year, snapping a nine-game losing streak with a 24-6 upset win over Bartlett.
1A: Calvert
Taking the field for the first time in 2021, the Trojans looked no worse for the wear, surging past Bryan Allen Academy 55-32.
PVT: Episcopal School of Dallas
Fueled by 190 total yards and four touchdowns from Partrick Burke, the Eagles outlasted fellow unbeaten Fort Worth Southwest Christian to improve to 4-0 with a 28-10 victory.
WEEK 3
6A: El Paso Socorro
The Bulldogs' long wait is finally over as Socorro toppled El Paso, 46-23 on Thursday night, ending a 53-game losing streak and getting in the win column for the first time since September 11, 2015.
5A: Montgomery Lake Creek
The Lions rang off 21 points in the fourth quarter to rally past Sealy 41-34, improving to 3-0 for the first time in the program's young history.
4A: Austin LBJ
In a matchup of state-ranked undefeated squads, the Jaguars outmuscled perennial power Waco La Vega en route to a resounding 28-7 victory.
3A: Luling
Daylon Houston ran for 223 yards and a touchdown and the defense did the rest as the Eagles snapped a 32-game losing streak dating back to 2017 with a 17-7 win over Weimar.
2A: Burkeville
The Mustangs are 2-0 for the first time since 2010 with a hard-fought defensive victory over Acadiana Christian (LA) on Thursday, 16-14.
1A: Water Valley
The Wildcats' run of dominance continued on Friday night, notching their third consecutive mercy rule victory with a 54-8 win over Garden City.
PVT: Bay Area Christian
The Broncos rallied from an early deficit, getting a fumble recovery for a touchdown from Andrew Boyd in the fourth quarter to bring home a 17-14 win over Brazos Christian and remain unbeaten.
WEEK 2
6A: Humble Atascocita
The Eagles did what no team has ever done — beat Allen at Eagle Stadium — with a 40-21 victory, snapping the state's all-time longest regular season winning streak at 84 games.
5A: Laredo Cigarroa
Fueled by 172 yards and two touchdowns on the ground from Ya'aqob Lozano, the Toros mounted a second-half comeback and scored the go-ahead two-point conversion with under three minutes left to stun Laredo Nixon, 22-21.
4A: Cuero
The Gobblers signaled to the rest of 4A Division II that they are back, stifling Wimberley's high-powered attack to come away with a resounding 21-3 road victory.
3A: San Antonio Cole
Walker Cunningham hit Anthony Mason for a go-ahead 82-yard touchdown pass with under two minutes to play as the Cougars improved to 2-0 for the first time since 2018 with a 24-22 win over Natalia.
2A: Timpson
In a game against a state-ranked 3A team thrown together midweek, the Bears were not phased, using their remarkable team speed to take down Waskom, 49-28.
1A: Benjamin
The Mustangs surged out to a 20-6 first quarter lead and never looked back, surging past Crowell 54-46.
PVT: Cedar Hill Newman
Joshua Rico threw six touchdown passes in the first half as part of a 720-yard assault as the Warriors improved to 2-0 with a 68-20 win over Dallas First Baptist.
WEEK 1
6A: Converse Judson
The Rockets made last year's season-opening lopsided loss to DeSoto seem like a distant memory, getting four total touchdowns from quarterback Michael Burroughs in a 35-28 win.
5A: Lamar Consolidated
The Mustangs held Richmond Foster to just 176 yards and forced three turnovers as they stunned the Falcons 21-14, snapping an 11-game losing streak and avenging last season's 79-7 loss to the Falcons.
4A: Taylor
Coach Brandon Houston's debut was a sparkling one for the Ducks, snapping a 21-game losing streak with an emphatic 32-13 victory over Robinson.
3A: Quitman
It'd been nearly three full calendar years since the Bulldogs found the win column, but that all changed on Friday night as the Bulldogs beat Cumby 23-6 to snap a 28-game losing streak and give Quitman its second win in the last 73 games.
2A: Stratford
In a matchup of Panhandle powers, quarterback Cody Rinne ran in for the game-winning score in the waning seconds as the Elks stunned Spearman, 29-22.
1A: Southland
After forfeiting their final four games of the season in 2020 due to low numbers, the Eagles won their first game since November 8, 2019 with a victory over Cotton Center.
Private: Marble Falls Faith
In one of the most stunning upsets of the opening week of the season, the Flames jumped out to a 34-14 halftime lead and never looked back, taking down perennial six-man power Richland Springs, 62-34.