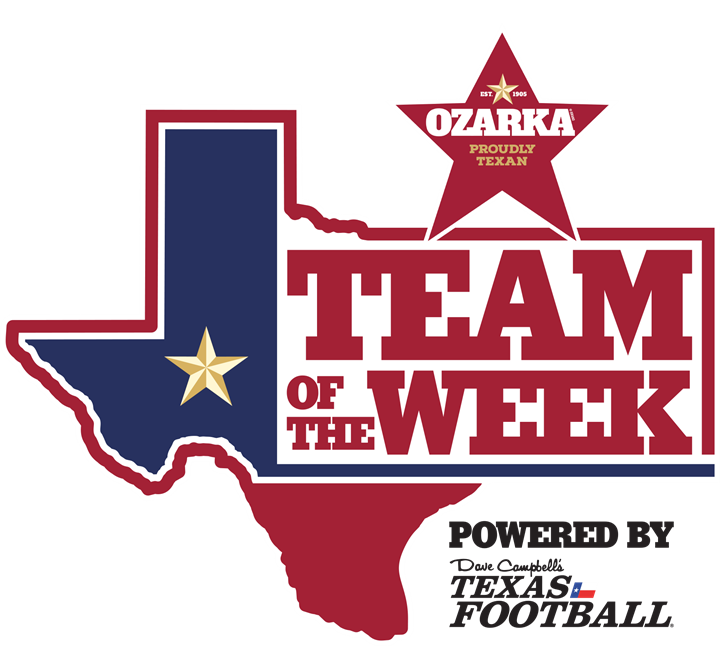 Dave Campbell's Texas Football is proud to honor one team from each classification with the Ozarka Fueled by Nature Team of the Week award. The teams selected throughout the course of this program have exemplified the best of Texas high school football.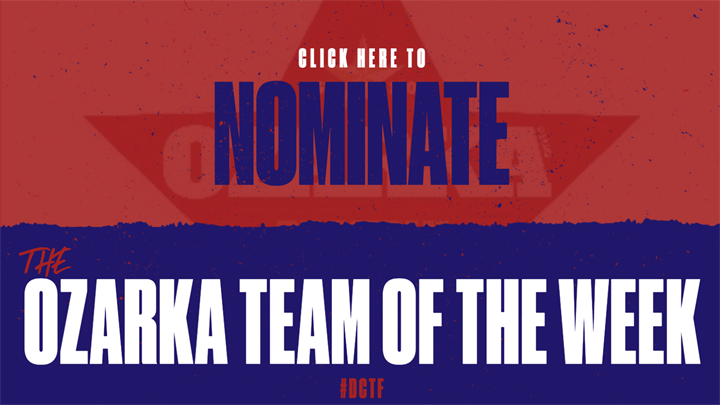 _
Week 1
6A: Cy Lakes
Darnell Green and Jayvion Wolfe combined for 249 yards on the ground as the Spartans surged past Cy Ridge 32-16, snapping their 20-game losing skid.
5A: Lake Belton
In their first UIL contest, the Broncos looked more than ready for the challenge, cruising past state-ranked Leander Rouse, 47-21.
4A: Uvalde
Just months after an unspeakable act of gun violence changed the town forever, the Coyotes played the most inspired game of the young season, knocking off Carrizo Springs, 21-13.
3A: San Angelo TLC
Quarterback Layne Honea threw for 291 yards and six touchdowns to pace the high-flying Eagles offense as TLC snapped a 24-game losing streak — the state's fourth-longest active skid — with a 42-36 win over Ozona.
2A: Munday
Chris Garcia ran for 127 yards and two touchdowns and the defense held up its end of the bargain as the Moguls took down Mercy Culture Prep 18-14, ending a 16-game losing streak.
1A: Ira
In one of the biggest upsets of the weekend, the Bulldogs dominated state runner-up Motley County 54-6 at the Jayton Gridiron Classic.
PVT: Dallas Parish Episcopal
In a high-profile matchup of state-ranked squads, the Panthers' defense snuffed out Aledo's attack en route to a 24-17 victory.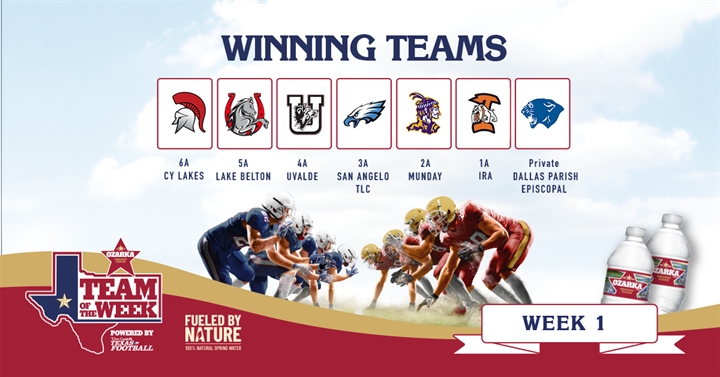 _
Congrats to our 2021 Ozarka Fueled by Nature Teams of the Year!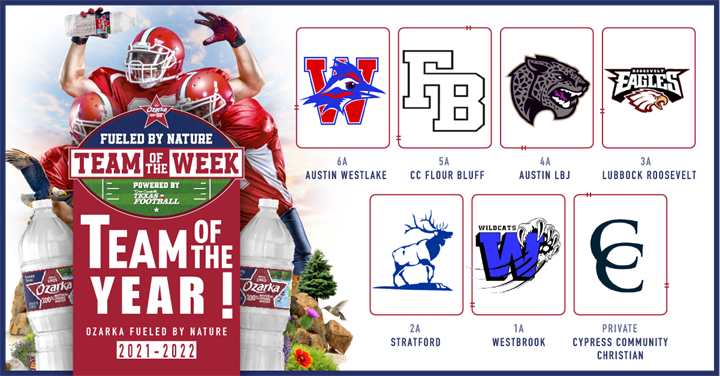 ___
WEEK 14
6A: Humble Summer Creek
Lloyd Avant and Torrie Curry combined for 334 yards and seven touchdowns on the ground as the Bulldogs surged into the 6A Division II regional finals with a wild 61-42 win over Katy Cinco Ranch.
5A: South Oak Cliff
In one of the stunners of the Texas high school football season, the Golden Bears took down two-time defending champion Aledo 33-28, handing the Bearcats their first loss before the state semifinals since 2012.
4A: Tyler Chapel Hill
Samari Willis scored in the second overtime and Jayvin Mayfield hauled in a game-winning interception in the end zone as the Bulldogs avenged a regular season loss to Kilgore with a 41-35 victory over their district rival.
3A: Brock
A year after being stunned by Jim Ned, the Eagles exacted a bit of revenge, romping the defending state champs 70-25 to move on to the 3A Division I regional finals.
2A: Albany
In a showcase matchup of unbeatens, Jaheim Newton ran for 162 yards and Cole Chapman accounted for three total touchdowns as the Lions took down Muenster, 34-21.
1A: Abbott
The Panthers are headed back to the state semifinals after taking down district rival Coolidge for the second time this season, 74-27.
PVT: Houston Emery-Weiner
The Jaguars got a huge game from their defense and five combined passing touchdowns from Leo Gerst and Doran Yustein to knock off defending state champion Texas School for the Deaf in a 48-0 win in the TAPPS 6M Division I state semifinals.
___
Week 13
6A: Laredo United South
The Panthers got a big game from sophomore quarterback Luis Cisneros and the defense shut down a tough Harlingen attack to bring home a 24-7 victory, advancing to the third round of the playoffs for just the second time in program history.
5A: Frisco Wakeland
In one of the stunners of the playoffs, Jared White found Tripp Riordan for a touchdown pass with 27 seconds remaining, and White ran for the go-ahead two-point conversion to take down perennial power Highland Park, 29-28.
4A: Texarkana Pleasant Grove
The young Hawks were not phased by the bright playoff lights, stopping Glen Rose's would-be game-tying two-point conversion in double overtime to seal a 36-34 victory and move on to the regional semifinals.
3A: Riesel
Rallying from an early deficit, the Indians got a go-ahead touchdown run from Kyson Dieterich in the third quarter and the defense made it stand up, beating Natalia 10-8 to go from fourth place in district to the regional semifinals.
2A: Wortham
A fourth-place finisher their own district, the Bulldogs are through to the third round of the playoffs for the first time since 2000 after a 38-22 win over West Sabine.
1A: Klondike
Avenging last season's second-round loss to Groom, the Cougars jumped out to an early lead and never looked back, topping the Tigers 72-58 to move to 11-1 on the year, the most wins in a season since 1995.
PVT: Lubbock Trinity Christian
Fueled by a terrific defensive effort, the Lions held down previously unbeaten Arlington Grace Prep and used a second quarter surge to advance to the TAPPS DIII state semifinals with a 16-7 victory.
__
WEEK 12
6A: El Paso Eastwood
After finishing in fourth place in their own district, the Troopers traveled to Shotwell Stadium and knocked off the favored Abilene Eagles 31-27, becoming the first El Paso team to beat an Abilene team in the playoffs since 1937.
5A: Georgetown
Facing undefeated district champion Dripping Springs, the Eagles were unfazed as QB Darson Herman put on a clinic in their 63-56 upset win over the Tigers/
4A: Port Isabel
The Tarpons' defense flexed its muscles against previously unbeaten Carrizo Springs, shutting down the Wildcats for a 23-8 bi-district victory.
3A: Corpus Christi London
In one of the wildest playoff games of the week, the Pirates rallied from a 21-0 deficit to force extra time before edging Goliad 27-21 in double overtime.
2A: Schulenburg
The Shorthorns didn't let the fact that they were facing a district champion bother them, running all over state-ranked Mason 29-16 to hand the Punchers their first first-round defeat since 2013.
1A: Van Horn
In an unbelievable first-round playoff game that featured 16 lead changes, the Eagles edged perennial power Garden City, 70-69, to advance to the area round.
PVT: Austin St. Michael's
The Crusaders took the fight to Houston Lutheran South in their first-round playoff matchup, taking down the Pioneers 37-14.
___
WEEK 11
6A: Tomball
Facing a win-and-in, lose-and-out Week 11 showdown with Klein, the Cougars stood tall to capture a playoff spot with a 21-14 win over Klein.
5A: Frisco Liberty
The Redhawks stunned state-ranked and previously unbeaten Lovejoy on national television on Thursday night, coming up with key defensive stops down the stretch for a 27-24 victory.
4A: Pittsburg
In a game with major playoff seeding implications, the Pirates got 325 yards on the ground to pace the way to a 46-10 win over Texarkana Liberty-Eylau.
3A: Karnes City
Needing a win to lock up a playoff spot, the Badgers got four touchdown passes from Treyton Clark to upset Natalia, 35-28.
2A: Beckville
The Bearcats made history on Friday night in their 71-8 romp over Frankston, finishing the regular season a perfect 10-0 for their first undefeated regular season in the program's 90+-year history.
1A: Silverton
With their playoff fate already sealed, the Owls fought to the finish, taking down district rival Hart 58-53 for their first district victory since 2019.
PVT: Arlington Grace Prep
In a rare matchup of unbeaten rivals, the Lions' defense dominated and Reid Turner ran for a trio of touchdowns as Grace Prep knocked off Arlington Pantego, 31-13.
___
WEEK 10
6A: San Antonio Johnson
The Jaguars overcame a 17-point second-half deficit to force overtime, then came up with a big defensive stop to seal a wild 46-43 win over San Antonio Reagan, moving to 9-0 for the first time in program history and cinching just its second district title.
5A: Corpus Christi Flour Bluff
Facing off against state-ranked and unbeaten Corpus Christi Veterans Memorial, the Hornets took the fight to the Eagles, stymying their high-flying attack and surging to a 39-7 upset victory to clinch a playoff spot.
4A: Fort Stockton
In a critical District 2-4A Division I showdown, the Panthers got a big game from QB Dominic Aquilar and RB Isaiah Garcia and the defense held off a late rally to take down Big Spring, 29-28, and clinch at least a share of the district title.
3A: Tulia
Travon McCaslin threw five touchdowns passes to pace the Hornets to a 54-35 upset win over state-ranked Canadian, handing the Wildcats their first district loss since October 21, 2012.
2A: Rocksprings
In a wild affair that included 981 yards of total offense and no punts, the Angoras' rushing attack won out for a 60-53 victory over Miles.
1A: Bowie Gold-Burg
In a de facto District 10-1A DII title game, the Bears started fast and never looked back, surging past Fannindel for a 51-6 mercy rule win to capture the district crown.
PVT: San Antonio Texas Military Institute
The Panthers polished off a perfect regular season at 9-0 with an emphatic 34-7 victory over Austin St. Dominic Savio, marking the first undefeated regular season in program history.
___
WEEK 9
6A: Cy Woods
The Wildcats' defense held state-ranked and previously unbeaten Cy Park in check and quarterback Trey Craft accounted for five total touchdowns as Cy Woods beat the Tigers 42-37 to stay in the thick of the District 16-6A playoff hunt.
5A: Dallas White
Thanks in large part to Daviawn Brown's five touchdown runs, the Longhorns blew past Carrollton Newman Smith 52-7 to clinch a second consecutive playoff berth, marking the program's first back-to-back postseason appearance since 1979-80.
4A: China Spring
In a hotly anticipated Central Texas clash, the Cougars' defense stymied Salado's high-powered Slot-T attack and quarterback Major Bowden put on a show, surging past the Eagles 48-7 to remain unbeaten.
3A: Lubbock Roosevelt
Believe it! The Eagles overcame an 18-point fourth-quarter deficit to win a wild 58-56 shootout over previously unbeaten Abernathy, avenging last season's loss and improving to 8-0 for the first time since 1986.
2A: Coleman
The Bluecats jumped on state-ranked Cisco early and never looked back, romping to a 31-7 victory over the Loboes and snapping their 61-game district winning streak.
1A: Westbrook
Facing No. 2 Sterling City, the Wildcats were not intimidated, jumping out to a 40-7 halftime lead and holding off a furious rally to win, 60-50, marking their first victory over the Eagles since 1940.
PVT: Colleyville Covenant
Brooks Lamar and Christian Wells combined for 202 yards and three touchdowns rushing, and the Cougars' defense pitched the program's first shutout in three years to win a critical district showdown with Fort Worth Lake Country, 28-0.
___
WEEK 8
6A: San Antonio East Central
Caden Bosanko hit Jack Stewart for a go-ahead 42-yard touchdown pass with two seconds remaining as the Hornets stunned district rival Converse Judson 30-28, knocking off the Rockets for the first time since 1982.
5A: Aledo
The Bearcats district dominance hit a new level on Friday, defeating Mansfield Timberview 35-21 for their 100th consecutive district victory, the longest streak in Texas high school football history.
4A: Houston Furr
The Brahmas put together a fourth-quarter rally to surge past Houston Yates 27-19, moving to 6-1 on the year and clinching a playoff spot out of District 11-4A DI
3A: Stanton
The Buffaloes sprung the upset on longtime rival Coahoma, taking down the Bulldogs 30-17 for their first victory in the rivalry in six years.
2A: Muenster
In one of the most hotly anticipated games in the state, Colton Deckard ran for a pair of touchdowns and the Hornets' defense squashed Windthorst's attack to beat the defending 2A Division II state champions, 16-8.
1A: Medina
In a critical district opener in District 16-1A Division I, the Bobcats went toe-to-toe with favored Leakey and came away with a 60-56 upset win.
PVT: Bryan Brazos Christian
Levi Hancock accounted for 238 total yards and a pair of scores.
___
WEEK 7
6A: Jersey Village
Tbe Falcons' defense forced five turnovers, and quarterback Adam Tran and running back Rashon Estes put up big games as Jersey Village improved to 6-0 for the first time since 1992 with a 39-30 win over district rival Cy-Fair, just the second time in the last 11 tries that they've taken down the Bobcats.
5A: Texas City
In a battle of unbeatens, the Stingarees' defense put on a virtuoso perforrmance and Jacob Duran threw a pair of touchdown to Donovan Avery as Texas City took down previously unbeaten and state-ranked district rival Nederland, 14-2.
4A: Stephenville
The Yellow Jackets sent a message to the entire Class 4A Division I on Friday night, storming into Bellmead and taking down state-ranked Waco La Vega 35-7, improving to 6-0 on the season.
3A: Bonham
In one of the biggest upsets of Week 7, Jeren Ross ran for 289 yards and six touchdowns as the Purple Warrriors stunned district rival Winnsboro, 51-49.
2A: Menard
In a critical District 14-2A DII opener, the Yellowjackets' defense stood tall, making a third-quarter touchdown stand up for a 7-6 upset win over Junction.
1A: Baird
A battle of surprise unbeaten teams turned into a Bears bash as Baird put it on Santa Anna, 72-24, to remain unbeaten and move to 1-0 in District 13-1A DI play.
PVT: Fort Worth Southwest Christian
Led by running back Antwon Pope, the Eagles racked up 324 yards of total offense — all on the ground — and the defense stood tall to take down state-ranked Grapevine Faith Christian, 34-16.
___
WEEK 6
6A: Denton Braswell
In a critical District 5-6A showdown, Jaylon Burton ran for 363 yards and three touchdowns as the Bengals took down previously unbeaten Little Elm in a wild 63-42 shootout.
5A: San Antonio Edison
Fueled by a ferocious defensive performance that held San Antonio Lanier to just 174 yards of total offense, the Golden Bears stunned their previously unbeaten district rival 16-6, putting themselves squarely in the hunt for their first playoff berth since 2014.
4A: Melissa
The Cardinals took down 4A Division I's top-ranked squad in district rival Argyle 21-0, snapping the Eagles' 60-game regular season winning streak and 61-game district winning streak, and becoming the first team since 2008 to hold Argyle scoreless.
3A: George West
The Longhorns shook off a tough non-district slate and got down to business in district play, surging past Nixon-Smiley with a dominant 36-0 win and getting their first win of the season.
2A: Boys Ranch
The long wait on Cal Farley's Boys Ranch is finally over as the Roughriders snapped the state's longest active winning streak with an emphatic 38-14 win over Booker, ending a 49-game losing skid and getting in the win column for the first time since September 2016.
1A: Trent
The Gorillas pulled off one of the biggest upsets of Week 6, knocking off previously unbeaten Paint Creek with a dominant 67-28 victory to finish out their non-district slate.
PVT: San Antonio Central Catholic
The Buttons mounted a fourth-quarter comeback thanks in large part to QB Sylas Gomez as they took down Houston St. Thomas 35-31 for a critical district win.
___
WEEK 5
6A: Rockwall-Heath
In one of the wildest games in recent Texas high school football history, the Hawks came up with big play after big play to outlast its state-ranked rival Rockwall 79-71 in double overtime.
5A: Floresville
The Tigers withstood a furious La Vernia rally and came up with a gutty 37-35 win to close out non-district play at 5-0, reaching that record for the first time since 2007.
4A: Orangefield
Freshman Ty Butler kicked a 27-yard field goal with nine seconds remaining as the Bobcats took down Silsbee 16-14 to win their District 11-4A Division I opener and beat the Tigers for the first time in program history.
3A: Gladewater
DJ Allen ran for a touchdown and then found Eli Kates for the go-ahead two-point conversion with just 28 seconds left as the Bears rallied from a 14-point fourth-quarter deficit to take down No. 3 Tatum, 29-28.
2A: Iola
In a defensive slugfest, the Bulldogs got a go-ahead touchdown from Brian Crosby in the third quarter and made it stand up for their first victory of the year, beating district rival Snook 7-6.
1A: Santa Anna
The Mountaineers are 5-0 for the first time since 2012 after surging past Medina, 65-20..
PVT: Houston Second Baptist
Eli Smith ran for a go-ahead 10-yard touchdown in the fourth quarter and the defense came up with one last stop as the Eagles upset state-ranked 4A squad Port Lavaca Calhoun, 23-19.
___
WEEK 4
6A: Fort Bend Clements
Avery Clark ran for a pair of touchdowns and the defense did the rest, holding Fort Bend Dulles in check as the Rangers improved to 4-0 for the first time since 2009 with a gutty 19-13 win over their district rival.
5A: Highland Park
Facing off against undefeated and state-ranked 6A squad Rockwall, the Scots were unphased, outgunning the Yellowjackets for a 52-31 victory, improving to an astonishing 113-2 at Highlander Stadium since 1998.
4A: Mabank
Quarterback Beau Kilgore led the charge on a 423-yard rushing assault as the Panthers beat Canton 35-21, equaling last season's win total — 4 — through four weeks.
3A: Taft
In a matchup of surprise unbeatens, the Greyhounds jumped out to a 19-0 lead in the first quarter and never looked back, moving to 4-0 with a resounding 35-7 win over Kenedy.
2A: Itasca
The Wampus Cats are winners for the first time in nearly a calendar year, snapping a nine-game losing streak with a 24-6 upset win over Bartlett.
1A: Calvert
Taking the field for the first time in 2021, the Trojans looked no worse for the wear, surging past Bryan Allen Academy 55-32.
PVT: Episcopal School of Dallas
Fueled by 190 total yards and four touchdowns from Partrick Burke, the Eagles outlasted fellow unbeaten Fort Worth Southwest Christian to improve to 4-0 with a 28-10 victory.
WEEK 3
6A: El Paso Socorro
The Bulldogs' long wait is finally over as Socorro toppled El Paso, 46-23 on Thursday night, ending a 53-game losing streak and getting in the win column for the first time since September 11, 2015.
5A: Montgomery Lake Creek
The Lions rang off 21 points in the fourth quarter to rally past Sealy 41-34, improving to 3-0 for the first time in the program's young history.
4A: Austin LBJ
In a matchup of state-ranked undefeated squads, the Jaguars outmuscled perennial power Waco La Vega en route to a resounding 28-7 victory.
3A: Luling
Daylon Houston ran for 223 yards and a touchdown and the defense did the rest as the Eagles snapped a 32-game losing streak dating back to 2017 with a 17-7 win over Weimar.
2A: Burkeville
The Mustangs are 2-0 for the first time since 2010 with a hard-fought defensive victory over Acadiana Christian (LA) on Thursday, 16-14.
1A: Water Valley
The Wildcats' run of dominance continued on Friday night, notching their third consecutive mercy rule victory with a 54-8 win over Garden City.
PVT: Bay Area Christian
The Broncos rallied from an early deficit, getting a fumble recovery for a touchdown from Andrew Boyd in the fourth quarter to bring home a 17-14 win over Brazos Christian and remain unbeaten.
WEEK 2
6A: Humble Atascocita
The Eagles did what no team has ever done — beat Allen at Eagle Stadium — with a 40-21 victory, snapping the state's all-time longest regular season winning streak at 84 games.
5A: Laredo Cigarroa
Fueled by 172 yards and two touchdowns on the ground from Ya'aqob Lozano, the Toros mounted a second-half comeback and scored the go-ahead two-point conversion with under three minutes left to stun Laredo Nixon, 22-21.
4A: Cuero
The Gobblers signaled to the rest of 4A Division II that they are back, stifling Wimberley's high-powered attack to come away with a resounding 21-3 road victory.
3A: San Antonio Cole
Walker Cunningham hit Anthony Mason for a go-ahead 82-yard touchdown pass with under two minutes to play as the Cougars improved to 2-0 for the first time since 2018 with a 24-22 win over Natalia.
2A: Timpson
In a game against a state-ranked 3A team thrown together midweek, the Bears were not phased, using their remarkable team speed to take down Waskom, 49-28.
1A: Benjamin
The Mustangs surged out to a 20-6 first quarter lead and never looked back, surging past Crowell 54-46.
PVT: Cedar Hill Newman
Joshua Rico threw six touchdown passes in the first half as part of a 720-yard assault as the Warriors improved to 2-0 with a 68-20 win over Dallas First Baptist.
WEEK 1
6A: Converse Judson
The Rockets made last year's season-opening lopsided loss to DeSoto seem like a distant memory, getting four total touchdowns from quarterback Michael Burroughs in a 35-28 win.
5A: Lamar Consolidated
The Mustangs held Richmond Foster to just 176 yards and forced three turnovers as they stunned the Falcons 21-14, snapping an 11-game losing streak and avenging last season's 79-7 loss to the Falcons.
4A: Taylor
Coach Brandon Houston's debut was a sparkling one for the Ducks, snapping a 21-game losing streak with an emphatic 32-13 victory over Robinson.
3A: Quitman
It'd been nearly three full calendar years since the Bulldogs found the win column, but that all changed on Friday night as the Bulldogs beat Cumby 23-6 to snap a 28-game losing streak and give Quitman its second win in the last 73 games.
2A: Stratford
In a matchup of Panhandle powers, quarterback Cody Rinne ran in for the game-winning score in the waning seconds as the Elks stunned Spearman, 29-22.
1A: Southland
After forfeiting their final four games of the season in 2020 due to low numbers, the Eagles won their first game since November 8, 2019 with a victory over Cotton Center.
Private: Marble Falls Faith
In one of the most stunning upsets of the opening week of the season, the Flames jumped out to a 34-14 halftime lead and never looked back, taking down perennial six-man power Richland Springs, 62-34.