VOTE every Monday through Friday for the Assistant Coach of the Week
Dairy Max and Dave Campbell's Texas Football are proud to team up this year to honor excellence in coaching, and the hard work that assistant coaches put in on behalf of their teams. Each week, the Texas Football staff will nominate four deserving assistant coaches across the state, and let fans decide the winner via Twitter poll.
It all leads up to the Dairy Max Built by Nature Assistant Coach of the Year, decided at the season's end.
WEEK 7 NOMINEES
Will be announced Tuesday at noon on Texas Football Today at TexasFootball.com/live
2018 WINNERS
Week 6: Cy Woods OC Curtis Neill
The Wildcats' offense started hot and stayed hot, scoring 21 points in each of the first three quarters and racking up 684 yards of total offense — including 501 yards on the ground — in a 63-55 win over Cy Lakes.
Week 5: Laredo Alexander DC Bo Gonzalez
The Bulldogs' defense was suffocating in its matchup with crosstown rival Laredo Johnson, holding LBJ to just 26 yards of total offense in a 30-0 victory.
Week 4: Midland Lee OC Frank Maldonado
The Rebels rolled up 457 rushing yards — including 237 yards from Josh Traylor — to romp to a 57-14 win over El Paso Eastwood.
Week 3: Mason DC Michael McLeod
The Puncherdome was rocking on Friday night as the Mason defense stymied high-powered Sonora, holding the Broncos to just six first downs, minus-16 yards rushing and 59 total yards in a 27-0 victory over their 3A opponent.
Week 2: CC Moody DC Richard Diaz
In a defensive slugfest, Diaz's Trojan defense proved to be the dominant force, stifling Edinburg Economedes for a 7-0 victory.
Week 1: Fort Worth Paschal DC Alton Widemon
The Panthers' defense suffocated Irving all night long, holding the Tigers to just 130 yards of total offense on a night when their own attack scuffled en route to a 5-0 victory.
2017 Season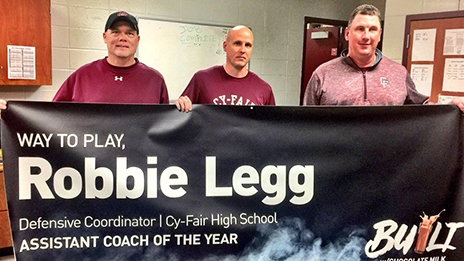 Congratulations to Cy-Fair defensive coordinator Robbie Legg, the 2017 Built By Nature Assisitant Coach of the Year. Coach Legg's Bobcats suffocated opponents en route to the 6A DII state championship, surrendering a paltry 12 points per game. It culminated in a 51-35 thumping of Waco Midway at AT&T Stadium. The Bobcats, which entered the night with the No. 6 ranked defense in 6A, put on a defensive clinic one final time against one of the better offensive units in the state. Legg's unit held Midway to just seven points through three quarters before the Panthers narrowed the margin with the game already well in hand. Midway finished with just six yards rushing in the loss, and the Bobcat defense forced 4 turnovers that led to 24 points. It was a fitting end to an outstanding season, and just another reason Legg was an obvious choice for the annual award. Legg follows 2016 winner Michael Wall who – as offensive coordinator – guided the Lake Travis Cavaliers' explosive offense to the 6A DI state championship.
About the award:
Beginning in 2014, Dairy Max and Dave Campbell's Texas Football partnered to create the BUILT By Nature Assistant Coach of the Year award – honoring the hardest working, most dedicated and successful assistant coaches at high schools across Texas. Every season, we place a form at the bottom of this page to nominate a deserving coach each week. Come back when the season kicks off to nominate your favorite coach!
2017 BUILT By Nature Assistant Coaches of the Week
Week 1: Corsicana defensive coordinator Joey Rivera
Week 2: El Paso El Dorado offensive coordinator Polo Gonzalez
Week 3: Canadian defensive coordinator Andy Cavalier
Week 4: Conroe Oak Ridge defensive coordinator Mack Malone
Week 5: Odessa Permian offensive coordinator Thad Fortune
Week 6: Cy Ridge defensive coordinator Brad Beerwinkel
Week 7: Frisco Centennial offensive coordinator Jeff Jackson
Week 8: Dumas defensive coordinator Aaron Dunnam
Week 9: San Angelo Central defensive coordinator Mark Chester
Week 10: Laredo Nixon defensive coordinator J.J. Solis
Week 11: El Paso Eastlake offensive coordinator Ruben Rodriguez
Week 12: Mansfield Summit defensive coordinator Harry Zambrana
Week 13: Argyle offensive coordinator Shay Nanny
Week 14: Graham offensive coordinator Casey Dacus