Thursday marks the beginning of the 24th annual Texas State 7-on-7 Championships, and for the 23rd year the event will be held in College Station, and once again the action will take place at Veterans Park. A robust 128 teams from across the state will gather for three days of action in one of the final big off-season events before the start of the 2022 Texas high school football season. The event has grown from humble beginnings with just 24 teams playing the inaugural event to this weekend's massive showcase. As usual, we've decided to give you a tournament primer and some things to watch for the exciting weekend of action!
What Is It?
For those of you who are new to this, 7-on-7 is a game very similar to flag football. It's played on a 45-yard field, with seven players per side. There's no rushing; it's all passing and QBs have four seconds to throw the ball. Games are played in two 15-minute halves and the clock never stops.
Teams qualify for the State 7-on-7 Tournament by advancing out of one of the numerous qualifying tournaments which began in early May. Teams are divided into three divisions. Division I plays Friday and Saturday and consists of 6A, 5A and large private schools, while Division II plays Thursday and Friday and consists of Class 4A, 3A Division I and small private schools. Finally, the Division III bracket, which consists of schools in Class 3A Division II and below – no private schools are allowed in this division, plays Thursday and Friday, as well.
Who Are The Historical Powers?
There's no question Celina has the best history of teams at the State 7-on-7 Tournament. The Bobcats have won four titles (2000, 2007, 2009 and 2012) and nearly every year are a contender to bring the hardware home and they'll be in the mix once again in the Division II bracket. Other multiple title winners include:
Graham: 2013, 2014, 2017
Baytown Lee: 2001, 2005 (did not qualify)
Southlake Carroll: 1998, 2013 (qualified and withdrew)
Lake Travis: 2010, 2017
Kaufman: 2016, 2021
Of note, Southlake Carroll fell in the title game in Division I in 2019, while Graham also played for the title in 2012, falling to Celina in the Division II bracket. Navasota won a title in 2015, but the Rattlers also played for the crown back in 2008, falling to Crane. The Rattlers, however, did not qualify for the State Tournament for the second straight year. Crane aside from their title in 2008 did play for the state title in 2007 and again in 2019. DeSoto had strong runs in 2010 and 2011, playing for the title in 2010 and winning the Division I crown in 2011. College Station A&M Consolidated won the Division I crown in 2019 and they played for the title in 2018, losing to cross-town rival College Station.
Arlington Lamar saw their long streak of qualification for State 7-on-7 end this summer as they were the only team in the state to have qualified for every State 7-on-7 Tournament since 1998, they made two semifinals in qualifying tournaments but failed to advance. Brownwood how holds the longest streak of qualifying for the State Tournament at twenty-two straight years.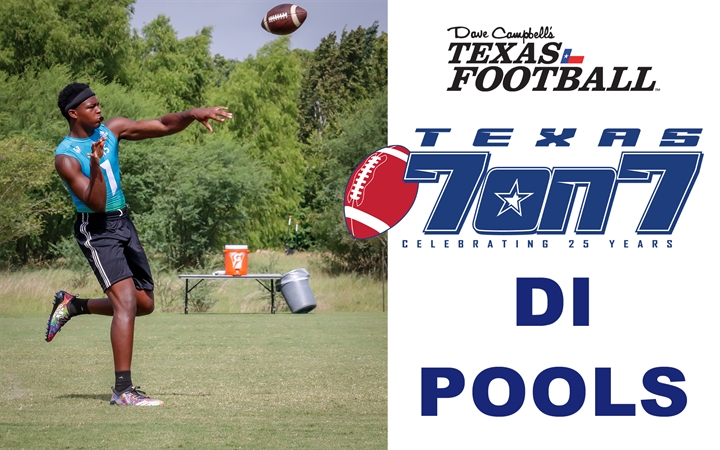 The Defending Champions
All three defending champions will return to College Station to defend their titles in 2022. East Bernard dominated Division III in 2021, going 8-0 in two days to win the crown and they wasted no time qualifying in the first Division III SQT of the summer at Wallis Brazos in early May. Kaufman waited until the final weekend to punch their ticket in the Division II bracket as they qualified on the final weekend in Division II at the Celina SQT June 11. Hebron also qualified early on as on May 14 the Hawks earned the chance to defend their crown, qualifying at the Colt Classic SQT in Arlington.
How Do The Champions Do In The Fall?
In the early days of 7-on-7 there was little-to-no correlation to winning the state title in 7-on-7 and success in the fall. In fact, Baytown Lee won in 2005 and failed to win a game in the fall. However, in recent years that trend has started to change and there's even been a few teams who won both State 7-on-7 and UIL football titles in the same year. (Tyler Lee – 2004, Celina – 2000 & 2007, Lake Travis – 2010, Melissa – 2011).
However, just because you don't win a state title in football doesn't mean the season was a failure, check out some of the other deep playoff runs by State 7-on-7 Champions below:
2009: Round Rock Stony Point (state semifinalist)
2010: Brownwood (state semifinalist)
2012: Celina (regional semifinalist)
2013: Southlake Carroll (regional semifinalist)
2013: Graham (state semifinalist)
2014: Graham (state semifinalist)
2015: Austin Westlake (state finalist)
2016: The Woodlands (state finalist)
2017: Graham (state semifinalist)
2017: Lake Travis (state finalist)
2018: Midlothian Heritage (regional semifinalist)
2018: Gunter (state semifinalist)
2019: Sunnyvale (regional semifinalist)
In 2021 the eight quarterfinalists in Division I combined to go a very strong 83-22 that fall in real football, all eight teams made the playoffs and included in that group of eight was the 6A-Division II state champion (Austin Westlake), a 6A-Division I state semifinalist (Lake Travis) and a 5A-Division I runner-up (College Station). The eight quarterfinalists in Division II went a combined 76-24 in the fall. Seven of the eight in that group made the playoffs, with just Lake Belton not making the playoffs due to not playing in a UIL district. Included in that list was the 4A Division II state champions (China Spring), a 4A-Division I state semifinalist (Tyler Chapel Hill) and two 4A-Division I regional semifinalists (Argyle and Dumas). In Division III the final eight teams standing were a combined 83-20 in the fall, with all eight making the playoffs. The group includes two state champions Franklin in 3A-Division II and Stratford in 2A-Division II, a 3A-Division II regional finalist in Daingerfield and a 3A-Division II regional semifinalist in Dublin.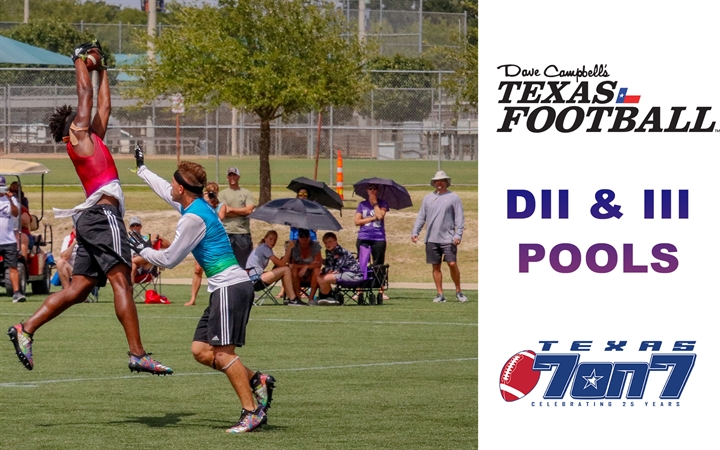 It's Been a While, Welcome Back!
These teams have advanced to the State 7-on-7 Tournament before, but it has been a few years, so welcome these old friends back to College Station!
Bellaire Episcopal (last appearance 2014)
Clyde (last appearance 2015)
Dripping Springs (last appearance 2005)
Fort Bend Christian (last appearance 2014)
Fort Bend Hightower (last appearance 2003)
Fort Bend Marshall (last appearance 2005)
Gilmer Harmony (last appearance 2016)
Lago Vista (last appearance 2012)
Lindale (last appearance 2015)
Marlin (last appearance 2007)
McKinney (last appearance 2002)
Mission Sharyland (last appearance 2014)
New Waverly (last appearce 2008)
North Crowley (last appearance 2016)
Rockdale (last appearance 2017)
San Benito (last appearance 2007)
Sealy (last appearance 2014)
West Orange-Stark (last appearance 2012)
Wichita Falls (last appearance 2014)
Willis (last appearance 2016)
First Appearance At The Dance
Below is a list of the teams making their first-ever appearance at the State 7-on-7 Tournament.
DIVISON I:
Amarillo
Corpus Christi Miller
Katy Jordan
PSJA North
Red Oak
White Settlement Brewer
DIVISON II:
Columbus
Hereford
Ponder
San Antonio Davenport
Smithville
DIVISON III:
Dawson
Henrietta
Millsap
San Angelo TLC
Santa Rosa
Stamford
Three Rivers
26-6A's Fab Five
District 26-6A out of the Austin area has an impressive five teams who qualified for the Division I State Tournament with Lake Travis, Austin Westlake, Austin Anderson, Dripping Springs and Buda Johnson all making the trip to College Station. 1-6A for the second straight year has four teams headed to the State Tournament with El Paso Eastwood, El Paso Eastlake and El Paso Coronado making return trips along with El Paso Franklin who qualified for the first time since 2018.
Road Tripping Or Sleeping In Your Own Bed?
Two local schools to the Bryan-College Station qualified for the State Tournament as College Station and College Station A&M Consolidated both punched tickets to the State Tournament on the final weekend of SQT play. Both schools are located less than seven miles from the park and both teams have had a lot of recent success in the State Tournament. As is always the case, a team from El Paso wins the award for longest road trip overall and this year it's El Paso Franklin in the Division I bracket traveling 686 miles from the westside of El Paso to the Brazos Valley.
In Division II the top travel award goes to Dumas who will venture 560 miles south from the Texas Panhandle down to College Station. There aren't any truly local teams playing in the Division II bracket, with Rockdale getting the honors as the "local" squad with just a 55-mile one way trip.
In Division III, Stratford WAY up in the Texas Panhandle has the longest road trip as the Elks will travel 594 miles to College Station, while nearby Hearne doesn't have to deal with hotel reservations as they are just 25 miles away.
Who Are This Year's Favorites??
As always picking results in the State 7-on-7 tournament is a dicey proposition at best, but we make our best effort to name five teams to keep an eye on in each division.
D1: DeSoto, Colleyville Heritage, Katy Cinco Ranch, Lake Travis, Alvin Shadow Creek
D2: Celina, China Spring, Breckenridge, Hamshire-Fannett, Hitchcock
D3: Childress, East Bernard, Hawley, Daingerfield, Wink
Coming Out to Watch Your Team Play?
If you can, come on out to College Station and cheer your favorite team on. Even if you are just a high school football fan, it's a blast to come out and watch these talented players in action up close and personal. Admission is free, bring a chair, a cooler stocked with cold drinks and lots of sun screen! The Bryan-College Station area has plenty of hotels, but they book quick so if you plan on staying more than a day, make sure you get your reservations ASAP. The Veterans Park complex in College Station is quite large and if you plan on going to multiple fields to check out the action, be prepared for a 10-15 minute walk. The DCTF crew will be out and about all over the place so come by our tent and say hello or if you see us out at a field say hi!
How To Follow The Tournament If You Can't Make It
If you can't make it out, DCTF will be all over the action tweeting out updates and video throughout the weekend! Check us out on Twitter @dctf or go to http://www.texasfootball.com for live score updates. We'll also have a live broadcast on all three days from the scene FREE OF CHARGE thanks to our friends at Texas Army National Guard!! Check out all the action at http://www.texanlive.com
This article is available to our Digital Subscribers.
Click "Subscribe Now" to see a list of subscription offers.
Already a Subscriber? Sign In to access this content.