Midland, Texas is a warm and inviting West Texas city, conveniently located on Interstate 20, halfway between Fort Worth and El Paso. Easily accessible, it boasts Midland International Air & Space Port, serviced daily by American, Southwest, and United Airlines and is the closest airport to Big Bend National Park. This is the perfect destination to begin a West Texas road trip, a tour of the Big Bend region, host your meeting, sporting event, or family reunion.
It's also home to some exciting Texas high school football! Throughout the season, Dave Campbell's Texas Football will spotlight some can't-miss Texas high school football matchups in the Midland area. Check back in this space for our preview of every matchup, and our thoughts on who will put on a show. And while you're here, make sure you see our picks for the best places to eat, shop and play!
THINGS TO DO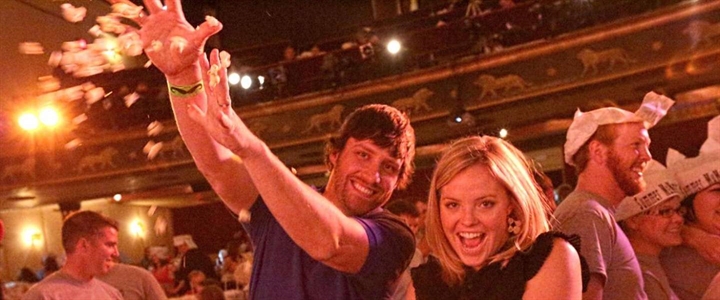 EVENTS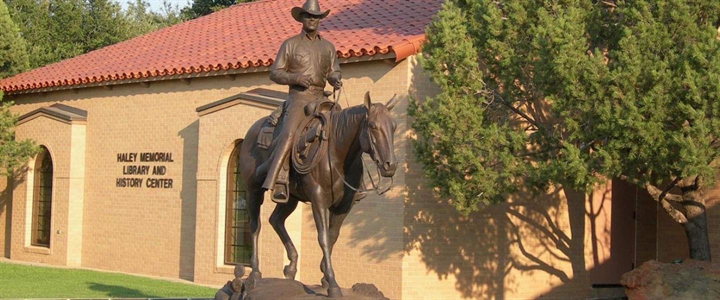 RESTAURANTS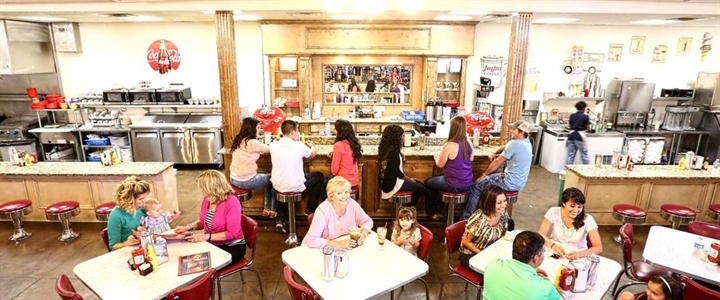 HOTELS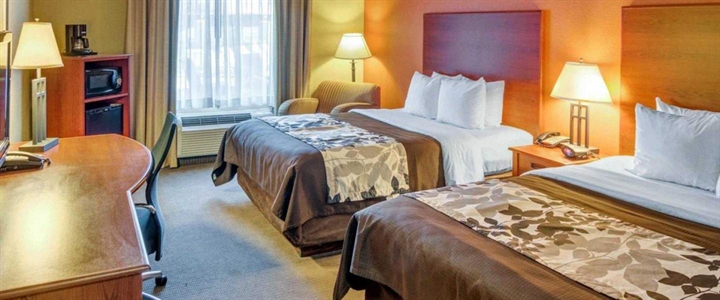 PLAN YOUR VISIT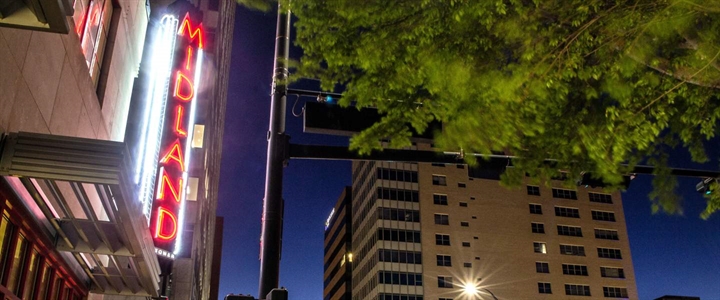 _____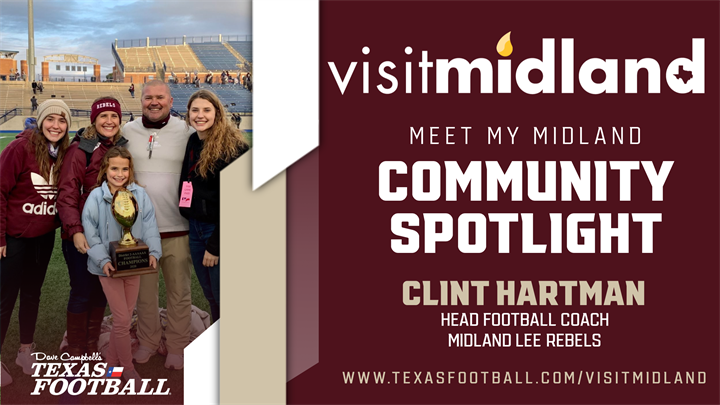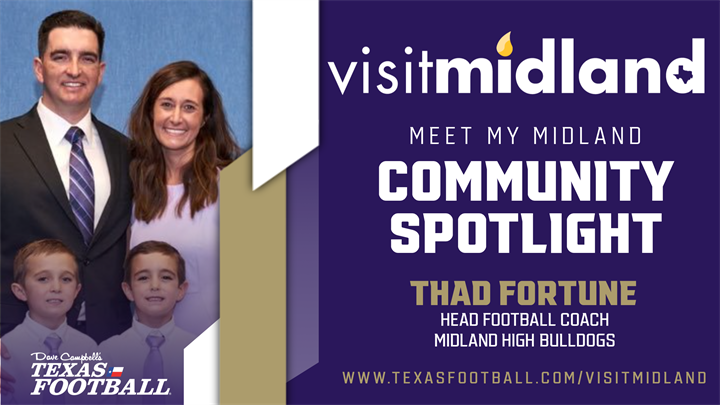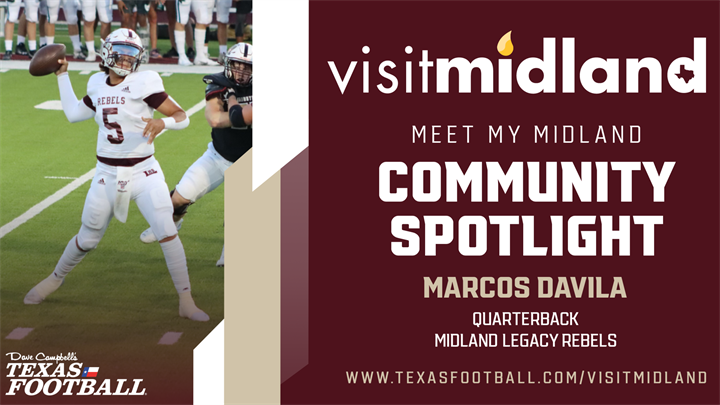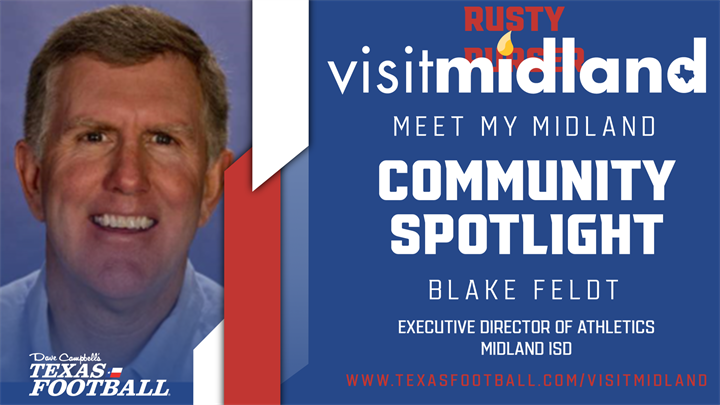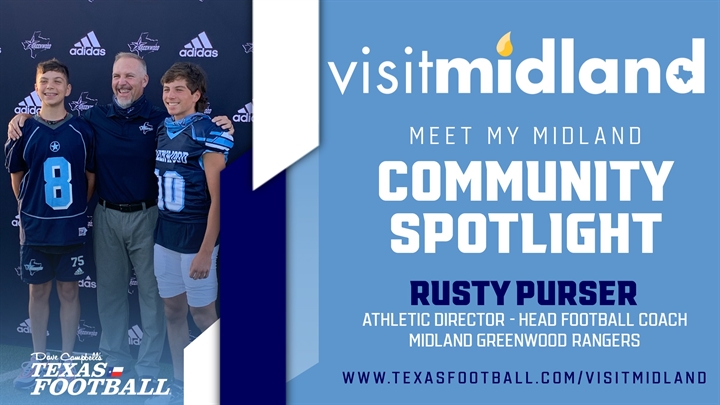 2021 SPOTLIGHT GAMES
Sept. 24
Odessa (2-2) at Midland (1-3)
Odessa High makes the short trip east on I-20 into the Tall City as it opens up District 2-6A play against Midland High. This one looks to be a fascinating opener featuring two teams with new head coaches who have shown signs of turning the corner after a couple of difficult seasons. Odessa High, which is led by first-year head coach Dusty Ortiz, lost a heart-breaker to state-ranked Wichita Falls Rider, 47-43. QB Diego Cervantes was sensational for the Bronchos throwing for 392 yards and a touchdown, while also adding three touchdowns on the ground. Odessa High was driving for the game winning score, but was stopped on the game's final play. Home-standing Midland High, which is under first-year head coach Thad Fortune, who come to MHS from Odessa Permian, has shown improvement. But the Bulldogs were hit with the turnover bug in last week's 42-17 loss to Lubbock Coronado, which put the defense in some tough spots. The previous two weeks, in close losses to Amarillo High and Lubbock Monterrey, the Bulldogs were in it until the final whistle, so it's clear this team has made some major steps forward while trying to learn new schemes. Look for this one to be a nail-biter as both teams know this is a key game to get a win in if they want to remain in the playoff race. Odessa's offense has been a bit too explosive early in the year, so give the edge to the Bronchos.
Stepp's Pick: Odessa High by 6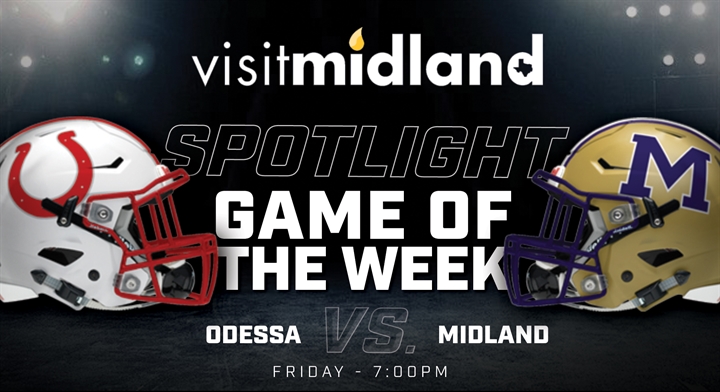 Final: Midland 49-28
Oct. 15
Sweetwater (4-3, 1-0) at Midland Greenwood (3-3, 1-0)
District 1-4A Division II was expected to have plenty of fireworks in 2021 and after one week of district play, the district absolutely delivered with some exciting action. Greenwood High School is the site of a showdown for first place in the district race as Sweetwater loads up on I-20 and heads west to the Tall City to take on the Greenwood Rangers. Sweetwater got a real test in their district opener last week against a strong Snyder bunch, but the Mustangs, led by the heroics of QB Leo Holsey, were able to escape Snyder's upset bid in a 42-37 win. Holsey threw for 246 yards and a pair of touchdowns and added in 71 yards on the ground and three touchdowns to pace a Mustangs offense that rolled up 408 yards on the night. Midland Greenwood, which had been struggling on offense averaging just over 15 points per game, got things back on track last week as the Rangers went out to Pecos and dominated in a 42-17 win. Greenwood's running game was the key as Aaron Fikes, ran for 141 yards and three touchdowns to lead the way. QB Ty Flower ran for 51 yards as well and added balance to the attack with 116 yards through the air and two touchdowns. The key in this matchup is the Greenwood offense. Can the Rangers score enough to keep up with this high-flying Sweetwater offense that's averaging over 50 points per game during this three-game winning streak. The odds are Greenwood just won't have the firepower to keep pace with the Mustangs, who jump into the driver's seat with a win.
Stepp's Pick: Sweetwater by 10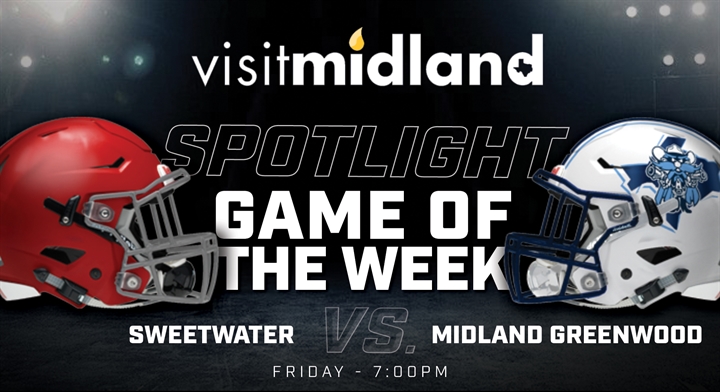 Final: Sweetwater 34, Midland Greenwood 28
Oct. 22
Midland (2-5, 1-2) vs Midland Legacy (5-1, 3-0)
It's one of those classic "throw the records out the window" type games in the Tall City as old rivals Midland High and Midland Legacy meet up in a key District 2-6A contest at beautiful Grande Communications Stadium. Midland High comes in much better than their 2-5 record indicates under first year head coach Thad Fortune. The Bulldogs have been right in the mix in nearly every game they've played, including last week's 34-23 loss to Odessa Permian. QB Landry Walls led the way for MHS with 163 yards of offense and he ran for a score and threw a touchdown pass in the losing effort. Offense has been no issue for Clint Hartman's Rebels as Midland Legacy has thrown up 50-plus points IN THE FIRST HALF of back-to-back games. In last week's 65-0 rout of Odessa High, Legacy rolled up 598 yards of offense with sophomore QB Marcos Davila leading the charge throwing for 274 yards and three touchdowns. RB Makhilyn Young added in 184 yards on the ground and four touchdowns to lead the LHS attack. The defense was equally as impressive holding Odessa High to just 153 yards of offense and DB John Washington tied a school record picking off three passes in the win, including taking one back for a touchdown as just about everything went right for Midland Legacy last Friday.Midland High's offense traditionally has given Legacy fits, so expect the Bulldogs to try and slow the tempo down and keep the ball away from the Legacy offense, try to limit possessions and see if they can come up with a key play down the stretch. Look for that plan to work for a half, but Legacy's just too dynamic on offense and they will be keyed in on playing assignment defense to put MHS in obvious passing downs where they tend to struggle.
Stepp's Pick: Midland Legacy by 17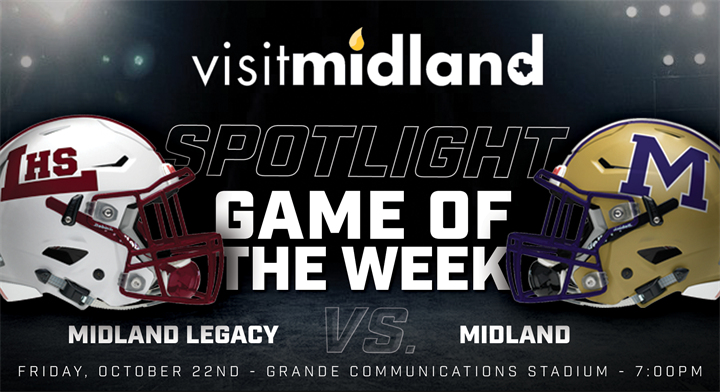 Final: Midland Legacy 57, Midland 27
Nov. 5
Odessa Permian (7-2, 4-1) at Midland Legacy (7-1, 5-0)
It's a major Little SWC showdown in the Tall City to close out the regular season as the Permian Panthers make the short drive east on I-20 to take on Midland Legacy with a share of the district title on the line. Odessa Permian has had a full two weeks to gear up for state ranked Midland Legacy and the Panthers are looking to make it three wins in a row over their arch rivals. Two weeks ago MOJO's defense had their best game of the year as they held an explosive San Angelo Central offense in check in a 21-7 win at home in Odessa. Permian's defense will need another big effort like that to slow down a Midland Legacy offense that comes into this game averaging over 53 points per game. In fact LHS has put up over 40 points in the first half of four of their district games. Last week the Rebels rolled to an easy 69-28 win over San Angelo Central on the road as the Rebels got a huge night from sophomore QB Marcos Davila who threw for 211 yards and five touchdowns passing. RB Makhilyn Young ran for 238 yards and two touchdowns and also had a touchdown reception as well for Legacy. This game will come down to Midland Legacy's defense, if the Rebels defense can win on first down and put the ground oriented Permian offense in second and long, they'll be able to get their explosive offense back on the field and wear Permian down.
Stepp's Pick: Midland Legacy by 9
Final: Midland Legacy 34, Odessa Permian 21
_____
Nov. 11
Monahans (7-3) vs Lubbock Estacado (7-3)
The 2021 Texas High School Football playoffs start with a bang in the Tall City as beautiful Grande Communications Stadium is the host of a tasty 4A-Division II bi-district showdown on Thursday. The Monahans Loboes make the short drive east on I-20 to take on the 2-4A Division II district champion Lubbock Estacado Matadors. Monahans is not your typical fourth place team and comes into this one with a lot of confidence after pushing 1-4A Division II champion Sweetwater to the limit last week in a heart-breaking 27-21 defeat. MHS led the entire way until a Sweetwater score with less than two minutes proved to be the difference. Estacado had the rare Week 10 bye and as always the Matadors are loaded with speed on both sides of the ball, what makes this team so dynamic is their tremendous defensive unit led by Washington State commit DL Jihad Lateef, who is a force up front and demands at times triple teams. That attention frees up his teammates to play loose and pressure free and that is bad new for opposing offenses. On offense, QB Colby Sims has a ton of experience leading the offense and brings tremendous leadership to the table and freshman RB Bobby Ross is already generating a lot of buzz among the college scouts. Look for battle tested Monahans to keep it close for three quarters, but Estacado's defense and big play ability on offense will be too much in this one.
Stepp's Pick: Lubbock Estacado by 12
Final: Monahans 31, Lubbock Estacado 28
_____
For a more complete list of places to eat, play, shop & stay in Midland, check out VisitMidland.com