Midland, Texas is a warm and inviting West Texas city, conveniently located on Interstate 20, halfway between Fort Worth and El Paso. Easily accessible, it boasts Midland International Air & Space Port, serviced daily by American, Southwest, and United Airlines and is the closest airport to Big Bend National Park. This is the perfect destination to begin a West Texas road trip, a tour of the Big Bend region, host your meeting, sporting event, or family reunion.
It's also home to some exciting Texas high school football! Throughout the season, Dave Campbell's Texas Football will spotlight some can't-miss Texas high school football matchups in the Midland area. Check back in this space for our preview of every matchup, and our thoughts on who will put on a show. And while you're here, make sure you see our picks for the best places to eat, shop and play!
2020 SPOTLIGHT GAMES
Oct. 16
Wolfforth Frenship (1-2) at Midland (0-3)
The great thing about starting up district play is that the slate is wiped clean, and that's a good thing for both Wolfforth Frenship and Midland High. With a combined 1-5 non-district record, both of these teams come into this Little Southwest Conference opener dripping with playoff implications as both teams feel like they are capable of being in that postseason discussion. Frenship comes to the Tall City with just a single win, but the Tigers non-district slate has been as tough as any in West Texas. Last week, the Tigers fell in a heart-breaker, 20-14, to Lubbock Cooper in front of a big crowd at Texas Tech. The Tigers, who fell behind 17-0 in the first quarter, were trailing 20-7 late in the third quarter when backup QB Corbin Gandy came in and sparked the offense with a touchdown pass to Klein Coker, but the Tigers wouldn't get any closer. Midland High's biggest issue in their 0-3 start to the season has been their defense, which is allowing 49 points per game. In last week's 56-28 loss to Lubbock Monterey, the Bulldogs fell behind 42-0 in the second quarter as the defense had no answers and the offense was plagued by miscues and were unable to get first downs to give the defense a break. There's no doubt head coach Tim Anusziewicz will have his team focused and playing with maximum effort after a performance that he called "embarrassing" last week. Frenship, however, is a bit too well rounded. After withstanding an early barrage from Midland, the Tigers escape beautiful Grande Communications Stadium with a district opening win.
Stepp's Pick: Wolfforth Frenship by 10
Final: Frenship 37, Midland 23
Sept. 25
Wall (3-1) at Midland Christian (0-0)
It's an odd set of circumstances that brings Wall into the Tall City to take on Midland Christian in the Mustangs season opener. Wall, a UIL 3A school, has already played four games this season, while Midland Christian, a TAPPS program ,had a delayed start to the season. That certainly is an advantage for Wall coming into this matchup as the Hawks are game prepped and in good physical condition, while the Mustangs are likely to see typical Week 1 sloppy play. Wall bounced back nicely from their loss to San Antonio Christian with a dominant win over Mason, 42-7, last week. The Hawks ran for 406 yards in the win and they had a pair of backs top 100 yards on the ground. Expect the Hawks to run a lot behind OL Tate Williams, who is one of the state's top offensive lineman and a Baylor commit. Midland Christian needs this early test as the Mustangs play in a brutally tough TAPPS district loaded with powerhouse teams from the DFW area. QB Ryver Rodriguez accounted for 20 total touchdowns as a sophomore and emerged as a real leader for the MCS offense. Don't be surprised if he is one of the Permian Basin's top playmakers by the end of the season. WR's Chris Brazzell and Tre Huber give Midland Christian weaponry on the outside, while LB Colton Wolfe (119 tackles in 2019) leads the defense. Wolfe is a big and quick linebacker who can cover the entire field and he sets the tone for the Mustangs. If both of these teams had played the same number of games, you'd give the edge to Midland Christian. But those four games under Wall's belt are huge and the Hawks use that experience this week to go into beautiful Midland and get a win.
Stepp's Pick: Wall by 6
Final: Midland Christian 41, Wall 6
Aug. 28
Lubbock Estacado at Midland Greenwood
It's a playoff rematch in the Tall City as Lubbock Estacado comes to beautiful Midland looking to get a measure of revenge against the defending Class 4A Division II Region I champions in Midland Greenwood. The Rangers ended the Matadors perfect 2019 run in the regional semifinals a year ago, but most of the offense has graduated. Expect the offensive load to be carried by RB Trey Cross, who dazzled as a junior with 2,891 yards and 35 touchdowns on the ground in 2019. The key matchup in this game may be an inexperienced Greenwood offensive line going against a ferocious defensive front of Estacado led by DL Jihad Lateef, who is emerging as one of the state's top prospects in the trenches in the Class of 2022. QB Jay'Lon Dobbins is back to lead the Estacado offense after throwing for 2,181 yards and 21 touchdowns a year ago. The Matadors will need to develop a new cast of running backs, but there are plenty of prospects in the pipeline for Joe Cluley's bunch. WR T.J. Steele is a North Texas commit and the top target in the Estacado passing game; his ability to stretch the field will be a major challenge for the veteran Greenwood defense, which returns eight starters from last season's state semifinalist. The two headliners for the Rangers defense are returning all-state performers LB Michael Gutierrez (160 tackles) and DL Connor McDonald (96 tackles). Greenwood's strong defense may have to carry the load early as teams will stack the box to slow RB Cross, and that could limit the Rangers offense early on. Expect a sloppy game as Week 1 contests typically are, but this will no doubt be an entertaining contest featuring two of the top 4A programs in West Texas. Look for Estacado to get a small measure of revenge this week and hand Greenwood its first loss in the regular season since Week 3 of the 2018 season.
Stepp's Pick: Lubbock Estacado by 6
Final: Midland Greenwood 28, Lubbock Estacado 12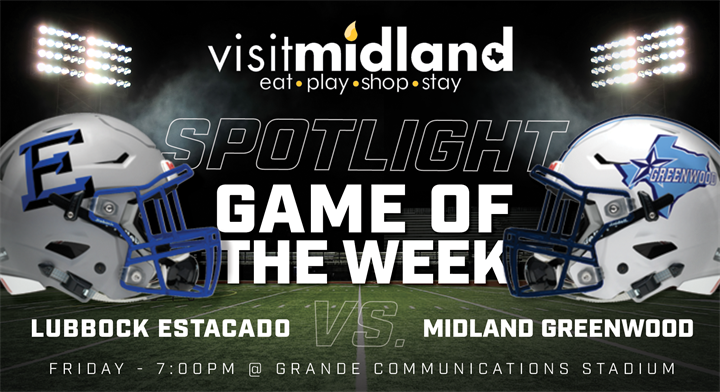 HERE'S OUR TIPS FOR MAKING THE MOST OF YOUR FOOTBALL WEEKEND IN MIDLAND:
EAT
Midland offers a wide variety of restaurants from food trucks to fine dining. If you are in the mood for national chains or want to try the local cuisine, you can't go wrong with any dining choice.
Volcano Asian Fusion Sushi & Bar – Serving lunch and dinner, good for groups and kids! With lots of combinations to choose from, you're sure to have a delicious experience. Located in the Red Oak Plaza near the Scharbauer Sports Complex.
Graham Pharmacy – Celebrating 62 years in Midland, Graham Pharmacy is the perfect place for gifts and fountain food, drinks and treats. With two locations, you'll be able to experience the fun no matter where you stay in Midland.
Clear Springs Cafe – Featuring some of the best fried catfish, onions rings, shrimp and ribs in Midland!
FountainVille Creamery and Soda Fountain – Made from scratch artisan, small batch ice cream that brings something truly unique to West Texas. View the production room and the machines that made their delicious ice creams. Steps away from Grande Communications Stadium, Fountainville Creamery and Soda Fountain is the perfect place to celebrate after a win!
Mr. Gatti's Pizza – Hand-rolled dough made fresh each morning, signature sauce with sixteen secret herbs and spices and real smoked provolone cheese combined with only the best toppings make Mr. Gatti's pizza delicious! Enjoy an All-You-Care-To-Eat-&-Drink Buffet that includes unlimited pizzas, pastas, salads, desserts and more! Great for groups and kids.
KD's Bar-B-Q – Straight off the pit. KD's Bar-B-Q serves top quality smoked meats including brisket, sausage, ham, turkey, pork chops, chicken and more! Load up your tray and enjoy a trip to the bean bar for beans, bread, pickles, onions, jalapenos and hot salsa. Your taste buds will thank you for making a stop at KD's.
PLAY
There is so much to do in Midland; you'll need more than one day to experience it all. With world class museums, performing arts venues, interactive activities for the whole family, you'll never have a dull moment in our city.
George W. Bush Childhood Home - The George W. Bush Childhood home, the home of two presidents, two governors, a first lady, ambassador, and a CIA director, resides in Midland. Experience the history of one of America's great families through their story and the childhood of George W. Bush in Midland.
Cinergy Cinemas – Recently renovated, enjoy a ropes course, games, food, or a movie at Cinergy Cinemas. Perfect for large groups, this energetic entertainment mecca is great for an evening of fun, food, and family!
Old Miners Maze – The place where families come together for interactive adventures. Old Miners Maze specializes in group and family fun with a broad range of attractions including inflatable games, a walk-through maze, mechanical bull riding, snack saloon, rock wall, train ride, and more.
Susie's South Forty Confections – Take a FREE tour of the factory and watch how Susie's delectable treats are made. End the tour with a stop at the gift shop, and take home some KICKERS® pralines, Fudge Richey®, and WINNERS® caramels. Susie's South Forty Confections has been featured on the Food Networks' "Unwrapped" and is the Guinness™ World Record holder for the largest piece of toffee!
SHOP
Unique boutiques to big box retailers, you can shop to your heart's desire in Midland.
Academy Sports & Outdoors – At Academy Sports & Outdoors, we make it easier for everyone to enjoy more sports and outdoors. We carry a wide range of quality hunting, fishing and camping equipment, patio sets and barbecue grills, along with sports and recreation products, at everyday low prices. For all. For less.
Midland Athletic Company – Promoting fitness and wellness in the Permian Basin, Midland Athletic Company supplies all your athletic footwear, apparel and workout accessory needs. With a staff of experts, Midland Athletic Company strives to provide a customer experience like none other.
Midland Park Mall – With over 90 stores, Midland Park Mall is the Permian Basin's premier shopping destination. Located off Loop 250 and Midkiff.
The Commons at North Park – One of Midland's newest lifestyle shopping destinations complete with large box tenants both retail and restaurant. Located off Loop 250 in-between Garfield & Midkiff.
Ski Skeller Sports – A local Midland favorite, Ski Skeller Sports has you covered for all your outdoor activity gear needs. From water sports to the snow, this one-of-a-kind, recreational shop will bring out your inner outdoor adventurer!
Quetzal Mexican Crafts and Arts Imports – With beautiful furniture, crafts, paintings, pottery, textiles and more, Quetzal Mexican Crafts and Arts Imports has unique items that are sure to add a touch of flair to your home.
For a more complete list of places to eat, play, shop & stay in Midland, check out VisitMidland.com.https://www.visitmidland.com/