Dave Campbell's Texas Football, in conjunction with the Texas Bowl, annually recognizes the most outstanding high school football player in the state of Texas. Each week, fans are given a chance to vote for the player of the week on TexasFootball.com. At the end of the high school football season, 10 finalists are named. Fans can then cast their vote as to who should be named Mr. Texas Football. The winner of the 2019 Mr. Texas Football Award will be announced prior to the 2020 Texas Bowl.
Former winners of the award include 2018 Heisman Trophy winner and No. 1 overall pick Kyler Murray (2013 and 2014 winner, Allen), 2012 Heisman Trophy winner Johnny Manziel (2010 winner, Kerrville Tivy), former Texas Longhorns running back Johnathan Gray (2011 winner, Aledo), Oklahoma State quarterback Spencer Sanders (2017 winner, Denton Ryan), Tampa Bay Buccaneers running back Jacquizz Rodgers (2007 winner, Lamar Consolidated) and Carolina Panthers quarterback Garrett Gilbert (2008 winner, Lake Travis). Mission Veterans Memorial quarterback Landry Gilpin took home the award in 2018.
The 2020 Texas Bowl will once again feature a matchup between Big 12 and SEC opponents.
For more information, visit www.thetexasbowl.com
2020 Week-by-Week Winners:
Week 1: Llano QB Case Kuykendall
Week 2: Stephenville RB Kason Philips
Week 3: Albany RB Coy LeFevre
2019 Week-by-Week Winners:
Week 14: Dumas QB Spencer Williams
Week 13: Harleton RB/LB Hunter Wallace
Week 12: Midland Greenwood QB Weston Wilber
Week 11: Cuero QB JD Notaro
Week 10: El Paso Eastwood QB Andrew Martinez
Week 9: Buffalo WR/DB Jamaul Randle
Week 8: Abilene Cooper DB Dylan Davis
Week 7: Needville RB Ashton Stredick
Week 6: Abilene Cooper RB Noah Garcia
Week 5: Laredo United South RB Brian Benavides
Week 4: Tioga WR Caleb McKinney
Week 3: Longview Pine Tree WR/RB Keelan Turner
Week 2: Anderson-Shiro RB Zacarrius Haynes
Week 1: Mount Enterprise RB/DB Kendre Miller
2018 Week-by-Week Winners:
Week 14: Eli Salinas, San Saba
Week 13: Colton Green, Buffalo
Week 12: Jacob Rosales, Sharyland Pioneer
Week 11: Caden Fedora, A&M Consolidated
Week 10: Daniel Vasquez, Rio Hondo
Week 9: Luis Ramos, Dumas
Week 8: Cameron Rickett, Springtown
Week 7: Darius White, Hardin
Week 6: Quintan Jackson, FW Benbrook
Week 5: Josiah Ortega, Rio Hondo
Week 4: Jacob Mechler, Andrews
Week 3: Anthony Watkins, FW South Hills
Week 2: Ashton Stredick, Needville
Week 1: Austin Phillips, Wolfforth Frenship
2017 Week-by-Week Winners: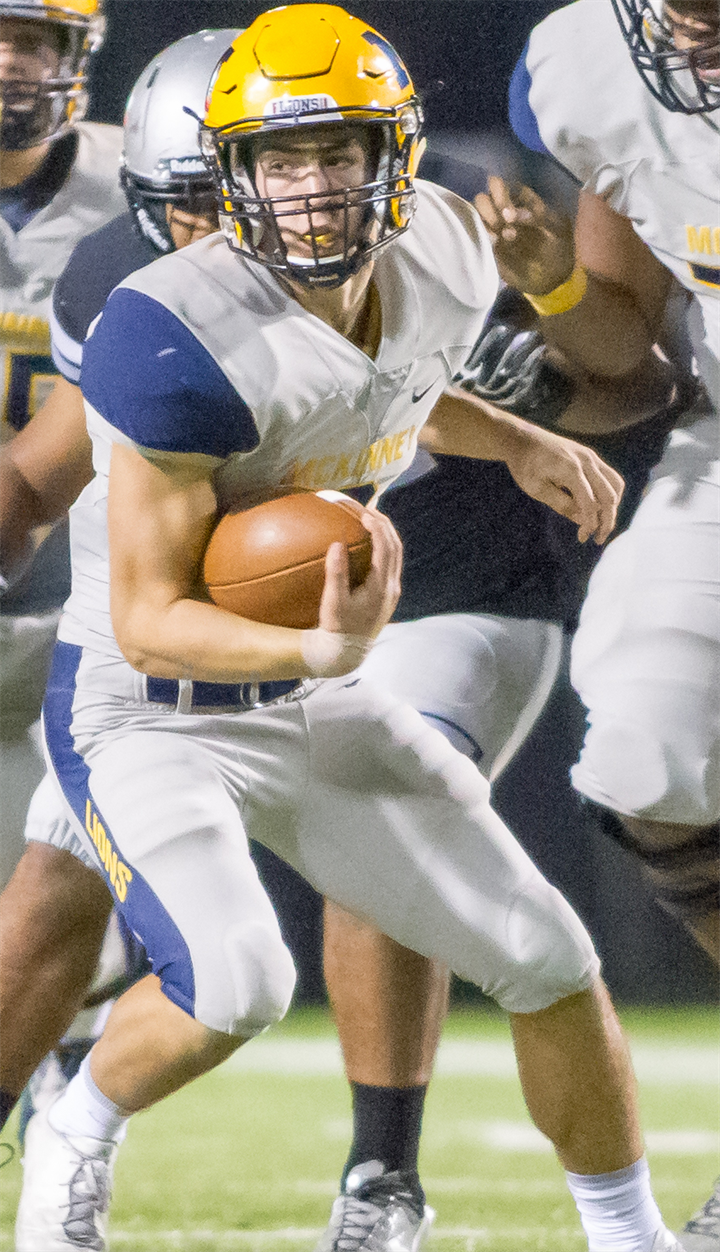 Week 1: Christian Huey, Sundown
Week 2: Ender Freeman, Abilene Cooper
Week 3: Tyrees Whitfield, Abilene Cooper
Week 4: Wesley Huitt, Mildred
Week 5: Jaquan Jackson, DeKalb
Week 6: Reese Mason, Magnolia
Week 7: Chad Reeves, Daingerfield
Week 8: Matt Gadek, McKinney
Week 9: Zach Gomez, La Villa
Week 10: Dylan Davidson, Bay City
Week 11: LaDavion Johnson, Linden-Kildare
Week 12: Riley Russell, Texas High
Week 13: Jeff Williams, Tidehaven
Week 14: Keyshawn Johnson, Falls City