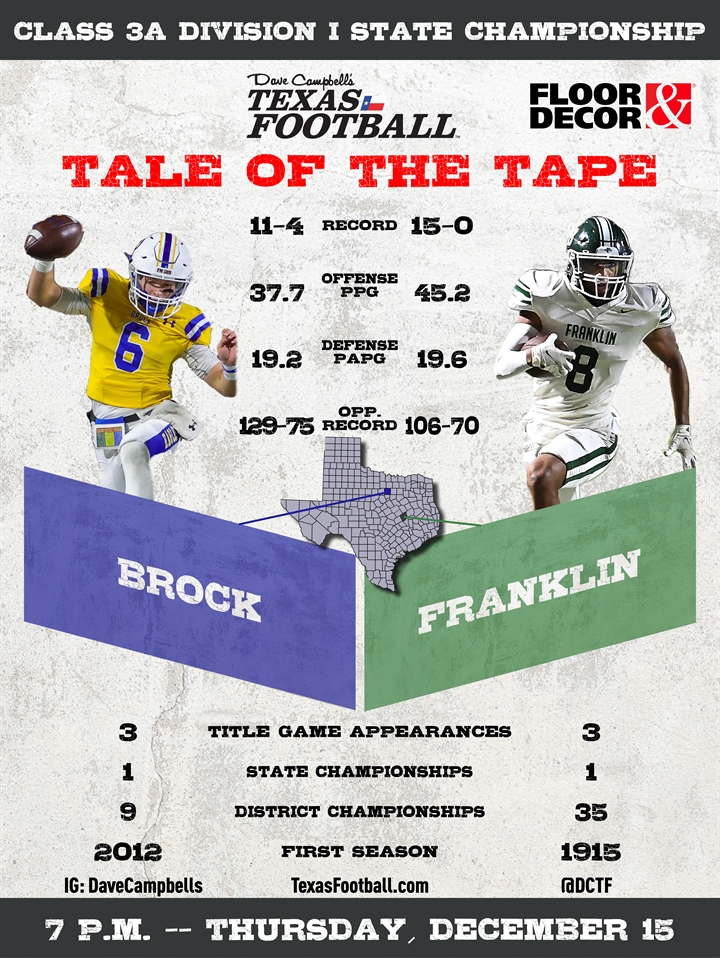 Brock (11-4) vs. Franklin (15-0), 7 p.m. Thursday at Arlington's AT&T Stadium
After starting the season 0-4, Brock has bounced back incredibly with 11 straight wins to advance to the state title game for the second year in a row under second-year head coach Billy Mathis. There isn't a 3A-Division I team in the state who has run the kind of gauntlet Brock's had to run this year, and they are without question battle tested.
However, unbeaten Franklin, who won the 3A-Division II state title a year ago, may have a claim to that crown as Mark Fannin's bunch has run quite a gauntlet - they played in what most believe is the state's toughest 3A-Division I district.
Brock got off to a strong start last week and held off a late Malakoff rally to punch their ticket to AT&T Stadium with a 21-10 victory. The Eagles got it done with typical Brock efficiency, a tough defense and a road-grading offensive line. Reid Watkins got it done on both sides of the ball for the Eagles, rushing for 136 yards and a pair of touchdowns. He also secured a key fourth-quarter interception to help Brock stave off any late Malakoff comeback attempt.
Brock's defense was sensational, holding MHS to just 160 yards of offense on the night.
Franklin got off to a little bit of a slow start last week against Edna, but the Lions attack got it going in the second quarter as they extended their winning streak to 31 games; they've won 43 of their last 44 games with the lone loss being a one-point defeat to Canadian in the 2020 3A-Division II state title game. Sophomore RB Jayden Jackson had a big night for the Lions as he ran for 124 yards and two touchdowns; he also threw a touchdown pass on a trick play. Baylor commit RB Bryson Washington ran for 172 yards and a touchdown.
This game comes down to one key matchup: Can Brock's defense, more specifically the front seven, find a way to contain this dominant Franklin rushing attack, which no one has figured out all season. If Brock can do that, they'll be in position to pull the upset. If not, Franklin wins another state title and begins to cement themselves as a dynasty in the making.
Stepp's Pick: Franklin by 6
PLAYERS TO WATCH
Brock
RB/DB Reid Watkins - An all-around solid running back that has the quickness to make plays on the boundary and the toughness to run between the tackles (squats 450 and benches 240). For as much as he's relied on to pace Brock's running attack, Watkins can really change a game on defense. He's a ball-hawk, plain and simple as he showed with an INT agaiinst Malakoff last week.
QB Tyler Moody - Doesn't possess the "prototypical" size college programs might yearn for, but Moody is undeniably as gritty as any QB in the state. A "tough yards" machine who has complete control of Brock's offense. Don't sleep on his passing abilities either. He can sling it.
LT/DT Brock Riker - Sets the edge for the Eagles offensively and plugs holes in the middle defensively. Riker is a menace whose 6-foot-4, 260-pound frame will be key to opening up holes for Watkins and stopping Franklin's Bryson Washington and Jayden Jackson.
Franklin
RB Bryson Washington - Simply put, Washington is one of the most dangerous offensive threats in the state. The Baylor commit proved that in last season's title game while taking home MVP honors.
RB Jayden Jackson - The other sensational back that Franklin possesses, Jackson - a 2025 prospect - eclipsed over 2,00- rushing yards this season just like Washington did. He's a force defensively as well.
DB/WR Devyn Hidrogo - The Lions' best threat out wide is also the team's top defensive back. Hidrogo has terrific size (6-2, 185) and is tremendous in run support. FBS programs from across the country are paying close attention.
- William Wilkerson
KEY MATCHUPS
Brock Front 7 vs. Franklin Slot-T
Defending state champion Franklin is on the doorstep of another crown. The Lions scored 678 total points in their first 15 games of the 2022 campaign – all wins – and most of those came on the ground. The Slot-T is fun to stop, and equally frustrating to stop. Brock's front seven must play sound, fundamental football. One false step and a Lion running back is off to the races. The Eagles must avoid the temptation to overplay run gaps to avoid allowing big plays. The three-yard runs won't kill you, but the 70-yarders will.
Franklin LBs vs. Brock RBs
Brock also fields a strong rushing attack that can take over a state title game. The Eagles are on an 11-game winning streak thanks, in large part, to a varied ground attack that wears down opponents. Running backs Brett Tutter and Reid Watkins are the feature backs, while quarterback Tyer Moody can also hurt defenses with his legs. Franklin hasn't given up more than 21 points in a game since beating Lorena, 49-35, on Oct. 21.
- Mike Craven
PREDICTIONS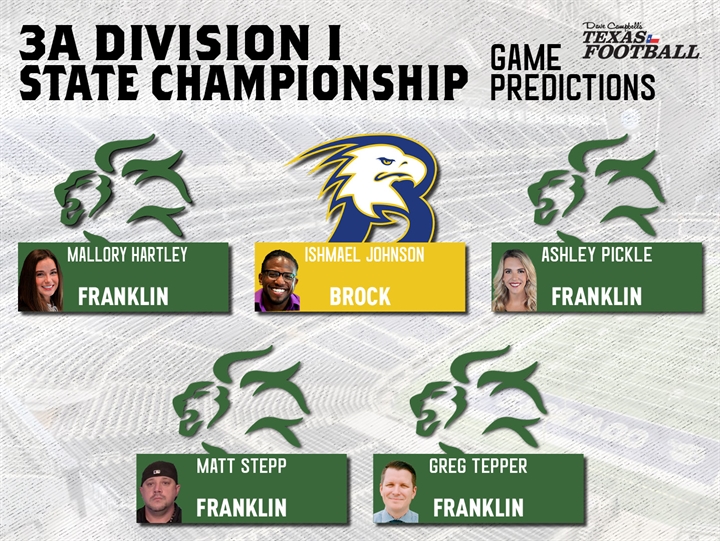 THE PICKS
This article is available to our Digital Subscribers.
Click "Subscribe Now" to see a list of subscription offers.
Already a Subscriber? Sign In to access this content.