It's not breaking news to say that passing offense has dominated the Texas high school football landscape over the past 20 years; one look around the state bears that out. But to put the advance of the aerial attack into sharper focus, consider:
In the first 81 years of UIL 11-man Texas high school football, from 1920 to 2001, there were 41 occasions upon which a Texas high school football quarterback threw for at least 3,000 yards in a season. In 2021 alone, 45 quarterbacks reached the 3,000-yard mark.
With the explosion of talented passers across the Lone Star State, which teams will welcome back the most prolific signal-callers in 2022? Here's a look at the top 10 returning passers in UIL 11-man Texas high school football heading into the 2022 season.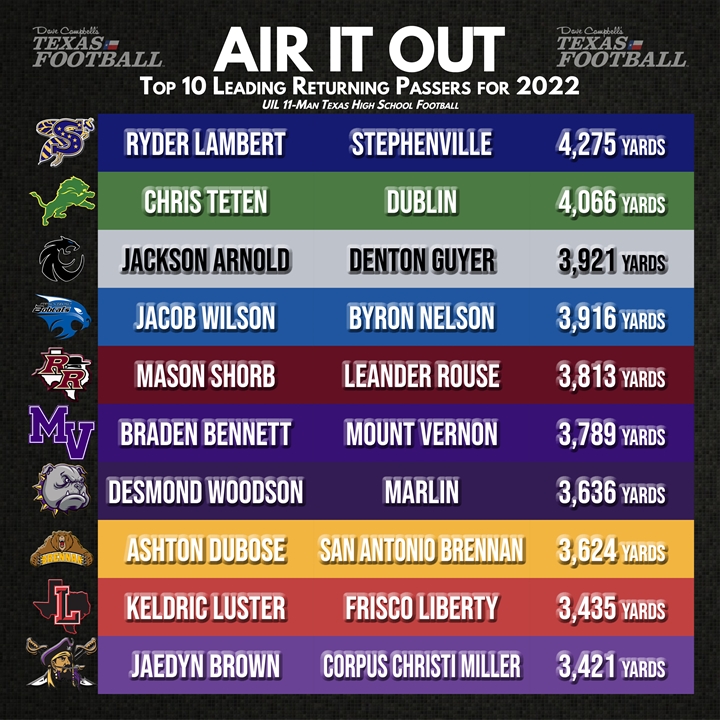 The defending 4A Division I state champion Stephenville Yellow Jackets will welcome back their quarterback Ryder Lambert, who is not only the state's leading returning passer, but led the entire state in passing in 2021 at every 11-man UIL level. The last time the state's leading passer returned for another season of Texas high school football: 2020, when Frisco Lone Star's Garrett Rangel came back for his junior season after leading the state with 4,855 passing yards as a sophomore. But Lambert isn't the only 4,000-yard passer back for another run: so is Dublin's Chris Teten, who lit it up for the Lions to the tune of 4,066 yards in just 13 games (three fewer than Lambert).
A familiar name clocks in third in Denton Guyer's Jackson Arnold, who has established himself as one of the state's top quarterback prospects in the Class of 2023. But fans may be less familiar with his Denton County bunkmate in Byron Nelson's Jacob Wilson, who threw for just five fewer yards than Arnold; remember that name. The top five is rounded out by Mason Shorb at Leander Rouse, who boasts the highest completion percentage of any of the top 10 returning passers, completing more than 70 percent of his throws as a junior.
Braden Bennett is back out east to lead Mount Vernon's high-powered attack, as is the electrifying Desmond Woodson at Marlin, both of whom have an opportunity to lead their program to its first state championship in 2022. Speaking of electrifying, it doesn't get much better than San Antonio Brennan's Ashton Dubose, who added 943 yards rushing to go along with his 3,624 yards passing last season.
Keldric Luster checks in at No. 9 on this list, throwing for 3,435 yards as a junior at Frisco Liberty...but while he's returning, it won't be at Liberty: Luster transferred to McKinney in the offseason, where he'll take the controls of coach Marcus Shavers' offense. Capping the top 10 returning passers is the lone underclassmen on the list in Corpus Christi Miller's Jaedyn Brown, who took over the high-powered Miller offense and looked spectacular as a sophomore
In total, there are 21 UIL 11-man quarterbacks that threw for at least 3,000 yards that will return in 2022. The passers just outside the Top 10: Dripping Springs' Austin Novosad (3,399 yards), Carthage's Connor Cuff (3,366), Lake Travis' Bo Edmundson (3,358), Lovejoy's Hondo Franklin (3,264), Seminole's Blake Flowers (3,255), Lubbock Coronado's Jett Carroll (3,179), Brock's Tyler Moody (3,097), Southlake Carroll's Kaden Anderson (3,036), Austin Vandegrift's Brayden Buchanan (3,017), Wink's Kanon Gibson (3,009) and Prosper's Harrison Rosar (3,001).
This article is available to our Digital Subscribers.
Click "Subscribe Now" to see a list of subscription offers.
Already a Subscriber? Sign In to access this content.