DALLAS – Dave Campbell's Texas Football and Whataburger are proud to honor the best and brightest stars in Texas high school football with the announcement of the 300-player ballot for the 2021 Whataburger Super Team. Texas high school football fans nominated more than 3,000 players on TexasFootball.com, and now must narrow the field from 300 players to the 40 honorees.
Fans can now vote for which players they believe deserve a spot on the 2021 Whataburger Super Team by voting at TexasFootball.com/WhatASuperTeam.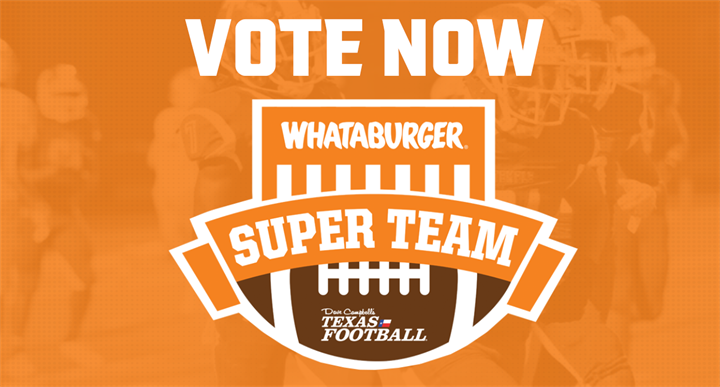 Headliners of the 2020 Whataburger Super Team include Texas Southern QB Andrew Body (CC Miller), Texas receiver Keithron Lee (Bryan Rudder), Texas A&M OL Bryce Foster (Katy Taylor), UTSA QB Eddie Lee Marburger (Sharyland Pioneer) and Clemson DB Andrew Mukuba (Austin LBJ).
"The amount of hard work and dedication these young players put into their sport is inspiring," said Jeff Altman, Director of Sponsorships at Whataburger. "Getting to celebrate and support these standout players is one of our great privileges—right up there with feeding and fueling our sports fans across Texas and beyond."
Former Super Team honorees include Andrew Luck (Stratford HS, Indianapolis Colts), Garrett Gilbert (Lake Travis HS, Carolina Panthers), Malcom Brown (Brenham HS, Los Angeles Rams), Jonathan Gray (Aledo HS, NFL), Kyler Murray (Allen HS, OU), Jamal Adams (Hebron HS, New York Jets) and Malik Jefferson (Mesquite Poteet HS, Cincinnati Bengals).
For more information on the Whataburger Super Team, visit www.texasfootball.com/whatasuperteam
About Dave Campbell's Texas Football:
For nearly 60 years, Dave Campbell's Texas Football has been "the bible" to millions of football fans across the Lone Star State. The annual summer edition of the magazine remains a rite of passage for all Texans, previewing every football team in the state — from the rabid world of Texas high school football, through the college ranks, and into the Dallas Cowboys and the Houston Texans. Over the course of six decades, Dave Campbell's Texas Football remains the undisputed leader in Texas high school football, Texas college football and more.TexasFootball.com is the online home of Dave Campbell's Texas Football, covering high school football, college football and recruiting all across the Lone Star State. From thought-provoking commentary to videos to podcasts to its daily live show, nobody covers football in Texas like TexasFootball.com.

About Whataburger:
Whataburger has focused on its fresh, made-to-order burgers and friendly customer service since 1950 when Harmon Dobson opened the first Whataburger as a small roadside burger stand in Corpus Christi, Texas. Today, the company is headquartered in San Antonio, Texas, with more than 850 locations across its 14-state footprint, and sales of more than $2.8 billion annually. Whataburger has 50,000 Family Members (employees) and more than 60 million customers who like to customize their Whataburgers just the way they like it. Visit whataburger.com or pivot-you.com for more information. To apply for Whataburger jobs now, visit whataburger.com/careers.

Check out the company on Facebook, Twitter and Instagram and on Snapchat, @WhataburgerLife. Stay updated on the latest Whataburger news at What's Cookin'.
This article is available to our Digital Subscribers.
Click "Subscribe Now" to see a list of subscription offers.
Already a Subscriber? Sign In to access this content.