CB Denver Harris - Galena Park North Shore: The DCTF five-star took June official visits to Texas, Alabama and LSU. Texas A&M remains in the mix.
Prediction - Alabama: The Tide staff has done tremendous work recruiting North Shore in recent years.
DE Omari Abor - Duncanville: Abor took June official visits to Ohio State, LSU and Alabama. This recruitment seems to be wide open. Oklahoma, Texas and Texas A&M are all also in the mix and fighting for visits.
Prediction - Ohio State: I'm going with the Buckeyes for now, but confidence on the pick is low (Alabama is strong here too). News of an SEC move for OU could move the Sooners up.
DT Bear Alexander - Fort Worth Brewer: The one-time Georgia commit took official visits to Miami (FL) and Alabama in June. But it was a trip to Texas A&M that made waves.
Prediction - Texas A&M: Alexander quickly decommitted from UGA after stopping in for a visit at TAMU, giving off strong indications that the Aggies are in the lead.
S Bryce Anderson - Beaumont West Brook: The one-time LSU commit took official visits to Alabama, Texas A&M and Texas in June and has announced a top three.
Prediction - Texas: Anderson was scheduled to make a decision on July 4 but pushed the date back. A decision may come at any time before the start of the season.
OG Devon Cambell - Arlington Bowie: The state's No. 1 OG named a top five of Alabama, LSU, Oklahoma, Texas and USC. he has taken official visits to Oklahoma and USC, so he still has some trips to take.
Prediction - Texas: We feel really good about where things stand between Campbell and the Longhorns. He is one of the most critical targets for Steve Sarkisian and his staff.
OLB Harold Perkins - Cypress Park: Perkins already worked in official visits to Texas and Texas A&M and he does have official visits scheduled to see Florida and Oregon in the Fall. LSU also remains in the mix.
Prediction - Texas A&M: UT has closed the gap, but we still feel like it would be a surprise if he does not end up in College Station. Perkins will likely decide at the All-American Bowl in January.
OG Kameron Dewberry - Humble Atascocita: The four-star took official visits to Texas A&M, LSU and Ohio State. Oklahoma is set to host him in September. Texas and Alabama also remain in the mix.
Prediction - Texas A&M: Ohio State is surging and seems to be in a good spot, but it's hard for me to think a top-rated offensive line prospect from Atascocita doesn't end up at A&M on Letter of Intent day.
ATH Cristian Driver - Argyle Liberty Christian: Driver is set to decide in two days and it looks like one team has all the steam.
Prediction - Penn State: Driver took an official visit to Penn State and it seems like the Nittany Lions are in a commanding position.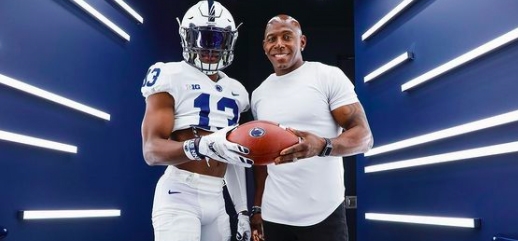 DE RJ Cooper - Arlington Martin: Cooper took official visits to Texas A&M, Ohio State and Stanford but recently reported that he was focusing on A&M and Stanford. A decision could come at any time.
Prediction - Texas A&M: The allure of Stanford is always there, but Cooper could follow a roadmap set by Myles Garrett heading from Arlington Martin to College Station. That's a huge selling point.
WR Evan Stewart - Frisco Liberty: The on-time Texas commit is still seriously considering the Longhorns. Alabama and Florida have also hosted him on visits and are under strong consideration.
Prediction - Alabama: There is a reason why no one is predicting this recruitment...it is a mystery! Putting Evan Stewart's brand together with the Crimson Tide may be a magical NIL package, so I'm going with that.
This article is available to our Digital Subscribers.
Click "Subscribe Now" to see a list of subscription offers.
Already a Subscriber? Sign In to access this content.