Surprise! Texas A&M will grace the cover of Dave Campbell's Texas Football for the first time since 2018 with defenders Micheal Clemons, DeMarvin Leal, Demani Richardson and Myles Jones on the magazine.
For the first time, we are going behind the scenes of picking the 62nd cover, the photoshoot and the story that made the Texas A&M defense a unit we couldn't ignore.
This is the first time since 2007 that Texas Football has featured a defensive player on the cover, back to when TCU's Tommy Blake shared it with Colt McCoy and Stephen McGee. To find the last time the magazine had only defenders on the cover, you have to go back 23 years to Dat Nguyen, the greatest linebacker in Texas A&M history.
It's fitting that these four will take us into the next generation. Here is their story.
To us, it was an easy choice
Texas A&M is fresh off one of the best seasons in program history, bar none. The Aggies went 9-1, won their first ever New Year's Six bowl game and finished ranked in the top-four of the AP poll for the first time since winning the 1939 national title.
To be honest, we're a little surprised more of you didn't guess it. The school felt pretty obvious to us.
Of course, Texas coach Steve Sarkisian was a factor. The last big-name coaching hire the Longhorns made – Tom Herman – earned a spot on the cover. Texas quarterback Sam Ehlinger was on the cover in 2019. Certainly, Texas will be a factor every single year. It's the nature of the magazine. But in 2017, Texas beat out LSU to land the hottest coaching candidate on the market. Sarkisian is a very good hire, but not hyped in the way that Jimbo Fisher or Herman were when hired.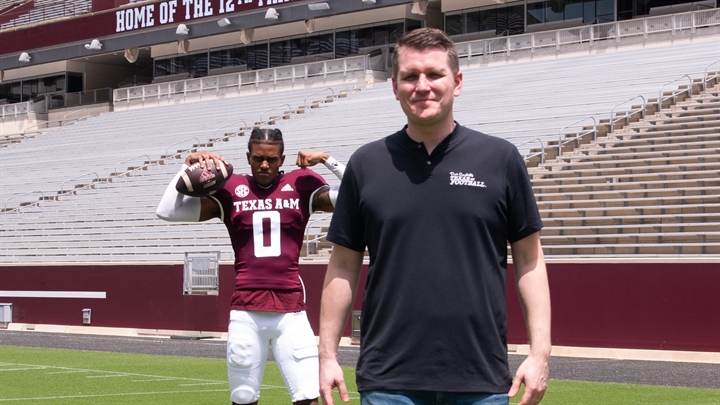 There were plenty of other directions to go. UTSA coach Jeff Traylor pulled off the biggest turnaround in the state last season. We believe TCU is about to put together a monster year. The small college ranks are exploding; it is truly unfortunate that Sam Houston didn't win its Division I national championship until two weeks before we went to print. Trust me, I had to write the preview effectively in hours.
Our task by choosing the cover of Dave Campbell's Texas Football is to feature the most riveting story in the state of Texas. Sometimes that means featuring the best players, like Johnny Manziel. Sometimes it means featuring the best coaches, like Gary Patterson.
But ultimately, by virtually every metric we consider, Texas A&M stood alone as the clear choice.
Putting together the cover
There's plenty of directions we could have considered with Texas A&M alone. I believe that so few fans thought A&M would be the cover simply because the Ags don't bring back a starting quarterback. That doesn't mean there aren't any stars.
Offensive lineman Kenyon Green is perhaps the best overall returning player in Texas at any position (with all due respect to Texas Tech punter Austin McNamara – they sleep!). Running back Isaiah Spiller could be the best running back in the nation if things fall right – I wrote about his outsized impact in the Aggies' offense last season. But to us, the story of Texas A&M isn't about offense. It's about tradition.
Thirty years ago, Texas A&M put together some of the most fearsome defenses in the history of college football while fielding the moniker "Wrecking Crew." Those defenses were characterized by extreme speed, incredible balance and completely dominating by owning the offense's side of the line of scrimmage.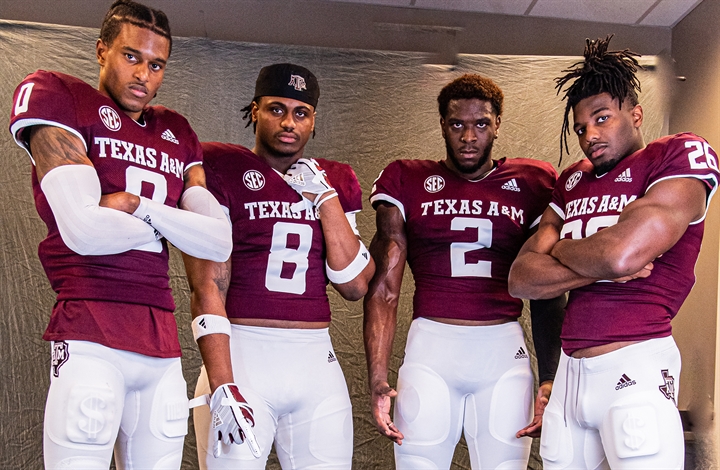 Football has changed of course, and with it has what encompasses a wrecking crew defense. Instead of speed rushers at linebacker, it's big bodies who can create havoc like DeMarvin Leal. It's lockdown corners like Myles Jones. It's Swiss Army Knives like Demani Richardson who give Mike Elko mismatches. And it's vocal and physical presences like Micheal Clemons to tie it all together.
There is one superstar on the Texas A&M defense: Leal. Otherwise, the unit is fairly anonymous, and we mean that in the best of ways. There is nowhere you can point to as a weakness. It can win in any way possible. Every member of the Aggies defense has a chance to play in the NFL. So to us, putting Texas A&M's defense on the cover of our magazine was taking the faceless and giving them a face.
Leal was a no-brainer, but finding the other players to surround him with on the cover was difficult. We actually came to Texas A&M with some options, but the program actually suggested a few members of the leadership council on defense, guys who are real leaders within the program who could play a huge role in 2021. As you can see on the cover, we struck gold.
The photoshoot
We walked into the Texas A&M media room around 11 a.m. Well, at least most of us did, I drove all around the athletic complex trying to figure out where I was supposed to be. That's what I get for driving alone.
We worked with photographer John Hamilton, who has become one of our go-to cover photographers. He's been at all three cover shoots I've been a part of – Ehlinger, Baylor forward Lauren Cox and now the A&M shoot – and is one of the best photographers in the business.
Over the next hour or so, players started to trickle into the building. Myles Jones and Demani Richardson showed up fairly early, so John pulled them up individually to take some solo shots. Because of space limitations, we figured that we might not be able to get all four players in a single shot on the cover of the magazine.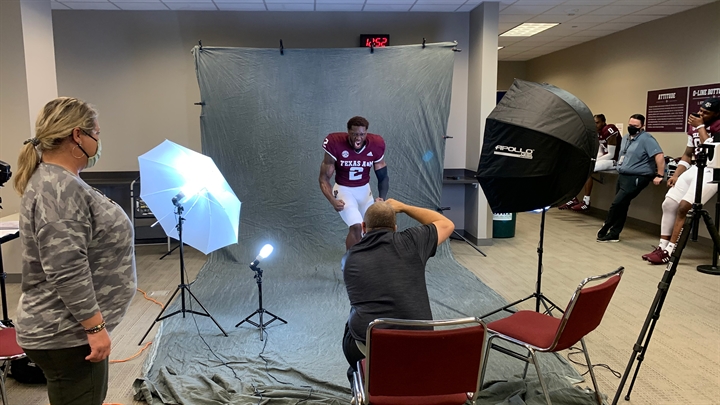 John had them run through a couple different poses – many of which you see on the cover. After they finished with shoots – both with and without helmets – they came over to me to talk to me for the main feature.
A few minutes later, DeMarvin Leal walked through the door. Demani and Myles are both tall dudes, but DeMarvin is gigantic. It's easy to see how the Converse Judson product terrorizes opposing offensive lines. DeMarvin casually ran through a few poses, but we were still waiting for Micheal Clemons.
Suddenly, like 30 minutes into the shoot, he comes in the door dripping sweat.
Apparently, Clemons' motorcycle broke down on the way to the shoot – so he ran all the way there. If that isn't a culture-setting moment, I don't know what is! Thank goodness Mike showed up too. With respect to the other three incredible subjects, the Sachse product Clemons was the breakout star of the show.
Clemons is jacked. You can see every bit of his muscles rippling when he flexes. He was also very thoughtful and gave some fantastic quotes for the main feature.
I'd be remiss not to mention a hilarious moment. I was speaking to Clemons while Leal did some of his secondary shots. For one, John asked DeMarvin to scream, like the Clemons pose you see on the cover. Well, the gentle giant Clemons shot up, looked around in fear and then could not stop laughing. We had to wait a good two minutes before he could collect himself.
Admittedly, Clemons was not on the initial list of players we submitted to Texas A&M. Everyone we spoke to around the program said that Clemons was a real leader and someone we had to deeply consider. Although he is soft-spoken, he had an alter ego he was able to get to that was reflected in his money shot.
One of the best moments came when the group came together to do a group photo inside. John told them to look down at the camera like they just decked a player and were admiring their work. Clemons quietly whispered, "stop breathing."
Yes sir.
Oh, and by the way, take a closer look at the inside group photo – specifically at DeMarvin Leal's hands. I'm not saying Leal was trying to get a Horns Down on the cover of Dave Campbell's Texas Football. I'm just saying... you can make your own judgement.
Writing the cover story
The initial pitch for the cover story was simple. We wanted to connect the attacking mindset of the 2021 Texas A&M defense to the history of the Wrecking Crew. The game has changed
For the story, I wanted to speak to the four cover subjects and Jimbo Fisher, of course. Legendary head coach R.C. Slocum was a must-get to learn my history about the Wrecking Crew defense and the legacy that lives on. Former Aggies star Chet Brooks, father of outstanding John Paul II cornerback Terrance Brooks, coined the phrase "Wrecking Crew." It was great to hear his perspective on how Texas A&M has evolved over the last few decades.
But then, there was only one problem. Texas A&M declined to make defensive coordinator Mike Elko – the architect of the Aggies' defensive turnaround – available to us for interview. We felt it was critical to understanding the way that the modern Texas A&M defense was constructed.
So to get some extra perspective on the historical ties, we called an old friend: The Eagle's Robert Cessna. Robert has covered the Aggies for more than 40 years (though he pointed out he was the secondary Aggies beat writer for his first decade, so he's actually only covered the Aggies primarily for like, 35 years). He was able to give me great insight about the history of defense at Texas A&M.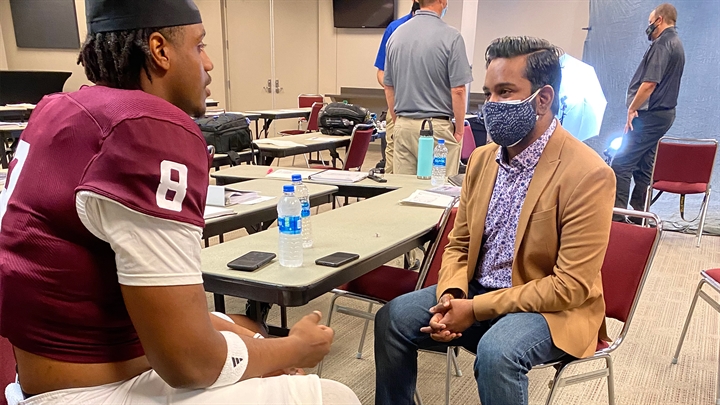 For me, the guiding line between these two defenses is that disruption. Back in the day, Texas A&M and R.C. Slocum's defenses did it with speedy outside linebackers who could wreak havoc on the quarterback.
"We were more willing to put it on the line and say, we're not worried about big plays," Slocum told me. "But you better get it off in a hurry because we've got people coming and we're going to give you bad plays."
These defenses are built a little more like traditional SEC squads. They want to get after you, but they're going to do it with four down linemen. That lets them own the line of scrimmage, but also drop seven back into the field to defend modern offenses. The principles and mindset are similar even if the style is different.
It's not the only comparison. Those defenses had Lester Hayes to look back at as a star that everyone wanted to play like. These Aggies have Myles Garrett. Those defenses won the Southwest Conference six times over an eight-year period – it's time to see if these Aggies can do the same.
"You see the recruits start to come in, you start to see them getting the players," Chet Brooks told me. "It starts just like that. A group came in, another group came in a little better than them. Then another group came in and like, whoa."
The full story will only be available in the summer edition of Texas Football.
The 62nd edition, one of our best yet
I've had the opportunity to be a part of three football covers to this point: Sam Ehlinger, Shane Buechele and now the Texas A&M defense. After not getting to do a photoshoot with Shane (and the beloved Dallas jerseys, I'll never get over that), getting back to the basics of putting together a cover was a tremendous blessing.
I asked a couple folks from around the office about what the experience was like for them.
"I think the biggest thing I learned from doing a multi-player shoot this time around was that it's much easier for them to express themselves together," DCTF editor Ishmael Johnson said. "I think we captured a good amount of emotion and attitude from each of them and having them joking around and loosening the environment helped. Not to mention it captures the heart of the story. It's not exactly one player, but a unit and a camaraderie that makes it unique."
"Couldn't have asked for a better group of players to be around for my first in-person cover shoot with DCTF," video producer Ashley Pickle said. "Being able to watch the guys have fun and show their personalities in the shots was really special to see come to life."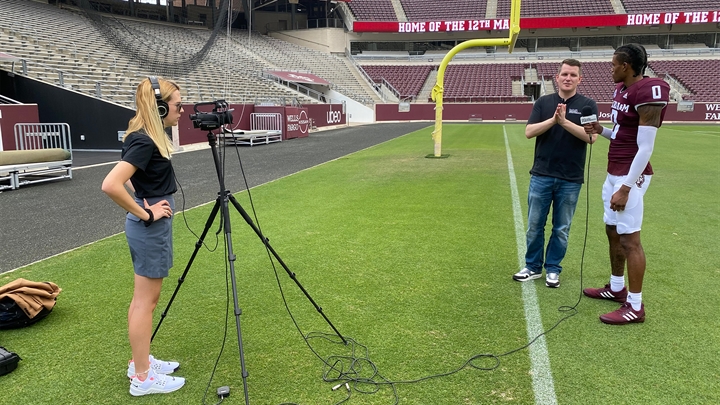 For me, I think it was a reminder how much fun it is to work closely with players. Because of the direction college football has gone, opportunities to spend real, meaningful time with players has largely gone away. I felt like I got to understand Sam a little bit when we did the Ehlinger shoot. I feel like I got to connect with Shane a little bit last year, even just doing the sit down with him. For the rest of their careers, I'll always notice a little different when DeMarvin Leal records a sack or Demani Richardson nabs a pick.
We can't thank the team over at Texas A&M enough. Sports Information Directors Alan Cannon, Brad Marquardt and Matt Callaway were invaluable in helping us get interviews and set up the photoshoot, along with all the help they've given my coverage during this difficult past year. Thank you to John Hamilton for being one of the best photographers in the business, his better half Shelley Hamilton, and to Bill Bridgeforth for constructing a fantastic cover. Thank you to the four players who gave up their time. Hopefully this will be a moment you can tell your kids about someday.
Will Texas A&M's defense reward us by vaulting to the top of college football, competing for a national championship and bringing back the "Wrecking Crew" nickname? Only time will tell. But there is one thing I learned for certain.
I'm sure as hell not telling Micheal Clemons that he can't.
This article is available to our Digital Subscribers.
Click "Subscribe Now" to see a list of subscription offers.
Already a Subscriber? Sign In to access this content.