The Crosby Athletic Booster Club hopes the excitement from the football team's run to the 5A, Division 2 state championship game will lay the groundwork for a successful 2021 throughout Crosby ISD.
A successful year, club president Melissa Holliday said, would see the club increase the number and value of the scholarships it provides to graduating seniors who plan to continue their education.
Last year, the club raised enough to award scholarships to 14 graduating seniors worth a combined $10,000.
"Our number one goal and focus is scholarships," she said. "If a student is involved in athletics for all for years of high school, they can apply for a scholarship. We want to get something for every athlete who applies. We really pride ourselves on what we make, we give back."
The club, which supports every athletic team at both the middle and high schools, had hoped to match that for this year's graduating seniors. Officials learned early on, however, that many of their traditional fundraising opportunities wouldn't be available.
"With our merchandise sales, we really struggled a bit with that this season," Holliday said. "We also missed some chances with concessions at middle school football game and track meets. For the high school games, we were asked not to set up our spirit store for the first few games."
The club didn't sit on its hands. It started selling merchandise online, working its way through existing inventory before setting up an order system for new gear. That worked, and Holliday is confident it will work in the new year.
"We might do more online sales, things like presales of items for people who want Cougar gear but who aren't going to go to the games," she said.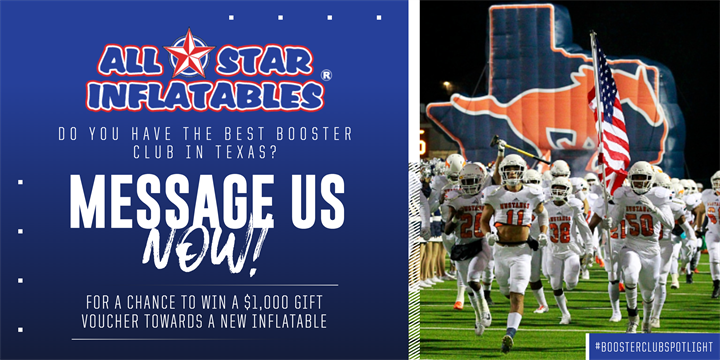 Holliday said the athletic booster club does not reach out to area businesses for sponsorships and donations, so it relies on its own membership and sales of merchandise and food at district contests. The individual clubs work with local businesses to raise money to meet needs, though all purchases are made through the athletic booster club with feedback from Athletic Director Jerry Prieto.
As the football season progressed, though, the district relaxed some of its COVID-19 restrictions, and the athletic booster club began building momentum – and raising money – especially during the playoffs.
"We focused on and marketed the district-approved merchandise," Holliday said. "The year finished very well, and we're excited that we have some more opportunities in the spring. We're hoping we can push this into a better approach next fall."
Holliday said the club's active members and board members will spend the spring looking to create more awareness and grow membership, especially at the middle school. Reminding the parents of future high school athletes that the booster club supports them in middle school could be a powerful membership pitch.
"We aren't just a football club and we aren't just for the high school," Holliday said. "We want to get parents involved early."
Holliday speaks from personal experience. She said when her son, now a junior at the high school, got to seventh grade and could play football and other sports, she had no idea the booster club existed and covered the middle school as well as the high school. She wants to make sure the future generation of high school athletes understand that a support system exists.
"I never knew that we supported middle school sports," she said. "We have missed a big audience of people who are excited that their children finally get to play school sports. We want to get parents involved early. Once people get used to helping, they typically don't stop."
With an added membership, the club can do more to support athletes at both the middle and high school campuses. Holliday knows there is work to be done and money to be raised through both tried-and-true methods and new ones.
"We couldn't implement a lot of things this year, but we hope we can roll that out in the coming year," Holliday said. "We want to provide back to the community and our athletes. It all comes back to that. We are trying to impact as many student-athletes as we can."
This article is available to our Digital Subscribers.
Click "Subscribe Now" to see a list of subscription offers.
Already a Subscriber? Sign In to access this content.