Tavorus Jones is going to get that race with Green Bay Packers running back Aaron Jones.
It might not happen before this season, but one of these times whenever they're both working out at Top View Fitness in El Paso, there will be a race to see which Jones can keep up with the other.
"We do need to race soon," Tavorus said. "I'm pretty sure he would agree to it. I know I'm faster than him."
There's no blood relation between the two, but they've forged an unmistakable brotherhood through their love for football and the representation of the city they call home.
They both attended El Paso's Ross Middle School, where they cut their teeth athletically before settling in two miles down Edgemere Blvd at Burges High School.
Aaron's story from there is a few chapters deep; the former three-star recruit stayed home and became UTEP's all-time leading rusher before getting his opportunity with the Green Bay Packers, where he tied for the NFL lead with 19 scrimmage touchdowns in 2019.
Tavorus is heading into his junior season at Burges where his budding superstardom is quickly rising above the Franklin Mountains.
Burges head coach James Routledge believes he could end up as the biggest recruit to ever come out of El Paso. Hyperbole? Absolutely not.
Tavorus has it all. At 6-foot and 190 pounds, he has the size, speed and versatility to do damage in various facets of the game. In a season and a half at the varsity level, he has 1,358 rushing yards, 498 receiving yards, 224 passing yards and 23 total touchdowns. He was named District 2-5A All-Purpose Athlete of the Year as a sophomore.
His list of offers includes Alabama, Arizona State, Baylor, Florida, Georgia Tech, Kansas, Maryland, Mississippi State, Penn State, SMU, Texas, Texas A&M and UTEP. Mind you, he still has two full years of high school left.
"The next great El Paso running back is Tavorus Jones. He has a good blend of size and speed that make him a fit in any style of offense," said Greg Powers, President of Next Level Athlete and the senior recruiting analyst for TexasFootball.com. "He's just starting to take off on the National recruiting scene but he's quickly rising up all the rankings charts.
247Sports, who ranked Aaron as the No. 1,599 national prospect back in 2013, recently tabbed Tavorus as the No. 72 player overall and No. 5 running back in the country for the class of 2022.
This attention has quickly turned Tavorus into a household name in and around El Paso. There's a certain level of pressure that comes with the type of exposure he's received, not just because of what it could do for his future, but also because of what it could do in helping to elevate El Paso's status amongst the pantheon of Texas high school football hotbeds.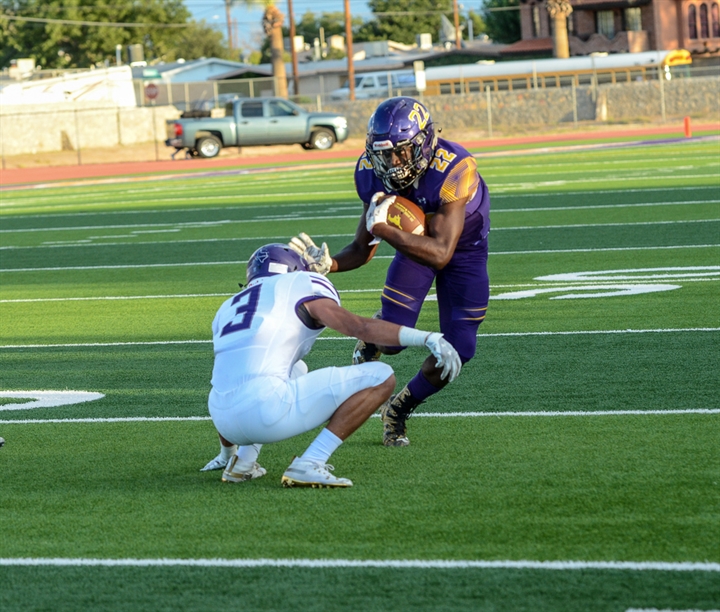 "We talk a lot about pressure making diamonds, and we like the pressure that this has put on our program, our staff and our kids," said Routledge, who led the Mustangs to a 9-3 record last season. "Tavorus wants to be the guy that brings these schools that haven't looked at El Paso to El Paso because we do have good players here that sometimes get overlooked. He's welcoming that."
It's a pressure that Aaron Jones knows all too well. He's proud to be from the 915, something he displays on his Twitter page that has over 108,000 followers. It's one of the reasons why he and Tavorus are in constant communication.
"He does tell me I'm doing a good job putting on for the city, and tells me to be a great role model," Tavorus said.
Tavorus was actually born in Houston and moved to Hawaii when he was 5 years old for five years with his mother, Adrian Bailey, and father, Lajuan Bailey, who were in the military. But he quickly sunk his spirit into "The Sun City" upon arrival.
He sees the talent there and wants to do what he can to shine more light on them, not just himself.
"There is a lot of great talent that comes out of El Paso but not a lot of people see it because we're over here," he said. "There's a lot of pressure on me because I have a lot of people that tell me they look up to me as a role model; I just want to do my best."
The pressure doesn't just sit on his shoulders. Routledge sees Jones' unique blend of talent, humbleness and maturity as an opportunity to educate other schools in the area on the nuances of the recruiting game.
"We as a staff want the pressure of living up to those expectations, our program too," Routledge said. "Our goal is to know much more about recruiting than we did when we started and to tell our neighbors. All the head coaches in El Paso are a tight-knit fraternity and we feel, not that we're left out, but we're maybe asked second of our opinions, and we're hoping this levels the playing fields a little bit more. We do have a lot of good kids."
In Tavorus, El Paso has a great one; a Jones that everyone will be wanting to keep up with.
This article is available to our Digital Subscribers.
Click "Subscribe Now" to see a list of subscription offers.
Already a Subscriber? Sign In to access this content.