Coverboy of the Week: Reggie Roberson, SMU (Mesquite Horn)
There's nothing we can say after Roberson's 250-yard, three-touchdown performance, maybe the single best by a wide receiver this year, that Roberson didn't say after the game.
"After I scored on one dude, another dude was out there. And after I scored on another dude, another dude was out there. And after I bombed another dude, they put another dude out there. So I don't know what was going on, but they tried every corner I think they had."
That's it.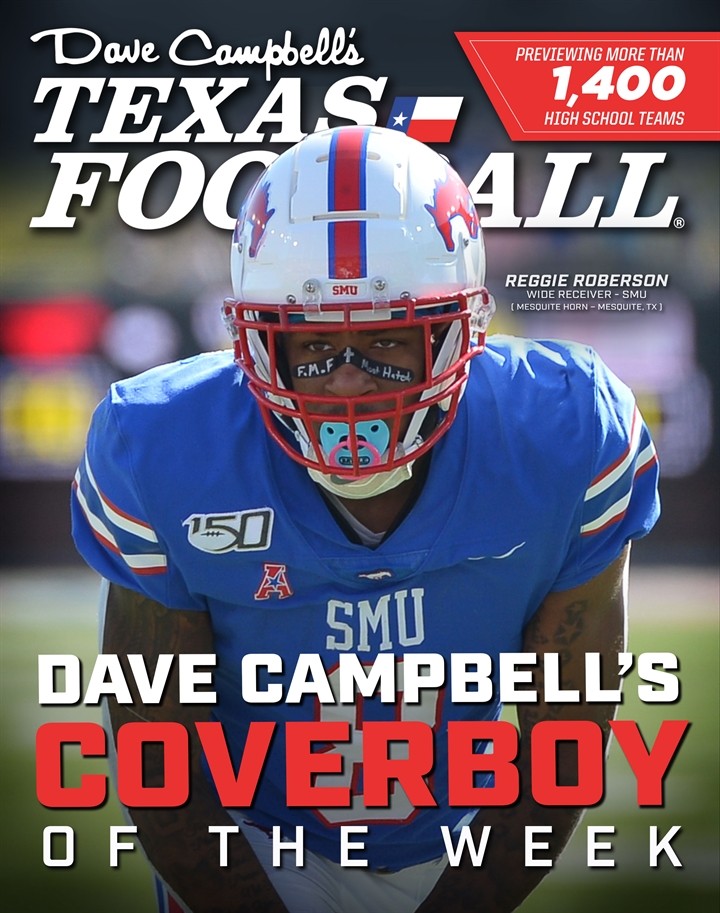 Defensive Player of the Week: Buddy Johnson, Texas A&M (Dallas Kimball)
The junior linebacker made one of the biggest plays of the day on Saturday, picking up a fumble and returning it 62 yards for a touchdown in the third quarter on the road against Ole Miss.
Of course, that one score ended up being the difference in an otherwise hectic day for the Aggies on the road. Johnson was solid across the board, though, posting 10 tackles and adding a tackle for loss in a strong overall performance to inch closer towards bowl eligibility.
Swiss Army Knife: JaMycal Hasty, Baylor (Longview)
Around Baylor's program, there are few players more respected than Hasty. The Longview Lobo has been a steadying force off the field, even while Baylor's line struggled to create opportunities for him on the field.
Against Oklahoma State, Hasty finally ran wild. The senior ran for 146 yards on 16 carries, including a 73-yard scamper for a game-clinching touchdown. He also added a 63-yard reception to set up another score. If not for Roberson's big day, Hasty would have come away with Coverboy of the Week honors.
Michael Dickson Award: North Texas across the board
Two weeks after a disastrous special teams performance against Houston, the Mean Green totally redeemed themselves. Seth Littrell has invested heavily in dedicated special teams coordinator Marty Biagi, who is one of the best in the state, and the improvement was obvious on Saturday.
Kicker Ethan Mooney nailed four field goals, including a game-winner as time expired for a 33-30 victory. Kick returner Deion Hair-Griffin, one of the best in the state, took a return 50 yards to set up the field goal. MTSU was held to just one total return yard on the day. Punter Alvin Kenworthy booted three punts for a 45.3 yard average. Great effort, Mean Green.
Small College Star: LB Royce See, Sam Houston State (Shepherd)
Sam Houston State faced off against Nicholls, the prohibitive conference favorite, over the weekend. See helped lead a tremendous defensive performance with 10 tackles, two tackles for loss, a forced fumble and 1.5 sacks. His effort was central to holding Nicholls to 1.7 yards per pass attempt in a shocking 17-0 shutout in Huntsville.
With See's performance, Sam Houston State is now firmly in the race for the Southland Conference, tied with UIW for the lead. Texas Southland schools, stand up!
Dave's Pick: Tarleton State
Don't look now but Tarleton State is pulling away from the rest of the pack in a big way. The Texans beat a good Texas A&M-Commerce squad by two touchdowns, their second such win over a ranked conference opponent this season.
Now, the Texans only have one competitive game left against a Midwestern State team that has struggled with quarterback play. They're very close to their second undefeated regular season in a row. Tarleton ranks No. 4 in the AFCA Coaches Poll, and are a legitimate Division-II championship contender in their final season in the classification.
__
Become a DCTF Insider today for exclusive insight from the best team of reporters in the Lone Star State! CLICK HERE!
Your subscription will include:
Instant access to all of our content that is marked Insider at www.texasfootball.com.

Includes exclusive podcasts, recruiting news, and our full High School Football rankings and score predictors

A mailed copy of the Dave Campbell's Texas Football Preview

A mailed copy of the Recruiting/Rising Edition of Dave Campbell's Texas Football

Access to Dave Campbell's Texas Football vast array of archived magazines
This article is available to our Digital Subscribers.
Click "Subscribe Now" to see a list of subscription offers.
Already a Subscriber? Sign In to access this content.