UNIVERSITY PARK -- Shane Buechele walked off the field at Ford Stadium on Saturday after a postgame interview with ESPN, with fans stopping him for pictures on the field and with SMU offensive coordinator Rhett Lashlee's kids jumping on his back. Some fans threw "Hook'Em" signs from the crowd, a nod to the beginnings of his college career down in Austin.
Buechele had the best game of his career on that day, throwing for 457 yards and six touchdowns – both career highs – in a dominant 45-21 win over Temple, a team that ranked top 25 nationally in the Coaches Poll. The Mustangs moved to 7-0 for the first time since 1982, a season where SMU's Pony Express claimed a national championship.
This is exactly what everyone at SMU hoped for when Buechele committed to join the Mustangs as a graduate transfer over the offseason.
"[He's made] a significant difference," SMU coach Sonny Dykes said. "We're just settled at that position. We have a lot of confidence in him and our players have a lot of confidence in him. He's exactly what we want at the quarterback position."
Buechele enjoyed the performance, but he has his sights set higher, even one on national television over a conference opponent with two ranked wins to its name.
"You always want to do this," Buechele said. "But I think it's important to understand that our team does a good job of just taking it one week at a time and just winning one week at a time."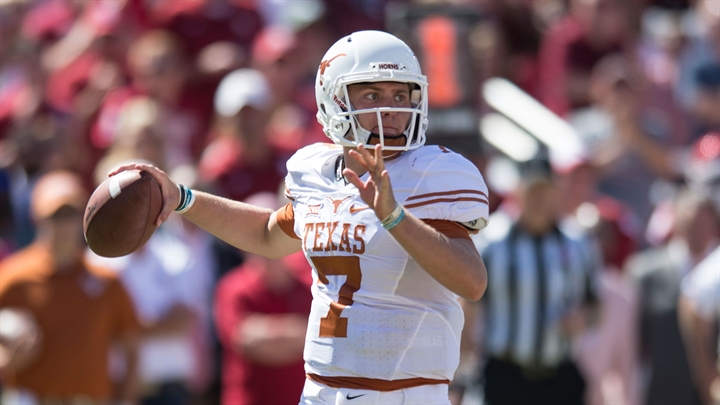 Second Chance
When SMU lost to Tulsa to miss out on a bowl game one year ago, the program knew it needed to try something new. The talent was there, with future NFL skill players like James Proche, Reggie Roberson and Xavier Jones.
Quarterback was a consistent issue for the Mustangs, which is especially troubling in an offense with many Dykes air raid concepts. SMU switched between all-time leading passer Ben Hicks and true freshman William Brown. Hicks completed just 55.9 percent of his passes. In losses, that number dropped to 52.7 percent.
After Hicks and SMU both decided to move on from each other, Dykes knew where to look.
"When you talk about the quarterback position, I'm different than a lot of people," Dykes said. "I don't care if he's 6-6 or can throw it 80 yards or any of that. I want somebody who's a winner. I want someone who's tough-minded. I want somebody who can make those around him better. I want somebody who's accurate. I want a guy who can throw to a spot and make people go get it. For what I'm looking for, you have this criteria of like 10 things, he checks every one of the boxes."
Buechele has changed a program with his play before. He was an injury shy of becoming the first 3,000-yard passer at Texas since Colt McCoy as a true freshman. After he became available as a grad transfer, SMU thought he could slide perfectly into its program.
"He was a fantastic player [for us]," said Texas coach Tom Herman, who coached Buechele in Austin. "I knew when I found out he was named a team captain after just being there a couple months that he was going to be in store for this kind of season. He's got really good leadership qualities."
Buechele showed the full arsenal against a highly-touted Owls defense.
The Arlington native floated touchdowns of 75, 60 and 33 yards to Roberson, placing them perfectly ahead of Temple's defenders. All six SMU touchdowns came from the hands of Buechele. Eight different receivers caught passes. His impact off the field was just as great.
"Shane just brings that leadership that we needed on the team," Roberson said. "He comes to work ready to compete."
His consistent presence – 64.8 percent completion, 2,122 passing yards, 18 touchdowns – has opened up the offense. SMU's depth chart is barely different than a year ago, but the Mustangs jumped from No. 80 to No. 11 in total offense and No. 53 in scoring offense to No. 6 heading into the Temple game. That number will only go up.
"I knew as soon as it was announced that he was going to SMU that it could be the difference in SMU's season," said Houston coach Dana Holgorsen, who coached against Buechele was he was at West Virginia. "He is playing really well. He is accurate and he understands the game."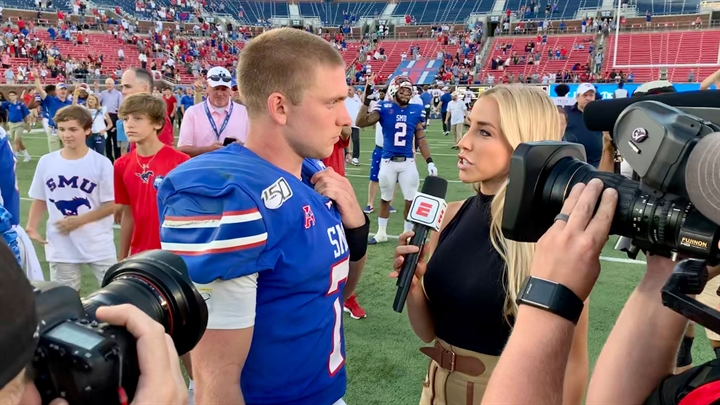 Embracing the Moment
Buechele is the undisputed starting quarterback for the first time since his freshman season in 2016, and he's rewarding the coaching staff for its belief.
"When you're able to play freely and go out and play the position without worrying, without looking over your shoulder, you're much more likely to have success," said Garrett Gilbert, who also started at SMU for two seasons after transferring from Texas.
The upside for Buechele is even higher than Gilbert, who leveraged his success at SMU into a multi-year pro football career.
SMU is 7-0 for the first time since 1982, when the Mustangs finished 10-0-1 and were named national champs by the Helms Athletic Foundation (back when the organization awarded official titles). The program's first unblemished season since 1923 is on the table, and Buechele has been a critical part.
"They've opened it up and gave him some paramaters and coached him and done a really good job of it, but at the same time not overcoached him and let him be the guy that he is," said Arlington Lamar coach Laban DeLay, who coached Buechele in high school.
Buechele is getting back to the level of production that made him a two-time all-state performer for DeLay at Lamar. He ranks No. 7 nationally with 2,122 passing yards and No. 10 with 18 passing touchdowns. Both of those marks are best in the conference.
With his performance on Saturday – the third best passing yardage game and best passing touchdown game by an underclassman in FBS football this season – Buechele is on track for one of the most productive seasons in program history. If the Mustangs make the AAC title game, Buechele has an excellent chance of setting the single-season yardage record. And remember, he has another year of eligibility left.
"When we sat down as a coaching staff at the very beginning, I think we all felt the same that if we could put the pieces in the right places, we had a chance to beat everybody on the schedule," Dykes said. "Two or three weeks into fall camp, we thought we had a chance. But you have to go play."
Buechele was asked whether he considers the Mustangs to be the team to beat in the American Athletic Conference, now that SMU is 7-0 and the highest-ranked team of the group, and one of two undefeated FBS teams in the state of Texas.
"I think so," Buechele said. "I think our conference is really good this year, there's some really good teams. The record shows itself that we're the team to beat, and that's how we want it."
Two years after losing his starting job at Texas, Buechele's greatest performance is just getting started.
SMU football has a short week before it plays the Houston Cougars at 6:30 p.m. on Thursday at TDECU Stadium in Houston. The game will be broadcast nationally on ESPN, and is a major opportunity for the Mustangs to show a national audience what it has to offer.
After that, the Mustangs travel to Memphis in a matchup that could decide a berth to the AAC championship game.
This article is available to our Digital Subscribers.
Click "Subscribe Now" to see a list of subscription offers.
Already a Subscriber? Sign In to access this content.