Lubbock Cooper (2-0) at Wolfforth Frenship (1-1):
As Lubbock continues to grow towards the south, both Frenship and Cooper have seen exponential growth in the past eight or so years and eventually could be a district matchup at the 6A level. Cooper remained unbeaten last week as the Pirates knocked off Lubbock Coronado, 35-21, as Nehemiah Martinez and UNT verbal commit Isaiah Johnson combined for 238 yards on the ground and four touchdowns, including Johnson's go-ahead scoring run early in the fourth quarter. The Pirates defense got into the act as well with a key pick six from Rylan Wilson that made it 28-14 and effectively put the game away.
Frenship after a stellar performance in Week 1, rolling past Amarillo High 31-0 and came back to earth a bit last week in a 38-37 overtime loss to Class 4A Wichita Falls Hirschi. QB Donovan Smith, a Texas Tech commit, did what he could to lift the Tigers to a 2-0 mark throwing for 232 yards and two touchdowns, while adding three scores on the ground. Frenship's defense was unable to hold a 10-point fourth quarter lead and that proved to be the difference, as Hirschi carried that momentum into overtime. Cooper's defense has been sensational early this year and the Pirates will have the formula to contain Smith and that running game is going to be tough for the Tigers to contain.
Stepp's Pick: Lubbock Cooper by 15
Prosper (2-0) at Flower Mound (2-0):
Prosper has looked the part through two weeks with back-to-back wins at its new stadium, including blowing past Keller Timber Creek, 49-7, in Week 2. QB Jackson Berry tossed three touchdown passes and ran for two other scores, while RB Tyler Bailey chipped in 187 yards from scrimmage, two receiving touchdowns and a rushing score. Prosper's defense was also outstanding, limiting Timber Creek to just 134 yards of offense on the night.
Flower Mound got 286 yards and four touchdowns through the air from QB Blake Short as the Jaguars took care of Plano West, 38-10. Both of these teams are playoff caliber squads and have yet to play someone in their weight class, so this will be a great measuring stick game for both teams as they head into district play. Prosper's depth is the difference in this one as the Eagles in the trenches will wear down Flower Mound in the fourth quarter.
Stepp's Pick: Prosper by 7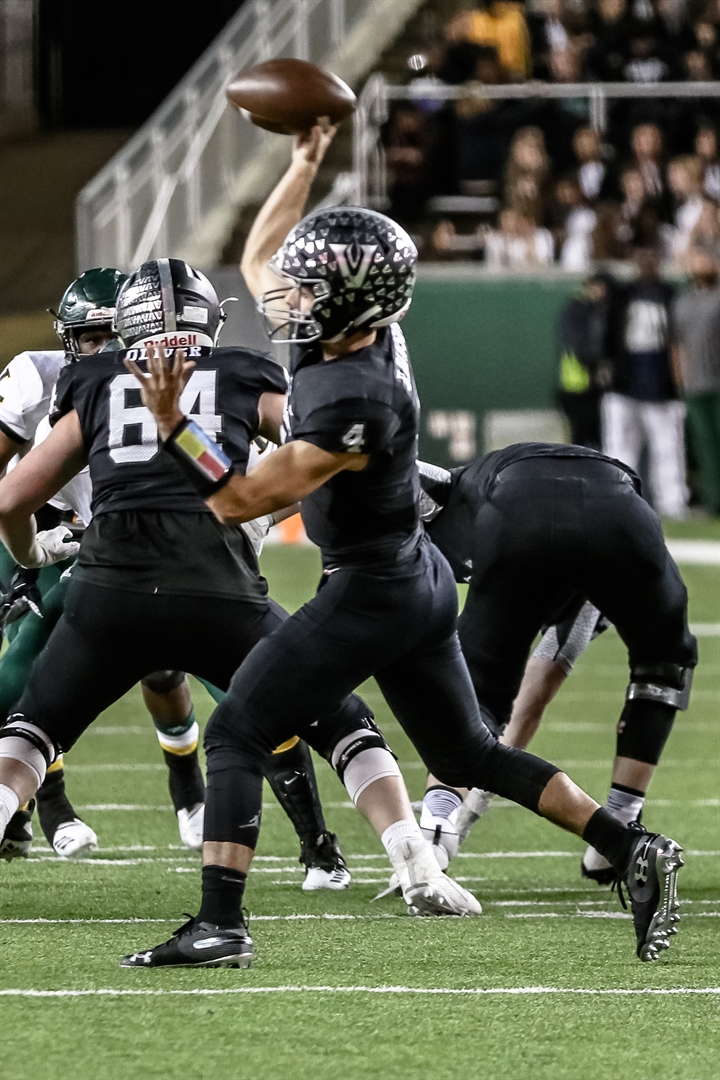 Austin Vandegrift (2-0) at Round Rock Cedar Ridge (1-1):
It's been the defense that's been the story early on for the Vandegrift Vipers who in two games have not allowed a point, including pitching a shutout 14-0 over Killeen Ellison last week. The offense is going to need to get going now that district play starts up as Cedar Ridge is an offense that is capable of putting up points.
Last week, the Raider offense hit a speed bump as Cedar Park's Black Rain defense got the job done in a 26-14 win. RB Deuce Vaughn did run for 160 yards and a touchdown, but there wasn't the consistency that was there in Cedar Ridge's Week 1 win over Temple. Cedar Ridge's defense needd to force turnovers and set itself up with a short field to try and crack the code on that tough Viper defense. If those turnovers don't happen, Vandegrift's defense will again get the job done.
Stepp's Pick: Austin Vandegrift by 10
Spring Westfield (2-0) at Galena Park North Shore (1-1):
Spring Westfield's defense was dominant last week in a 30-2 rout of Alief Taylor. Westfield's defense held Alief Taylor to just 78 yards last week and picked up two touchdowns on the defensive side of the ball in the victory. North Shore bounced back from its season opening loss to Katy with a dominant 38-7 victory over Fort Bend Ridge Point at the University of Houston.
QB Dematrius Davis led the North Shore attack with 194 yards and three touchdowns passing 191 yards and two touchdowns rushing. Davis and Arkansas RB John Gentry will need to continue to carry the offense while Texas A&M commit WR Shadrach Banks recovers from his foot injury and RB Zach Evans' status is still up in the air after not playing last week. Evans is not injured. Despite the adversity and the non-football issues, North Shore's defense has been up to the task and will again lead the way in what will be a low-scoring slugfest.
Stepp's Pick: Galena Park North Shore by 9
Harlingen (2-0) at Converse Judson (2-0):
Harlingen is off to a strong start and has its rabid fan base feeling like 2019 could be a return to the days when the Cardinals were not only competing for a playoff spot, but for one of the top spots in the Valley. The Cardinals were led by RB Rayden Berry who ran for three touchdowns in the win, but the defense struggled late and that's a concern heading into this matchup with a Top 10 Judson squad.
Judson rolled past archrival San Antonio Wagner 52-14 in the Hammer Bowl last week as QB Mike Chandler threw for 280 yards and three touchdowns. Harlingen has a high-powered offense with QB Jaime Galvan putting up some eye popping numbers, the Cardinals will score points, but I don't expect their defense to get stops against a Judson attack that might be even more powerful.
Stepp's Pick: Converse Judson by 21
San Antonio Jay (2-0, 1-0) vs San Antonio Brennan (2-0, 1-0):
San Antonio Jay got district play started on the right foot with a 25-17 win over San Antonio Clark as QB Danny Amezquita accounted for 283 yards of offense and three touchdowns, while the Mustangs defense held strong forcing four Clark turnovers.
Brennan's defense has been the story early on as in two games its allowed just 14 points and those came in the fourth quarter of its 32-14 district opening win over San Antonio Warren. QB Jordan Flores accounted for three touchdowns and was one of three ball carriers who ran for at least 58 yards. Brennan's defense is going to overwhelm San Antonio Jay this week, the Mustangs haven't yet faced anyone the caliber of Brennan and the Bears defense and team speed is going to be a real issue for Jay this week.
Stepp's Pick: San Antonio Brennan by 24
Cedar Park (1-1) at San Angelo Central (1-1):
Cedar Park's defense set the tone last week as the Timberwolves got in the win column with a 26-14 win over Round Rock Cedar Ridge. The Black Rain defense, aside from two big runs, totally contained the Cedar Ridge rushing attack in the win. Cedar Park got production from its three-headed monster of Brock Johnson, Kevin Adams and Josh Cameron and that was more than enough for the offense.
After a stunning season-opening loss to Killeen Shoemaker, San Angelo Central got back on track with a big 52-10 win over Del Rio at home. The Bobcats were led by junior QB Malachi Brown who only threw for 181 yards, but was very efficient throwing for three touchdowns. Kris Jackson had a strong game leading the San Angelo rushing attack and that's going to be key for the Bobcats this week, because if they get in obvious passing downs against that Cedar Park defense it could be a long night.
Stepp's Pick: Cedar Park by 11
Beaumont United (2-0) at Port Arthur Memorial (1-1):
One of the big surprises in the Golden Triangle early on has been Beaumont United, who after some growing pains a year ago, has found its footing in year two. The Timberwolves rolled past Nederland, 35-10, last Thursday as TE Devin Hunt hauled in a pair of touchdowns passes and RB James Wilson ran for a pair of scores. The defense got in on the act as for the second straight game Chandler Rivers had a pick six.
United will face what will no doubt be a fired up Port Arthur Memorial squad who got into the win column shutting out Houston Madison last week. Memorial held Madison to just 67 yards of offense in the dominating win, but the Titans had a couple of turnovers and that can't happen this week against a Beaumont United squad that has the look of a playoff contender in 2019.
Stepp's Pick: Beaumont United by 6
Frisco Lone Star (2-0) at Highland Park (2-0):
It's a major 5A-Division I showdown in the DFW area as Frisco Lone Star looks to take down Highland Park and end the states longest winning streak along with doing something that no Texas team has done in nearly 20 years, win a game at Highland Park. Lone Star took care of an overmatched Denton squad last week in a 75-0 win, QB Garrett Rangel threw for 398 yards and four touchdowns, while Marvin Mims had 218 receiving yards and three touchdown catches. The Rangers defense did their part as well, holding Denton to just five first downs and only 111 yards of offense.
Highland Park's offense has been pretty good itself averaging 59 points per game through two weeks after rolling past Mesquite Horn 52-25 last week. QB Chandler Morris was solid and the Scots' running game did the job in giving balance after a Week 1 win in which they were almost totally reliant on the passing game. Lone Star has a great chance of ending Highland Park's 33-game winning streak dating back to Week 1 of 2017, they don't fear Highland Park, but getting a win in the Scots' backyard is a monumental ask. This has the makings of a classic, but the edge goes to Highland Park.
Stepp's Pick: Highland Park by 3
Burleson Centennial (2-0) at Aledo (1-1):
Aledo puts its 83-game district winning streak on the line against a tough Burleson Centennial squad that runs a unique offense and has given the Bearcats some fits in the past. Last week, Centennial went on the road to Texoma and rolled past Denison 53-34 as RB Jaylon Jackson ran for 140 yards and a touchdown and added a touchdown reception as the Spartans flexbone attack churned out yards and put up big numbers. They'll test an Aledo front seven that is young and still finding their footing after being decimated with graduation losses.
After their loss to Denton Guyer to open the season, Aledo got back on track last week blowing past a team from Mexico 63-0. RB Jase McClellan and WR's JoJo Earle and Money Parks are a skill unit that few teams in Class 5A-Division II have the ability to matchup with and Centennial's defense will have to play the game of their lives to keep this Aledo attack under 40. Centennial's offense if it can hang on to the ball and shorten the game has a chance to keep it close, but Aledo has too many playmakers.
Stepp's Pick: Aledo by 18
Alice (2-0) at Rockport-Fulton (1-1):
The Alice Revenge Tour looks to be rolling full steam ahead after last year's disappointing fifth-place finish. Last week, the Coyotes rolled past Kingsville King, 46-13, behind QB Isaiah Aguilar who threw for three touchdowns and ran for another score, while the Alice defense nabbed three interceptions setting the offense up with short fields.
Rockport-Fulton is still a Slot-T offense by trade, but the Pirates are tinkering a bit with the spread offense. Last week they weren't able to get the offense going in a 34-6 lopsided loss at the hands of El Campo. The Pirate defense had plenty of trouble with El Campo's big and speedy backs and although Alice won't have El Campo's speed, it'll still get behind its big offensive line, which has a size edge on Rockport, and then when the Pirates load the box, look for the explosive connection of Aguilar to WR Waylon Moore to make Rockport pay.
Stepp's Pick: Alice by 16
Graham (2-0) at Brownwood (2-0):
It'll be a battle of unbeaten teams down at historic Gordon Wood Stadium as Graham visits Brownwood. Both teams come into this one with very similar resumes. Both had hard fought Week 1 wins and then blew away overmatched opponents in Week 2. Graham rolled past Mineral Wells, 56-0, as the Steers rolled up 677 yards of offense led by Brandon Palacios who ran for 205 yards and two touchdowns. Daniel Gilbertson had 85 yards on the ground and chipped in 65 yards receiving, scoring two touchdowns.
Brownwood demolished Snyder 70-3. The Lions scored 63 first-half points and had touchdowns on their first four offensive plays of the night. Brownwood's defense through the first eight quarters of the season has only allowed three total points. But facing the highly efficient Graham attack will be the Lions' biggest test of the young season. Expect a close one, but we'll give the early nod to Graham who seems to be a bit more balanced.
Stepp's Pick: Graham by 4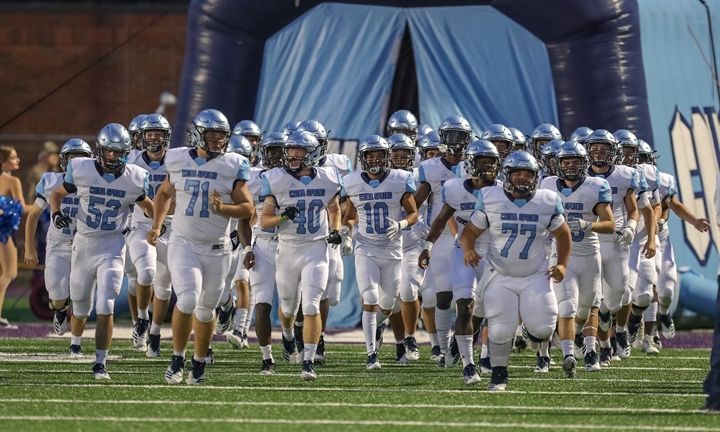 Waco Connally (2-0) at China Spring (2-0):
The Cadets rolled past Glen Rose, 35-17, behind a strong night from RB Jay'Veon Sunday who ran for 155 yards and three touchdowns in the first half last week, before sitting out the rest of the game as the contest was out of reach. The Cadets defense will have a major test this week against a veteran China Spring offense that rolled past Addison Trinity Christian 34-14.
QB Brayden Faulkner tossed three touchdowns and ran for another, while the Cougars' defense pitched a shutout until the fourth quarter when the game was already out of reach. Connally's athleticism in the secondary will be a big test for China Spring and that ability to compete on even terms with China Spring's attack will make the difference for the Cadets.
Stepp's Pick: Waco Connally by 7
Paris (1-1) at Gilmer (2-0):
A year ago, Paris knocked off Gilmer in Week 3 and served notice to the rest of Class 4A that it was a force to be dealt with. After an agonizing defeat against Texarkana Pleasant Grove in Week 1, the Wildcats got back on track rolling past Terrell, 42-7. Junior RB Zy'kius Jackson had 131 yards of offense in the win. He ran for three touchdowns and hauled in a touchdown pass as well.
The speedy Wildcat defense has been tough against the run, so in order for Gilmer to consistently move the ball, the Buckeyes may have to take to the air. Gilmer knocked off Van 41-21 as RB Darrell Bush ran for three touchdowns and Gilmer's balanced offense rolled up 487 yards of offense in the victory. Paris' team speed, size and physicality will be a tough matchup for Gilmer in this one and we expect the Wildcats to walk out of Traylor Stadium with a hard-fought win.
Stepp's Pick: Paris by 6
Sweeny (1-1) at West Columbia (2-0):
Sweeny's offense hit a snag in the second half of their 27-12 loss to Freeport Brazosport a week ago. The Bulldogs led 12-7 at the half but were outscored 20-0 and gained just 38 second half yards in the defeat. They'll have to be much better this week against a veteran West Columbia squad that has their eyes set on challenging Sealy for a district title. The Roughnecks spoiled the debut of Wharton's new stadium last week in a 34-20 win. The key for West Columbia will be staying balanced on the offensive side of the ball, if they can keep that balance and not allow teams to put eight or nine in the box they are a difficult offense to slow down.
Stepp's Pick: West Columbia by 11
Albany (2-0) at Eastland (2-0):
Albany has tested itself early in the season with wins over 3A opponents Colorado City and Dublin, and this week could be the Lions' biggest test as the team tangles with a strong Eastland squad. Albany knocked off Dublin last week 28-21 behind a big night from QB Ben West who finished with 321 yards and three touchdowns through the air. The Lions built a 28-7 lead in the third quarter but had to hang on for life as Dublin made a late charge.
Eastland rolled past West 49-7 last week as QB Behren Morton threw for 281 yards and four touchdowns, while bruising RB Brandon Fielding rushed for 81 yards and two touchdowns on just nine carries. Albany is a tough team and will hang around in this one, but Eastland is just too physically gifted and too deep as this is a 3A-Division I team playing a 2A-Division II team.
Stepp's Pick: Eastland by 14
Wellington (2-0) at Abernathy (2-0):
Wellington has back-to-back strong wins over competition from across the border in Oklahoma and now the Skyrockets will test themselves in a major way visiting unbeaten Abernathy.
Abernathy drilled Sundown 42-9 a week ago behind another big game from QB Bryson Daily who threw for 104 yards, he ran for 182 yards and three touchdowns in the victory. Things have gone well in Wellington for new head coach Gary Proffitt, but the Skyrockets have not been tested like they will be this week, Abernathy has better depth, more size and the best player on the field in dynamic QB Daily. Wellington keeps it close for three quarters, but Abernathy pulls away late in the game.
Stepp's Pick: Abernathy by 16
Shiner (2-0) at Burton (2-0):
Second-ranked Shiner rolled past Vanderbilt Industrial last week, 38-14, behind its two-headed rushing duo of sophomore Doug Brooks and senior Donyai Taylor who ran for a combined 298 yards and four touchdowns in the win. They'll meet up with No. 7 Burton who handled Milano 28-7 a week ago.
RB Cash Callahan scored three second-half touchdowns to help Burton break a 7-7 tie and roll to a comfortable victory. Shiner a year ago dominated this matchup because of its size in the trenches and that could once again be the case as Burton's not near as explosive as the team was in 2018.
Stepp's Pick: Shiner by 24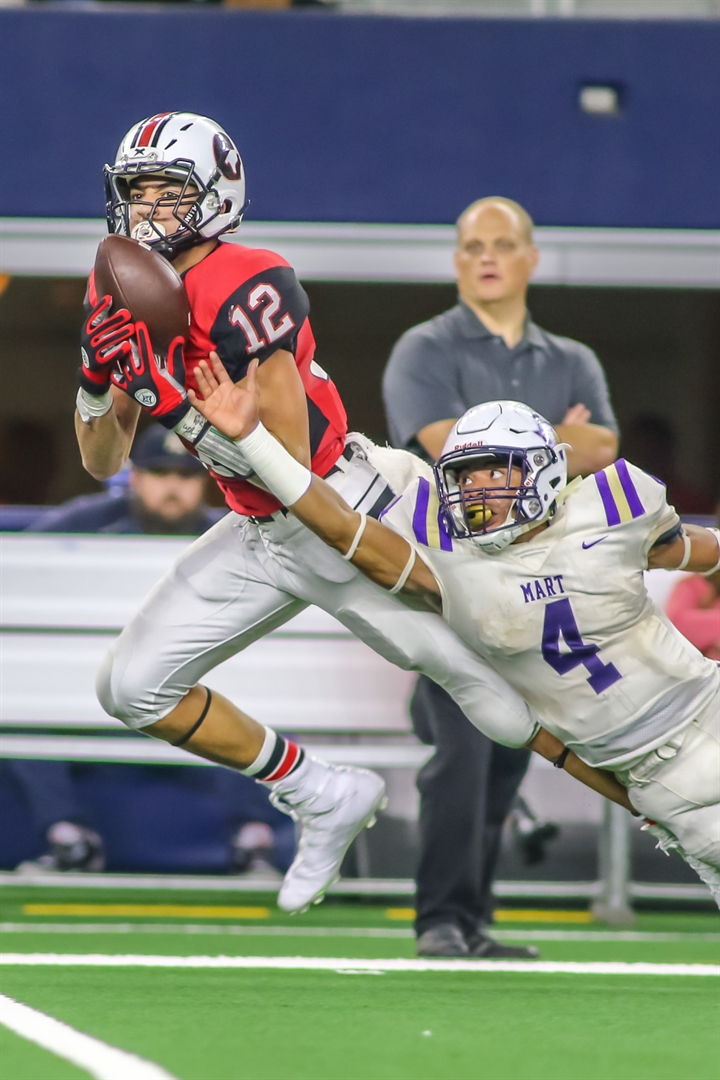 Gruver (2-0) at Stinnett West Texas (1-1):
2A-Division II state runner-up Gruver rolled past Sunray 54-0 a week ago as QB Jalin Conyers. The Oklahoma commit continues to lead the Greyhounds explosive offense. Gruver's defense has been much better than expected early on allowing just 19 points in two games. They'll need a big performance this week against a West Texas High squad that's knocking on the door of being state ranked in 2A-Divsioion I.
After a hard fought season opening loss to Canadian, the Comanches surprised Stratford last week 32-27. They've shown through two weeks that they are going to be a force in the Panhandle, but do they have the ability to contain Conyers?
Stepp's Pick: Gruver by 7
San Augustine (1-0) at Garrison (1-0):
It's a battle of Top 10 teams in the Piney Woods of East Texas as San Augustine and Garrison meet up in a big 2A-Division I battle. San Augustine and its veteran offense was hitting on all cylinders two weeks ago in the Wolves' dominating win over Big Sandy, 70-7. The Wolves put up 54 points in the first half and had a running clock in the second half of the win.
Garrison's Sebastion Porter was a one man wrecking crew in the Bulldogs' 38-32 win over 3A-Division I Crockett last week. Porter had 20 tackles, ran for 149 yards and two touchdowns, he forced a fumble, had an interception, blocked a kick and returned a missed field goal 106 yards for a touchdown. Porter is an amazing talent, but San Augustine has the depth and a few more playmakers and will be zeroed in on slowing down one of the state's best players, regardless of classification.
Stepp's Pick: San Augustine by 4
Quick Picks
Arlington Bowie (2-0) at Rockwall (1-1)
Stepp's Pick: Rockwall by 6
Eagle Pass (1-1) vs Eagle Pass Winn (1-1)
Stepp's Pick: Eagle Pass Winn by 7
Mission Veterans Memorial (1-1, 1-0) at Brownsville Veterans Memorial (2-0, 1-0)
Stepp's Pick: Mission Veterans Memorial by 4
College Station (0-1) at Huntsville (2-0)
Stepp's Pick: Huntsville by 10
Canutillo (2-0) at Clint Mountain View (2-0)
Stepp's Pick: Canutillo by 22
Lorena (2-0) at Lampasas (2-0)
Stepp's Pick: Lampasas by 4
West Orange-Stark (2-0) at Newton (2-0)
Stepp's Pick: Newton by 10
New Diana (2-0) at Alto (2-0)
Stepp's Pick: New Diana by 9
Blanco (1-1) at Marion (1-1)
Stepp's Pick: Blanco by 10
Christoval (2-0) at Van Horn (1-1)
Stepp's Pick: Christoval by 28
LSCSN's Private School Spotlight
Each week, the crew at Lone Star Christian Sports Network— one of the state's most respected Texas private high school football outlets — will take a look at some must-see games in the private school ranks. See their fine work at LSCSN.com and follow them on Twitter @LSCSN.
Episcopal School of Dallas (1-0) at Fort Worth Country Day (0-2)

A cross-divisional Southwest Preparatory Conference matchup a week before both squads face their respective divison's favorite (ESD versus 4A leader Bellaire Episcopal and Country Day goes another round with fellow 3A foe, The John Cooper School). While quarterback ESD quarterback Preston Morway set the Metroplex on fire with 477 yards and 5 TD passes against Fort Worth Trinity Valley in week one, the Eagles have had an extra week to prepare after Parish Episcopal elected to play Cedar Hill Trinity Christian on national TV last week instead of filling the week two spot from a year ago. And even though coach Brian Farda's Falcons have started 0-2 with losses to Fort Worth Christian and Grapevine Faith Christian as they did a year ago, the same strong opponents last year helped them end 2018 with seven straight wins and the SPC 3A Championship.
LSCSN's pick: Episcopal School of Dallas 35, Country Day 28

Spring Legacy School of the Sports Sciences (1-1) at Cedar Hill Trinity Christian (1-1)

The defending TAPPS Division II champion is coming off a 33-27 overtime loss on national TV to Dallas Parish Episcopal School and would appear to be a heavy favorite against the second-year charter school that won T-CAL's 11-man title a year ago. The Titans, with Tulane commit TE Reggie Brown, traveled to TAPPS Division I champion Dallas Bishop Dunne and dropped a close 20-14 decision that head coach Gerard L. Lewis, Sr. thought his team could have won before defeating SPC 4A opponent Houston The Kinkaid School last week, 34-20. Legacy senior quarterback Quincy Ivory doesn't have the spotlight shining on him that Tigers junior signal caller Shedeur Sanders does, but it should after throwing for two scores and running for a pair - including a 65-yarder - in the win over Kinkaid. The three things that could play in the Tigers favor though, besides playing at home, are experience, depth and being more hungry than the Titans after last week's loss on the national stage.
LSCSN's pick: Cedar Hill Trinity Christian 28, Spring Legacy School of the Sports Sciences 21
This article is available to our Digital Subscribers.
Click "Subscribe Now" to see a list of subscription offers.
Already a Subscriber? Sign In to access this content.