We're just 20 days away from real football that counts being played in the state of Texas. In celebration, we're counting down 20 college football games that we're excited about in 2019.
Some of these games are nationally-relevant matchups, even ones with conference and national title implications. Others are just going to be incredibly fun and on-brand for us, like when two teams battle for the city of San Antonio.
No matter the criteria, all of these games are ones you'll have to pay attention to when they come. Without further ado, here's our list of the 20 high school football games that we're amped about.
20. Houston vs. Memphis
Date: Nov. 16
Houston hosts the Tigers in a battle of teams that could compete for the conference championship. A win over Memphis could provide a signature win in year one for the new Cougars staff.
19. UMHB vs. Hardin-Simmons
Date: Oct. 26
This game is always a monster matchup in the Division-III ranks, and that shouldn't change now. UMHB is the defending national champions and beat Hardin-Simmons twice on the way to the title. The Cowboys haven't won this game in four years, but could have an opportunity against a young Crusaders offense.
18. Texas A&M at Georgia
Date: Nov. 23
Texas A&M travels to face off against one of the new superpowers of college football in Athens. The only thing holding this game back from being a big one on this list is that these teams have only played one regular season game in the last 60 years; there's zero history.
17. Houston at Oklahoma
Date: Sept. 1
Two of the best minds in college football match up when Dana Holgorsen travels to coach against Lincoln Riley in Norman. Tom Herman's Houston squad made a name for itself after beating OU – why not Holgorsen's?
16. Tarleton State vs. Texas A&M-Commerce
Date: Oct. 19
The Texans shocked the world last season and beat the defending champion Lions twice en route to a 12-1 season and conference championship. With new coach David Bailiff, TAMUC will be hungry to take control of the conference back.
15. Sam Houston State vs. Stephen F. Austin
Date: Oct. 5 at NRG Stadium
The Battle of the Piney Woods gets a little extra juice with the arrival of new SFA head coach Colby Carthel and the top recruiting class in FCS. They'll get a worthy challenger in a Sam Houston squad that's hungry to prove last year's average squad was an aberration. There are stakes all over this game, including a trophy with pistols on it.
14. SMU vs. North Texas
Date: Sept. 7
Last season, UNT's dominant win over SMU in the opener set the tone and set up a massive win over Arkansas. Now, SMU will try to return the favor and take control back control of the Metroplex. Shane Buechele vs. Mason Fine should be an electric quarterback matchup.
13. Baylor vs. Texas
Date: Nov. 23
Matt Rhule has done a great job at Baylor, going from one to seven wins after just two seasons. However, Rhule has yet to pick up a signature win at Baylor. With the hated Longhorns coming to town the week before Thanksgiving, Baylor has that huge opportunity. It doesn't hurt that this game also features a battle of star Austin-area quarterbacks.
12. Houston vs. Washington State
Date: Sept. 13 at NRG Stadium
The student faces off against the master. Mike Leach returns to the state with his Wazzu squad against his former offensive coordinator, Holgorsen. It's a perfect opportunity for Holgorsen to assert himself as the face to watch in the Group of Five.
11. Houston vs. SMU
Date: Oct. 26
SMU's most impressive performance of 2018 – by far – came on its home field against Houston. If the Cougars win the game instead of losing to an inferior opponent by multiple touchdowns, Major Applewhite might still be the head coach. The Coogs will come in much angrier.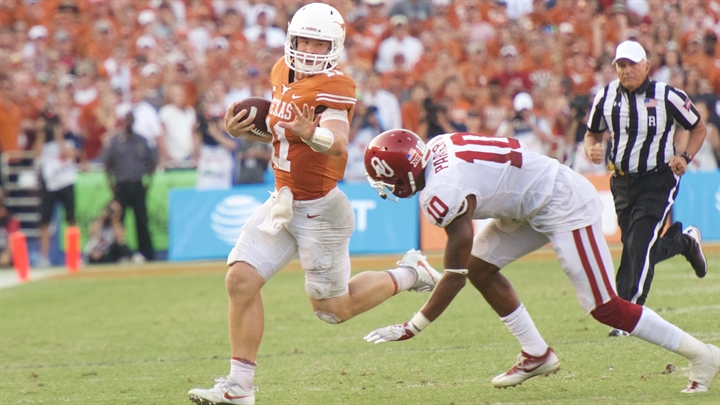 10. Baylor vs. TTU
Date: Oct. 12
This game always seems to provide fireworks, no matter how good each of these teams actually are. The all-time series is knotted up exactly at 38-38-1, and the game is returning to Waco for the first time since 2007. With quarterbacks like Charlie Brewer and Alan Bowman facing off, anything can happen.
9. UTSA vs. UIW
Date: Aug. 31
The Battle for San Antonio in the first week of the season ranks as one of the most underrated matchups of the weekend. UIW suddenly became a relevant FCS program after hiring Eric Morris, and the Cardinals return a ton. More than anything, it's an opportunity for San Antonio to show out and prove how much the city loves football.
8. TAMU vs. Alabama
Date: Oct. 12
Texas A&M became a relevant program because of an unexpected game against Alabama in 2012. Will that happen again with Tua Tagovailoa on the other sideline? Who knows. But with the other three mammoth games occurring on the road, this is the one chance for Texas A&M to make a dramatic statement at Kyle Field.
7. Texas vs. LSU
Date: Sept. 7
The last time Texas faced off against a highly-ranked SEC team, the Longhorns were running away with a big-time victory in the Sugar Bowl over Georgia. Now, Darrell K. Royal Memorial Stadium is hosting its biggest game in years. Our excitement level is off the charts to see LSU face off against a coach that was tied to its program just a few short years ago.
6. UNT at Southern Miss
Date: Oct. 12
Looking at the schedule, this could be the most important game of the year for North Texas. The Mean Green didn't play as well on the road a year ago, and likely need to beat the Golden Eagles for a second year to have a chance to win the conference. All eyes should be on this game, at least after Red River finishes.
5. Texas A&M at Clemson
Date: Sept. 7
Clemson safety K'Von Wallace tweeted that Texas A&M was the toughest team the defending national champs played in 2018, and for good reason. The Aggies were just a two-point conversion away from taking the Tigers to overtime. Texas A&M returns a whole lot and Clemson loses plenty; can the Aggies shock the world this year?
4. TCU vs. Baylor
Date: Nov. 9
It's been a few years since we've seen The Revivalry show some fire, but that should change this season. Both teams are good enough to compete for 10 wins. Whichever program loses this game will leave the season with a bad taste in its mouth.
3. Texas A&M at LSU
Date: Nov. 30
Last year, Texas A&M took LSU to seven overtimes and beat them for the first time since joining the SEC in 2012. The Tigers will be mad as hell this time around, and the game is in Death Valley. Get your popcorn ready.
2. North Texas vs. Houston
Date: Sept. 28
Mason Fine. D'Eriq King. It's a battle of the two best quarterbacks in the state in primetime. What more do you want?
1. Texas vs. Oklahoma
Date: Oct. 12 at the Cotton Bowl
This game is a marquee one, even when the two programs struggle. Now, both the Longhorns and Sooners are projected as College Football Playoff contenders. There's not an FBS game with higher stakes in the state this year, and we can't wait.