We're lucky at Dave Campbell's Texas Football to be able to see a lot of the best games the state has to offer every football season. But sadly, we can't make it to all of them. If we could, these are the games we'd attend.
You can't kick the season off any better than this. The defending 2A DI state champion Punchers host a fellow West Texas powerhouse in the Puncherdome – one of the state's most iconic stadiums, high school or otherwise. Oh, and it's the Texas Football Days kickoff game for the 2019 season on Fox Sports Southwest.
August 29 — Katy at Galena Park North Shore
The defending 6A DI champions take the field for the first time since the incredible Hail Mary that ended the 2019 season, and they'll play another Houston giant they're used to facing. The Tigers were the only team other than Duncanville to play North Shore close last season, and they'll take another shot on a national broadcast on ESPN.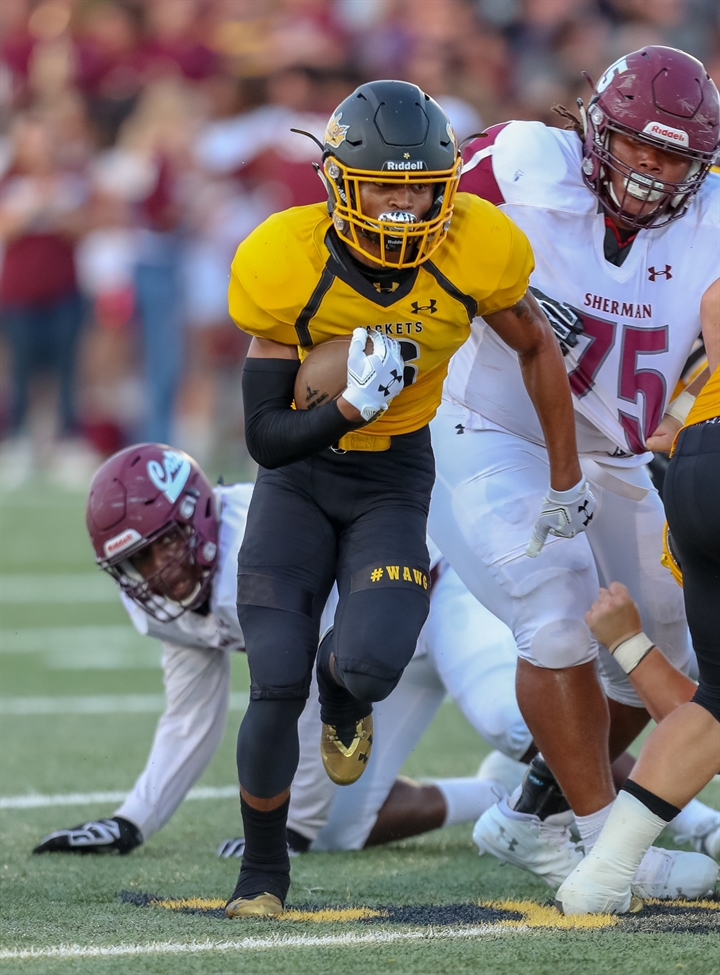 August 30 — Denison at Sherman
The second spotlight game of Fox Sports Southwest's Texas Football Days, the whole state will get a taste of the Battle of the Ax, one of the oldest and best rivalry games in the Lone Star state. The teams started playing each other in 1901, and while Sherman has the all-time edge, Denison has won the last six meetings.
August 30 — Mission at Mission Vets
The post-Landry Gilpin era begins at Mission Vets, but don't expect the offensive fireworks to fall off in this rivalry game. Despite not having the reigning Mr. Texas Football, the Patriots should be ready to hit the ground running, and Koy Detmer's Eagles will be ready for the challenge.
One of the best programs of the last 10 years takes on one of the greatest of all-time, and if you're a Texas high school football fan in the DFW Metroplex, you could hardly ask for a more fun clash. Add to the storylines the fact that Claude Mathis is returning to his post as head coach of the Eagles, and there will be plenty to watch in this one.
September 5 — Edinburg Vela at Brownsville Hanna
Hanna was the surprise 6A team from the Valley last season, upending a Tascosa squad that wound up in the state semifinals many weeks later. Vela went on a 12-0 run, including a 35-20 win over Hanna, before coming up short against Westlake in the regional semifinals. What will each team do for an encore?
September 6 — Argyle at Waco La Vega
These two 4A DI giants split their two meetings last year, and the Pirates wound up winning the playoff clash before moving on to win the state championship. La Vega lost some big-time players, but has by all accounts reloaded. Argyle returns with QB Bo Hogeboom leading the way.
September 6 — S.A. Wagner at Converse Judson
Converse Judson needs no introduction, and as the 6A school in this clash, they're the presumptive favorites. That said, the Rockets narrowly edged Wagner 35-28 in last year's meeting, and the Thunderbirds were a revelation, roaring all the way to the 5A DI state semifinals. Neither team returns a ton of starters from 2018, so which one reloads fastest?
September 6 — Dickinson at Allen
John Snelson's Gators have had this game circled for a while. A chance to take on the Eagles in the infamous Eagle Stadium in Allen is an opportunity no big school program should shy away from, and you can bet the Houston-area squad will be ready. It's a year of change for both programs, and should be a fascinating measuring stick for early progress, as well.
September 13 — Frisco Lone Star at Highland Park
Highland Park is going to make a serious run at a four-peat. Led by QB Chandler Morris and DE Prince Dorbah, there's no reason to doubt the Scots. Lone Star, meanwhile, keeps trying to break through as the team to dethrone Highland Park when the playoffs roll around. This should be quite the dress rehearsal.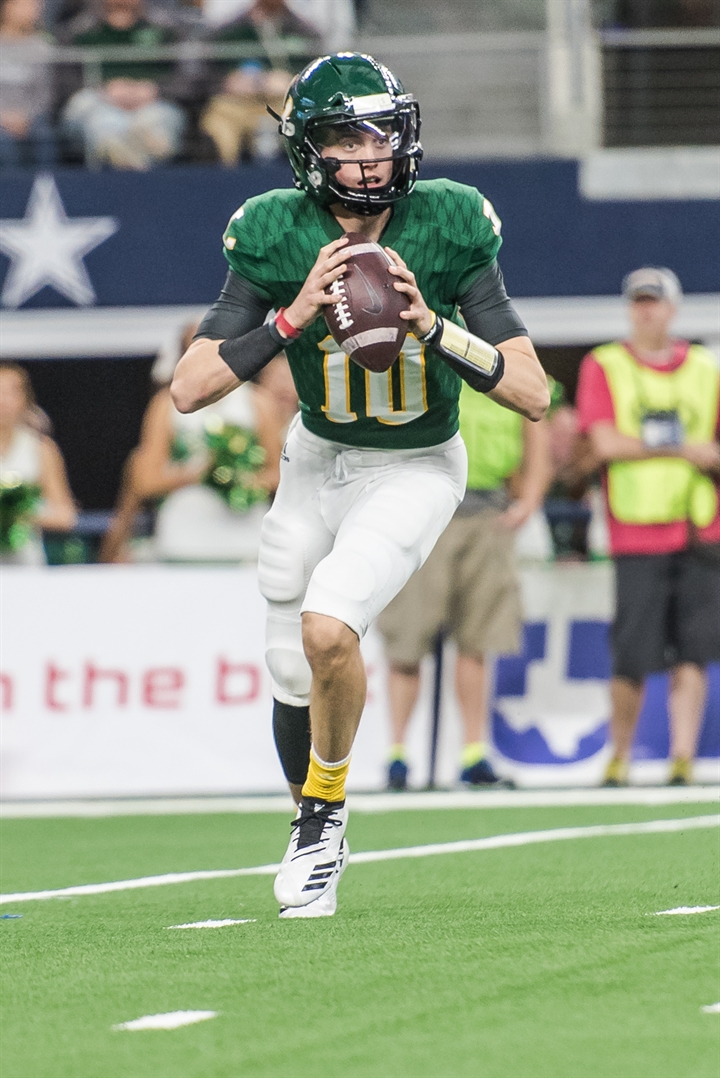 September 13 — Longview at John Tyler
East Texas kings taking swings at each other. It doesn't get much better. The Lobos are the defending 6A DII champions, and the Lions have decades of pedigree and a deep playoff run in last year's 5A DI playoffs on their side. An early upset of the big boys down the road would raise hype levels for CUJO to absurd levels.
September 20 — Decatur at Graham
Do you like points? This game will have a whole mess of them. Two stellar quarterbacks lead each team (Roman Fuller for Decatur and Hunter Lanham for Graham), and they've been known to sling it. Their supporting casts are stellar, as well, so prepare for a shootout.
September 20 — C.C. Flour Bluff at C.C. Veterans Memorial
The landscape looks like it my be shifting a bit in Corpus Christi. Last year, Veterans Memorial knocked off the Hornets with a 30-27 win en route to a 12-1 season. Defense was the story for the Eagles, and DT Anthony Guerrero leads that unit heading into this year's clash. Flour Bluff RB Isaac Miles will lead an offense looking to settle a score.
September 20 — Grandview at Malakoff
A year ago, this was a solid game between two good programs. A year later, it's the third meeting between the two 3A DI state finalists, and a potential precursor to a rematch for the title. Nearly every key player from both team's playoff runs is back, and Grandview now has a 2-0 edge between them. Malakoff will be out for revenge, and should have the weapons to yet again make this mighty interesting.
September 20 — Cameron Yoe at Giddings
This inter-class clash is a regional treat. The Yoemen have had a couple slow seasons by their lofty standards, and Giddings is a tough out at the 4A DII level. Yoe has been building toward this season, led by RB Nico Vargas and QB Braden Brashear. Wade Griffin's Buffaloes should have plenty of pushback, led by QB Alex DeLaTorre.
September 20 — Manvel at Fort Bend Marshall
If you like speed, you won't find many games better than this one, which will have some of the fastest dudes the state has to offer on the field. This game has gotten better and better with each year, and with the Buffaloes coming off a state championship appearance and the Mavericks looking to bounce back from a second round exit, the level of competition is as high as ever.
September 27 — A&M Consolidated at Huntsville
Huntsville is coming off a fantastic season in which it reached the 5A DII regional finals, and A&M Consolidated has a power-packed offense that just won the state 7-on-7 DI championship over the summer. Both teams have big-time playoff aspirations and the players to make them come true.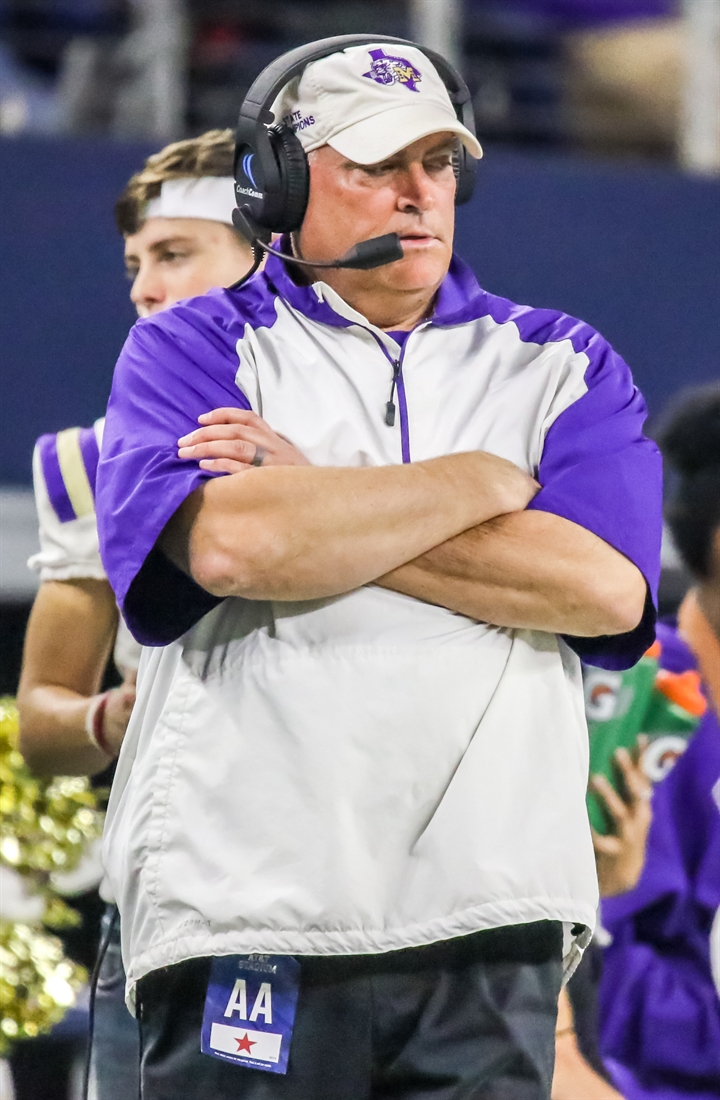 September 27 — Mart at Refugio
A year ago, Mart ran away with a huge win in this game on its home turf, blowing out the Bobcats 41-8. The Panthers went on to win the 2A DII state championship, the Bobcats went on to lose in the 2A DI regional finals, and now they're going to dance all over again. This time, however, it will be down in Refugio, with a hostile crowd waiting. There won't be many small school clashes this enticing all season.
October 4 — Carthage at Pleasant Grove
Two perennial state championship programs from East Texas, one well established and one that's risen to the top in extremely short order. Scott Surratt and Josh Gibson are two of the best coaches in the state, and they've both got absolutely loaded teams coming back in 2019 for state title runs.
October 4 — Jasper at West Orange-Stark
Another game on this list that seems like a lock for a playoff rematch, the Bulldogs and Mustangs beat each other up and split two meetings. West Orange-Stark won the important one in the playoffs, but Jasper brings back just about every key player from last year's squad and is on a mission for a deep playoff run.
October 11 - Gunter at Holliday
After Gunter's controlled the district over the last few years and a competitive game between the two teams last year, does Holliday replace the Tigers as the district's top team? Or does coach Jake Fieszel and Gunter keep the train moving with a host of newcomers?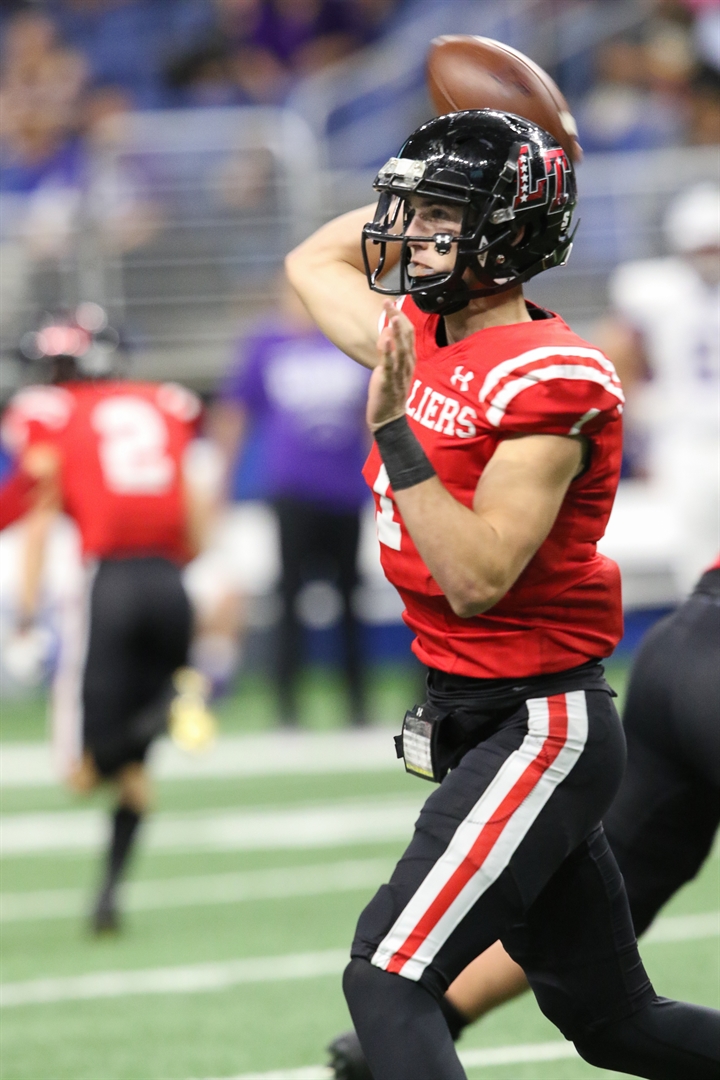 October 11 - Westlake at Lake Travis
Every year, one Austin-area football game becomes the hottest ticket in town for one weekend between the two of the most prestigious big schools in the state. Two years ago, Westlake snapped a 10-game losing streak to Lake Travis and this year, Hudson Card and the Cavaliers look to start a new streak against the Chaps' stingy defense that's become a trademark the last few seasons.
October 18 — Liberty Hill at Lampasas
Lampasas could have a special season with appropriately named quarterback Ace Whitehead at the helm plus his big target Cameron Everts. But even despite losing most of its contributors from 2018's state runner up team, if we've learned one thing about Liberty Hill, is to always trust Jeff Walker and that Slot-T machine.
October 24 — Shadow Creek at Foster
Last year newcomers Shadow Creek took the state by storm in its first season but this season, Richmond Foster has a team that could be destined for great things. Shaun McDowell's Falcons have offensive firepower and should be improved defensively, but the Sharks have yet to lose a regular season game and still bring back plenty to make another run. This is a key clash between teams that hope to be playing past Thanksgiving.
October 25 — Garrison at Tenaha
Expect fireworks in this district clash between these two varying attacks. Garrison RB Sebastion Porter (2,461 yards) and Tenaha QB Hayden Jenkins (2,661 yards) will be duking it out for District 11-2A supremacy after last year's high-scoring affair.
October 25 — McLean at White Deer
After powering through the state in 2018, No. 2 McLean will be tested in mid-October taking on No. 3 White Deer who are poised for a breakthrough. Although the Bucks return more in terms of on-field experience, it's impossible to count out Tiger RB Ben Crockett on any given day. Is revenge a good enough motivation to push White Deer past McLean?
October 25 — Dallas Bishop Dunne at Dallas Bishop Lynch
You'd be hard-pressed to find a better private school matchup or a game featuring emerging prospects in DFW. Bishop Dunne took last year's matchup, but the Friars welcome a new head coach while Bishop Dunne tries to replace a host of key contributors.
November 8 – Gruver at Stratford
There's a lot of motivation for Stratford in this one after two devastating losses to Gruver in 2018 and one that ended their season in the regional final, 50-14. This year it's the Elks who tout the more experienced team although they'll have to find a way to shut down one of the fastest rising prospects in the state in quarterback Jalin Conyers who inherits the Greyhounds' attack.
Hamlin was likely a year ahead of schedule last year during its regional finals run, yet there was one team who blemished the Pied Pipers' schedule – Albany. This end-of-season clash could be for the district and possible predict a future playoff match-up. Denney Faith has the talented QB Ben West to lean on this year to try and halt Hamlin's anticipated big season.
November 8 — Sterling City at Garden City
The Bearkats got the best of Sterling City in 2018, but Garden City has more pieces to replace from last year's state semifinalist team in this battle for District 7-1A. Hunter McMillan versus Wyatt Sisco should be a clash that any Texas high school football fan would love.
This article is available to our Digital Subscribers.
Click "Subscribe Now" to see a list of subscription offers.
Already a Subscriber? Sign In to access this content.