UTSA football had expectations heading into head coach Frank Wilson's third season. However, the Roadrunners instead took a step back.
After winning three straight games against the worst teams on their schedule, UTSA finished the year by losing six straight games. A revolving door of inconsistent quarterbacks and milquetoast playcalling ultimately doomed the Roadrunners to a subpar record.
Here's our full postmortem and review of the 2018 UTSA Roadrunners football season.
Full list of recaps: UTEP Miners || Rice Owls || Texas State Bobcats || UTSA Roadrunners || SMU Mustangs || Houston Cougars ||
UTSA Roadrunners Season Recap
Final record: 3-9, 1-6 Conference-USA
Head coach: Frank Wilson (15-21, all at UTSA)
Coordinators: OC Al Borges, DC Jason Rollins, ST Gary Hyman
Offensive MVP: WR Greg Campbell Jr.
Standing out on a putrid offense is difficult, but wide receiver Greg Campbell Jr. was ridiculously more productive than every other offensive player on the roster. He posted 58 catches for 658 yards. Both of those marks are three times as many as any other Roadrunner. The yardage is also double what any running back posted. UTSA averaged just 3.3 yards per play when Campbell didn't touch the ball, compared to 10.6 yards per play when he touched it.
Defensive MVP: LB Josiah Tauaefa
Tauaefa has been one of UTSA's premiere players for three years now, and capped off his career with his second 100-tackle season in three years. The junior also added 11.5 tackles for loss, 4.5 sacks and a pair of forced fumbles. Tauaefa is now headed to the NFL draft, where he should move up draft boards.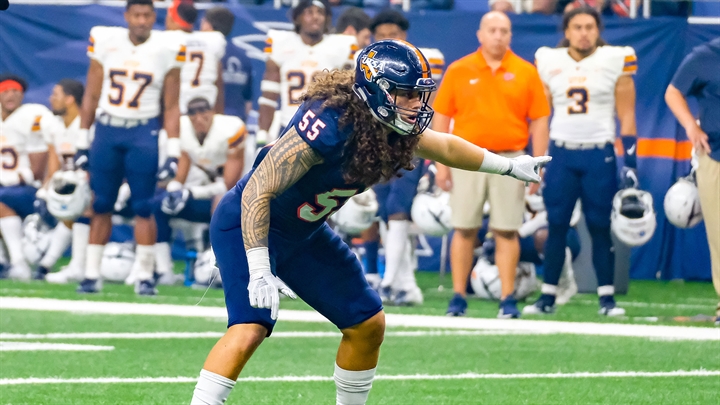 Biggest surprise: Complete offensive collapse
UTSA lost a couple key playmakers on both sides of the ball, but the thought was that Wilson's elite 2017 recruiting class would bolster the depth chart. That didn't happen.
The Roadrunners had one of the worst offensive seasons in America under offensive coordinator Al Borges. UTSA ranked last nationally in total offense, last in offensive touchdowns, second-worst in scoring offense and second-worst in yards per play. It was a horrific year across the board.
UTSA is turning to passing game coordinator Jeff Kastl as offensive coordinator heading forward, but it's unclear whether the answer to fixing the offense is already on staff. The Roadrunners desperately need to make improvements across the roster.
Best moment: Late-season vision
By the end of the year, we were looking for something – anything – to feel optimistic about the UTSA offense. Because of financial shortfalls, there was plenty of reason to believe that any offensive staff changes were going to happen internally. Luckily, the UNT game showed some promise.
The Roadrunners went down 17-0 early, and it seemed like just another blowout. But this time, UTSA managed to respond.
UTSA scored three touchdowns in a narrow 24-21 loss to UNT. More importantly, the Roadrunners put together sustained drives, ran the ball effectively and compiled 400 total yards. UTSA had a 48-yard field goal to try and tie the game as time expired. It fell short, but it still showed that there was at least some promise on this roster.
Worst moment: UAB debacle
There are losses that stick with fans for long after the game ends. Sitting at 3-5 with two home games left, the Roadrunners weren't dead yet. Then, Birmingham happened.
UTSA faced off against freshman UAB quarterback Tyler Johnston III, who was making his first ever start. It took Johnston just eight minutes to make the Roadrunners realize they were in trouble. Johnston threw touchdown passes of 50 and 22 yards in the opening minutes of the game. UTSA responded with a field goal, but UAB RB Andre Wilson added a 50-yard run to give the Blazers a 21-3 at the end of the first half.
By halftime, the lead ballooned to 38-3. UAB coach Bill Clark called off the dogs early. But still, the Roadrunners were outscored 52-3, outgained 668-220 and outrushed 419-84. It was an absolute buttkicking, and one that set the program back. In the next two games, UTSA was outscored by a combined 68-7.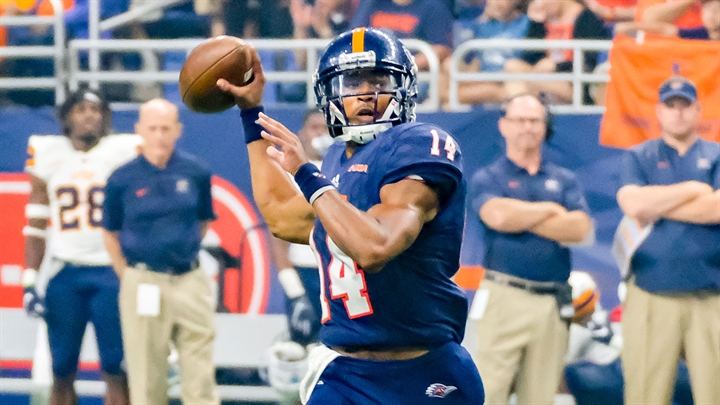 Biggest offseason question: Where will the quarterback play come from?
We knew Dalton Sturm was an underrated quarterback after three strong starting seasons. Few foresaw the Roadrunner offense completely falling apart without him.
In the first season without Sturm, the quarterback play ended up being historically terrible. Four different signal-callers took snaps, and none was encouraging. The unit as a whole completed just 50.5 percent of its passes and averaged a pathetic 4.7 yards per attempt.
The Roadrunners bring back most of the same quarterbacks from last season, and bring in talented QB Frank Harris. Harris was expected to start by many until he got hurt. However, something has to give for UTSA to even have a passable offense.
Final evaluation
Wilson was encouraging in his first two seasons in San Antonio. The Roadrunners reached bowl eligibility both seasons, and played in their first bowl game in Wilson's first season. That said, the 2018 season was miserable for Roadrunners fans.
The offense was historically terrible. It became the first FBS unit since 2014 to average fewer than 4.0 yards per play. The Roadrunners averaged a cool 8.5 points per game in the second half of the year. That's an embarrassment. The defense also took a step back after defensive coordinator Pete Golding left for Alabama.
There's clearly talent at UTSA. Tauaefa is headed to the NFL early. B.J. Daniels and Jalen Rhodes were supposed to be one of the top running back tandems in the state. The Roadrunners are just two years out from a top-three C-USA recruiting class.
A clear bottom-four emerged in the state of Texas this year. UTEP and Rice had new head coaches. Texas State was clearly in the midst of a major rebuild. UTSA wasn't supposed to be a rebuilding team this year. The Las Vegas over/under projected five wins. Wilson has to find a way to improve this team's production, and soon.
Overall grade: F
This article is available to our Digital Subscribers.
Click "Subscribe Now" to see a list of subscription offers.
Already a Subscriber? Sign In to access this content.