One game was a runaway, one was hammer and claw; one was never in doubt, one was tied at halftime; one was a repeat state football championship; and for one it was only the second state football crown in history. But both the Mart Panthers and the La Vega Pirates fought their way to the top of the heap in Texas football competition in their classifications late last week, and it was oh so sweet.
That in a few words is what happened in that big AT&T Football Stadium where the Dallas Cowboys play (often called Jerryworld) and where soon the Fighting Irish of Notre Dame and the Tigers of Clemson will clash to decide which of the two teams will advance to play the winner of the Oklahoma-Alabama football game and thus play for the 2018 College Football Championship.
Notre Dame-Clemson figures to be quite a game. But really, it will mean no more to the winner of that game than it did to the Panthers and Pirates late last week. You see, they have already won the football championships that mean the most to those two teams and their fans this season.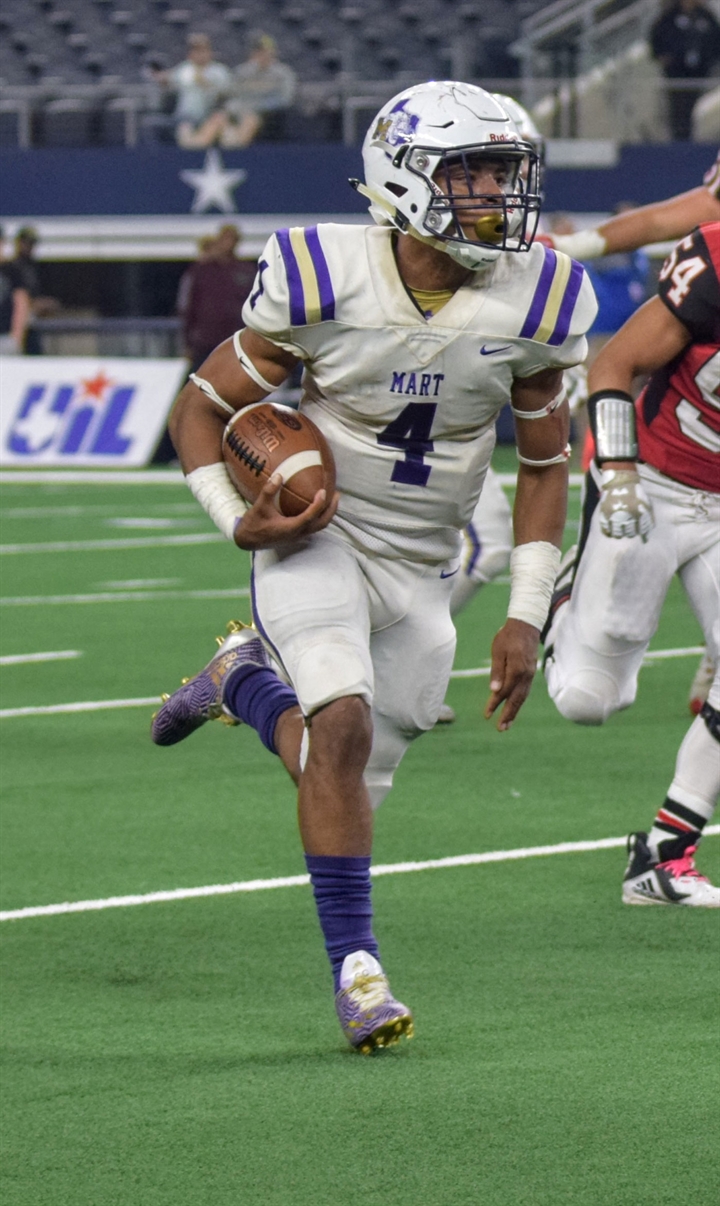 Of course, football championships are nothing new to the Panthers. This was their SEVENTH football championship since 1957, which means they have won more football titles than any team in McLennan County; yes, even more than Paul Tyson's Waco Tigers (four in six years in the 1920s) and the Tigers also tied with Dallas Highland Park (a 7-7 game) in 1945 and won their fifth state championship in 1948.
Waco Reicher won four state football titles (in 2004, 2007, 2008 and 2009), and Crawford, Lorena and China Springs also have won state football crowns. And in Central Texas, Cameron has won at least three, Bremond has won three or four, Bartlett two; and Groesbeck, Abbott, Chilton, Mexia, Milford, and Rosebud-Lott have at least one and in some cases two state football crowns. And if you want to count Goldthwaite and Stephenville (when Art Briles was coach) as Central Texas teams, they have won multiple state football championships. (And I may have overlooked some other Centex winners, a bad thing to do in this the Yuletide season).
The truth of the matter is that neither the Panthers nor Pirates appear ready to step aside soon, especially Mart. Thanks to the research of the Trib's excellant young writer, Krista Pirtle, we also know that both head coaches grew up in nearby Robinson and both are still hungry for more victories and more championships. That would be Kevin Hoffman of Mart and Don Hyde of La Vega. Incidentally, this was Hyde's first season as the head coach. Last season he was the Pirates' defensive coordinator, so naturally the Pirates were especially tough defensively.
I didn't see either of the championship games in person. But I did watch every game unfold as shown on television (and Fox Sports Southwest did an excellent job of televising all those state football championships once again last week). And back in the years when I was sports editor of the Trib, Mart won our first Jinx Tucker Trophy.
But back to the two 2018 championship games.
As noted in the Mart-Gruver game, the final score (Mart 76, Gruver 33) tells you everything in the Class 2A Division II State Championship Game. Even in the first half Mart's senior running back Tyrek Horne had set a new Class 2A State Championship Game Record with SIX rushing touchdowns. And Mart had set a new State Class 2A record by scoring 63 points. And again, that was by halftime. Horne was named the game's Offensive Most Valuable Player after rushing for 291 yards on just a dozen carries and scoring seven touchdowns. And the game's MVP defensively was Jacob Ybarra after he had 6.5 tackles, two pass interceptions and four pass breakups.
And mind you, Mart did all that despite losing its starting quarterback Kyler Martin because of an injury before the state semifinal game.
"They're amazing kids," Hoffman was quote as saying. "I can't say enough about them. This was one of the goals this team had. They worked all spring, all summer and all two-a-days. Now it's paid off."
As for head coach Don Hyde and his La Vega Pirates, the game was all knotted up at 7-7 at halftime. So, it still was anybody's game and victory was another 30 minutes away. That's when senior defensive back Donta Stuart blew open the halftime deadlock. He fielded Liberty Hill's second half kickoff at his own 6-yard line and the next thing Liberty Hill knew he had returned the kick 94 yards for a touchdown. And after that the Pirates were on their way to victory and their second state football championship in Class 4A Division 1.
When the final whistle had blown, the Pirates were victorious with room to spare: La Vega 35. Liberty Hill 21.
Trib sports editor Bryce Cherry, who was there, quoted Stuart after the game with these words: "We've been tied up at halftime a lot this season, so when we came out at halftime, it was just regular, normal. We were calm the whole time. We knew we were going to win." He had just set a new state record for the longest kickoff return in a Class 4A state championship game.
I wonder if La Vega fans knew that, and were that calm. But seeing is believing.
As coach Hyde was quoted as saying after the game: "We can throw the football. We just don't. If you won't let us run it, then we'll throw it. That's what we talked about at halftime. They're going a good job of stopping the run, so let's get them off of us by throwing some passes. That's what we did. We had a good matchup out there. We took advantage of it."
As a result, receiver Malachi Wright and quarterback Ara Rauls took over what Stuart had sparked and after that the Pirates were on their way. Wright was named the game's Offensive MVP and senior linebacker Jared Rogers the game's defensive MVP. Other big plays found Rauls hitting Wright on a pass when the Pirates faced a second-and-11 at the La Vega 10-yard line. Result: Wright found running room down the La Vega sideline and nobody could catch him as he turned the pass into a 90-yard reception and touchdown, and another record for the longest pass-catch a Class 4A state championship game.
Later Rauls hit Wright again for a 61-yard touchdown, and then John Richards had a 43-yard touchdown run. Rauls finished by going 6-for 9 in passing for 178 yards and two touchdowns, and Wright had three catches for 163 yards and two TDs. In rushing, John Richards had 13 carries for 85 yards and a 43-yard touchdown run Jar'Quae Walton had 11 carries for 86 yards and another touchdown.
It was quite a La Vega victory for my old alma mater.
This article is available to our Digital Subscribers.
Click "Subscribe Now" to see a list of subscription offers.
Already a Subscriber? Sign In to access this content.