The town of Ganado, TX has plenty of pride, and the booster club is no different. The booster club's president, Patty Ramsey, states "Ganado is all heart. These are some of the most well-rounded kids I've ever been around." In her first year as president, her main focus is to keep the community informed and spirits high.
The Ganado booster club has found several creative ways to raise money for the program. In addition to t-shirt sales and concessions, old jerseys from years past are sold to Ganado alumni. Ramsey says "They're always a big seller. Past Ganado Indians come back and look for their number." Unfortunately, the booster club's biggest fundraiser, the Fall Kickoff, was cancelled due to Hurricane Harvey. However, the Ganado community's resolve will make it past any obstacle. "It's felt like I've lived here my entire life. Ganado is always there for us. It's always family." The booster club is there for all Ganado Indians, not just football. Ramsey states "Ganado Indians a tribe. When one falls, we all fall." The boosters bought new uniforms for the volleyball team last year, and have also set up a scholarship fund for the student athletes at Ganado High.
The support the booster club gives Ganado goes far beyond monetary help. Ramsey says "We try to do more than raise money. We wear silly shirts for our kids, we write on their car windows. We want the team to know we have their backs at all times. Every game, every play, every tear, every scream." In addition, the team moms bring Gatorade and frozen grapes during two-a-days in the scorching Texas summertime. That support is shown by the entire Ganado community. "We have a small town of 2,000 and on Friday night you bet those 2,000 are in the stands."
---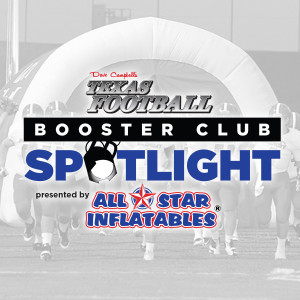 Special Message from All-Star Inflatables:
Every sports team wants to run through an inflatable, but how do they afford them?
Teams have been using inflatable entrance tunnels, helmet replicas, and larger than life mascots for over 25 years. The number one question is "How do they afford them?" It's simple…Stop looking at the cost and look at how much money your sports organization can raise with our team entrances. 
Many schools purchase their inflatable entrance with local business funds. During the manufacturing process we sew velcro on each side of the tunnel or archway, then the teams can sell to their local companies signage spots to provide revenue.  The benefit to velcro is this sponsor spot can be sold year after year to not only help pay for your inflatable, but also aid in purchasing power for other necessities such as weight room equipment, headsets, and new team equipment.  
As the teams come roaring out on the field in front of thousands of fans; both at home and away; your team sponsors will be highlighted every week. With this kind of attention every business owner will do anything to have there name on the inflatables. This is how even our smallest organization can afford an incredible team entrance.
This article is available to our Digital Subscribers.
Click "Subscribe Now" to see a list of subscription offers.
Already a Subscriber? Sign In to access this content.