The football booster club at Wichita Falls High School is providing the needs for the team's players and coaches. Jennifer Hudson embraces her role as president, and says the little things make the biggest impact. She likes boosting player morale with a snack or meal before the game. It's one of the ways the booster club meets everyone's needs. Wichita Falls has three high schools, so money is tight at the school she serves. The booster club has its budget, but parents provide additional funds. One of the team's needs is laundry detergent. It might seem like a simple need because some schools will take this for granted, but it's something the Wichita Falls' football team relies on, and the booster club needs to meet it.
This is year two of Hudson's presidency, and year four of her booster club tenure. Previously, she ran merchandise sales, and held the president-elect position. The booster club hosts a golf tournament every spring, and it's been going on for over 20 years. The school's football players and coaches run the different activities at the event. The list includes longest drive, longest putt, hit a golf ball with a baseball bat, and sometimes a skeet shoot.
The school is rich with tradition, and the booster club has a hand in the biggest event of the year. Berkeley Breakfast is a breakfast and parade that happens before the rivalry football game against Rider. The band plays and leads the parade, with different school organizations and sports teams participating. It is not a booster funded event, but every booster club participates in it. It's parent-driven because the school does not run it. Every member of the freshman, JV and varsity teams are on site, and they decorate trailers. The booster club pays for its trailers and decorations.
---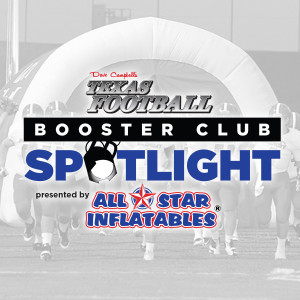 Special Message from All-Star Inflatables:
Every sports team wants to run through an inflatable, but how do they afford them?
Teams have been using inflatable entrance tunnels, helmet replicas, and larger than life mascots for over 25 years. The number one question is "How do they afford them?" It's simple…Stop looking at the cost and look at how much money your sports organization can raise with our team entrances. 
Many schools purchase their inflatable entrance with local business funds. During the manufacturing process we sew velcro on each side of the tunnel or archway, then the teams can sell to their local companies signage spots to provide revenue.  The benefit to velcro is this sponsor spot can be sold year after year to not only help pay for your inflatable, but also aid in purchasing power for other necessities such as weight room equipment, headsets, and new team equipment.  
As the teams come roaring out on the field in front of thousands of fans; both at home and away; your team sponsors will be highlighted every week. With this kind of attention every business owner will do anything to have there name on the inflatables. This is how even our smallest organization can afford an incredible team entrance.
This article is available to our Digital Subscribers.
Click "Subscribe Now" to see a list of subscription offers.
Already a Subscriber? Sign In to access this content.