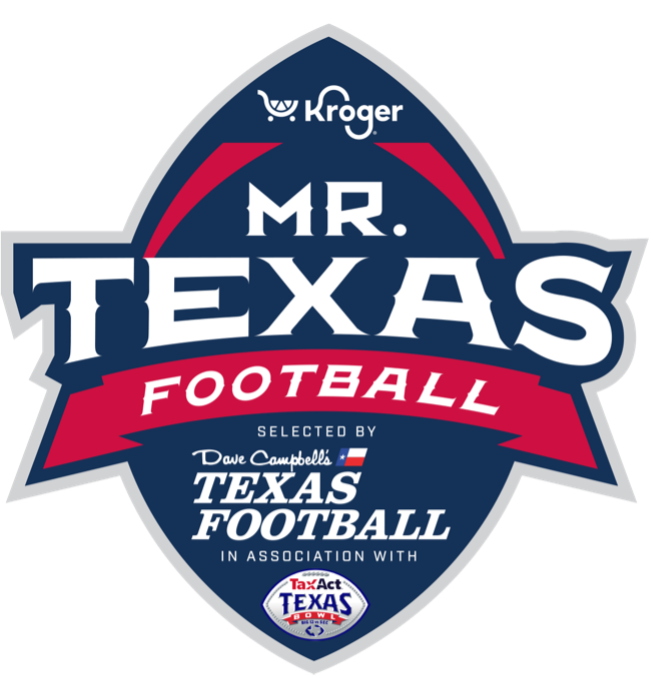 HOUSTON – Dave Campbell's Texas Football, the leading publication for all things football in Texas, and the TaxAct TaxAct Texas Bowl proudly announce the 100-player watch list for the Mr. Texas Football High School Player of the Year Award presented by Kroger. The voters, when appropriate, will add players to the watch list.
Mr. Texas Football annually recognizes the most outstanding high school football player in the state of Texas. Each week, fans are given a chance to vote for the player of the week on TexasFootball.com. At the end of the high school football season, 10 finalists will be named. Fans can then cast their vote as to who should be named Mr. Texas Football. The winner of the 2023 Mr. Texas Football Award presented by Kroger will be announced prior to the TaxAct Texas Bowl, which will be played at NRG Stadium on Wednesday, Dec. 27, 2023.
Current players on this year's watch list include:
Duncanville DL/LB Colin Simmons
Lake Belton WR Micah Hudson
Silsbee WR Drelon Miller
Conroe Oak Ridge LB Justin Williams
Timpson ATH Terry Bussey
Waco Connally DB Kobe Black
Willis QB DJ Lagway
Midlothian WR Bryant Wesco
Longview RB Taylor Tatum
Former winners of the award include 2018 Heisman Trophy winner and No. 1 overall pick QB Kyler Murray (2013 and 2014 winner, Allen), 2012 Heisman Trophy winner QB Johnny Manziel (2010 winner, Kerrville Tivy), former Texas Longhorns RB Johnathan Gray (2011 winner, Aledo), former Tampa Bay Buccaneers RB Jacquizz Rodgers (2007 winner, Lamar Consolidated), current Ole Miss Rebels QB Spencer Sanders (2017 winner, Denton Ryan) and former Dallas Cowboys QB Garrett Gilbert (2008 winner, Lake Travis). Timpson's Terry Bussey took home the award in 2022 and makes another appearance on this year's Top 100 watchlist.
For more information on the Mr. Texas Football Award, visit TaxActTexasBowl.com or TexasFootball.com.
About the TaxAct Texas Bowl
The TaxAct Texas Bowl is owned and operated by ESPN Events and managed locally by Lone Star Sports & Entertainment. The Bowl annually showcases teams from the Big 12 and the SEC, two of the country's premier athletic conferences. Through the years, the TaxAct Texas Bowl has been a tremendous success both on and off the field. Since 2014 the game is the most attended Bowl in the country outside of the "New Year's 6" games. The bowl has also generated an average of $40 million annually for the Houston economy and has contributed over $2.4 million in financial support to DePelchin Children's Center, The Bowl's official charitable beneficiary and one of the oldest children's organizations in the city.
About Dave Campbell's Texas Football:
For more than 63 years, Dave Campbell's Texas Football has been "the bible" to millions of football fans across the Lone Star State. The annual summer edition of the magazine remains a rite of passage for all Texans, previewing every football team in the state — from the rabid world of Texas high school football, through the college ranks, and into the Dallas Cowboys and the Houston Texans. Over the course of six decades, Dave Campbell's Texas Football remains the undisputed leader in Texas high school football, Texas college football and more.
TexasFootball.com is the online home of Dave Campbell's Texas Football, covering high school football, college football and recruiting across the Lone Star State. From thought-provoking commentary to videos to podcasts to its daily live show, nobody covers football in Texas like TexasFootball.com.
Full 2023 Mr. Texas Football Player of the Year
Top 100 Watch List
Abbott LB Joey Pavelka
Albany RB Adam Hill
Aledo LB Dahvon Keys
Aledo QB Hauss Hejny
Allen DL Zina Umeozulu
Austin Vandegrift OL Blake Frazier
Austin Vandegrift WR Miles Coleman
Bay City DL Carlon Jones
Baytown Christian SB Braydon Anderson
Beckville ATH J'Koby Williams
Bellaire Episcopal DB Breylan Thompson
Benjamin ATH Grayson Rigdon
Beuamont United OL Weston Davis
Boerne LB Hutson Hendrix
Canadian QB Camren Cavalier
Center RB Kaden Dixon
Chapel Hill RB Rickey Stewart
China Spring QB Cash McCollum
Clear Lake ATH Hunter Moddon
Collinsville QB Logan Jenkins
Columbus LB John Schobel
Conroe Oak Ridge LB Justin Williams
Cy-Fair QB Trey Owens
Daingerfield ATH Aeryn Hampton
Dallas Carder RB Kaeden Landry
Decatur RB Nate Palmer
Denton Guyer ATH Eli Bowen
Denton Guyer WR Josiah Martin
DeSoto QB DJ Bailey
Duncanville DL/LB Colin Simmons
Duncanville RB Caden Durham
Forney DB Aaron Flowers
Fort Bend Hightower RB Jeremy Payne
Fort Bend Hightower WR Zion Kearney
Fort Worth All Saints RB Reid Watkins
Fort Worth Covenant Classical DL Luke Evans
Franklin RB Jayden Jackson
Frisco Emerson QB Michael Hawkins Jr.
Frisco Reedy OL Max Anderson
Frisco Wakeland QB Brennan Myer
Fulshear RB Davion Godley
Glen Rose WR Camden Raymond
Godley RB Landon Thigpen
Gunter DB Colin Peacock
Hawley WR Diontay Ramon
Hooks RB Keyshawn Walls
Houston St. Thomas RB Johann Cardenas
Hutto QB William Hammond
Ingleside WR Jaydon Smith
Jacksboro QB Lando Belcher
Jasper LB Ty'Anthony Smith
Katy Paetow DL Loghan Thomas
Katy Taylor TE Ian Flynt
Klein Forest WR Jelani Watkins
Lake Belton DB Selman Bridges
Lake Belton WR Micah Hudson
Lancaster DB Corian Gipson
Lancaster RB Kewan Lacy
Lewisville DB Jaydan Hardy
Lexington ATH Joseph Kerr
Lindale OL Casey Poe
Longview Pine Tree DL Deayln Evans
Longview RB Taylor Tatum
Loraine RB AJ Williams
Lorena WR Jadon Porter
Lovejoy LB Payton Pierce
Lovejoy WR Parker Livingstone
Lufkin RB Kedren Young
Mart RB JD Bell
McKinney DB Xavier Filsaime
Melissa DL Nigel Smith
Melissa TE Gunnar Wilson
Midlothian WR Bryant Wesco
Montgomery Lake Creek RB Tyvonn Byars
Mount Vernon DL Boone Morris
Odessa WR Ivan Carreyon
Parish Episcopal DL Caleb Mitchell Irving
Parish Episcopal QB Sawyer Anderson
Pleasant Grove ATH Jaylen Boardley
Port Neches-Groves ATH Shea Adams
Price Carlisle ATH Clayton Hart
Refugio LB Kaleb Brown
Refugio RB Ernest campbell
Richland OL Daniel Cruz
San Antonio Veterans Memorial RB James Peoples
San Antonio Warren QB Antonio Meza
San Benito ATH Fabian Garcia
Sharyland Pioneer QB Julian Valdez
Silsbee WR Drelon Miller
South Oak Cliff LB Brandon Jones
Sunray QB Armando Lujan
Taft QB JJ Acosta
Timpson ATH Terry Bussey
Tolar RB Peyton Brown
Tyler ATH Derrick McFall
Victoria West ATH Kamauri Montgmoery
Waco Connally DB Kobe Black
Westbrook QB Parker Matlock
Willis QB DJ Lagway
Wolfforth Frenship QB Hudson Hutcheson
This article is available to our Digital Subscribers.
Click "Subscribe Now" to see a list of subscription offers.
Already a Subscriber? Sign In to access this content.