Mike Leach was in Houston staying with a friend a few houses down from Dana Holgorsen during the first week of December in 2022. That historically meant a party was in the cards for the two old friends. Holgorsen first met Leach while playing wide receiver at Iowa Wesleyan in 1990 when Leach worked for head coach Hal Mumme. They both enjoyed throwing the football, scoring points, and having a good time.
But this time was different.
"The old Leach would've been knocking on my door at 2 a.m. each night that he was here," Holgorsen said. "He had quit drinking over the summer and during the season. He was here in for health reasons."
Holgorsen meant to stop by the mutual friend's house that Leach was crashing at before Leach headed back to Mississippi to prepare his Bulldogs for a bowl game against Illinois, but a recruiting visit held Holgorsen up. Leach was admitted to a hospital in Jackson, Miss. on Dec. 11 and passed away the next day at age 61 from "complications due to a heart condition."
Leach won't be physically at TDECU Stadium on Saturday when TCU faces Houston in the Cougars' first Big 12 tilt. But he'll be there in spirit, and influence. The two head coaches – TCU's Sonny Dykes and Houston's Holgorsen – wouldn't be roaming these particular sidelines if it wasn't for Leach's effect on their careers.
Leach famously stormed into the Texas Tech offices in his first year on the job in 2000 and saw his assistant coaches doing nothing. Dana Holgorsen and Sonny Dykes were two of his first hires after securing the head coaching job in Lubbock, and now he needed them to go find him some players for the Air Raid offense about to overtake the Big 12.
"We weren't exactly sure what to do," Dykes remembers. "We were just talking ball and getting our feet wet, and here comes Mike with this big map telling us where to go find him some players."
Leach took out that map and pointed at Houston and told Holgorsen to go there. He then pointed at the DFW metroplex and told Dykes to go there. And they did. Over 20 years later, the two are still there ahead of the Week 3 game between TCU and Houston – the first Big 12 game for the Cougars.
"The irony of him there and me here, goes back to Texas Tech," Holgorsen said. "That became our recruiting areas. I recruited Houston for eight years and Sonny recruited DFW for six before he went on to Arizona."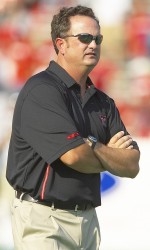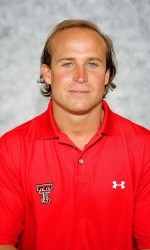 Photos via Texas Tech Athletics
Both Dykes and Holgorsen list Leach as one of the main influences, on and off the field. Holgorsen first met him as a player in 1990. Dykes met him as a GA working for Leach at Kentucky in 1997 with, you guessed it, Mumme as the head coach.
The trio united in Texas Tech when Leach hired the duo in mid-December of 1999. Holgorsen coached inside wide receivers. Dykes oversaw the outside receivers. The offense went on to set records and redefine offensive football at every level.
"I would argue he impacted football more than any human being alive because of how much he changed things at all three levels of play – high school, college, and the pros," Holgorsen said. "You can't watch a game at any level and not see his influence."
That influence came full circle in the same month as Leach's passing. That December, Dykes led TCU to the College Football Playoff. The news came a week before Leach died. The Horned Frogs' win over Michigan in the Fiesta Bowl on Dec. 31 capped off a trying month for the Air Riad community with arguably its biggest success. Dykes was the first offensive coach from the Air Riad tree to be a head coach in the FBS national championship game when TCU faced Georgia.
"Mike was on my mind a lot," Dykes said of that two-game journey in the College Football Playoff. "He would've gotten a kick out of it. I hated it for Mike because he would've been proud."
The air raid offense may no longer exist in its purest form preferred by Leach and Mumme in the modern game, but their fingerprints remain everywhere. From Lincoln Riley to Kliff Kingsbury to Ken Wilson. From Sonny Cumbie to Neal Brown to Josh Heupel.
Just look at the state of Texas. There were 12 FBS programs in the Lone Star State during the 2022 season. A third of those jobs were taken by Leach disciples with Holgorsen (Houston), Dykes (TCU), Dave Aranda (Baylor), and Seth Littrell (North Texas). Former Texas State head coach Jake Spavital is a pupil of Holgorsen, so essentially five of the 13 head coaching jobs in Texas were filled by the Leach Tree. North Texas replaced Littrell with Eric Morris, who played wide receiver at Texas Tech under Leach.
"It worked great for us for two decades," Holgorsen said. "It don't work anymore. Everyone has changed and evolved. We take bits and pieces of it to make it our own. A lot of us jokingly got kicked out of the Air Raid club because we started running the ball or using a tight end or relying on motion. But it is still part of us. And it is a big part of football."
This article is available to our Digital Subscribers.
Click "Subscribe Now" to see a list of subscription offers.
Already a Subscriber? Sign In to access this content.