Take a 30,000-foot view of college football and a troubling trend becomes clear – it is a predominately minority sport coached, at least in the true "leadership" positions, by whites. Black players outnumber white players in college football at the Division I and Division II level, but the pace of participation has not adequately translated to head coaches and coordinators. Black players accounted for 49 percent of Division I players from 2011 to 2020, according to the NCAA database.
Take the state of Texas. Sam Houston's transition into the FBS ranks means the Lone Star State is home to 13 such programs – more than any other state. Of the 130 on-field assistants across those 13 programs, 55 are Black, which accounts for over 43 percent. Add in other minority coaches such as Rice offensive coordinator Marques Tuiasosopo, Houston offensive line coach Eman Naghavi, UTEP offensive coordinator Scotty Ohara, and TCU safety coach Paul Gonzales, and the number of on-field assistants surges past 45 percent. Over half of the on-field assistants at the six Power Five schools are minorities.
"There is a lot more diversity on staffs than when I started in the profession," said Rice defensive coordinator Brian Smith. "There used to be maybe two or three minorities on a staff. Maybe. Now, it doesn't feel so lopsided."
The fact that nearly half of all FBS staffs in Texas are minorities is a great step forward – one that is in line with the racial dynamics on the football field. The issue arises when we examine where Black coaches are placed. Baylor head coach Dave Aranda is the only minority head coach at the FBS level in Texas. Zero of the 13 head coaches in Texas are Black. Only three of the 13 schools have ever hired a Black man to be the head coach. Only two of the 26 coordinators in Texas are Black, and only four of 26 are minorities.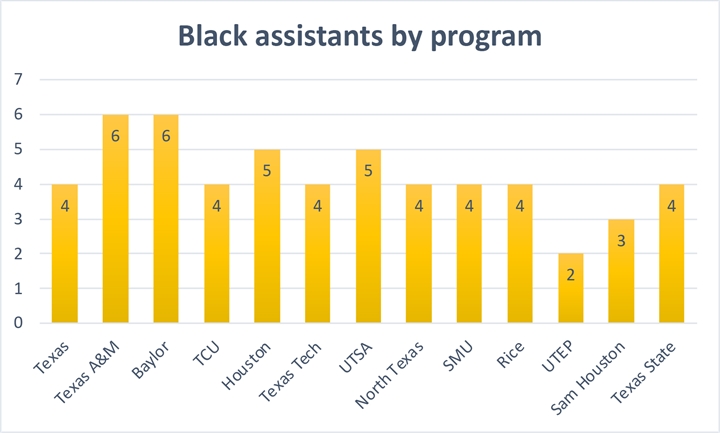 A quick step behind the Dave Campbell's Texas Football Magazine curtains: We build the summer magazine each April and my job is to visit each FBS campus, do interviews, and then write the sections. I hope to speak with the head coach, both coordinators, and two players. My 2023 Texas Tour began in with a stop at Rice on a Tuesday afternoon and Houston on Wednesday morning. When I concluded my interview with Cougars defensive coordinator Doug Belk, I never sat down with another Black coach because him and Smith are the only two in Texas.
Human nature is to surround ourselves with people we're comfortable with – and a lot of times those people tend to look like us. In sociology, it is called the Mini-Me Syndrome. An unconscious bias that extends beyond college football and America. The athletic directors are white. They, along with predominately white boosters, hire white head coaches who, naturally, hire the people in the business that they know best – other white coaches. Hiring a running back of defensive line coach you don't know personally before the job interview is one thing. Entrusting the offense or defense to a coordinator outside of your bubble? That's a tougher sell.
"You'd be surprised with how few Black guys some of these white coaches know," one Black assistant in Texas told me. "It's easier to trust a position group to a coach you don't know well than it is to hire a coordinator you just met."
The path to becoming a head coach normally includes an apprenticeship as a coordinator along the way. Eleven of the 13 head coaches in Texas were offensive or defensive coordinators before becoming head coaches. The two who jumped over that step – Jeff Traylor and Joey McGuire – won multiple Texas high school state championships before moving to college as associate head coaches. Nine of the 13 head coaches in Texas were offensive coordinators.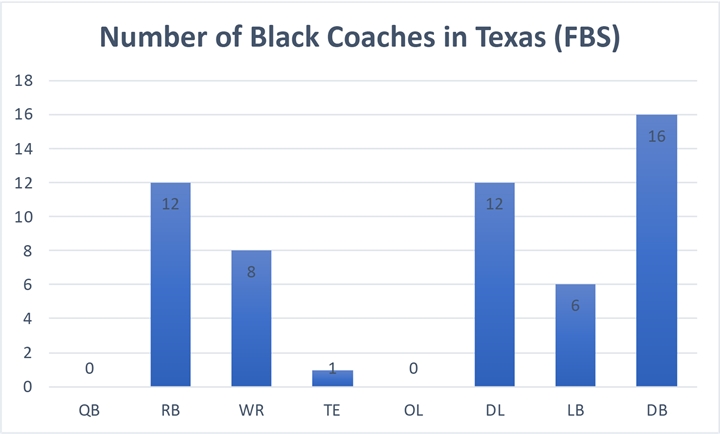 So, the simplest way to fix the issue is to elevate more Black assistants into offensive coordinator roles. The problem? Only 21 of the 55 Black assistant coaches in Texas were on the offensive side of the ball. Twenty of those 21 coached either running backs or wide receivers. Most offensive coordinators cut teeth as quarterback or offensive line coaches. There isn't a single Black quarterback or offensive line coach in Texas. Even former star quarterbacks like Barrick Nealy and Marquel Blackwell work with running backs rather than quarterbacks.
"We need to continue to put minority coaches into real leadership positions as coaches and administrators in order to change those statistics," Belk said. "I give credit to coaches like Dana Holgorsen and Mike Bloomgren because they purposely elevate coaches who maybe don't look like them or come from the same background or tree."
Enter Archie McDaniel and the Minority Coaches Advancement Association. McDaniel is the president and the linebacker coach at Houston. For the last few years, McDaniel has helped organize mock interviews for prospective minority candidates on the cusp of becoming head coaches – like Belk. Marcus Freeman was the first success story. Maryland offensive coordinator Josh Gattis and Florida State offensive coordinator Alex Atkins have also gone through the interview process.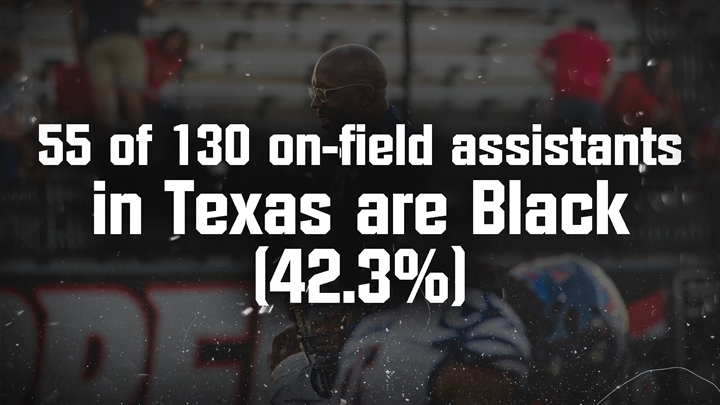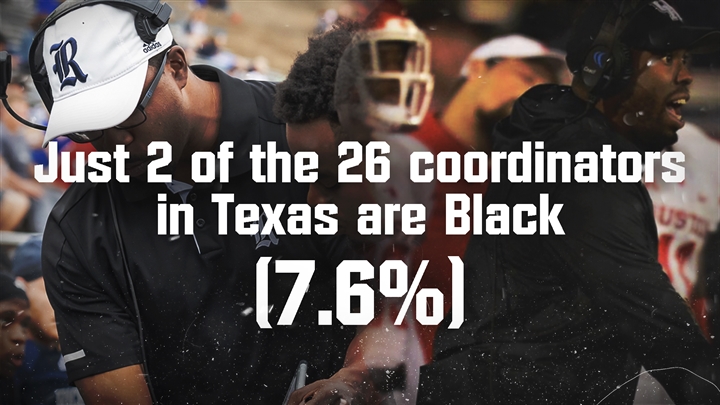 "The things I hear from those leaders is that minority candidates don't have organizational skills or executive presence," McDaniel said. "Our goal is to bring awareness to the issue and to create an opportunity for people to gain knowledge – on both sides of the hiring process."
The Lone Star State was home to three Black head coaches at the FBS level not to long ago. Kevin Sumlin was a head coach at Houston and Texas A&M from 2008 through 2017. Charlie Strong became the head coach of the University of Texas in 2014. Frank Wilson was named the second head coach in UTSA history back in 2016. Strong and Wilson combined to go 35-50 as head coaches in Texas. Sumlin did much better, especially in Houston, but a near .500 record in the SEC and a dip after Johnny Manziel cost him his job.
While some athletic directors could see their stories as circumstantial evidence, we'd run out of candidates in a hurry if a race was excluded based on failures as a head coach. Texas fired the guy after Strong, too. At a school with the funds and expectations of Texas A&M, every coach is on borrowed time eventually. That's the life of a college football coach. The goal is to stock the ponds with a proportionate pool of candidates.
McDaniel works with a few current athletic directors to create a hiring scenario. The prospective candidates such as Belk then go through the interview process and receive feedback from the people doing the hiring. McDaniel even strategically places certain candidates in front of ADs that might be hiring for that position in a year or two.
The trend trickles beyond the FBS ranks. Take away SWAC programs Texas Southern and Prairie View A&M and there are only two Black head coaches in Texas. And one of them – SAGU head coach Greg Ellis – played NFL football up the road for the Dallas Cowboys. The other is Kilgore Junior College head coach Willie Gooden. Texas is home to 47 college football programs. Only five employ a minority head coach, and two of those are HBCUs. Of the 141 possible head coaches and coordinators at those schools, fewer than 30 are Black.
"It is hard to see the numbers and not be discouraged," McDaniel said. "The goal is to get people to listen. Just simply look at the data and have a conversation. The numbers are one-sided and it is hard to not see it as intentional."
This article is available to our Digital Subscribers.
Click "Subscribe Now" to see a list of subscription offers.
Already a Subscriber? Sign In to access this content.