In our latest offseason look at the landscape in Texas High School Football, Dave Campbell's Texas Football names head coaches across the state of Texas who we feel are fast-risers in the coaching ranks.
We limited this list to current head coaches who have three or fewer seasons of experience at the varsity level in Texas as a head coach.
Did we leave anyone off? Let us know!! E-mail us at matt.stepp@texasfootball.com
Ben Bitner, Corpus Christi Veterans Memorial
In just two seasons leading Veterans Memorial, Coach Bitner has posted an impressive 24-5 overall record. After taking over for Cody Simper before the 2021 season, Bitner has kept the Eagles as the top team in the Corpus Christi area posting back-to-back 12-win seasons and a regional title in 2022. Bitner is a former walk-on at Texas A&M. Stories of his toughness are legendary and the Eagles grit and fight definitely reflects Coach Bitner's personality.
In three seasons leading Granger, Brosch's teams have gotten progressively better each season. After an 8-3 year in 2020, the Lions improved to 11-1 in 2021. Then in 2022, Granger posted an 11-3 record and advanced to the regional finals.
Trey Bryant, Richardson Berkner
Bryant, who came to his alma mater as head coach in 2021, is a former football player at Baylor and brings energy and passion to the place where he once starred. After a stint as an assistant coach at McKinney, Bryant took over a Berkner program that in the previous 10 years had nine losing seasons and he's led the Rams to the playoffs in 2021 and 2022.
Codutti, a native of Philadelphia, came to Texas and was an assistant coach at Beaumont West Brook and Tomball where he made a name for himself as a great young offensive mind. After going 5-6 and losing in the first round of the playoffs in 2021, Codutti's Fulshear squad broke through in his second year with an 11-2 mark and trip to the regional semifinals.
Gates, a native of Shiner, spent time as an assistant at Amarillo Palo Duro and Cedar Hill before being named head coach at North Crowley last March. In his first year at the helm for the Panthers, North Crowley broke through with a 12-1 mark, advancing to the 6A Division Regional Semifinals.
Laster, who spent several years in Frisco as an assistant, came to long-struggling Waco University where the Trojans went 0-10 in 2021. But they rebounded with one of the real feel-good stories in the state posting a 6-6 record and a bi-district playoff win in 2022.
Reyes, the son of long-time head coach Bobby Reyes, has made a name for himself in the Golden Triangle posting a 17-7 mark in two seasons. After going 6-5 in 2021, Reyes' Raiders posted an 11-2 mark in 4A-Division I and spent a good chunk of the season in the state rankings.
Reynolds took over for the late Jimmy Thomas before the 2020 season and he's kept the Falcons among the elite in the Texas Panhandle posting a 28-8 record in three seasons, including an impressive 11-2 mark and a trip to the regional semifinals in 2022.
Tolleson, a native of nearby Corsicana, took over a Waxahachie program back in 2021 that many felt was a sleeping giant in the DFW area. After going 6-5 and sneaking into the playoffs in his first year, Tolleson's Indians took off in 2022 going 10-3 before falling in a heartbreaker to Spring Westfield in the regional semifinals.
Morton made a big impact in Northeast Texas in his first season leading the Rabbits after crossing state lines from Arkansas in the offseason. He took over an Atlanta sqaud that hit rock bottom in 2021 going 0-10 and immediately orchestrated a huge turnaround to 7-4 in 2022.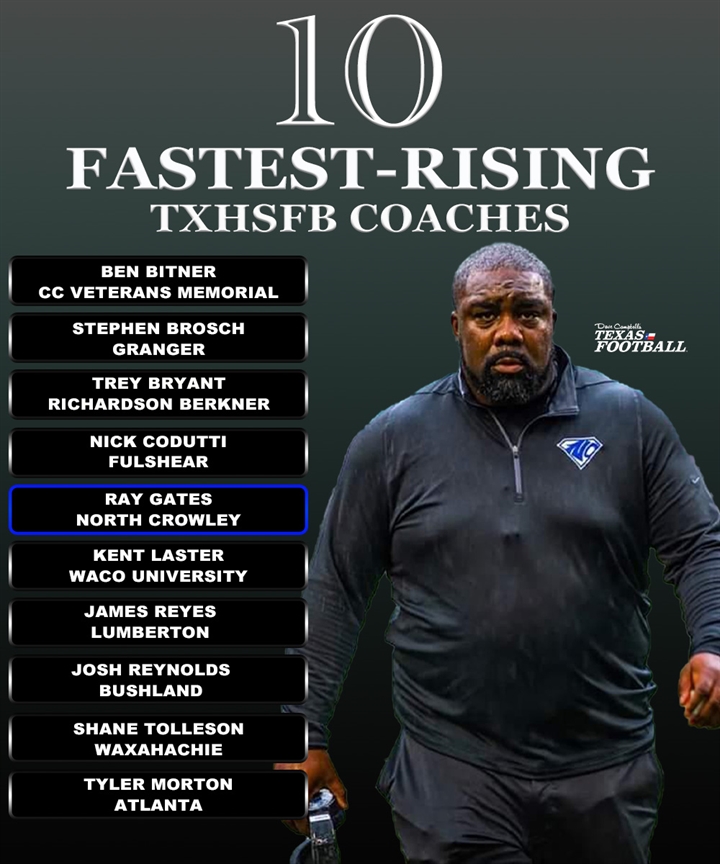 This article is available to our Digital Subscribers.
Click "Subscribe Now" to see a list of subscription offers.
Already a Subscriber? Sign In to access this content.