DeSoto captured the 6A Division II state crown featuring top-rated 2023 prospects like five-star WR Johntay Cook II (Texas Longhorns), but the future is bright as the program returns an abundance of talented prospects who will help lead the team onto the field with an eye on making it back-to-back.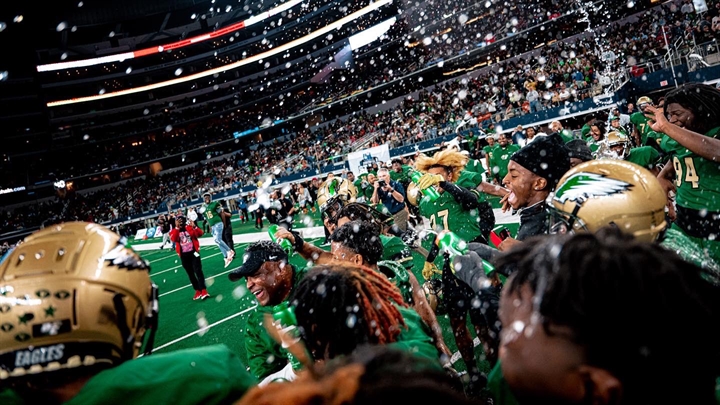 Class of 2024
QB Darius "DJ" Bailey (5'10, 190): Bailey had a highly productive junior season, completing 67% of his passes for 3,840 yards and 45 touchdowns while only throwing two interceptions. He more than makes up for what he lacks in height with arm strength, accuracy, and leadership qualities. Austin Peay has offered, and McNeese State is showing love. It is a tremendous year for in-state talent at the quarterback position, but FBS and FCS colleges should not sleep on Bailey, who possesses a state championship pedigree and an arm cannon.
LB Brandon Booker (6'2, 205): Booker was highly productive in 2022, averaging 8.5 tackles per game. He will fill a hole and hit you, but he can also play in space and cover the pass. He has a knack for creating turnovers, as he collected four interceptions. Booker's versatility should afford him the ability to succeed in any style of defense, and his offer list reflects that, as he has colleges from five different conferences that have extended offers: Auburn, Baylor, Colorado, Florida State, Houston, LSU, Missouri, Oklahoma State, Texas Tech, Toledo.
CB Mario Buford (6'0, 170): Buford had the best footwork at a loaded Under Armour Camp in Dallas last spring, taking home DB MVP honors. He backed up his strong showing on the camp circuit with a tremendous season on the field—a lockdown corner with long arms and the ability to hang tight with quick receivers. The DCTF four-star is the younger brother of Nebraska DB Marques Buford. The Huskers have offered alongside a bevy of other programs like Oregon, Washington, Penn State and Michigan State.
OL Ronnell "Snacks" McClain (6'4, 305): The returning leader on the Eagles' o-line, McClain has experience playing right and left tackle. Possessing a strong lower half, his long-term home could be inside as a guard at the next level. He can bully at the point of contact, and his experience as a pass blocker may suit him well in an offense that features the pass and run in equal doses. McClain holds offers from UTSA and Austin Peay.
OL David Russell (6'9, 400): It is hard to miss this giant who moved to Texas from Indianapolis (Cathedral High School). Russell camped at Alabama last year and was invited to the Rivals Camp Series.
Other Names to Know: OL Leon Brigham (6'1, 310), K Angel Diaz (6'0, 165) DT Jason Douglas (6'2, 275), RB Marvin Duffy (5'8, 190), OL Dylan Johnson (6'3, 275), RB Jaylin Jones (5'8, 170), LB Jamaryi Laye (5'9, 205), DB Makali McKellar (5'9, 165), LB Davon Newman (5'11, 205), DB Akeem Rashsaan (5'9, 150), RB Jaden Trawick (5'10, 205), DB Andre Wisner (5'11, 170)
Class of 2025
S Sael Reyes (6'2, 180): Reyes moved to Texas from East St. Louis, where he caught the eye of many colleges because of his size, range, and ability to force turnovers. He is not the guy you want to test in the middle of the field. DeSoto will look to Reyes to soften the loss of key secondary members like Jaden Milliner-Jones (Colorado) and Caimon Mathis. The younger brother of Texas A&M DB Antonio Johnson has offers from Texas A&M, Arkansas, Illinois, Miami (FL), Missouri, Nebraska and more.
RB Deondrae "Tiger" Riden (6'0, 185): Riden was the rushing leader on a team that featured Texas signee Tre Wisner, rushing for 1,354 yards and 18 touchdowns. The DCTF four-star sees the hole quickly and wastes little time gashing defenses, and has the moves and the tackle-escaping ability to make defenders miss at the second and third levels. Riden is closing in on 20 offers, with colleges like Baylor, TCU, Texas A&M, Texas Tech, Miami (FL), Michigan, Nebraska, Oregon and USC stepping up.
WR Daylon Singleton (5'11, 165): With the top five most productive receivers moving on to college, the Eagles will look to reset the receiving corps with this twitchy 2025 prospect. Singleton is an impressive open-field runner who thrives in space. He has been on the radar for a long time, as he was a star in middle school and at the sub-varsity level before getting called up to the varsity team in 2022. He has been tracked at 21 MPH in the pads. Despite limited snaps, Singleton already owns a double-digit offer list (Arizona, Arkansas, Louisville, Miami (FL), Ole Miss, Oregon, Pittsburgh, SMU, Texas Tech, Utah), which says everything about his upside.
OL Byron Washington (6'8, 365): Washington did not get on the field much in 2022 because he was overcoming an injury, but he has been putting the work in this offseason to develop into a force up front. You can't coach size; this young man has plenty of it.
Other Names to Know: DE/OLB Keylan Abrams (6'1, 205), QB Armirie Hall-Williams (5'9, 165), DT Marshall Kirven (5'8, 275), DB Canden Mathis (5'9, 155), DB Jai Trawick (5'11, 165), OL Vincent Williams (6'3, 320)
Class of 2026 & 2027
ATH Ethan "Boobie" Feaster (6'1, 170): The 2027 prospect is already a known name in recruiting circles and will likely get a serious look to compete at the varsity level. Feaster earned a lot of attention following a strong performance at a Texas A&M camp in the 7th grade, and he earned an offer from TCU after posting a 4.6 40-yard dash and showing great control of his routes at the TCU DFW Showcase as an 8th-grader in 2022. Arkansas State, Louisville, Ole Miss, SMU, Texas Tech, Austin Peay, Morgan State and UIW have also offered.
Other Names to Know: DT JaDen "Big Red" Randle (5'11, 305), WR Antron Edmundson (6'0, 165)
This article is available to our Digital Subscribers.
Click "Subscribe Now" to see a list of subscription offers.
Already a Subscriber? Sign In to access this content.