Shannon Reed's voice quickens in cadence with each second that counts down on the south end zone scoreboard. She's never been prone to pregame jitters, not when she played collegiate basketball or in two decades coaching high school athletes. But tonight, she's nervous.
She lets out a sharp exhale and paces along the sidelines as the clock ticks under five minutes. When it hits 0:00, the Austin Crockett High School football team will play for a share of the District 12-5A DII title. Yes, the same Crockett Cougars with one playoff win in the program's 50-year history, but who at 6–3 have secured their first winning season since 2008 and can wedge themselves into a three-way tie for first with a win tonight.
And no one gives them a snowball's chance in hell to do so.
Crockett's five-game win streak constitutes a miracle season. Their opponent, Austin LBJ, is a machine. Coming off a 15–1 season, the Jaguars are on a five-game winning streak of their own. The average score in those games was 81-3. They are 35-point favorites against the Cougars.
But that's not why Reed is nervous. The Crockett program hasn't listened to the outside noise all season. No one ever expected the Cougars to play in a regular season finale that had playoff implications, much like no one ever expected her to become the only Black female assistant varsity coach in Austin ISD.
She wants a win for these boys, her boys, who started to believe in themselves because coaches like Reed believed in them. Demoni Sutherland, the senior linebacker and captain, hoists an American flag as he leads the team sprinting out of the tunnel. There was Cameron Dickey, who in his first season as the starting quarterback had passed for 1,200 yards and ran for over 1,800 yards with a staggering 28 touchdowns. Jamari Wilson, the dynamic receiver who averaged 26 yards per reception, runs by his side.
The Cougars are a mass of black jerseys as dark as the November sky. In that moment, they own the field.
Until purple smoke wafts into the air.
LBJ saunters down the field with the swagger of a team that won last week's game 96-0, and the week before that 82-0. At the coin toss, the Jaguars' captains tower over Crockett's.
Reed, Crockett's wide receivers coach, stands on the sidelines trying to get a glimpse of the cornerbacks she's game planned against when a small voice interrupts her. Her eight-year-old daughter is stationed at the bottom of the stands, hands pressed up against the chain link railing that she's not quite tall enough to see over. Reed immediately walks over, taking off her stern coaching hat and switching over to mom mode.
"I think it's neat for my daughter to watch Mommy doing this," Reed said. "She's my princess. She'll run around in her little dress with her helmet on and her high heels. So she's all over the place."
Her daughter doesn't know the significance of this game, but that doesn't matter. Reed is an example, a pioneer, but not a token. She is a football coach.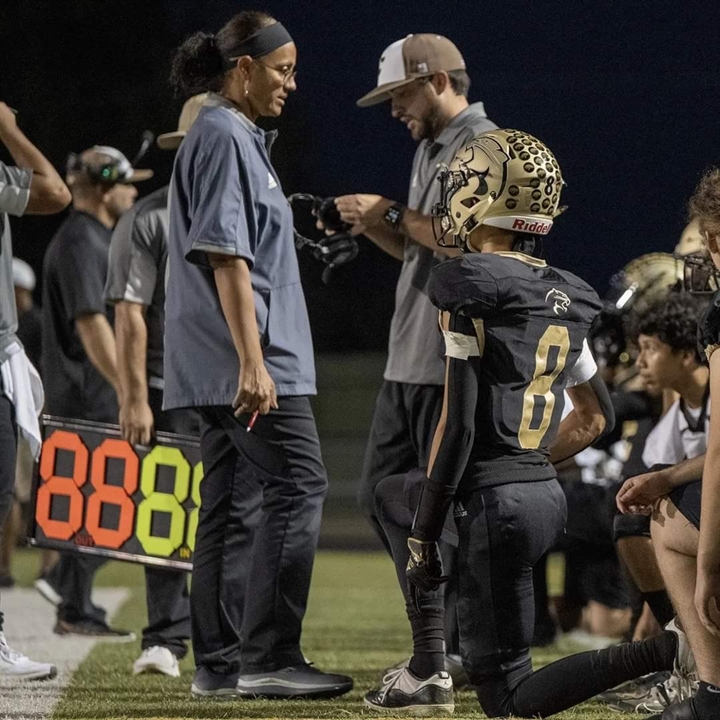 Shannon Reed, then 48, wanted her son to do bear crawls up and down the football field. If he wasn't going to put in the work in the classroom, he was going to do it on the gridiron.
She expected A's from her eldest boy, maybe B's if he put in the requisite effort. Anything less was unacceptable. Jacob, a freshman football player at Crockett High School, was in unacceptable territory.
So Reed sat with Jacob outside Crockett's practice field until head coach Darrick Norton emerged from his office to drive home. With her son standing timidly next to her, Reed implored Norton to give him some grueling conditioning work. Norton was amused. Parents don't normally demand their kid be served an extra dose of hard labor.
But Norton knew Reed wasn't a normal parent. In fact, she was a coach herself at Crockett.
After first playing basketball at Temple Junior College and then earning her math degree at the University of Texas, Reed spent an admittedly unfulfilling decade working as a bookkeeper and in insurance sales. It wasn't until she was 31 years old that she decided to change her career path. She earned an emergency teaching certification and started that August in Killeen, Texas. In addition to being a first time math teacher, she also started coaching girls' volleyball, basketball and track.
"Anytime somebody tells me I can't do something, I go, 'Challenge accepted. Watch me,'" Reed said. "The reason I'm a math teacher is because somebody told me when I was a little girl that girls aren't good at math. I was like, 'Hell no.'"
There was, however, one challenge that she hadn't conquered in her 17 years as a coach and teacher. Reed had asked every football coach at the schools she'd previously worked for to hire her onto their staff.
"I love coaching girls, but I do feel like men and women need to cross," Reed said. "I like when men are involved in women's sports and I like when women are involved in men's sports. I think we need that balance."
Her father coached high school football at Crockett and she'd taken officiating classes in college. She would impress the men when she sat in the football coaches' office and talked strategy. But she always got shrugged off when she asked for a job.
Standing in the parking lot and feeling some momentum from Norton's smile, she went for the dream one more time.
"When he looked at me I was expecting a laugh, because that's what I always got," Reed said. "He'd take it as a joke, because nobody is going to hire me."
Darrick Norton wasn't every other coach.
"Let's talk Monday," he said.
The interview was a formality. Norton needed all the help he could get in that 2020 season.
On the Thursday night before the team's first practice, head coach John Waugh told his staff he was retiring after 23 years. On Saturday, Norton, then the defensive coordinator, was interviewing for the job.
With Waugh's retirement, the team's offensive coordinator of 17 years also departed, as did the trainer of 22 years. Crockett's new defensive coordinator took a waiver on the season due to the COVID-19 pandemic and his elderly status. Norton was left with five coaches total for a Varsity and sub-varsity team, and only one offensive coach. The situation was so dire that nearby Bedichek Middle School had to cancel their football season so their coaches could help out Crockett full-time.
But that dire situation gave Reed the opportunity she always wanted. Two years later she was promoted to Wide Receivers coach along with her Special Teams Coordinator duties.
And Jacob, now a junior wide receiver on the Varsity team, hasn't dipped into the unacceptable territory since.
Darrick Norton always had a little motivational phrase to represent a mission the Crockett football team needed to accomplish.
During the grueling summer workouts, the head coach would demand his boys "Plant the Seed", a constant reminder to his players that they were the group who could change Crockett's dismal football culture. It began with pushing weighted sleds for up to 75 minutes at a time.
But on this Thursday morning in the Crockett locker room, with every varsity football player seated in front of him waiting expectantly for a motivational quip they could chew on in the hours before their final regular season game against LBJ, Norton instead spoke from his heart.
"My pride for you makes it hard to speak sometimes," Norton told his team.
That's because the seed Norton had repeatedly talked about in the spring had blossomed into Crockett's best season in over a decade. Now at 6–3, the Crockett Cougars needed one more win tonight to earn a District Championship.
"You've earned some respect in Austin ISD," Norton said. "And really, tonight's game is about earning the respect of the state."
Crockett offensive coordinator Hector Gloria didn't feel that respect yet. He actually had people asking him if the Cougars, with a playoff berth assured, would rest their starters to avoid injury in a predictably lopsided game. That mindset reminded him of a program they'd worked all season to transform.
"I'm telling you, that's what the old Crockett was like," Gloria said. "Nobody played to win the game. The difference between this team and the old teams, is that this team actually wants to play LBJ. In the past, everyone was just trying to survive."
Just as the testosterone levels in the meeting reached their peak, the only female in the locker room cut through it with her trademark stern tone. Shannon Reed sat on a chair, eye to eye in front of the players, and didn't raise her voice. She didn't need to. All of the boys were already hanging on every word.
Now, Reed needed her boys to know the coaches didn't share the same opinion as all the outsiders who followed the district.
"There's a difference between having a winning mentality and having a 'keep from losing' mentality," Reed said. "Tonight you gentlemen need to keep a winning mentality. Know that we can win this game when we come together."
Every single player responded in unison.
"Yes, ma'am!"
"It's a blessing to have her because our heavy, male-dominated voices sometimes can't penetrate," Norton said. "Whereas a mom's voice and a different tone will resonate with the kids a little better."
...
There's a picture that sits behind Shannon Reed's desk on her math classroom window sill. Before the football player who gave it to her last year graduated, he scrawled a note in black Sharpie.
"To the best school Mom in the world. Thanks for everything, Coach, I love you."
Reed is the first text message a player sends when he's in a pinch.
Cameron Dickey, Crockett's junior quarterback, was running late to Physics class when he realized he didn't have a notebook. With time running out before the bell, the signal caller made the quick decision to text Reed and ask for one.
Reed responded, of course, she had extra notebooks for her students to use. Not two seconds after she hit send, Dickey walked through the door to grab it. He had been camped outside the door already when he texted her because he knew the answer before he asked.
Crockett High School's second mom always comes through.
Her classroom serves as a constant reminder her role transcends coaching . It's the football team's unofficial cafeteria, at least for the guys who don't have a car and the ensuing freedom to drive off-campus for lunch. There's always extra food in the drawers for those who didn't bring any that day, which happens relatively often, as 63% of Crockett's students are economically disadvantaged.
Julian Hipolico, whom Reed coached on the junior varsity basketball team last season, is one of the athletes who spends the period in her room. He always greets his coach with a hug.
"You get a math teacher, a coach and a second mom all in one," Hipolico said. "All that together is heartwarming in a way. It's so special to have her here."
Reed's actual son, Jacob, is sitting in his mom's classroom for lunch today. Two years ago when Reed took him to see Coach Norton and ask for extra conditioning, he was a freshman quarterback on the JV team. Now, as a junior over 6-feet-tall, he's found a home at a new position.
After tearing his meniscus and missing the entire sophomore season, Jacob worked directly with Reed and Gloria, the offensive coordinator, to improve his footwork so he could transition to wide receiver. With Jacob on the outside paired with Jamari Wilson, and Dickey manning quarterback, the Crockett offense has averaged 57.4 points per game in their five-game winning streak.
Reed is now coaching her son just as her father, Don Holland, coached her when she played basketball in elementary school. Before he spent 30 years at Crockett coaching everything from football to golf to cross country, Holland created a girls' basketball league in 1981 at their local YMCA so his daughter could play with girls her age instead of the boys she'd been facing.
Having your mom carry on the family legacy isn't always easy for Jacob, who sometimes gets teased about it. And Reed acknowledges she's a tough mom with high expectations for her son.
"I have to take off my mom hat and put on the coach hat," Reed said. "But sometimes when he does something, I can't help but be mom. Like, 'Boy just wait until we get home.'"
Knowing the situation might be hard on Jacob, Reed sat down with her son and asked him the tough question. Yes, coaching football was her dream, but she made it clear she would step away from the game for Jacob's upcoming senior year if he wished.
Jacob's answer was emphatic.
"I've had a great time in football and with her being with me," Jacob said, "so I don't want to take that away from either of us."
…
Right from the kickoff, LBJ punches Crockett in the mouth.
The Jaguars score in five plays on their first drive, get the touchdown called back due to an ineligible man downfield, and then on the very next play burn Crockett's secondary for a wheel route touchdown pass.
Cameron Dickey, who two weeks ago looked invincible with 259 rushing yards and eight total touchdowns, takes the snap and sprints left, right and center before getting flung to the ground as LBJ's defensive line enjoys a jailbreak every play.
The only reprieve in the onslaught comes early in the second quarter after LBJ running back Sedrick Alexander scores to put the Jaguars up 20-0. The entire game stops as the Jaguars sideline crowds around Alexander to uproarious cheers from the visitors' stands. The senior just broke the Austin ISD career rushing yards record.
And Demoni Sutherland is losing control.
Whereas Sutherland encouraged his teammates with slaps on the helmet after LBJ's first touchdown, now frustration is quickly seeping in. In his mind, the whole reason Alexander just scored was because the Crockett defense was misaligned, having not gotten the strength call in time.
Norton, sensing his senior captain is teetering, grabs Sutherland's shoulders and leads him in taking deep breaths. Within a minute Sutherland's rage is controlled. He's the first one to jog back on the field for special teams, determined to finish out the game.
Sometimes, Sutherland needs a reminder that Crockett's players follow his lead, just as he learned back in the summer with one text message.
…
All Shannon Reed needs to do is text one set of the eyeballs emoji.
A Crockett football player can be certain of two things when receiving that text. He's been caught not doing what's expected of him, and he better give an explanation.
Demoni Sutherland quickly learned that lesson.
This was before Sutherland became a captain for the Cougars, which he earned with a relentless motor as he bounced from outside linebacker to tight end and even long snapper without hardly ever coming off the field. At that point he was a rising senior experiencing the stifling Texas summer heat for the first time after growing up in Michigan.
When Sutherland got up that morning before one of the team's first conditioning workouts, he checked the weather on his phone, saw it was going to be 100 degrees outside and did what any reasonable man acclimated to the biting northern freeze would do.
He skipped.
When the eyeballs text rolled in, he tried to ignore it. Maybe it would go away if he did. But just when he thought he might be in the clear, his phone dinged again.
"So you're not going to text me back?" Reed asked. "I know you saw my message. Ok, I'll see you tomorrow."
It wasn't any cooler the next day, but Sutherland was at the workout. And he would be at all of them until the start of the season when he was named captain.
"She is straight up with you. If you're messing up, she'll get on your ass about it," Sutherland said. "But she's real sentimental too. If you're doing something wrong, she's not going to yell at you about it, she's going to try and pick you up. She's going to try to work you through it more than try to force you through it."
Whereas the other football coaches can scream until they're blue in the face, Reed's voice rarely rises above a normal talking tone. But her message comes across just as clear. Now in her third season with the program, the players know she cares about them, and that's why she'll hold them accountable.
It's also the reason Demoni Sutherland got the eyeballs emoji on that summer morning.
"You'll hear us talking about showing up, and I've never heard that conversation," Reed said. "So now we're like, 'Where are you? You need to contact us. You need to communicate.' To me it's building that culture of holding you accountable, and if something is important enough to you, you're going to do it."
…
Midway through the second quarter, Cameron Dickey drops back on 3rd and 10 and finds his favorite receiver, Jamari Wilson, on a deep crossing route. It's Crockett's first first down they've made, not assisted by an LBJ unsportsmanlike penalty.
The Crockett faithful, desperate for something to cheer for, begins to stand, a sea of black bundled up on a chilly night. Sure, they're down 27–0, but maybe they can make this game interesting before halftime.
Crockett fumbles on the next play.
After the Cougar defense gets a rare stop on 4th down, Dickey gets stuffed at the line of scrimmage once again by three Jaguar defensive linemen. The entire night, he picked himself off the canvas and immediately looked to the sideline for the next play call. But this time, his leg buckles. Crockett's offensive playmaker is out for the game with an ankle sprain.
Somehow, Crockett's night gets worse.
LBJ goes for a long touchdown pass on the next drive. Only the ball is 15 yards overthrown, and Wilson, who doubles as a safety, is standing directly under it for the interception. But as soon as he gathers it, he's walloped by the intended receiver who's had a 40-yard head start. Wilson has a concussion, and just like that two of Crockett's best players are done for the night.
The Cougars' offensive line is slumped on the sideline bench. The hope of an upset victory they had running out of the tunnel has withered away. All that's left is a group of battered boys, demoralized from LBJ's relentless beatdown. They're on the verge of quitting, but Reed isn't done coaching.
She kneels down in front of the bench and pulls them close, imploring them to just focus on their assignments for the rest of the night.
Reed knows her team needs to pick themselves up and fight back, just as she's had to do before.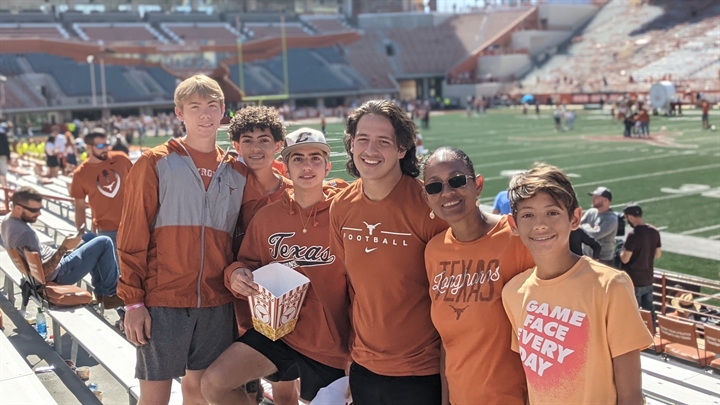 Shannon Reed had one thought in her mind as she lay on the turf, her glasses and hat knocked ajar next to her. She had to get up.
''Hell no, I'm not going to be possibly the only female coach in the State of Texas and I'm getting carted off the field," Reed said.
Moments earlier, she had been standing 10 yards behind her players as they scrimmaged Lehman High School. Reed had been talking to Jamari Wilson about his route when the ball was snapped, which meant she'd never seen the Lehman defensive lineman inadvertently collide with her.
Reed just told Wilson and Darrick Norton to help her stand, trying to hide how much pain she was in. She was going to finish the scrimmage. Two days later she finally went to the hospital, where she was diagnosed with a concussion, severe whiplash and a shoulder sprain.
Sitting in her classroom months later, Reed thinks about why she didn't just let that cart come out and take her straight to the hospital. Even in that moment of chaos and pain, she was conscious of being the only woman in a man's world.
"When I went down, my thought was, 'Here's this weak woman,'" Reed recalled. "When I think of that, I think of weak, and I don't want to come across as weak or an idiot or stupid, like I don't know what I'm talking about."
But her players don't perceive her like that. While Reed admits she's slightly more skittish when she sees shadows moving toward her on the sideline, her boys have taken it upon themselves to protect her. Reed knows they shield her if a tackle is made on the sidelines.
In the waning seconds of Crockett's 56–6 win over rival Austin Travis in mid-October, Crockett's players charged toward Norton with a Gatorade bucket to douse him. But moments before the bucket tipped, junior linebacker Cesar Romero-Pérez noticed Reed standing next to Norton talking. He hustled down the sideline and grabbed her shoulders, putting himself in between her and the bucket as the ice water splashed down.
"Where the protection piece comes in, is that son protecting mom?" Reed ponders. "Is that brother protecting sister? Is it the male protecting the female? I don't know. But I don't need to look at it like that. It's just a person protecting another person."
That's an attitude she's worked hard to take on over her past two and a half years coaching football. She believes she's made the biggest deal about her gender, not ever wanting to step on anyone's toes or be looked at as less than because she never actually played. The coaches and players, on the other hand, have never made her feel any different.
"To the boys and the coaches, I'm just another person who happens to be out there coaching," Reed said. "It doesn't have anything to do with being male or female. Sometimes I'm like, 'Shannon, you're just a coach and there's nothing wrong with it.'"
That's why Norton and the rest of the coaching staff gave her free reign over the wide receivers when she was promoted to position coach at the beginning of the season. When she first took the role, she thought they would give her set drills to work on with the players, micromanaging her position group for her. Instead, they told her what facet of the game they needed the receivers to work on, and Reed needed to come up with drills to help execute.
In the weeks leading up to the LBJ game, Reed scoured the internet for fun drills to keep the players engaged. She arrived to practice armed with footballs and tennis balls. She'd have Wilson and her son, Jacob, run sprint left and catch a tennis ball with one hand, then change direction and catch another one running the opposite way before taking off down the field and catching a football over their shoulder.
"Practice is a lot more fun," Jacob said. "The drills she comes up with are my favorite out of all of them."
…
The game has been over since midway through the second quarter, but the final horn mercifully blares a minute after the Jaguars score their final touchdown of the night.
In a 49-0 victory, LBJ has ended Crockett's five-game win streak, any hope for a district title and any chance of a playoff run. With Jamari Wilson nursing a concussion and Cameron Dickey hobbled by an ankle injury, Crockett's season would end the following week with a first-round loss in the playoffs.
But on this night, as the Jaguars gather at midfield and celebrate yet another lopsided victory, all Crockett's players trudge to the home stands and meet their parents at the fence separating the spectators. The Crockett fans greet their boys with reassuring smiles. One loss to a heavily favored opponent doesn't change the miraculous season they've had.
But Jacob Reed doesn't need to go to the stands. His mother has been on the field with him tonight for every moment. They embrace near the sidelines in a long hug, sharing the pain of a brutal loss. It's hard to tell whether Shannon Reed has her mom hat or her coach hat on.
Maybe it's always been a little bit of both.
This article is available to our Digital Subscribers.
Click "Subscribe Now" to see a list of subscription offers.
Already a Subscriber? Sign In to access this content.