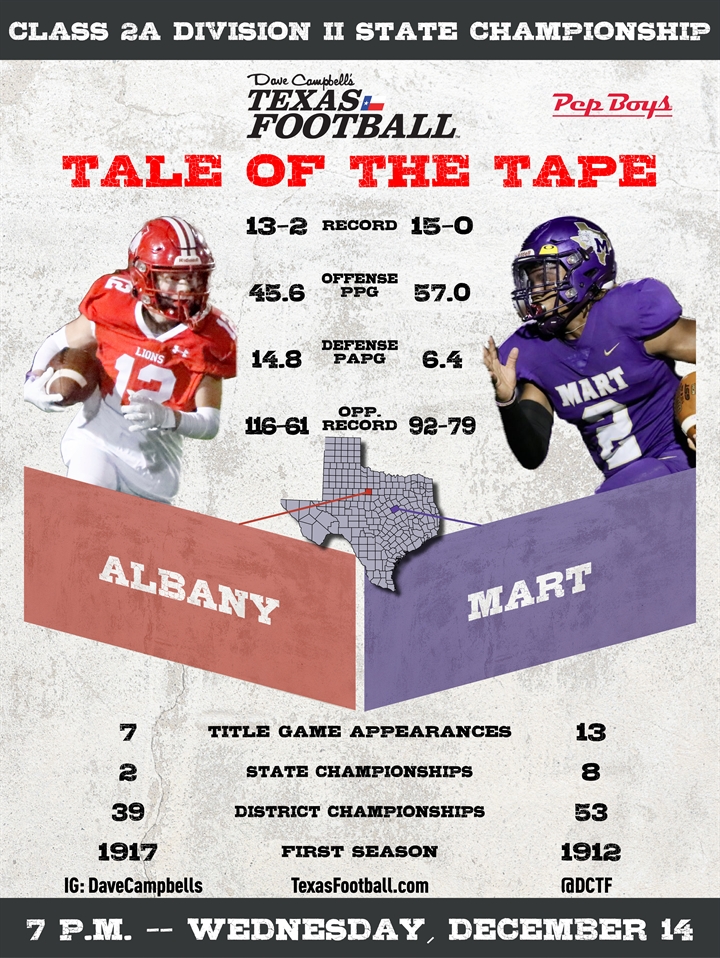 Albany (13-2) vs. Mart (15-0), 7 p.m. Wednesday at Arlington's AT&T Stadium
Two teams picked by many in the preseason to play for the state title have lived up to the hype and have made it to the state title game.
Longtime head coach Denny Faith has been at Albany for 36 seasons and has taken the Lions to the state title game four times, and each time they've come up short.
Mart is back in the state title game after missing out on a title shot in 2021. Head coach Kevin Hoffman retired for 10 days in January and then returned for another shot at a title. This may be his most complete team, which is a scary proposition heading into this one.
Albany raced past upstart New Home, 53-25, last week to advance to the title game. The Lions dynamic offense was led by QB Cole Chapman ,who threw for a pair of scores and ran for another. Adam Hill had a touchdown rushing and receiving, while Coy LeFevre added a pair of rushing touchdowns. Albany has scored at least 35 points in all five playoff games and none have been closer than 17 points.
Mart cruised to another easy playoff win last week by crushing Burton, 41-14; it was the second straight week the Panthers rolled past a previously undefeated team. QB Jonah Ross tossed a pair of long touchdown passes to Brandon Lundy, while De'Montrel Medlock and JD Bell added long touchdown runs to pace Mart to another easy victory.
The Panthers' playoff dominance looks similar to their runs from 2017-2019 when they won three straight state titles. Mart's five playoff wins are by an average of nearly 52 points per game. In fact, last week's 27-point win over Burton was Mart's closest game since October 21 when they beat district rival Wortham, 47-22.
Mart HC Kevin Hoffman has told local media this is the best Mart team he's had in the trenches since he's been a head coach. That's a scary thought considering Mart is still loaded with skill position talent. Albany is a formidable foe, but Mart's speed at the skill spots and ability to hold up in the trenches makes them the choice to win another state title.
Stepp's Pick: Mart by 11
PLAYERS TO WATCH
Mart
Junior QB Jonah Ross - For Mart, it starts with their dual threat signal caller. Ross has over 1,000 yards on the ground but also 2,400 yards through the air to his name. He's been valuable for the Panthers' power run game and just when defenses get use to that, they'll pop them long through the air.
Sophomore RB JD Bell - Bell is Option A on the ground for Mart with over 1,800 yards on the ground and 34 touchdowns. The talented sophomore is the bell cow for the whole offense so expect the Panthers to test Albany's front early and often.
Junior DE Monte Swaner - Monte Swaner's is Mart's second-leading tackler but leading impact defensive players with six sacks and 29 tackles for loss to his name. Mart's best teams were known as much for defense as they were for scoring, so expect Swaner to play a major role in this game too.
Albany
RB/MLB Adam Hill and RB/MLB Coy Lefevre - It starts and stops with Albany's two-headed rushing attack or Hill and Lefevre. Both have over 1,000 yards on the ground and are options in the passing game as well. Defensively, Hill has 21.5 tackles for loss and leads the team with 8.5 sacks on the year.
QB/S Cole Chapman - Passing isn't Albany's forte but Chapman has a capable arm to keep defenses honest. With Mart's physicality up front, it may be relied upon in big situations to get the Lions over the hump.
- Ishmael Johnson
KEY MATCHUPS
Mart DL vs. Albany OL
Something must give when the big boys on Albany's front line go to battle against the large, athletic bodies occupying the Mart defensive front. The Lions average over 40 points per game behind a tough, physical rushing attack that averages 252.3 yards per game and 7.9 yards per rush. They ran for nearly 300 yards a game in district play. Mart won't be intimidated, however. The Panthers have only allowed 96 points over the entire season. The only time a team scored more than 14 points on Mart was back on Oct. 21 against Wortham.
Albany CB London Fuentes vs. Mart WR Brandon Lundy
One of the best parts of the UIL state championship weekend is watching individual battles between All-State caliber performers and one of those battles takes place when Mart has the football. Mart WR Lundy enters the game with 45 catches for 879 yards and 18 receiving touchdowns. That's half of the passing touchdowns by quarterback Jonah Ross. Albany defensive back Fuentes and a big-play secondary is charged with slowing down Lundy and the Panthers' passing attack.
- Mike Craven
PREDICTIONS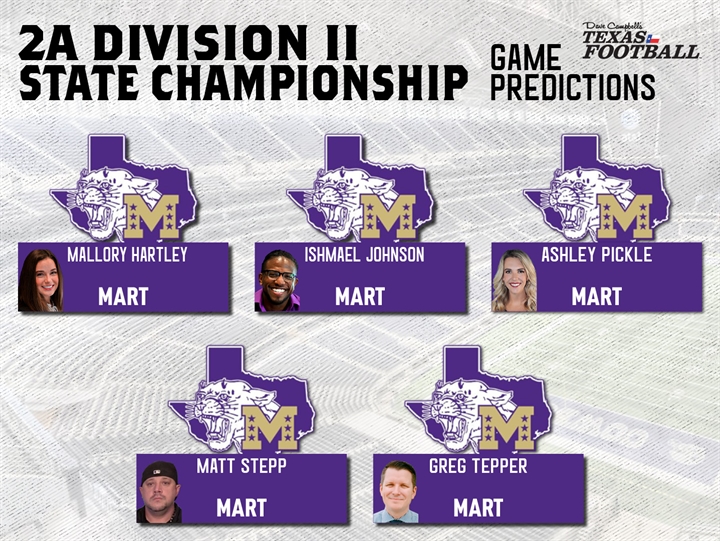 THE PICKS
This article is available to our Digital Subscribers.
Click "Subscribe Now" to see a list of subscription offers.
Already a Subscriber? Sign In to access this content.