The college football season in Texas starts a week earlier than normal with a Week 0 matchup between North Texas and UTEP. To celebrate us making it through another off-season, we're counting down the 50 most important players in Texas every day until Aug. 27. The list isn't necessarily about which players are the best, though talent plays a major factor in most important.
No. 19: Tahj Brooks, Texas Tech junior running back
The History
Brooks was a four-year letterman at Manor High School, where he rushed for more than 1,000 yards in his final three seasons on campus. He tallied 1,807 yards and 26 total touchdowns in a senior season that concluded in a trip to the Class 5A Division I state quarterfinals. He rushed for more than 4,400 yards and 65 total touchdowns in his prep career. The three-star recruit chose the Red Raiders over more than a dozen other offers, including Arkansas, TCU, and Utah.
Brooks immediately made an impact as a true freshman in 2020 when he recorded 255 rushing yards and four touchdowns on 69 carries over 10 games. He was second on the team in rushing touchdowns and third in rushing yards. He also caught 13 passes for 61 yards. Brooks led Texas Tech in rushing in 2021 despite missing four games due to injury. He rushed for 568 yards and seven carries on 87 carries.
The Skillset
The 5-10, 230-pound Brooks is a bowling ball that leverages his strong lower body to run through arm tackles. He averaged 6.5 yards a rush in 2021 and is at 5.3 in his college career. Brooks is also a reliable pass catcher out of the backfield with 19 career receptions for 113 yards. He's a red zone threat with 11 touchdowns over the last two seasons. He's a hard-nosed, powerful runner who sets a tone. He's not a guy that will outrace defenders to the end zone, but he's going to convert on short yardage situations and keep you in front of the chains on early downs.
The Impact
New Texas Tech head coach Joey McGuire wants to run the football despite hiring the pass-friendly Zach Kittley as offensive coordinator. The Red Raiders are going to run the football, and the two-headed monster of Brooks and SaRodorick Thompson form one of the best backfields in the Big 12. Brooks is a coach's dream due to his mentality and work ethic. He's always been known as a gym rat who puts in the extra work, and that's the type of player McGuire wants to build the foundation of his program. If he can stay healthy, Brooks is destined for a 1,000-yard season as a junior.
PREVIOUSLY ON THE LONE STAR 50 COUNTDOWN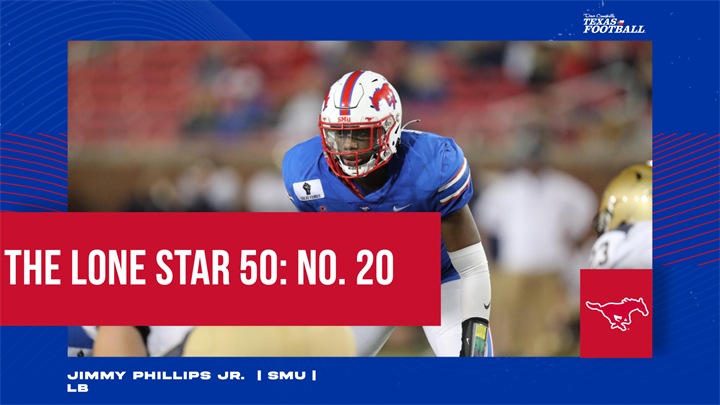 This article is available to our Digital Subscribers.
Click "Subscribe Now" to see a list of subscription offers.
Already a Subscriber? Sign In to access this content.