The college football season in Texas starts a week earlier than normal with a Week 0 matchup between North Texas and UTEP. To celebrate us making it through another off-season, we're counting down the 50 most important players in Texas every day until Aug. 27. The list isn't necessarily about which players are the best, though talent plays a major factor in most important.
No. 18: Quentin Johnston, TCU junior wide receiver
The History
Johnston represented a big recruiting win for TCU over the Texas Longhorns and numerous other major programs. The four-star wide receiver out of Temple High School was the second-highest rated recruit to sign with the Horned Frogs during Gary Patterson's 20-year reign in Fort Worth. Johnston was a top-10 player in Texas for the 2020 recruiting class and held offers from programs such as Texas, Oklahoma, Baylor, Notre Dame, and Nebraska.
Johnston immediately lived up to the hype in Funky Town, registering 22 catches for 487 yards and two scores as a true freshman in 2020. His 22.1-yard average per catch was the most by a true freshman in Big 12 history (minimum of 20 catches) and the second-most for a true freshman in the country since 2008. Johnston raised his production as a sophomore in 2021 when he led the Horned Frogs with 634 receiving yards and six touchdown catches. He was second on the team with 33 receptions.
The Skillset
The 6-4, 215-pound Johnston is a big-play threat who averaged 19.2 yards a catch in 2021 and a staggering 22.1 yards a catch in 2020. He's too big for most defensive backs and he's incredibly adept at high-pointing footballs in jump ball situations due to his background as a basketball star. Anyone who saw Johnston dunk in high school is aware of his vertical leaping ability. His combination of size and speed is rare, which is what makes him a potential early round pick in the next NFL draft. There's not another receiver in the state of Texas with the athletic gifts possessed by Johnston. He was a first-team All-Big 12 selection in 2021 and was a member of the All-Texas College Football first team in the 2022 edition of Dave Campbell's Texas Football.
The Impact
A new era of football in Fort Worth suits Johnston just fine. Sure, he committed to play for Patterson and was already an all-conference talent, but the addition of a high-powered offensive coach such as Dykes means the training wheels are off on that side of the football for the Horned Frogs. Expect Johnston to be one of the beneficiaries. He should put up monster numbers as a junior, which might be his last on campus depending on his draft stock. He gives whichever quarterback wins the position battle a deep threat. His presence also opens things up for fellow receivers because Johnston demands safety help. That safety help also helps the run game because it prevents opponents from loading the box.
PREVIOUSLY ON THE LONE STAR 50 COUNTDOWN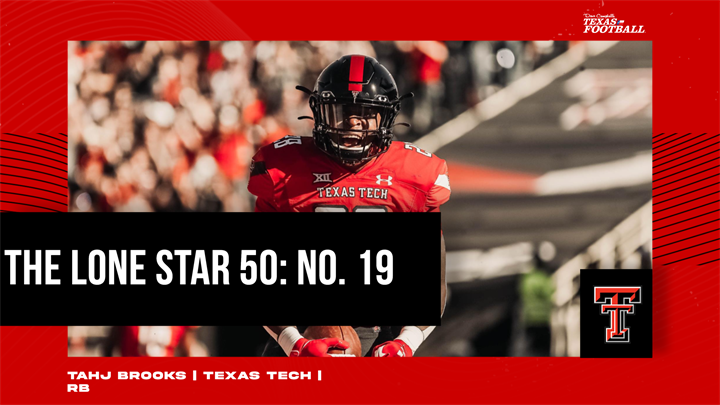 This article is available to our Digital Subscribers.
Click "Subscribe Now" to see a list of subscription offers.
Already a Subscriber? Sign In to access this content.