The college football season in Texas starts a week earlier than normal with a Week 0 matchup between North Texas and UTEP. To celebrate us making it through another off-season, we're counting down the 50 most important players in Texas every day until Aug. 27. The list isn't necessarily about which players are the best, though talent plays a major factor in most important.
No. 22: Gavin Hardison, UTEP junior quarterback
The History
Hardison began his college career at New Mexico Military Institute after graduating from Hobbs High School in New Mexico in 2018. He played in five games for NMMI during his true freshman season in 2018, completing 38 of his 67 passes for 408 yards, four touchdowns, and four interceptions. Hardison transferred to UTEP following the season and played sparingly while redshirting in El Paso.
Hardison worked his way into the starting lineup as a redshirt sophomore in 2020. He started each of the program's seven games played during the pandemic-altered season. He completed 108 of 199 passes for 1,419 yards, five touchdowns, and five interceptions. He finally got a full season of starting experience under his belt in 2021 and became the first UTEP quarterback to throw for over 3,000 yards since 2009. His 3,217 yards passing last year was the fifth-most in program history.
The Skillset
Hardison is an experienced quarterback with the ability to push the ball vertically. He was a boom-or-bust quarterback in a few games for UTEP over the last two seasons, hovering around a completion percentage of 50 percent. He did rank third in the country and second in CUSA in passing yards per completion with 16.3. His 24 career touchdown passes rank 10th on the all-time list at UTEP. The 6-3, 205-pound quarterback is the clear leader of the UTEP offense heading into his last two years of college football.
The Impact
UTEP must replace its two best wide receivers from the 2021 season with Jacob Cowing transferring home to Arizona and Justin Garrett running out of eligibility. It'll be up to Hardison to build rhythm and confidence in a new crop of targets. He'll get help from an experienced offensive line, two talented running backs, and a tight end who emerged as a red zone target late in 2021. Quarterback is the most important position in football and Hardison is the best one to play for UTEP since the first decade of the 21st Century. UTEP hopes to reach consecutive bowl games for only the second time this century and Hardison is the reason most feel that the Miners won't skip a beat offensively in 2022.
PREVIOUSLY ON THE LONE STAR 50 COUNTDOWN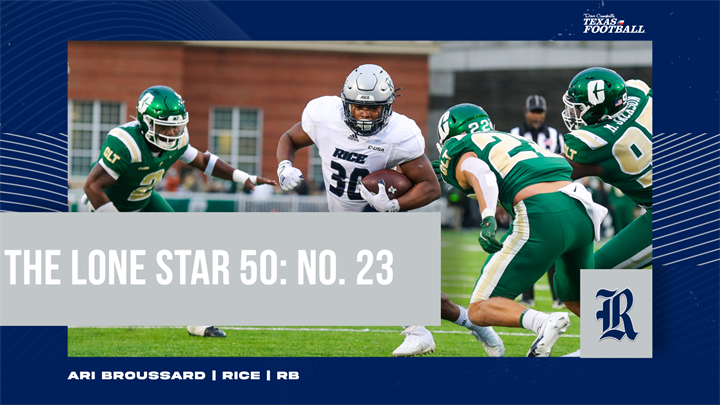 This article is available to our Digital Subscribers.
Click "Subscribe Now" to see a list of subscription offers.
Already a Subscriber? Sign In to access this content.