The college football season in Texas starts a week earlier than normal with a Week 0 matchup between North Texas and UTEP. To celebrate us making it through another off-season, we're counting down the 50 most important players in Texas every day until Aug. 27. The list isn't necessarily about which players are the best, though talent plays a major factor in most important.
No. 33: Myles Price, Texas Tech junior wide receiver
The History
Price was a three-star recruit out of The Colony High School who chose the Red Raiders over offers from Arizona State, Houston, TCU, SMU, Ole Miss and others. He was the District 5-5A Division I Offensive MVP as a senior in 2019 after totaling 1,307 receiving yards and another 311 on the ground. Price was also a talented returner for The Colony during his three-year varsity career. He graduated from the Colony with 3,884 total yards.
Price arrived in Lubbock in 2020 and made an impact as a true freshman. He was one of only four true freshmen to start a game for the Red Raiders that season, finding a spot as an inside receiver. He caught 28 passes for 300 yards and a touchdown. Price started nine games as a sophomore in 2021, finishing third on the team with 38 catches for 523 yards and a pair of touchdowns. He caught a pass in 11 of the 12 games he played in as a sophomore.
The Skillset
The 5-10, 180-pound Price is electric with the ball in his hands. He's gained yards as a receiver, a rusher, and a returner during his two-year career at Texas Tech. He's shifty in tight spaces and tougher than his smallish build suggests. He's an excellent slot receiver who is too quick for nickelbacks and safeties. Price possesses reliable hands and a no-fear attitude that allows him to do damage over the middle of the field. His ability to take short and intermediate routes and turn them into long gains is his best trait. Price does his best work after the catch or when he's allowed the ball in space as a returner or a rusher.
The Impact
The arrival of offensive coordinator Zach Kittley should allow Price – and the other Texas Tech receivers – to flourish in a pass-happy system. Kittley's offense is especially pleasant for slot receivers. He coached a player with a similar build and skillset at Western Kentucky and Houston Baptist in the form of Jerreth Sterns. Sterns led the NCAA in receptions (150), receiving yards (1,902) and receiving touchdowns (17). Price might not reach those numbers because head coach Joey McGuire wants to run the football more than Kittley did at his previous stops, but a 100-catch season isn't out of the question if Price can stay healthy and pick up the offense in year one. Price will provide a security blanket for the Tech quarterbacks.
PREVIOUSLY ON THE LONE STAR 50 COUNTDOWN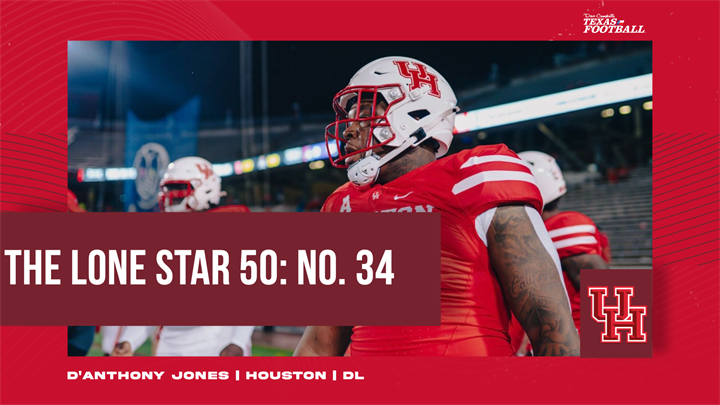 This article is available to our Digital Subscribers.
Click "Subscribe Now" to see a list of subscription offers.
Already a Subscriber? Sign In to access this content.