This article is featured in the 2022 summer edition of Dave Campbell's Texas Football.
Gilmer head coach Jeff Traylor looked at his phone. It was 3 a.m. on a Friday morning in 2016 and he was in tears. Charlie Strong, the new head coach of the University of Texas, wanted Traylor to leave the high school ranks and join him in Austin as the special teams coordinator and tight ends coach.
Traylor was unsure. Gilmer was his home. He lived next door to his brother, Kurt, and his four kids. Gilmer was 175-26 during Traylor's 15-year tenure, reaching five state championships and winning three titles along the way.
He called his shot in the 1986 Gilmer High School yearbook section where it asks graduates what they'll be in 10 years. Traylor wrote: "The head coach of the Gilmer Buckeyes." It took him 12. Traylor knew his alma mater had potential as a football program and he wanted to provide the area with something his generation wasn't allowed: a unified front.
"We were not a program. We were a city divided," Traylor said of his time at Gilmer as a student. "But that's what the power of football can do. Once we got it rolling, no one cared anymore if we were white, black, or brown. We were all Orange and Black."
And now, he was on the verge of leaving that all behind to start over as an assistant coach in the college ranks, right as the school district was naming the stadium in his honor.
"It was the hardest decision I've ever made in my life," Traylor admitted. "I was crying and upset because I didn't want to go but I knew I needed to go."
So did his wife, Cari. Spend any amount of time around Traylor and you'll hear about "Care Bear," as he affectionately calls her. She became the voice of reason, and encouragement, during that night of tears. Cari pointed out that Traylor himself spent the last 15 years telling his Gilmer players that they could go do anything from anywhere. Gilmer was not the end, only the beginning. Now, Traylor could be the example. He could leave the nest in search of a new challenge.
The head coaching position at UTSA opened after the 2015 season. Traylor spent the previous year as an assistant for Strong, winning the Big 12 Recruiter of the Year. He applied for the job, but was passed over for Frank Wilson, once a high school football coach himself in Louisiana. Traylor was hurt, but he admits that he needed more time to bake in the college oven.
"As I look back, I was not ready for this thing," Traylor said. "Getting four more years as an assistant was invaluable to me."
Traylor spent 2016 at Texas, 2017 at SMU, and two seasons in Arkansas before the UTSA job opened again. This time, Traylor was a lock. He possessed 15 years of head coaching experience in the prep ranks and five years on three different staffs at the college level. He was ready.
Traylor took over the program prior to the 2020 season. UTSA was 7-17 in the two years preceding his arrival. The Roadrunners are 19-7 with a Conference USA championship and two bowl appearances in the two years under his direction. UTSA is 12-3 in conference play and 12-1 at home during that time.
Despite that success, Traylor never forgets his roots. He's an East Texas high school football coach at heart. He was nervous entering the 2021 Tropical Smoothie Frisco Bowl because he planned on wearing a Texas High School Coaches Association hat pregame but feared his Roadrunners squad — missing 23 players — wasn't up for the task.
"I was torn on whether or not to wear the THSCA hat that night because I thought we might embarrass my buddies," Traylor said. "I want our fraternity of Texas high school football coaches to be proud of what we've done at UTSA."
Traylor won't put himself on a pedestal. That's not who he is. Ask him about UTSA's success and he'll point to the talented roster he inherited or to his staff, which consists of seven former Texas high school football coaches. But there's no doubt that his success helps the fortunes of the next generation of high school football coaches. If Traylor can put UTSA on the map, at least in part to his connections to Texas high school football and the players it bears, why wouldn't other programs follow that script?
"Coach Traylor has taken San Antonio by storm," THSCA president Glen West said. "He called us at THSCA the night before he accepted the job and said, 'This is about Texas high school football and you guys are going to be part of everything that we do at UTSA'. And that's exactly what he's done."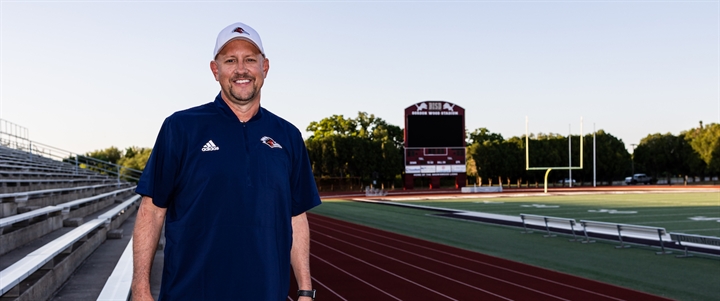 Certified coffee connoisseurs Matt Rhule and Joey McGuire first shared a pot of joe at the IHOP in Hillsboro. The duo sat together for two hours discussing football, family and the future. McGuire says they consumed eggs, bacon, some toast and at least three pots of coffee.
"It was more a conversation than an interview," recalled Rhule, then Baylor's head coach. "You could see his enthusiasm and energy, but you could also feel a deep understanding of what it takes to get guys to succeed at a high level."
Rhule was named Baylor's head coach late in 2016 after a successful stint at Temple University. The New York native arrived in Texas with a plan to surround himself with connected coaches from around the Lone Star State. The obvious choice was to hire a few high school football coaches to bridge the gap between the new Bears staff and the football power brokers known as the Texas High School Coaches Association.
Rhule's first call was to David Wetzel – a Baylor alum who was the head coach and athletic director at San Antonio Reagan, as well as the president of the THSCA. Rhule was hired on Dec. 6. He met with Wetzel that night and hired him the next day. Rhule would add Round Rock Cedar Ridge head coach and former Baylor quarterback Shawn Bell to the staff shortly thereafter. He then moved his focus to two names – McGuire and Traylor.
"Texas was unique because I was coming in from so far away," Rhule said. "I didn't know the landscape, so I thought 'Why not hire some great coaches who are great people and already have those connections across the state?'"
No one would've blamed McGuire for remaining a high school coach, not even Rhule. McGuire was at the top of his game at Class 6A Cedar Hill where the Longhorns were 141-42 with three state titles in his 14 seasons. McGuire assured Rhule that he was a good soldier. And the timing was right with McGuire's son, Garrett, set to graduate high school. McGuire planned to make the same type of impact in college as he did on a Cedar Hill program that had never won a playoff game prior to his arrival.
Even McGuire's wife, Debbie, remained skeptical on the morning her husband went to meet Rhule at that IHOP. She told McGuire that he was never going to leave Cedar Hill, and he admits that he'd be the happiest man in the world had he remained the head man for the Longhorns until retirement. But with his nest soon to be empty, McGuire took a chance.
"For me, I needed something different and new," he said. "I'm a lifelong learner and I pride myself on that. It got to a point where I knew it was time for something new."
While Traylor moved to become SMU's associate head coach under Chad Morris, McGuire began his college coaching career in charge of Baylor's tight ends in 2017. He was promoted to associate head coach and defensive ends coach by 2019 and was briefly the interim head coach when Rhule left for the NFL after the 2019 season. McGuire and Dave Aranda became finalists for the vacated Baylor job. Aranda won out but kept McGuire around. McGuire thought about leaving Baylor, but his son followed him to Waco as a walk-on quarterback and hadn't yet graduated.
McGuire remained in Waco as the associate head coach and outside linebackers coach under Aranda for the 2020 season and most of the 2021 campaign. That's when Texas Tech reached out. Now, the timing was right. Garrett was an assistant in the NFL with Rhule in Carolina. McGuire, who turned down a chance to coach with Rhule at the NFL level on two occasions, knew where he could make the biggest impact on young people's lives.
"I really believe that I was put on this earth to develop men," McGuire said. "Those guys in the NFL are multi-millionaires with families, so you can't impact them in the same way as a player in high school or college. That is my calling."
Texas Tech was looking to go in a new direction. The former coach, Matt Wells, was an outsider to the state who never dedicated himself to recruiting prep prospects from Texas. The fan base never bought in, so the Red Raiders made a change midway through the 2021 season. Traylor was called, as was McGuire. With UTSA extending Traylor to a 10-year contract worth $28 million, McGuire became the obvious choice. Texas Tech watched a high school coach turn UTSA into a nationally ranked team and conference champion based on relationships within the state. Now, the hope is that McGuire can pull the same trick in Lubbock.
"It was important for us to find someone connected with the high school coaches and knew how to recruit the state of Texas," Texas Tech athletic director Kirby Hocutt said. "It is undisputed that we found the best person in the country considering what we were looking for."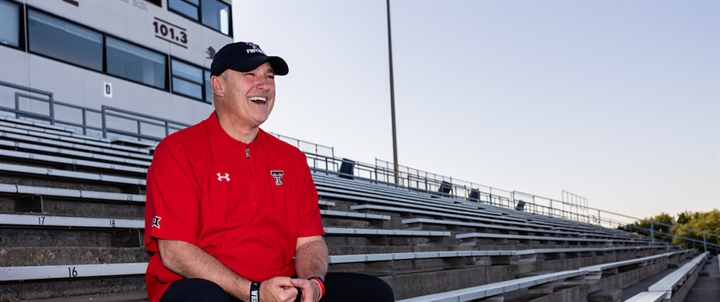 Tom Herman, the newly hired head coach of the University of Texas, was speaking at the THSCA offices the day that Rhule and Wetzel connected. Wetzel, then the THSCA president, was leading the meeting and found out through a text message that Rhule was the new head coach in Waco. By the time his lunch break ended, Wetzel and Rhule had exchanged numbers and planned a meeting.
The fact that Herman was at those offices, and that Rhule's first hire was the sitting THSCA president, weren't coincidences. Succeeding in college football in the state of Texas requires help from the high school football coaches. The landscape is unique because the coaches are also educators. Go to California or Florida, and you're likely to find the offensive coordinator selling houses or holding down an office job during the day. Do the same thing in Texas and that coordinator, along with every other coach on the staff, is on campus in some capacity.
Every college coach in Texas kisses the ring. Texas A&M head coach Jimbo Fisher spoke at the 2021 THSCA Coaching Convention in San Antonio and at a clinic held in College Station earlier in the spring. Texas head coach Steve Sarkisian told sitting THSCA president Glen West that he was an ally in the fight to not let Texas high school be overtaken by outside influences like it has in other states, including his native California.
Ask any coach in Texas about the THSCA and you'll get a response that resembles a politician praising their biggest donor. That's because it is. If football in Texas is a religion, the THSCA is the clergy.
"We're like a proud poppa," West said about football in the state. "We're excited about what we have, and we certainty want to keep it. We're working every day at THSCA to keep what we have and continue to make it better."
The inherit advantage for McGuire and Traylor was familiarity. Neither of them needed to introduce themselves to the leadership of the THSCA, or even to most of the coaches across the state. Those guys were institutions at the high school level before making the jump. There is a Holy Trinity in recruiting: The Player, the Parent and the Coach. A school typically needs to win over two of the three to land a recruit. Guys such as Traylor and McGuire, and the dozen or so other former high school head coaches on in-state FBS staffs, walk into every locker room in Texas with the coach leaning in their favor.
"When those guys walk in the room it is instant street cred," Longview head coach John King said. "You can tell your kid, 'Look, make your decision and base it on whatever you want to, but that guy and that guy (Traylor and McGuire) ain't lying to you. They can't come back in here if they lie to you, and they know that.'"
McGuire and Traylor aren't the first championship-winning high school coaches to jump from high school to college. Texas Tech hired one almost 40 years ago in Spike Dykes, who spent over 20 years as a coach in high school before landing a head coaching gig at the college level. Art Briles made the jump, as did Chad Morris.
Todd Dodge went from Southlake Carroll to North Texas in 2007 after winning four Class 5A state championships in the previous five years. His stint in Denton didn't go as planned — he went 6-37 in four seasons before returning the high school ranks where he ended his career with three straight Class 6A titles at Austin Westlake. Dodge can clearly coach. He attributes his failure at the college level, and the success of Traylor and McGuire, to the path chosen. Dodge didn't take a few years to learn the nuances of the college game as an assistant coach. He jumped straight into the fire and was burnt.
"I was one of only three guys who jumped from high school head coach to Division I head coach, and not one turned out good," Dodge laughs. "It is not the greatest path. I would not recommend it to you. If I wanted to make the jump again, I'd go as a position coach and then be a coordinator before I even thought about being a head coach."
There are currently 13 former high school head coaches on college staffs in Texas. That number grows to nearly 20 if the FCS and smaller divisions are counted. The number grows even bigger if we included guys who served as high school assistants. TCU head coach Sonny Dykes began his career as a high school assistant, as did SMU's Rhett Lashlee. Baylor's Dave Aranda worked at his alma mater as an assistant during his early college days.
There are many factors. The evolution of offenses, specifically passing schemes perfected in 7-on-7 over the summer, helped offensive gurus such as Briles and Morris get recognized at the college level. Growing recruiting and operational staffs provide opportunities for well-connected prep coaches to get a foot in the door. Brian Bell, who coached China Spring to a Class 4A Division II title in 2021, took a quality control job at Baylor in the offseason.
But nothing compares to two former head coaches winning at the FBS level.
"Those two are opening more doors for future coaches who want to follow that path," King said. "I wouldn't necessarily call them trailblazers because it has been done before, but the amount of success they're having and how much they support the THSCA makes everyone take notice."
This article is available to our Digital Subscribers.
Click "Subscribe Now" to see a list of subscription offers.
Already a Subscriber? Sign In to access this content.