This article is featured in the 2022 summer edition of Dave Campbell's Texas Football.
Minutes after South Oak Cliff won the 5A Division II state championship, Dallas ISD's first in over 60 years, head coach Jason Todd pulled a Blow Pop out from his pocket during his post-game interview on Bally Sports Southwest.
"I brought my lucky Blow Pop too, Freddie!" Todd laughed as he walked off camera.
It was a subtle tribute to legendary Dallas Carter head coach and Texas Black Sports Hall of Famer Freddie James, who notoriously coached on the sidelines with a Blow Pop in his mouth. Although SOC's accomplishment, on paper, is seen as the first Dallas ISD football championship since 1958, many in the city still view James' 1988 Carter Cowboys as the last true Dallas state title winner, despite the UIL formally stripping the team of the crown later that year.
They're still the gold standard for what an inner-city program can be. A true son of South Dallas, that team kickstarted Todd's aspiration to one day be a football coach.
"(Carter) actually started a lot of the things that inner-city football is all about and I want to keep a lot of those traditions going," Todd said.
The most notable of traditions comes in the form of attitude. Where some may see arrogance in South Oak Cliff, others see confidence.
There's a swagger to the Golden Bears, a program with an almost entirely minority student population (Just under 70 percent Black and just under 30 percent Hispanic), on and off the field. Coaches all wear matching jumpsuits; they have a much more lax pregame routine that often contrasts the boot-camp style of some other top programs. Before the title game, the staff even bragged to running backs coach Keith Davis that he'll likely become the first Texas high school football coach to win a state title while wearing a gold grill on the sidelines, which he wore for every game.
"They'll try to look down on somebody here wearing a gold grill but like I'm saying, that's a part of some cultures in the area that we grew up in," Todd said. "The gold grill doesn't define (Davis). He's a college graduate, he's a great mentor for these kids. He's a great coach and a great teacher.
"I may need to get me one if we win again."
One glance at the home side during the 5A DII final and the confidence resonates; it's infectious. Just ask any of the 45,000-plus in attendance, many donning the SOC all-white in honor of late assistant coach Warnie Hill, who passed away in 2019. Todd and his staff are some of the most vocal on social media. That's all encouraged as long as they take care of business during the game. It all stems from that influence of James' Carter Cowboys that carried a similar swagger.
"I want to blaze our own trail just so that you can be an individual in this game, and you can be on social media," Todd said. "You can be a part of the community; you can do all those things and still be successful. It's just, it's not one way to win and be successful."
The first Tweet that Todd sent out the morning of the game was about as matter-of-fact as you can get: "It's already written!!!!!!!!!!"
"He's Don King. He knows how to sell a fight," South Oak Cliff defensive coordinator Kyle Ward said.
Across the field from them that Saturday morning was Liberty Hill, a school virtually SOC's opposite in terms of both demographics and legacy, with multiple state title runs under its belt over the last few years. And just the day before, the 4A DI championship presented a similar contrast between Austin LBJ and Stephenville.
LBJ became the first Austin ISD school to make the championship game since 1973, and did so suiting out no more than 30 total players on a given Friday night, often considerably less than their 4A DI counterparts. Across from them was Stephenville, a perennial power used to winning at the highest level and consistently producing top-level talent. Although the Jaguars lost, their run to the title game, like SOC's, resembled something larger.
"Understand what you've done this season, you've made history," LBJ head coach Jahmal Fenner told his team after the state title game. "We're gonna hold this trophy high and we're going to hold our heads high because we've done something great for our community, that's so much bigger than us."
And he was right.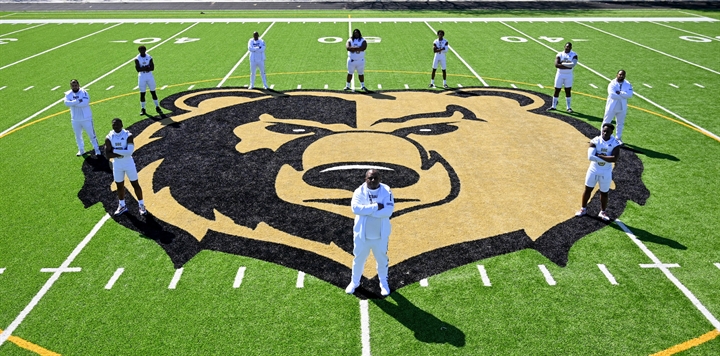 In many ways, both programs have set the blueprint for what's possible when you invest in city programs.
The path toward SOC's championship can be traced back to 2015 when South Oak Cliff seniors staged a walk-out over the poor conditions that riddled the campus. Leaking roofs, gas leaks and inadequate pest control were just a few of the issues that students openly expressed concern over.
In 2016, a $52 million bond was passed to completely renovate the campus. Students were moved to a nearby campus until winter 2020 when the newly restored SOC was completed. One of the figureheads during that student-led movement was former SOC quarterback David Johnson and, in perhaps more ways off the field than on it, he helped pave the way for what the Golden Bears accomplished this past winter.
But that story isn't unlike what other inner-city schools across Texas endure. In fact, the multi-million-dollar bond that eventually passed is an outlier to that situation. Not everyone wins that battle, and not everyone can match other programs resource-for-resource.
When it comes to Austin LBJ, according to KUT 90.5, the district was still hiring high school teachers as late as October 2021 and the principal resigned a week before the school year began. The Jags still held the top ranking in Class 4A Division I for most of the season, so it's not always a one-to-one comparison.
The lack of funding or participation numbers go from the classroom to the football field and help perpetuate stereotypes about inner-city programs — you can't win there, kids don't get recruited from there, their kids are too undisciplined. Along with stereotype, student-athletes also face material obstacles at home.
"Kids have to miss practice because they got to take care of a brother or sister or maybe even their parents," Houston Heights head coach Stephen Dixon said. "Maybe you got practice but a parent don't feel like picking them up from practice. So, they got to ride the bus home (after school).
"We have to fight through those type of things and be able to still accomplish what we need to accomplish. So, I know what (inner-city coaches) go through. They're not going to sit back and give excuses, so I can't sit back and give excuses if that's something that we want to accomplish."
It's those reasons why many leave, both players and coaches alike. Players want to be recruited or win at a high level and many coaches, often Black, get pigeonholed as just an "inner-city coach".
"The hardest part, and where most people struggle, has a lot to do with the fact that you have to adopt the mentality of here: I'm gonna fill holes (in players' lives)," Ward said. "That's where the hard part is, is getting or finding people that will stay or come back that can make these places great. You become an asset to other places, and you don't have to stay in these situations."
In years past, coaches could hitch their wagon to a star player and follow him to a suburban school and a possible pay increase on a new staff. Now programs like South Oak Cliff and Austin LBJ are preferring to build it their way and inspiring others to do the same. Where SOC found success in that regard is hiring coaches from the area — it's almost entirely a Dallas affair.
Jason Todd is South Dallas born and raised. He graduated from Dallas Lincoln and played under legendary coach Reginald Samples. Every day, Todd walks the hall on campus where the image of his grandfather, former SOC principal Frederick Todd, hangs above him, a constant reminder of his loyalty to the area. Ward is a Dallas Kimball graduate. Defensive line coach Dominic Spencer is a Dallas Skyline product. Running backs coach Keith Davis is a graduate of Dallas Hillcrest. You get the picture. There's nothing they pride themselves on more than representing the area in which they were raised.
Which makes the program's nickname, given by Todd, all the more resonant — The Mecca.
In the Muslim faith, Mecca is the birthplace of the prophet Muhammad, where the Islamic faith originated and where every Muslim is eventually called back to at least once in their life.
South Oak Cliff originally opened in 1952 as an all-white school. At the time, it was Dallas ISD's first new school after Lincoln opened in 1939. It remained segregated for 13 years until the early 1960s and the landmark Brown v. Board of Education ruling. Surrounding neighborhoods began to change and the feeder elementary and middle schools became predominantly Black. South Oak Cliff was fully integrated in 1967 and became almost entirely Black overnight, catalyzed by the white flight phenomenon — and the expansion of surrounding suburban communities – in the wake of Brown.
"Everything that maybe came from Dallas Lincoln, Booker T and Roosevelt, everything that was patterned after that. When you start talking about the Carters or Kimballs and things like that, the Hillcrests, other schools, it was patterned after SOC as far as integration," Todd said. "This is where the African-Americans were actually moved to first once they started leaving those other areas."
Need more evidence of that history? Nearly 46,000 packed AT&T Stadium to watch SOC's championship, which was more than both 6A finals. All roads led back to Oak Cliff.
"You had to pass through SOC because it was first in Oak Cliff and Oak Cliff is the biggest part of Dallas," Ward said. "As everybody from Oak Cliff had spread, somebody within their roots, if they're from Dallas, went to SOC: Granny, mama, uncle or whoever."
The Mecca — it fits.
With integration also came the eventual dissolution of the Prairie View Interscholastic League and assimilation into UIL athletics. Along the way, Black coaches often felt there became a homogenizing of attitude and a pressure to do things "the right way."
In sports, it's not seen as tactful enough to carry yourself in a confident or individualist manner.
"We know we have to be professional, but at the same time, I don't want anybody to get cookie- cutter to a particular way," Todd said.
Let's face it: not everyone's a fan of how South Oak Cliff carry themselves. But to them, it doesn't matter. It's who they are.
"I really wasn't too worried about what people were saying because our coaches were gonna have our back anyways," former SOC and current SMU quarterback Kevin Jennings said. "I feel like we just hit the target for inner-city schools. Just go out and do what we did."
Of course, everyone's situation is different. There is a legitimate argument to be made about levelling the playing field when it comes to certain inner-city programs having to go toe-to-toe with nearby districts that have exponentially more funding due to the state's property tax revenue-driven school funding.
"Each school has set realistic goals for each particular school," Todd said. "For some schools, that may not be a state championship, and maybe they're focusing in on the second round of the playoffs and that may be their pinnacle moment. But we had a mixture of good coaching, good community, and great school for us, academics-wise and athletics."
Stephen Dixon's been at Houston Heights in Houston ISD going on 15 years. He's sent over 160 student-athletes to play college football and he admitted, until he saw SOC and LBJ make their postseason runs, he wondered whether it was possible for a modern city program to make it that far. Had his program reached its ceiling?
He's heard all the same claims before:
Kids can't get recruited from there, they need to go to Katy or Galena Park North Shore.
You can't possibly compete with Fort Bend Marshall.
Heights has made the playoffs 12 consecutive seasons under Dixon after losing 92 straight games at one point. Many would tout his tenure as a triumph in and of itself. It's easily a success, but now he wants more.
"Well, now I'm tired of just making the playoffs," Dixon said. "I want to win the state championship. So now, I really feel like it can be done now."
When it comes to recruiting, players like Jennings help the overall perception of colleges recruiting city programs, too. Andrew Mukuba was an LBJ product who is now starring at Clemson, and 2023 running back Sedrick Alexander is committed to Vanderbilt, a prestigious academic Power Five institution. Countless more from both programs, Heights and other city schools across Texas will see their moment in the recruiting spotlight as well.
In fact, Jennings could continue an historical legacy between SMU and South Oak Cliff. The first-ever Black quarterback to start for the Mustangs was Ricky Wesson in 1974, a South Oak Cliff graduate.
"We level it out in a way that doesn't mean we can match Aledo's resources or whomever, that part may not ever be possible," Ward said. "Because of our mentality, you never hear us complain about (a lack of resources) … we genuinely feel like we can outwork and outcoach people, and we feel like our kids will be tougher, because of how we are."
Todd said he hasn't had the chance to sit down and speak with Freddie James, now 85. They spoke in passing during the Texas Black Sports Hall of Fame banquet and James was able to hear how much he impacted Todd's life. But Todd hopes that one day, they'll be able to formally sit down, exchange stories and he'll truly get to express how much that era of inner-city dominance laid the foundation for what his program, and many others, aspire to be.
This article is available to our Digital Subscribers.
Click "Subscribe Now" to see a list of subscription offers.
Already a Subscriber? Sign In to access this content.