Texas high school football coaches are conquering the college football ranks — and the cover of Dave Campbell's Texas Football.
Dave Campbell's Texas Football revealed the cover of its 2022 summer edition on Monday — the 63nd annual "Bible of Texas Football" — featuring new Texas Tech coach Joey McGuire and UTSA coach Jeff Traylor.
The headline says it all loud and clear: "FORGED ON FRIDAY: How Texas high school football coaches took over college football." It's the first time that UTSA — fresh off its first conference championship — has been featured in the main cover image, and the first time for Texas Tech since 2016 with quarterback Patrick Mahomes and coach Kliff Kingsbury. It's also the first multi-school cover since 2015 with Texas vs. Texas A&M, and the first cover with coaches from multiple schools since 1999 with TCU's Dennis Franchione and Texas' Mack Brown.
The image was shot by Mansfield-based photographer John Hamilton, shooting his fourth summer edition cover (2018, 2019, 2021 and 2022).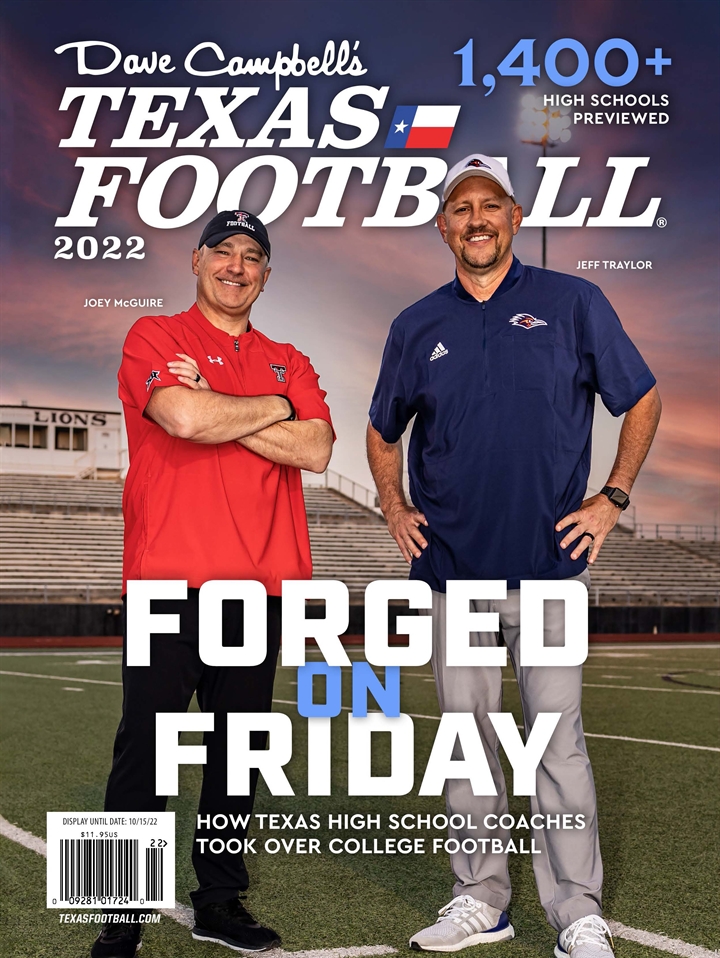 "The toughest decision we have to make every year is the cover of Dave Campbell's Texas Football," managing editor Greg Tepper said. "You can't miss, because it goes down in Texas football history. We always look for the most compelling story in the state that year. We always knew that Texas high school football coaches were exceptional, and the remarkable rise of UTSA under former Gilmer coach Jeff Traylor coupled with the infectious former Cedar Hill coach Joey McGuire taking over at Texas Tech is proof positive of that. We think this is an inflection point in Texas football history — college football is realizing just how valuable Texas high school football coaches are — and that's certainly worthy of being on the cover of Texas Football."
For the seventh straight year, the magazine features a second "gatefold" cover, and it's another opportunity to enshrine some Texas high school football history — the South Oak Cliff Golden Bears, fresh off their monumental run to the 5A Division II state championship, grace the secondary cover under the headline of "RISE UP: South Oak Cliff sparks an inner-city revolution." The image was shot by Gunter-based photographer Becca Egger, shooting her first summer edition cover.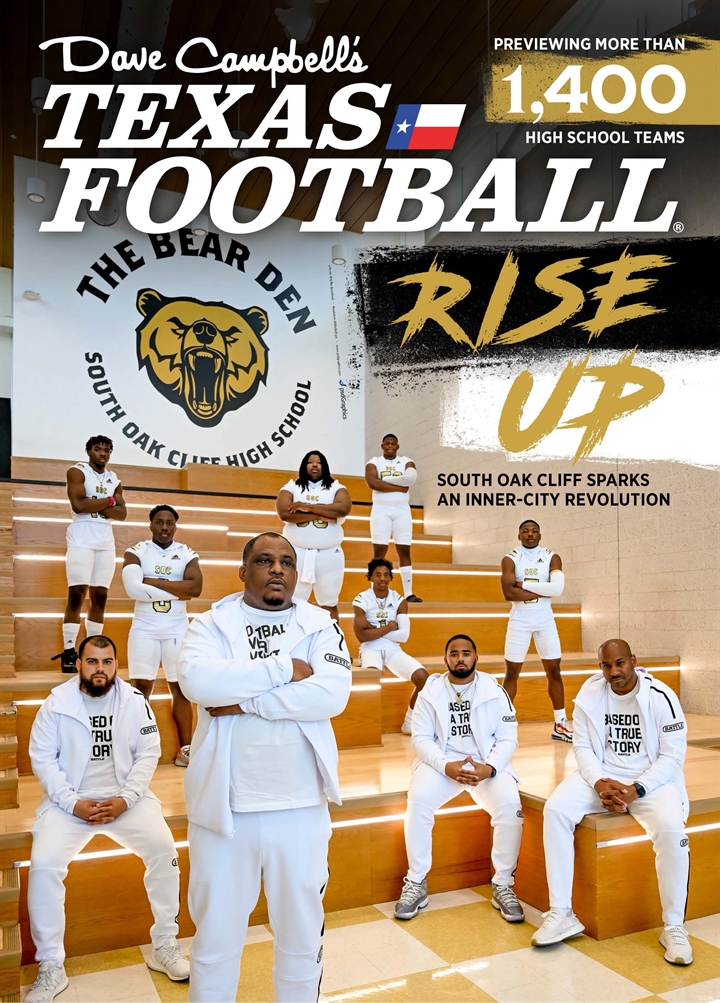 "What South Oak Cliff did in 2021 — and what the Golden Bears are poised to do in 2022 — is one of the most extraordinary stories in recent Texas high school football history," Tepper said. "Not only did coach Jason Todd and his program scale the mountaintop, but they inspired countless other programs across Texas, showing them that it's possible. It's a watershed moment in the sport's illustrious history, and we're proud to feature it on the gatefold cover of the magazine."
The 400-page all-color annual magazine covers football in Texas — from high school to recruiting to college to the pros — as nobody else can. Inside the magazine, readers will find:
An insider's look at how UTSA's Jeff Traylor and Texas Tech's Joey McGuire rose from Texas high school football icons to college football stars, and what it means for both sports, written by Texas Football's Mike Craven
A sensational dive into how the South Oak Cliff Golden Bears rose to a state championship by doing it their own way, and how they're inspiring other programs to do the same, written by Texas Football's Ishmael Johnson.
The fourth annual 40 Under 40, spotlighting the best young coaches in Texas
In-depth analysis of every Texas college football team — all 47 of them — from five-page spreads for each FBS program to insightful previews of each junior college squad, and everything inbetween
Deep-dive conference previews, including Houston's rise to AAC super-stardom before their move to the Big 12; a Big 12 free-for-all including defending champion Baylor, Texas' second year under Steve Sarkisian, new coach Sonny Dykes' dangerous TCU squad; how A&M's historic recruiting class could help them contend for it all in 2022; UTSA's Conference USA title defense against a bevy of challengers; Texas State's sleeper status in the Sun Belt; and more
Individual team previews of more than 1,400 Texas high school football squads
The Preseason All-Texas College team, honoring the top college players in the state
The annual Super Teams and Top 300, honoring the top recruits in the state
The coveted Coverboy spot for every high school classification
GET YOUR COPY
Want your copy of Texas Football as soon as possible? Become a Dave Campbell's Texas Football Insider! Get two magazines — the 2022 summer edition and the 2022 recruiting edition (coming in December) — as well as a year's worth of exclusive online content at TexasFootball.com, including digital archives of all 63 editions of Texas Football, expanded previews of every Texas high school football team, exclusive podcasts, never-before-seen recruiting analysis, expert insights year-round and more. SUBSCRIBE TODAY TO SECURE YOUR COPY OF THE MAGAZINE.
WHEN YOU CAN GET THE MAGAZINE
Please read this note from managing editor Greg Tepper on a change in the publication schedule for the 2022 summer edition of Dave Campbell's Texas Football.
MEDIA REQUESTS
To request interviews with Managing Editor Greg Tepper, please contact greg.tepper@texasfootball.com. To download high-resolution images of the cover, visit TinyURL.com/dctf2022cover
About Sports In Action, LLC
Sports In Action, LLC owns the Dave Campbell's Texas Football media brand. Dave Campbell's Texas Football is a registered trademark of Sports In Action, LLC. Sports In Action, LLC is a Texas-based Limited Liability Corporation and is based in Lewisville, TX.
This article is available to our Digital Subscribers.
Click "Subscribe Now" to see a list of subscription offers.
Already a Subscriber? Sign In to access this content.