Very few Texas high school football teams have no room for improvement, at least when it comes to the win column. In the COVID-strangled 2020 season, just two UIL teams won the maximum number of games — 4A Division I state champion Argyle (16-0) and 1A Division I state champion Sterling City (15-0). For the remainder of the 1,200-plus squads across the state, there was room to grow their most important number: victories.
Of course, progress doesn't come easy, especially in the rough-and-tumble world of TXHSFB. Of the 1,222 UIL Texas high school football teams that played each of the last two seasons, 419 won fewer games in 2021 than in 2020, while another 165 won the same number of contests. That leaves 638 teams that improved their record in 2021 — some buoyed at least in part by far fewer canceled games this season.
But of those teams on the upswing, a handful made a particularly large leap.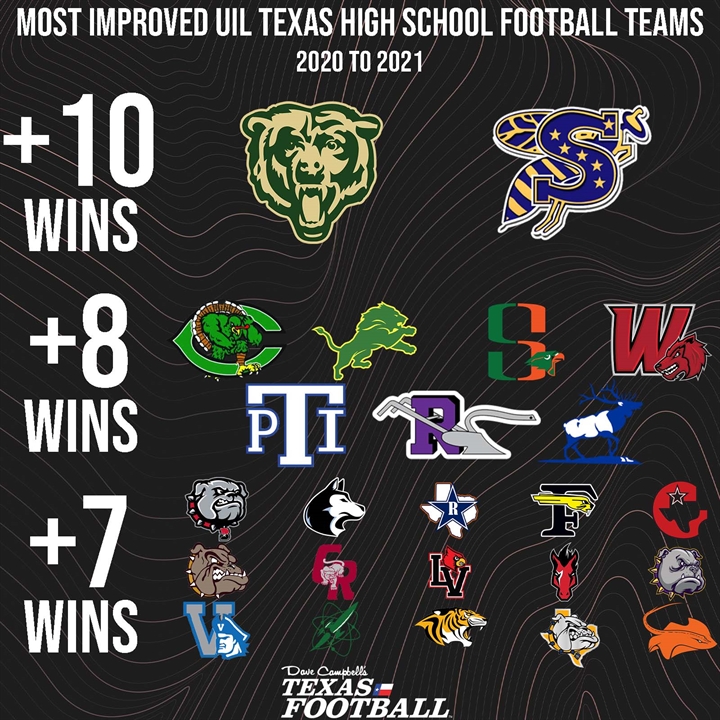 +10 WINS
Little Cypress-Mauriceville and Stephenville
Coincidentally, the two most improved teams in Texas both reside in Class 4A Division I, though that's where the similarities seemingly end.
Reeling from a 1-7 season in 2020 and just one winning season in its last 11 campaigns, Little Cypress-Mauriceville turned to new coach Eric Peevey, who just a few years prior took fellow Golden Triangle squad Beaumont West Brook to the 6A Division II state title game. The impact was immediate, especially on the offensive side, where went from fewer than 9 points per game in 2020 to more than 30 per contest in 2021. The result: an 11-3 season (the most at LC-M since 1997), a regional final berth and the title of most-improved team in Texas.
Stephenville's a bit of a different story. While no Yellowjacket fan will claim 2020 as their favorite season, it was far from a disaster for second-year coach and alum Sterling Doty — 6-6 and a second consecutive area round defeat at the hands of Argyle. But it all clicked for the Jackets in 2021, fueled most especially by a vastly improved defense which shaved a cool 22.8 points off its scoring average from the year prior. In the end, it was a dream season for the City of Champions, rolling to its first state championship since 2005 and its first 16-0 mark since 1999.
+8 WINS
Cuero, Dublin, Harlingen South, Pflugerville Weiss, Port Isabel, Roscoe and Stratford
Another seven squads made an eight-win leap in 2021, spanning the state both geographically and in style of improvement. A couple of teams righted the ship from relatively disappointing 2020 campaigns to return to statewide contention — most notably Cuero (5-6 to 13-2) and 2A DII state champion Stratford (7-6 to 15-1). Others put together their best season in years, like Dublin (1-8 to 9-4, most wins in a season since 1984) and Roscoe (1-10 to 9-2, most wins since 2008). The other three bounced back from COVID-riddled years to put together sensational campaigns — Harlingen South went from 2-4 to 10-1; Pflugerville Weiss had its best season in school history going from 2-4 to 10-2; and Port Isabel played just one game on the field in an 0-2 2020 season, but came back with a vengeance to go 8-4.
+7 WINS
Austin Bowie, El Paso Chapin, El Paso Riverside, Forney, Gruver, Humble Summer Creek, Katy Cinco Ranch, La Villa, Manor, Marlin, Mission Veterans Memorial, San Antonio Kennedy, Snyder, Spur and Texas City
Fifteen teams improved by seven wins, a remarkable feat in its own right. Of note: a pair of El Paso squads crack the list in Chapin (2-5 to 9-3) and Riverside (4-2 to 11-2); Gruver (3-9 to 10-2) made a huge leap in coach Lee Brandon's second season; Humble Summer Creek, Austin Bowie and Katy Cinco Ranch made the jump at the 6A level; Marlin (4-5 to 11-4) was one of the state's most surprising state semifinalists; San Antonio Kennedy had won just one game in its previous four seasons combined, then spiked a 7-4 mark in 2021; and Spur (3-5 to 10-2) is six-man football's biggest improvement.
On The Other End...
It wasn't all sunshine and daffodils, though. Hamlin (11-1 to 0-10) had the state's biggest drop-off, followed by Buffalo (12-2 to 2-8) and Post (15-1 to 5-7). Rounding out teams with notable win-total drops are Tomball Memorial (11-1 to 2-8), Bangs (9-2 to 1-8) and Smyer (8-4 to 0-10).
This article is available to our Digital Subscribers.
Click "Subscribe Now" to see a list of subscription offers.
Already a Subscriber? Sign In to access this content.