Every year, we preview every single team in the state and give projections on how we think they'll fare in the upcoming season. Because projections are just that, projections, and we're by no means perfect, nor claim to be, we often get things wrong. And sometimes, we get stuff really wrong.
What We Said: Fourth place in District 8-2A DI, Unranked
What They Did: 11-4, Second place in District 8-2A DI, state semifinalist
One team that surged to the top of their classification was Marlin. The Bulldogs were nearly playing inside AT&T thanks to a great job by Ruben Torres' first-year staff and a slew of breakout players such as quarterback Desmond Woodson (3,636 passing yards, 685 rushing yards and 39 total touchdowns) and receivers Trajon Butler and Derion Gullette (Over 1,400 receiving yards each). Freshman Tyraun Bell also led an athletic defense with a standout debut at the varsity level finishing with over 200 total tackles and 19 tackles for loss. They finished 11-4 after combining for six wins over the previous three seasons.
Marlin's only two stumbles during the regular season were to 3A D2 Lexington and eventual District 8-2A champions, Italy. Then in the post-season, the Bulldogs knocked off a tough Tolar and Crawford team before falling just short losing to state finalist Hawley, 19-12.
Ruben Torres' team will likely enter the 2022 season ranked in Dave Campbell's Texas Football magazine. We'll try not to underestimate them this time around.
What We Said: Fifth place in District 21-6A, missed playoffs
What They Did: 10-4, Fourth place in District 21-6A and 6A DII regional finalist
Summer Creek was one of the most efficient rushing attacks in the state that probably didn't get enough attention. With an outstanding offensive line led by Kelvin Banks, the Bulldogs ran for over 4,000 yards with sophomore Lloyd Avant and senior Torrie Curry leading the way with over 50 touchdowns combined.
The team's defense also held seven opponents either scoreless or to single digits thanks in part to Rocky Jack on the defensive line and middle linebacker Julian Ortiz.
What We Said: Fifth in District 10-4A DI, miss playoffs
What They Did: 11-3, won district 10-4A DI, regional finalist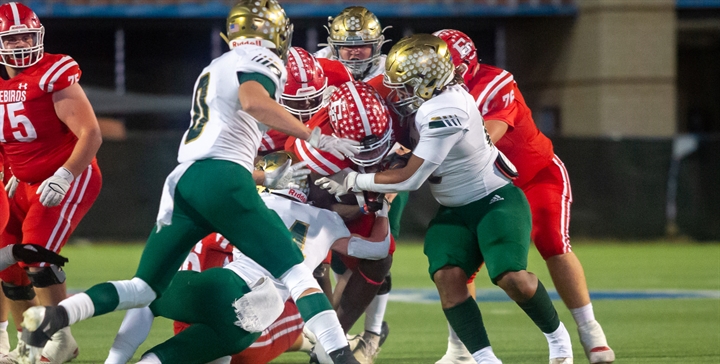 Eric Peevey's first year at LCM was one for the books as he showed why he was a former state-finalist head coach coming from Beaumont Westbrook. The Bears advanced to the regional finals for the first time since 1997 when it knocked off heavy favorite El Campo. Little Cypress-Mauriceville was just 1-7 a year ago.
The Bears rush defense was a pivotal balance to its running offense that blended RPO concepts to create big plays between quarterback Ashton Landry and running back Da'Marion Morris when needed. This is a program to keep an eye one under Peevey's rule.
What We Said: Fifth place in District 15-6A, miss playoffs
What They Did: 11-4, Fourth place in District 15-6A, state semifinalist
Tomball was one of the most entertaining teams to track during the season. When things were clicking, the Cougars seemingly didn't need any more than a handful of plays: The read option, QB power or the inside zone. Cale Hellums piloting Tomball's offense felt like a time capsule of 2007 spread option football where teams didn't know how to adjust to when the quarterback pulled the ball on a read.
Hellums ran for 18,28 yards and 17 touchdowns on the ground with running backs Christian Womack and Evan Alaniz combining for over 2,100. That attack led Tomball to a remarkable state semifinal run in which it knocked off Rockwall-Heath and Cypress Bridgeland. It was the farthest the Cougars had been since 1984-85.
What We Said: Last (Eighth) in District 8-5A DII, miss playoffs
What They Did: 7-4, Second in District 8-5A DII, bi-district finalist
Forney was put in a tough situation in 2020 with its head coach with two games last on the schedule. But Jeff Fleener quickly showed that the Jackrabbits had talent worth believing in with a promising 7-4 mark in his first season thanks to a balanced attack and defense that held opponents to scoreless or single digits three times, all coming in district play.
Quarterback Jake White threw for 1,458 yards and 15 touchdowns while Jon'Richard Washington and Jayden Brown combined for over 700 yards on the ground.
This article is available to our Digital Subscribers.
Click "Subscribe Now" to see a list of subscription offers.
Already a Subscriber? Sign In to access this content.